Sausage and potatoes are an easy family dinner featuring seared smoked sausage, peppers, and onions tossed with seasoned roasted potatoes.
This great recipe has quickly become a favorite weeknight family meal at my house. It is easy to prepare, uses simple ingredients, and it packs flavors the whole family loves. Depending on dietary needs, you can even swap out leaner sausages like chicken sausage for a lower calorie dinner.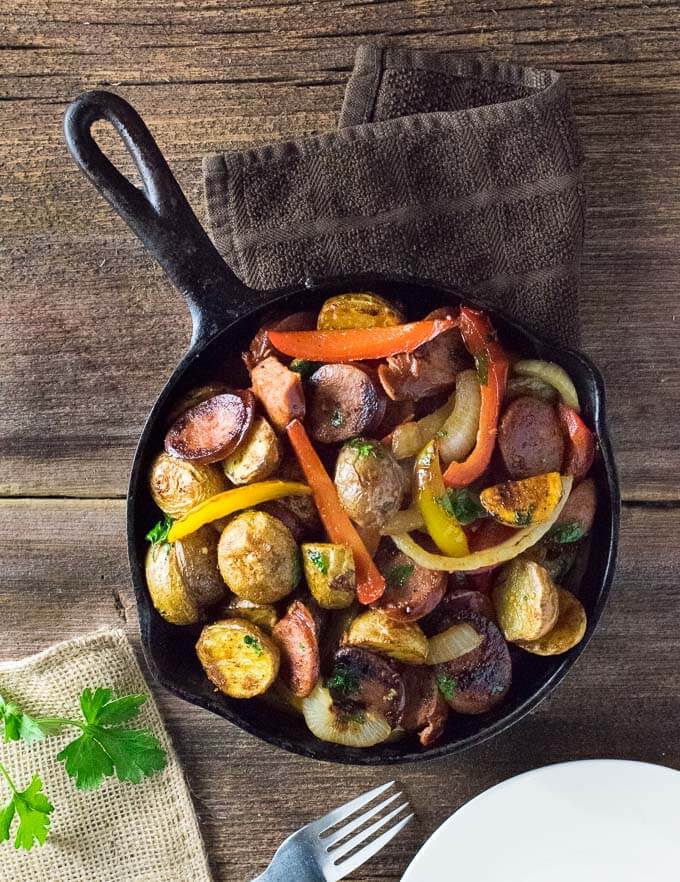 What is Sausage and Potatoes
My sausage and potatoes recipes is loaded with smoked sausage, peppers and onions which are all seared in a skillet and then tossed with oven roasted potatoes.
It is possible to make this as a easy sheet pan meal, and cook everything in the oven. However, I feel you get the best flavor by playing to the ingredient's strengths. For a meal such as this, sausage tastes best when seared, peppers and onions taste best when sauteed, and potatoes taste best roasted.
This delicious recipe is a variation of my smothered potatoes and sausage recipe, which uses chicken broth and a mixture of different seasonings.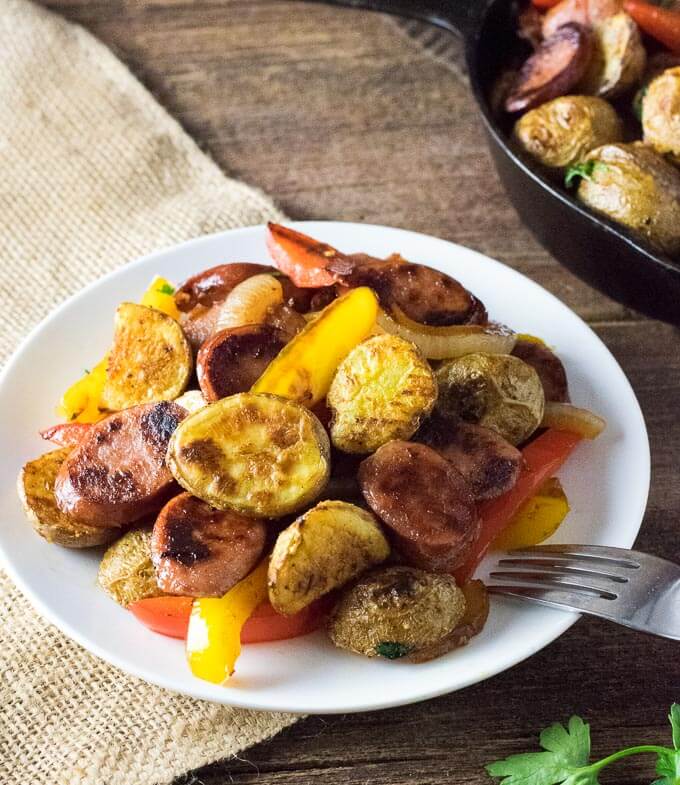 Ingredients and Substitutions
Smoked sausage - You can substitute any other kind of sausage, such as kielbasa, or even use other meats like turkey sausage.
Cooking oil - Vegetable oil such as olive oil or canola oil are my top recommendations.
Yellow onion - Yellow onions, sweet onions, and red onions can all be used. Red onions have the strongest flavor.
Red bell pepper 
Yellow Pepper - Using a mixture of sweet bell peppers adds a pop of color, but you can use whichever peppers you wish. You can even spice it up with poblano peppers or jalapenos. Green bell pepper will be the least sweet but can also be used.
Fresh Garlic cloves
Fresh parsley - Green onions make a great substitution.
Yukon gold potatoes - Red potatoes work equally well.
Prepared yellow mustard - You can substitute gourmet mustard, such as Dijon mustard.
Table salt
Onion powder
Garlic powder
Fresh ground black pepper
Note: For different flavor combinations, you can use Italian seasoning or Creole seasoning instead. If using Italian seasoning I would pair it with sweet Italian sausage.
How to make it
Begin this sausage and potato recipe by preheating your oven to 425 degrees. While the oven preheats, chop your potatoes into large chunks, then place them in a bowl with the mustard and seasonings and toss to coat. Then place potatoes on a large baking sheet and bake for 45 minutes, or until fork-tender.
The potatoes are done when the interior is tender and creamy. If you chop the potatoes too small or too large, cooking time will vary, so I recommend checking on them 30 minutes into roasting.
The sausage, peppers, and onions can all be prepared in a large skillet with olive oil, set over medium heat, at the same time the potatoes roast. By the time the sausage rounds develop a nice sear the vegetables will be sufficiently sauteed, yet retain a bit of crispness. Once the pepper and onions are tender, add the garlic and cook an additional two minutes.
When the potatoes have finished roasting, add them to the skillet with the sausage mixture and some fresh parsley, then toss to combine and serve.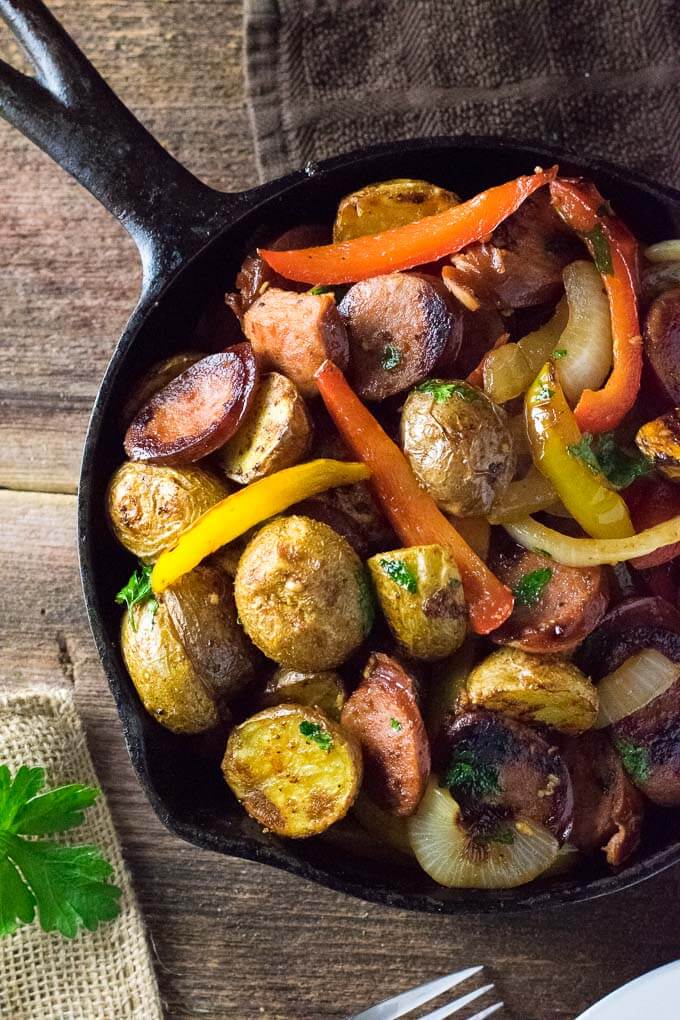 Roasted Potatoes Recommendations
I like using the smallest red or Yukon gold potatoes (baby potatoes) I can find and then quarter/halve them to be slightly larger than the sliced sausage rounds I am cooking. 1 ½" potatoes cubes are about right.
You can substitute russet potatoes if you desire, russets roast up crispier, which is one nice benefit. However, I think the creamier flavor of red potatoes and Yukon golds fit this meal best. Alternatively, use sweet potatoes for a completely different flavor!
Crockpot Sausage and Potatoes
If you wished to convert this recipe into a slow cooker recipe, you can do so. Place the potatoes in the crockpot on low and let cook for 4+ hours, until the potatoes are tender. Add the sausage, peppers, and onions in the final hour. Once the sausage is sufficiently heated, it is ready to eat.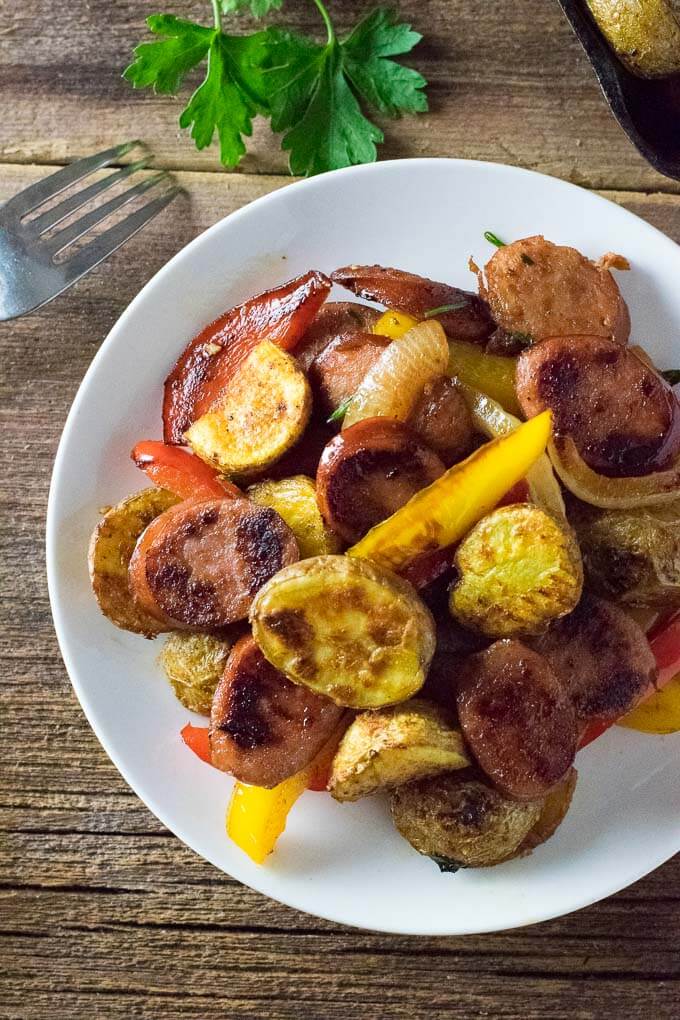 Leftover Sausage and Potatoes
Store leftover sausage and potatoes in an airtight container in your refrigerator. This meal is easy to reheat in the microwave in individual servings, and best to enjoy within five days.
Can you do me a favor? If you enjoyed my post would you mind sharing it with your friends? You can see more of my recipes by liking me on Facebook and follow me on Pinterest too. Otherwise, stay up to date by getting each new post sent directly to your inbox by subscribing today.
Sausage and Potatoes
Sausage and potatoes are an easy family dinner featuring seared smoked sausage, peppers, and onions tossed with seasoned roasted potatoes.
Print
Pin
Rate
Save
Saved
Ingredients
1

pound

smoked sausage

2

tablespoons

cooking oil

(divided)

1

medium onion

(sliced or large chop)

1

red pepper

(sliced or large chop)

1

yellow Pepper

(sliced or large chop)

2

cloves

garlic

(minced)

2

tablespoons

chopped parsley

1 ½

pound

Yukon gold potatoes

(or red potatoes)

1

teaspoon

prepared yellow mustard

¼

teaspoon

table salt

⅛

teaspoon

onion powder

⅛

teaspoon

garlic powder

⅛

teaspoon

paprika

⅛

teaspoon

fresh ground black pepper
Instructions
Preheat oven to 425 degrees.

Slice smoked sausage into rounds ½" thick. Chop potatoes to be slightly larger than sausage rounds, roughly 1 ½" chop.

Place potatoes in a large bowl with 1 tablespoon cooking oil, mustard, and all seasonings. Toss to evenly coat the potatoes.

Place potatoes on a baking sheet and roast in the oven for 45 minutes, or until interior is tender when pierced with a fork.

After the potatoes have baked for 30 minutes, add remaining tablespoon of cooking oil to a large skillet set over medium heat. Add sausage, peppers, and onions and saute until sausage is seared. Add minced garlic and cook for an additional 2 minutes.

Remove potatoes from oven and add into the skillet with sausage mixture. Add chopped parsley, toss everything together, and serve.
Nutritional Information
Calories:
533
kcal
|
Carbohydrates:
30
g
|
Protein:
19
g
|
Fat:
37
g
|
Saturated Fat:
11
g
|
Cholesterol:
80
mg
|
Sodium:
1141
mg
|
Potassium:
1082
mg
|
Fiber:
5
g
|
Sugar:
2
g
|
Vitamin A:
1020
IU
|
Vitamin C:
114.5
mg
|
Calcium:
71
mg
|
Iron:
7
mg