Dusted liberally with a Parmesan cheese, and a squeeze of fresh lemon, roasted broccoli and cauliflower is a healthy and flavorful side dish.
Sorry, this isn't a recipe for cauliflower pizza crust, cauliflower rice, cauliflower cheesecake, cauliflower milkshakes, or whatever other barely edible monstrosity they are using cauliflower for today. Call me old fashioned, but I think cauliflower tastes best chopped into florets and roasted in the oven. Combine it with some broccoli, parmesan, and lemon and I'm in heaven.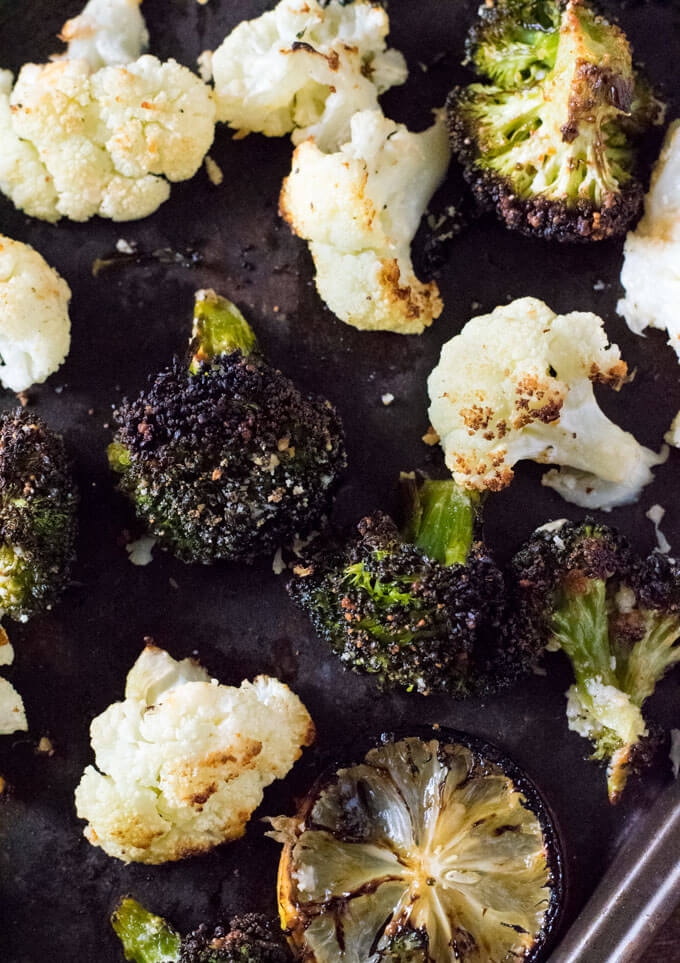 Roasted Broccoli and Cauliflower
Roasted broccoli and cauliflower is a fairly effortless side dish that is exceptionally flavorful and relatively healthy. Bite-sized pieces of broccoli and cauliflower are toss with olive oil and grated Parmesan, then hit with a squeeze of fresh lemon, and roasted until tender.
What temperature to roast Broccoli and Cauliflower
To get the broccoli and cauliflower to slightly char on the exterior you need a high temp roast. I recommend oven roasting this side dish at 450 degrees on a rimmed baking sheet (affiliate link). If you don't want the vegetables to have any char you can bake at 400 degrees instead for a few minutes longer.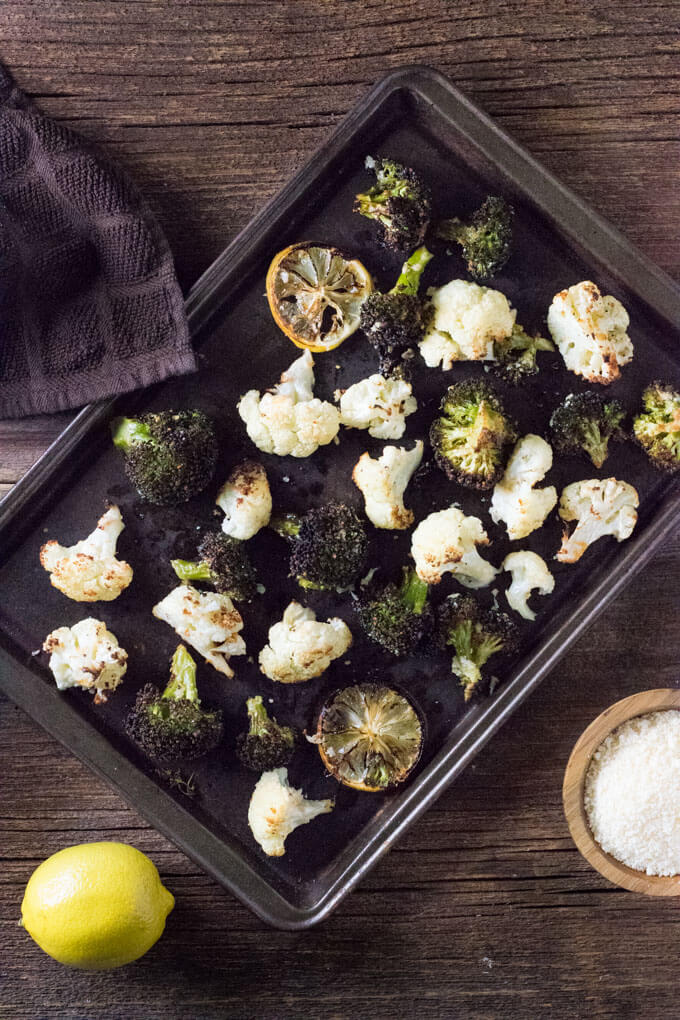 How Long to Roast Broccoli and Cauliflower
In my humble opinion, the most flavorful way to enjoy this dish is to wait until the broccoli and cauliflower begin to char. I found 15-17 minutes of roasting to be the sweet spot for this recipe. They are slightly charred on the exterior but still tender and delicious inside.
How to Customize this Roasted Broccoli and Cauliflower Recipe
As already stated, you can bake for approximately 20 minutes at 400 degrees if you want less char on your vegetables, but there are additional modifications you can make as well. This recipe would be well suited to combine with some garlic, fresh or powdered. You can also omit the lemon or Parmesan if desired.
The olive oil used in this recipe can be substituted for any other cooking oil you have on hand. The reason such a generous amount of oil is used is because it is needed to crisp the exterior of the vegetables as they roast. Basically, it lightly fries the broccoli and cauliflower florets. You can use less if you are looking to save on calories.
Vegetable Side Dishes
This recipe is just one of many flavorful vegetable side dishes on this website. If you are looking for more ways to enjoy vegetables check out my Brown Sugar Glazed Carrots, Maple and Bacon Roasted Squash, or my Roasted Broccoli and Carrots.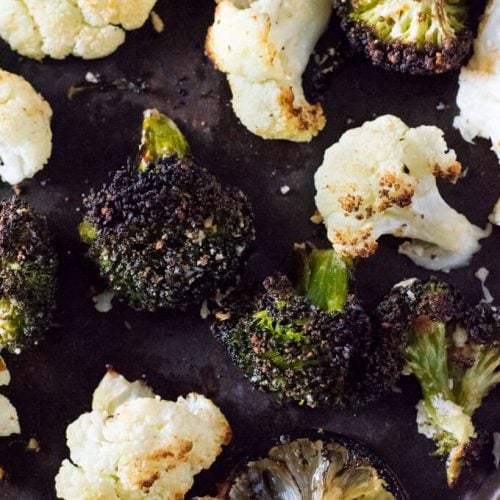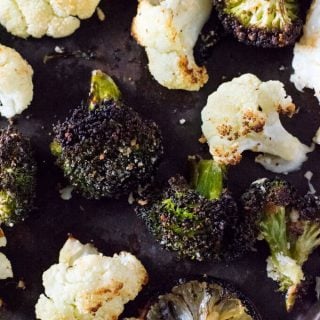 Roasted Cauliflower and Broccoli
Dusted liberally with a Parmesan cheese, and a squeeze of fresh lemon, roasted broccoli and cauliflower is a healthy and flavorful side dish.


Print
Pin
Rate
Save
Saved
Ingredients
4

cups

broccoli florets

4

cups

cauliflower florets

¼

cup

olive oil

½

cup

grated Parmesan cheese

½

medium

lemon

salt and pepper to taste
Instructions
Preheat oven to 450 degrees.

Add broccoli and cauliflower florets to a large bowl and toss with olive oil. Next, add grated Parmesan and toss to combine. Finally, squeeze fresh lemon juice into the bowl along with a generous sprinkling of salt and pepper and combine further.

Pour broccoli and cauliflower onto a large baking sheet and place in the oven for 15-17 minutes, or until vegetables are slightly charred and tender on the inside.
Notes
4 cups of cauliflower florets is roughly 1 medium head of cauliflower. 4 cups of broccoli florets is equivilant to 3 medium heads of broccoli.
This would be a great dish to serve along with my Steak Bites recipe!
Nutritional Information
Calories:
233
kcal
|
Carbohydrates:
13
g
|
Protein:
9
g
|
Fat:
18
g
|
Saturated Fat:
4
g
|
Cholesterol:
11
mg
|
Sodium:
252
mg
|
Potassium:
621
mg
|
Fiber:
5
g
|
Sugar:
4
g
|
Vitamin A:
675
IU
|
Vitamin C:
137
mg
|
Calcium:
207
mg
|
Iron:
1
mg