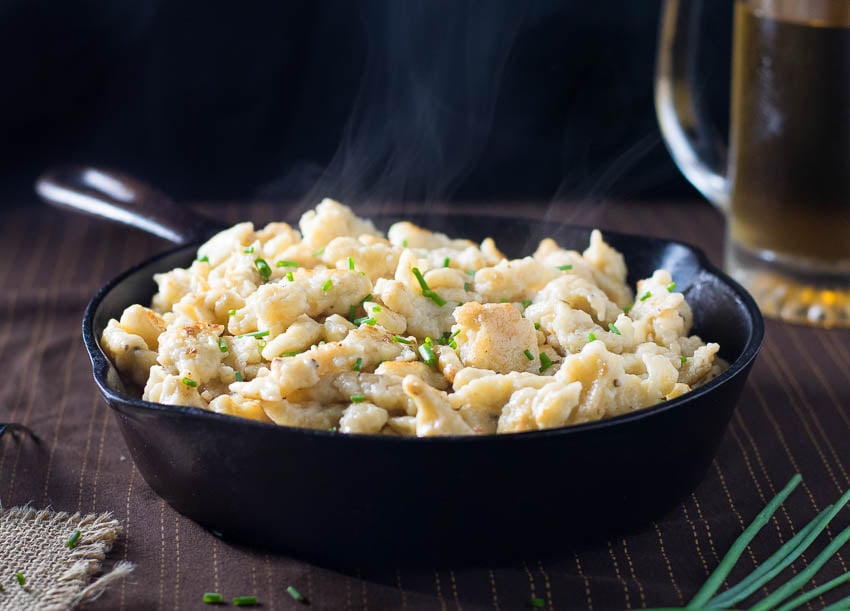 Spaetzle doesn't get enough respect. As the noodle's ugly cousin, it has been relegated to the Rodney Dangerfield status of the pasta world. In reality, it can be wonderfully flavorful, simple to make from scratch, and it lends itself well to browning… try browning macaroni noodles in a skillet!
Spaetzle is essentially a pasta style dumpling, similar to gnocchi but smaller and without potato. Unlike gnocchi, spaetzle only takes minutes to make, but it is equally filling. You will find it is the ideal side dish for any German themed meal, though I would happily enjoy it as a fine substitution in any fusion dish where one may expect to find gnocchi.
However, if you are looking to create authentic German cuisine, I also recommend conjuring some of my fermented sauerkraut to incorporate into your dish. The tart, clean, flavor is far superior to than anything you will ever buy from the store!
Homemade spaetzle is made by dropping small gobs of raw dough into boiling salted water. It cooks quite quickly and will rise to the surface when it is done, at which point it can be removed from the water and served or browned in butter to add additional flavor and texture. Personally, I recommend browning it.
You don't need a fancy pasta maker, stand mixer, or any expensive equipment to make spaetzle, however you cannot make it easily by hand. To get the small dough droplets you need for proper spaetzle it is best to push the dough through the large holes of a slotted spoon, or a flat large holed grater. However, they do sell spaetzle makers if you are so inclined. Personally, I use a large holed slotted spoon as it is readily available and is a great multitasker.
The above link is an affiliate link. Any Amazon purchases made through these links help support FoxValleyFoodie.com without any additional cost to you.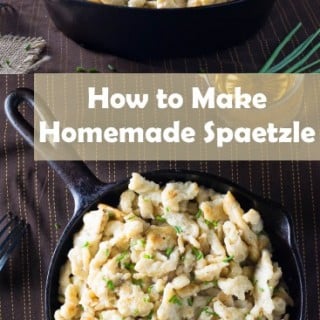 Print Recipe
How to Make Homemade Spaetzle
Ingredients
2

cup

all-purpose flour

2

teaspoon

salt

1

teaspoon

ground pepper

1

teaspoon

ground nutmeg

4

large eggs

1/2

cup

milk

6

tbsp

butter
Instructions
Combine dry ingredients in a large bowl and stir together.

Create a well in the dry mixture.

Add milk and eggs to a bowl and mix to combine.

Add milk mixture to the dry ingredient's well and gently stir to combine.

Mixture should be smooth and thick when everything is fully incorporated.

Let dough rest 15 minutes as you bring a pot of water to a boil.

Working in small batches gently push scoops of dough through a large slotted spoon, or large holed grater, with a spatula, into the boiling water.

When spaetzle floats to the surface it is done and can be removed with a slotted spoon.

Keep working in batches until all spaetzle has been boiled.

Place half of the butter in a hot 12" skillet and add half of the spaetzle once butter has melted.

Toss to coat spaetzle with butter and let sit in the pan to brown slightly.

Once the spaetzle has browned, remove and set aside.

Add remaining butter to the skillet and repeat browning with the remaining spaetzle.

Serve along side your favorite German entree.
Notes
This recipe was adapted from Tyler Florence
Loved this recipe?

Be sure to rate it and share you thoughts below!
*Calories listed are a vague estimate and accuracy should not be assumed.
If you enjoyed reading my How to Make Homemade Spaetzle post then you should probably like me on Facebook and follow me on Pinterest too. That's what I would do at least, because if you don't get to know me but you still use my recipe it is kind of like taking candy from a stranger, and your mom taught you not to do that. Don't disobey your mom, subscribe to Fox Valley Foodie today.