This savory Venison Meatloaf recipe is delectably tender, perfectly seasoned, and lacquered in a rich and tangy sauce! This recipe will quickly become a favorite use of deer meat!
If my parents were to write a venison cookbook, it would contain two recipes: The first simply being a phone number for the butcher who will turn all of the trimmings into sausages, and the second recipe featuring heavily peppered cubed steaks in a cast iron skillet with onions... which for the first twenty years of my life I thought was the only way humans could eat deer meat.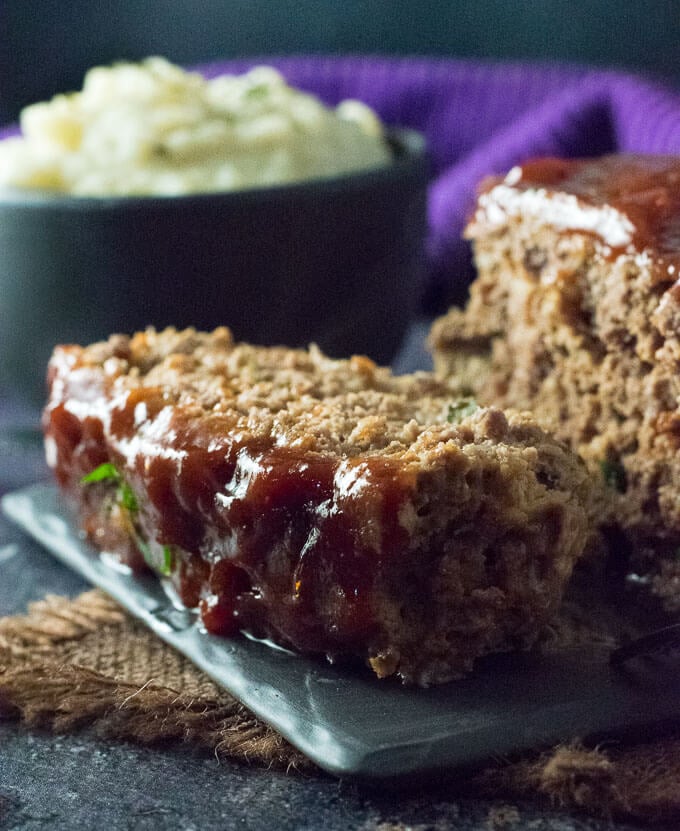 Now don't get me wrong, both of those ways are exceptionally tasty ways to enjoy venison, but venison is as versatile as beef and even more flavorful. You are missing out if you don't explore the wide variety of dishes that are perfect for capturing venison's rich flavor. Prepare a Roasted Venison Loin with the backstraps, or a hearty venison chili with ground trimmings. The possibilities are really endless!
Venison Meatloaf
I must say, Venison Meatloaf is one of my favorite ways to enjoy deer meat. As with any classic meatloaf, you must use ground meat containing fat. Typical meatloaf recipes use 80/20 beef so it isn't excessively dry, and venison meatloaf is no different. Since venison is so lean, most butchers will blend pork or beef fat into your ground venison anyhow when they process your deer, which is a good thing.
When getting your deer processed I recommend requesting an 80/20 fat blend specifically as it is the most versatile. Some people enjoy the health benefits of leaner blends, but leaner fat blends make dry meatloaf and venison burgers. Personally, I prefer to just process my own meat, then you know exactly what it in it. Just pick up a good meat grinder and you will be saving money in no time!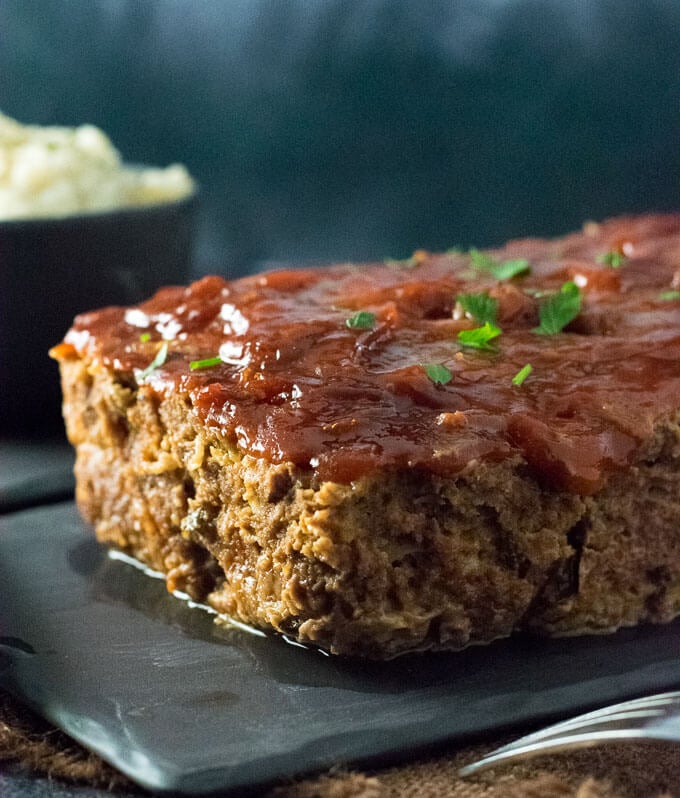 How to Make Venison Meatloaf
Honestly, you can use most beef meatloaf recipes with ground venison, and they will taste great. However, the best venison meatloaf recipes are the ones specifically tailored to the rich flavor of venison. Personally, I find the herbal flavor of sage to be a great compliment to venison while a bit of sweetness and tang from tomato paste and brown mustard brightens the flavor.
The right flavors don't mean anything though if the meatloaf is tough as a brick. The secret to creating the most tender meatloaves is to not overwork the meat. I gently crumble the meat into small pieces, sprinkle with breadcrumbs and mix the remaining ingredients separately. The major benefit of making your venison meatloaf this way is all of the ingredients are already thoroughly combined before they are mixed with the meat. This requires you to mix the meat less.
How Long to Cook a 2 Pound Meatloaf
Most of my meatloaf recipes, like my insanely popular Brown Sugar Meatloaf, call for 1 ½ pounds of meat. However, I made this recipe a 2-pound meatloaf because most people freeze their venison in 1 or 2 pound packages. It didn't make much sense to make you waste a half pound of your hard-earned meat.
Cook a 2 pound meatloaf at 350 degrees for 75 minutes, or until the internal temperature reads 160 degrees. The cooking time will be shorter if you don't use a loaf pan and you flatten it in a 9x13 baking pan instead.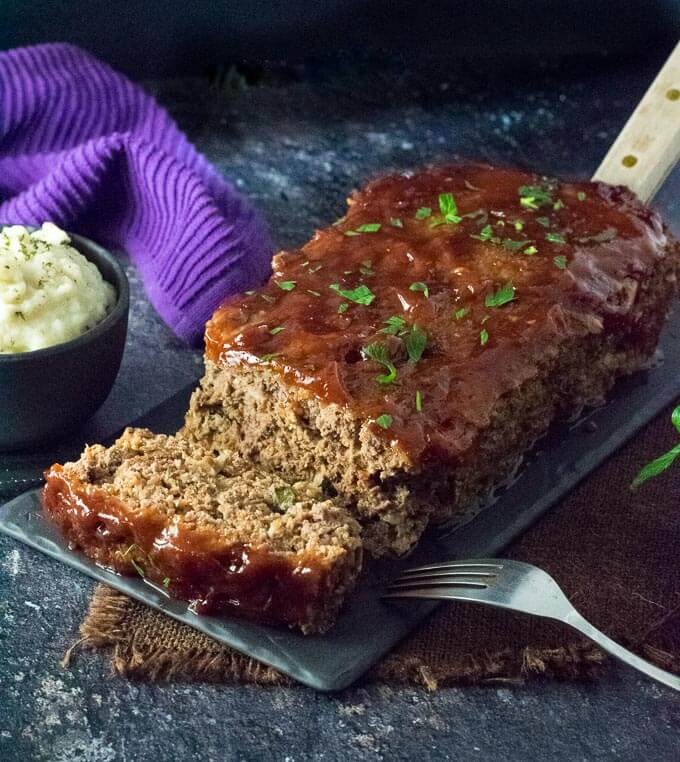 What to Serve with Meatloaf
When making any meatloaf, there isn't a more classic side dish than mash potatoes. I don't think any meatloaf dinner is complete without them. Mashed potatoes can be prepared on the stove top while the meatloaf bakes in the oven. Choose any of the following vegetables to round out the meal: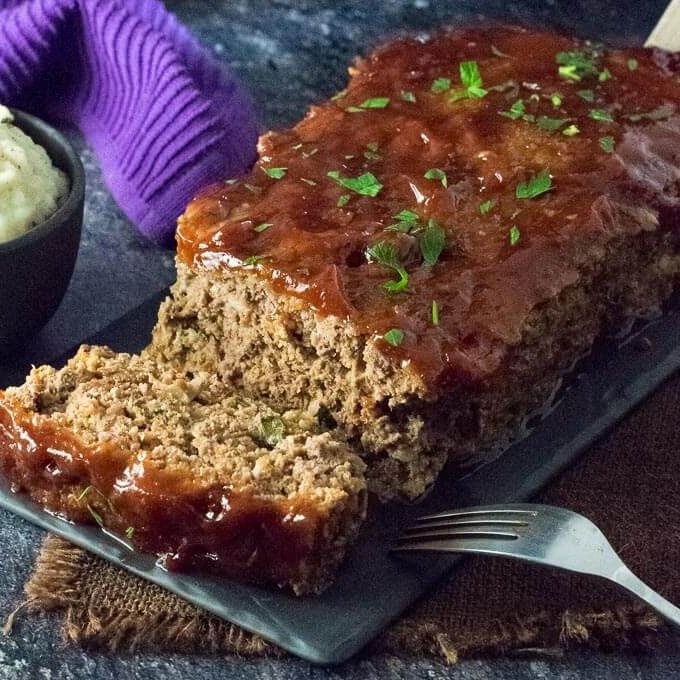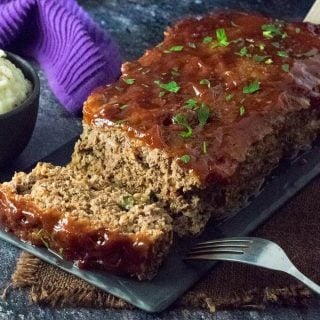 Venison Meatloaf
This savory Venison Meatloaf recipe is delectably tender, perfectly seasoned, and lacquered in a rich and tangy sauce! This recipe will quickly become a favorite use of deer meat!
Print
Pin
Rate
Save
Saved
Ingredients
Meatloaf
2

lbs

ground Venison

(blended with fat)

1

cup

Breadcrumbs

1

cup

Beef broth

2

Eggs

(beaten)

⅔

cup

grated Onion

¼

cup

finely chopped Parsley

2

tablespoons

Tomato paste

1

tablespoon

Brown Mustard

1 ½

tablespoon

Worcestershire sauce

1 ½

teaspoon

Table salt

½

teaspoon

Paprika

½

teaspoon

Garlic powder

½

teaspoon

Black pepper

¼

rounded teaspoon ground sage
Meatloaf Glaze
½

cup

Ketchup

1

tablespoon

Worcestershire Sauce

2

tablespoons

brown sugar
Instructions
Preheat oven to 350 degrees.

Gently crumble venison into small pieces and place into a large bowl. Sprinkle breadcrumbs on top.

In separate bowl combine remaining meatloaf ingredients and stir to combine. *

Pour seasoning and liquid mixture into bowl with venison. Gently mix to combine with fingers, being careful not to overwork the meat.

Combine all ingredients for the glaze and paint a couple tablespoons onto the bottom of a loaf pan. Place the meatloaf into the loaf pan and pour remaining glaze over the top of the meatloaf.

Place meatloaf in the oven for 75 minutes, or until the internal temperature reaches 160 degrees.

Let meatloaf rest for 5 minutes and serve.
Notes
*Mixing the liquids and seasonings in a separate bowl from the meat helps them incorporate into the meat more evenly with less mixing. Less mixing helps the meat stay tender.
Leftovers would make phenomenal meatloaf sandwiches.
Nutritional Information
Calories:
383
kcal
|
Carbohydrates:
25
g
|
Protein:
38
g
|
Fat:
13
g
|
Saturated Fat:
5
g
|
Cholesterol:
175
mg
|
Sodium:
1318
mg
|
Potassium:
749
mg
|
Fiber:
1
g
|
Sugar:
10
g
|
Vitamin A:
345
IU
|
Vitamin C:
2.9
mg
|
Calcium:
76
mg
|
Iron:
6.3
mg
Don't forget to check out the rest of my mouthwatering venison recipes too!
If you enjoyed reading my Venison Meatloaf recipe then you should probably like me on Facebook and follow me on Pinterest too. That's what I would do at least, because if you don't get to know me but you still use my recipe it is kind of like taking candy from a stranger, and your mom taught you not to do that. Don't disobey your mom, subscribe to Fox Valley Foodie today.