You never outgrow the enjoyment of a loaded hot dog piled with your favorite toppings. Let's take a look at the classic topping combinations, as well as hopefully inspiring you to try some new creations. The best hot dogs are never boring.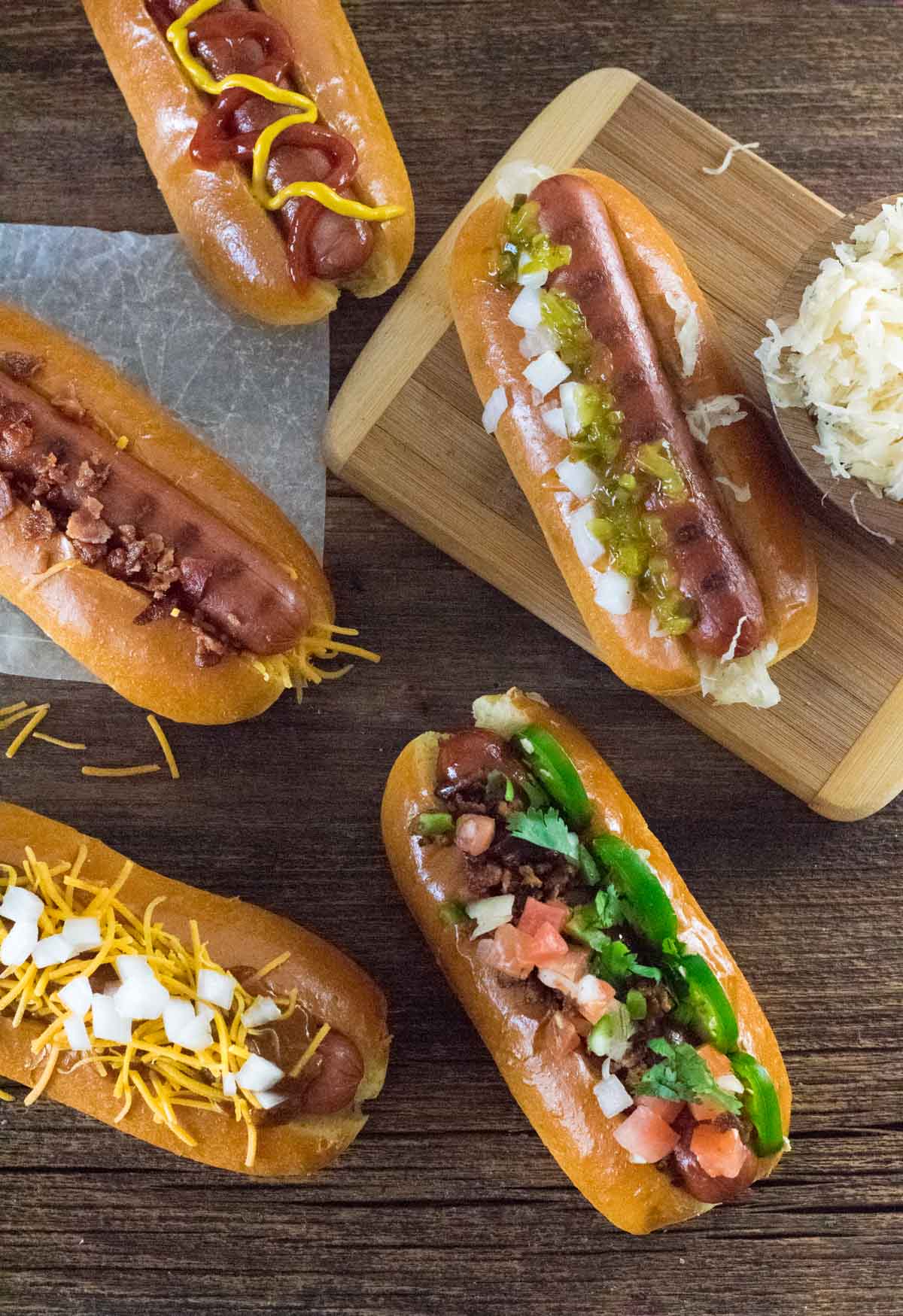 Choosing the hot dog
If you are going all out crafting a hot dog bar that will be the envy of backyards everywhere, choose a dog worthy of such a celebration. A high-quality hot dog is made with better ingredients and yields better flavor. Check the label for these markers of a quality frank.
Natural casing - I love the snap of biting into a freshly grilled natural casing hot dog. These have the best texture in my opinion.
No Byproducts - Byproducts refer to animal organs like the liver, kidney, and hearts. If the packaging boasts "No Byproducts" you can trust it is made with higher quality ingredients.
No artificial flavors or colors - If they are making the dogs right, there is no need to fake anything.
Some of the best brands include Nathans, Hebrew National, and many regional companies found in sausage-producing states like Wisconsin.
Best Hot Dog Buns
Skip the bread aisle with shelves overflowing with flavorless commercially-packaged hot dog buns, and head to the bakery section instead. Fresh bakery buns are typically moister, softer, and have infinitely better flavor. You can commonly find brioche buns now too, which are phenomenal with a frank.
Classic Hot Dog Toppings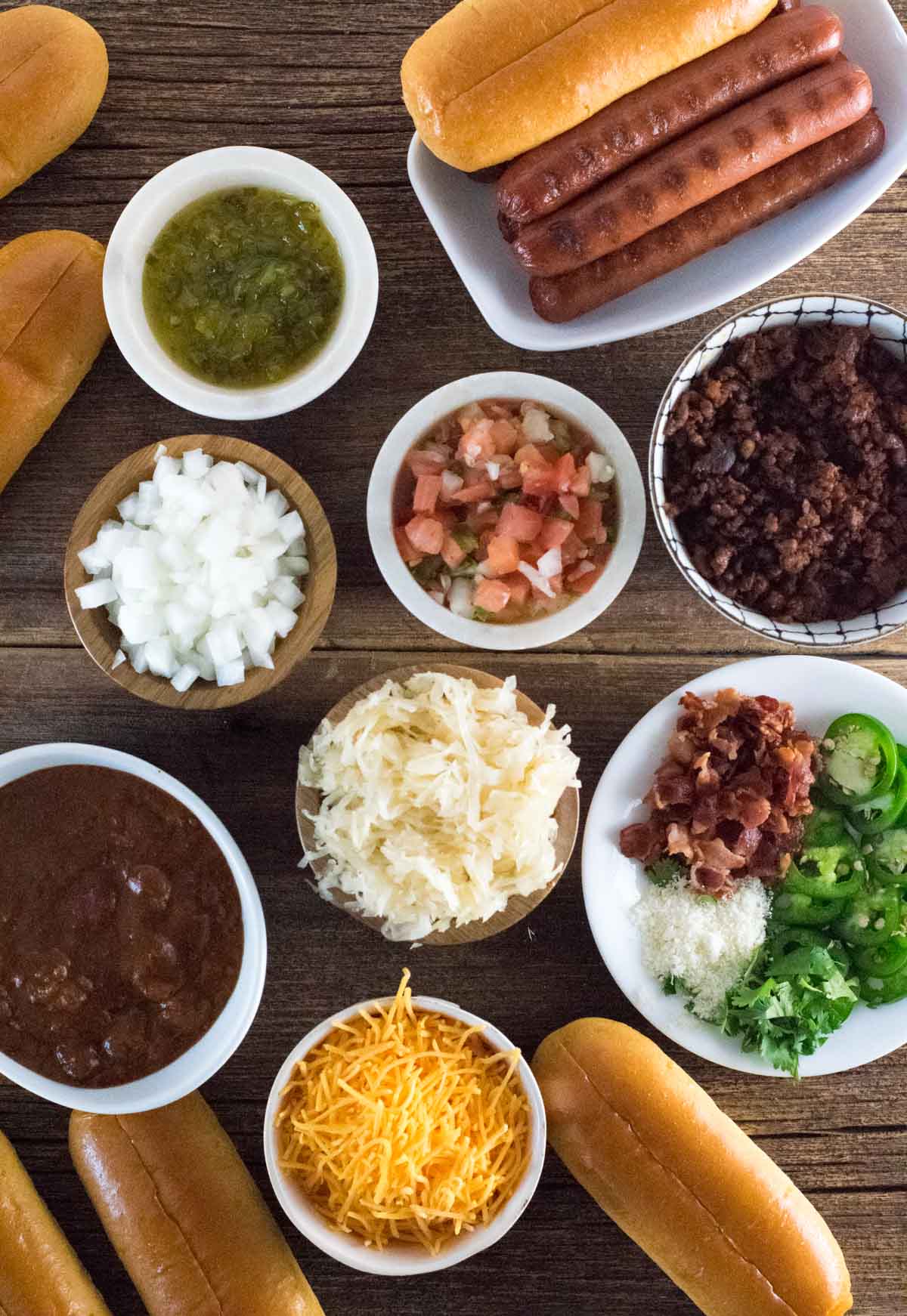 Popular Condiments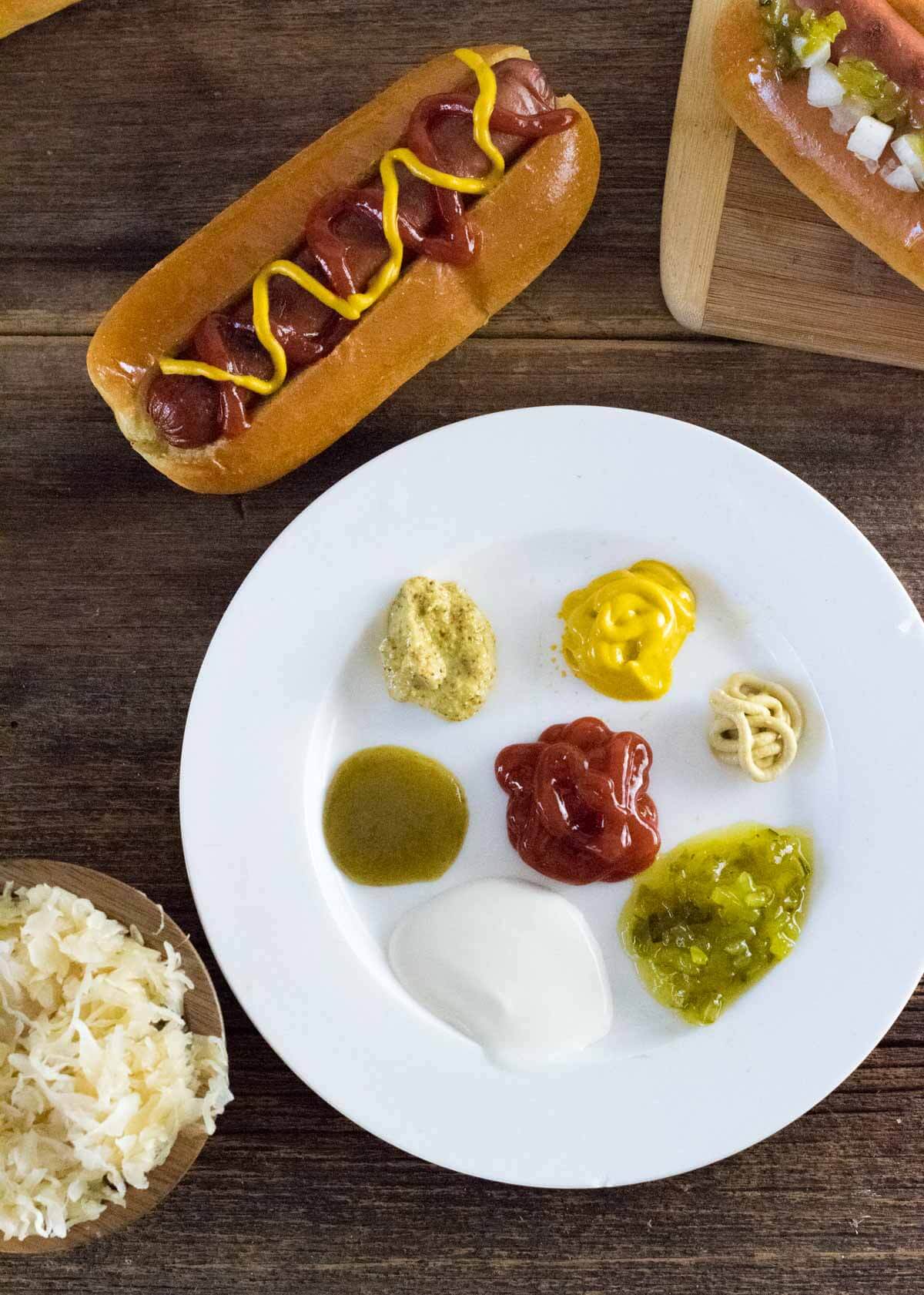 Ketchup - Try my Bloody Mary ketchup for even more flavor!
Mustard - Any of your favorite varieties from yellow to Dijon Mustard works great.
Hot sauce - There is no reason you can't kick up the heat on your favorite summer treat.
Sour cream - A nontraditional choice that adds a nice cool flavor.
Brat sauce - Although it is specifically made for bratwurst, it tastes great on hot dogs too.
How to grill hot dogs
The most flavorful hot dogs are grilled, hands down. The secret to grilling the best hot dogs is to use high enough heat to blister the skin, but not burn it.
Tip: For added texture and flavor, some people like to score the hot dogs with X's prior to grilling.
If using a propane grill it is pretty easy to adjust the heat so that the hot dog is cooking but not burning. If you see it threatening to burn, just turn down the heat.
When using a charcoal grill I like to pile the coals on one side of the grill and lay the dogs on the grate just off the coals. This provides intense heat that will blister the hot dog, but not so much to burn it quickly.
If cooking a lot of franks I create an assembly line rotating the hot dogs away from the coals to ensure they all get a chance to linger in front of the blistering heat, while still cooking evenly. The hot dogs resting furthest from the heat will cook more slowly, allowing their interior to warm up, while the ones right next to the coals will blister and burn if left there too long.
Creative topping suggestions
Classic loaded hot dog - Relish, chopped onion, sauerkraut, ketchup, and yellow mustard.
Chili dog - Hot dog chili, shredded cheddar cheese, and chopped onion.
Chicago Style dog - Sweet pickle relish, tomato, sport pepper, dill pickle, chopped onion, yellow mustard, and a poppyseed bun.
Tex-Mex hot dog - Ground chorizo, pico de gallo, jalapeno, cilantro, and sour cream.
Hawaiian-style dog - Chopped pineapple and BBQ sauce.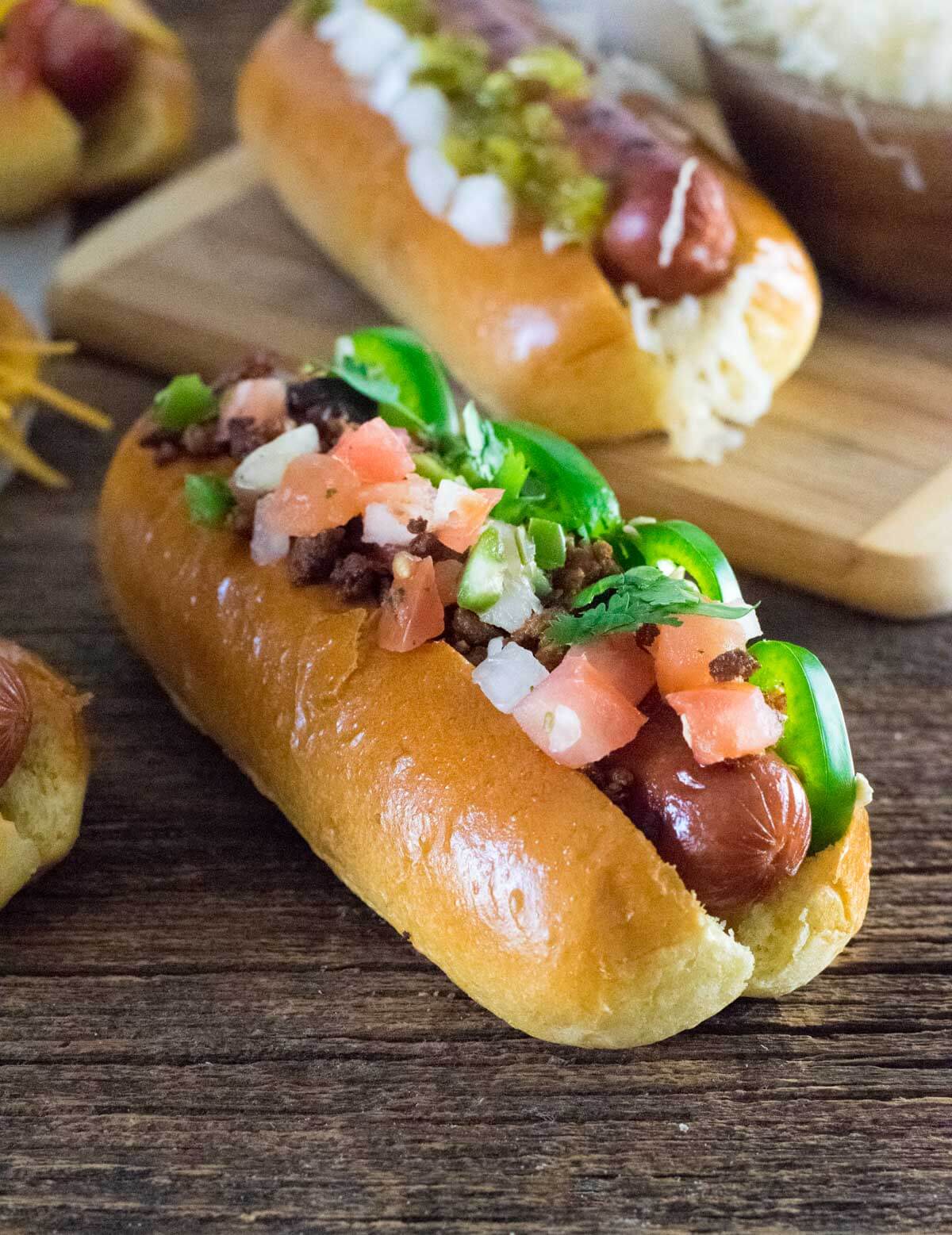 FAQs
When are hot dogs done?
Most hot dogs are pre-cooked, so they can be eaten raw. They are done cooking when warmed to your liking.
What are natural casing hot dogs?
The hot dog casing is what holds the ground meat inside the hot dog when cooked. Natural casings are traditionally made from sheep intestines.
More grilling ideas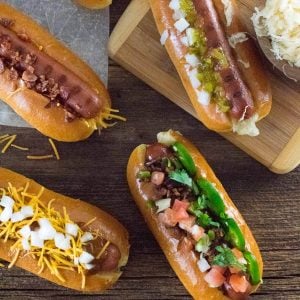 Loaded Hot Dogs
Loaded hot dogs piled high with an endless array of toppings ensures this summer classic never tastes boring.
Print
Pin
Rate
Save
Saved
Ingredients
Toppings
½

cup

sauerkraut

¼

cup

chopped onion

¼

cup

sweet pickle relish
Condiments
2

tablespoons

ketchup

2

tablespoons

mustard
Instructions
For best flavor, cook the hot dogs on a grill over medium-high heat. The exterior skin of the hot dog should darken in color but not burn while it cooks. If it is threatening to burn, lower the heat. Grill until heated through.

Place the hot dogs on buns and load with toppings and condiments of your choice.
Notes
More topping choices include the following:
Chili 
Shredded Cheese 
Pickles 
Coleslaw
Tomato
Bacon
Jalapeno
Chorizo
Pico de Gallo
Cilantro
Nutritional Information
Calories:
256
kcal
|
Carbohydrates:
36
g
|
Protein:
9
g
|
Fat:
9
g
|
Saturated Fat:
3
g
|
Cholesterol:
20
mg
|
Sodium:
784
mg
|
Potassium:
175
mg
|
Fiber:
2
g
|
Sugar:
7
g
|
Vitamin A:
156
IU
|
Vitamin C:
3
mg
|
Calcium:
93
mg
|
Iron:
3
mg