This richly flavored smoked meatloaf is loaded with bold barbeque seasonings and lacquered in a sticky BBQ sauce. This can be made in a smoker or grill.
If being a teenager has taught me anything, it is that you need to smoke to be cool. Well, guess what? That is still true as an adult. So bum a light, go hide behind your house, and fire up that smoker! Your neighbors will wish they were your friend, and your family will forever adore you for taking meatloaf Mondays to a whole new level! Come on, everyone's doing it.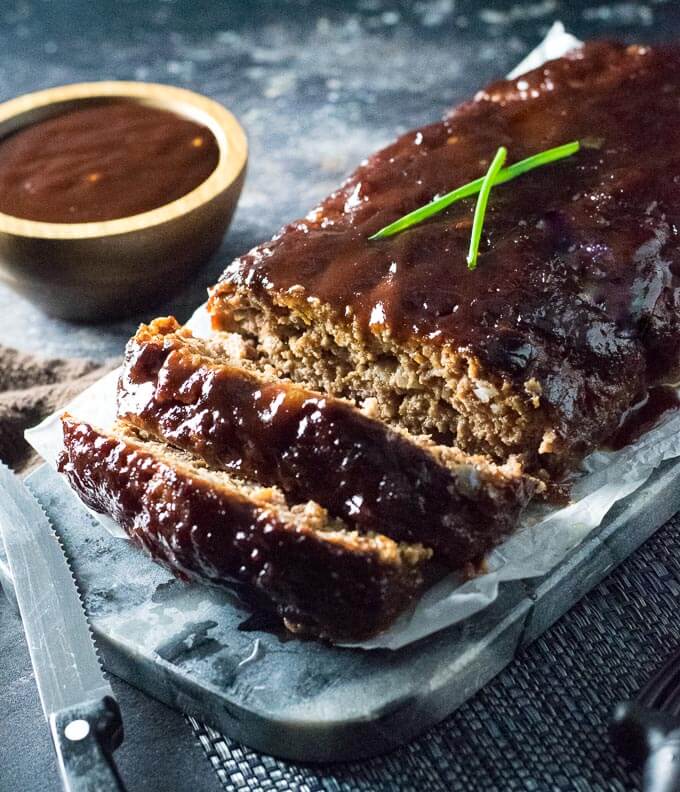 Equipment for Smoking Meatloaf
You will need a smoker to most easily make your smoked meatloaf. I've tried propane, electric, and charcoal smokers and my current recommendation is the simplicity of an electric smoker. The electronic temperature controls make it just as easy to operate as your stove. I thought my charcoal smoker had the best flavor, but the ease of the electric smoker makes me want to use it more. An electric smoker is also better suited for other applications like making venison sausage.
If your smoker doesn't have one, I recommend getting a good digital thermometer to monitor your meatloaf as it smokes. It is best to have a thermometer that allows you to keep an eye on the temperature without having to open the smoker. I use this digital oven thermometer for smoking and roasting in the oven.
Smoked Meatloaf
My smoked meatloaf is BBQ inspired. The meat is generously seasoned with traditional barbeque seasonings, and lacquered with a sticky BBQ sauce. BBQ flavors are always great to pair with any smoked food.
I specifically recommend using 80/20 beef when making meatloaf. It has the perfect fat ratio. Leaner is healthier, but it will also create a drier meatloaf. A fattier blend will save you money, but it will be too greasy. 80/20 is what you want.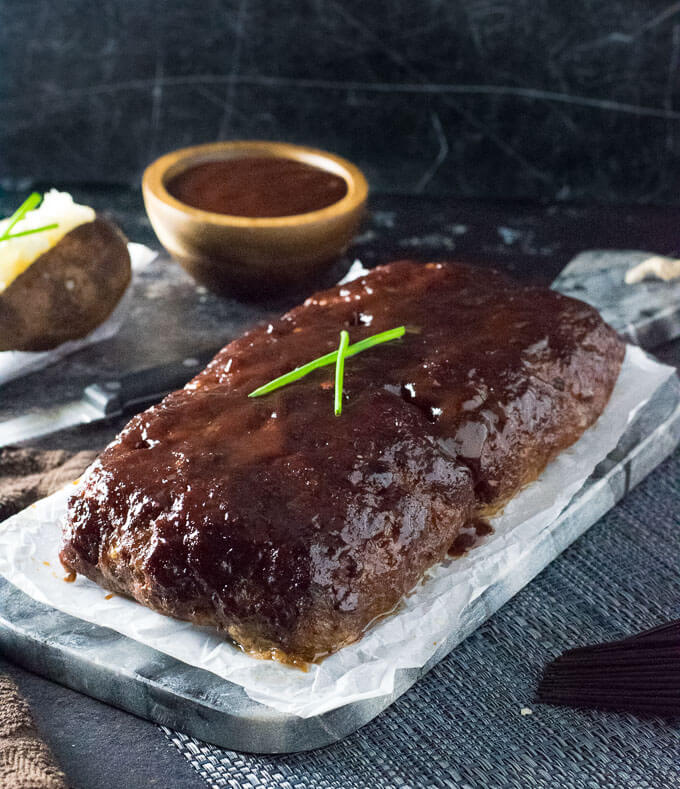 How Long to Smoke Meatloaf
The smoking time will vary depending on the temperature consistency of your smoker, as well as the thickness of your meatloaf. It takes my meatloaf about 2 ½ hours at 250 degrees to finish cooking when it is around 2" thick. Once again, this is why a good thermometer is important.
Best Wood for Smoking Meatloaf
You can use your favorite smoking wood for making smoked meatloaf and it will turn out great. However, I particularly enjoy the sweet and strong flavor of hickory. Mesquite would be an honorable mention.
How to Grill Meatloaf
If you do not have a smoker, you can make smoked meatloaf on a charcoal grill. Light a half chimney of briquets and pour them on one side of the grill and set a few wood chips over them. Place the meatloaf on the other side of the grill and let cook with indirect heat. Rotate the meat every 30 minutes to ensure even cooking.
Meatloaf Recipes
Meatloaf is a versatile dish that can be prepared in many different ways. If you are stuck in a meatloaf rut check out these great recipes: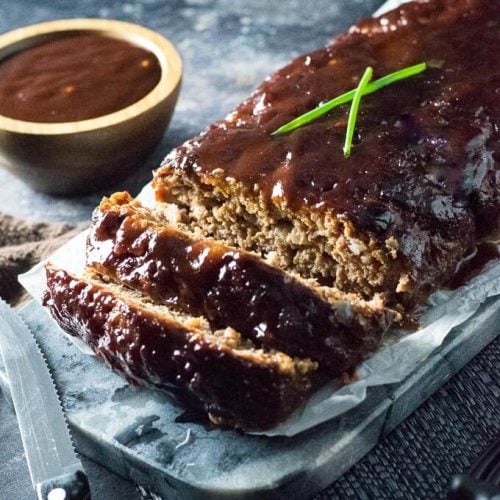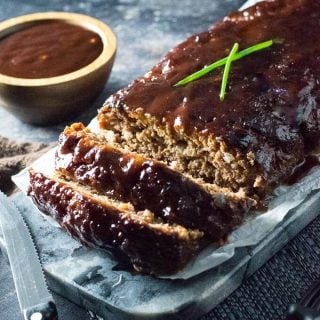 Smoked Meatloaf
This richly flavored smoked meatloaf is loaded with bold barbeque seasonings and lacquered in a sticky BBQ sauce. This can be made in a smoker or grill.
Print
Pin
Rate
Ingredients
½

Red Onion

(diced)

2

teaspoons

Cooking Oil

2

lbs

80/20 Ground Beef

1

cup

Plain Breadcrumbs

1

cup

Beef Broth

1

Egg

(beaten)

4

teaspoons

Worcestershire sauce

1 ½

tablespoon

Brown Sugar

1 ¼

teaspoon

Table Salt

1

teaspoon

Yellow Mustard

¾

teaspoon

Black Pepper

¾

teaspoon

Paprika

¾

teaspoon

Garlic Powder

¼

teaspoon

Onion Powder

¼

teaspoon

Cayenne Pepper
Smoking
Hickory Wood Chips

(or your favorite smoking wood)
Instructions
Preheat smoker to 250 degrees.

Add cooking oil and diced onion to a skillet set over medium heat. Saute until onions are tender and beginning to brown.

While onions are cooking gently crumble beef into a large bowl and set aside.

Combine all wet ingredients in a separate bowl, then add all dry ingredients and seasonings. Mix in cooked onions when done cooking. Pour mixture in the bowl with crumbled beef. *

Gently combine meat with seasoning mixture, then place meatloaf mixture on parchment paper and shape into a loaf approximately 2" thick.

Add wood chips and meatloaf to the smoker. Let smoke for 2-3 hours, or until the meatloaf reaches 165 degrees. Paint the meatloaf liberally with BBQ sauce halfway through cooking.

Remove the meatloaf from the smoker and let rest for 5 minutes, then cut and serve.
Notes
*Mixing the wet and dry ingredients in a separate dish allows them to incorporate more evenly into the meat with less mixing so the meat does not get overly dense.
**If you want to make the BBQ sauce from scratch, click the link in the recipe.
IF YOU LIKED THIS RECIPE check out these Smoked Mushrooms to serve with your meal!
Nutrition
Calories:
490
kcal
|
Carbohydrates:
18
g
|
Protein:
30
g
|
Fat:
32
g
|
Saturated Fat:
12
g
|
Cholesterol:
134
mg
|
Sodium:
927
mg
|
Potassium:
520
mg
|
Fiber:
1
g
|
Sugar:
4
g
|
Vitamin A:
195
IU
|
Vitamin C:
1.2
mg
|
Calcium:
76
mg
|
Iron:
4.3
mg
If you enjoyed reading my Smoked Meatloaf recipe then you should probably like me on Facebook and follow me on Pinterest too. That's what I would do at least, because if you don't get to know me but you still use my recipe it is kind of like taking candy from a stranger, and your mom taught you not to do that. Don't disobey your mom, subscribe to Fox Valley Foodie today.