Inspired by its classic sandwich counterpart, this Philly cheesesteak pasta features tender beef, peppers, mushrooms, and onions smothered in a creamy Provolone sauce.
Tomorrow is one of my favorite holidays, so in honor of those great men who assembled in Philadelphia more than two hundred years ago, let's declare our independence from boring pasta dishes with this Philly inspired dish. Perhaps not quite as revolutionary, but there is never a bad reason to celebrate freedom and food!
Philly Cheesesteak Pasta
I think the key to a great Philly cheesesteak pasta is using thinly sliced beef to replicate the sandwiches. I use sliced sirloin because it is reasonably priced, lean yet tender. However, if you have leftover steak in the refrigerator, any tender steak will work well.
Tip: Freeze the beef for 30 minutes to firm it up slightly, and it will slice easier.
Philly Cheesesteak Pasta Sauce
The other key component to this dish is the sauce. Provolone is probably served on more cheesesteaks than the more traditionally authentic cheese-wiz, for good reason. It tastes better. Plus, let's be honest, no one wants to eat a pasta dish with a cheese-wiz sauce.
Provolone is a wonderfully creamy cheese with a slightly nutty flavor making it a great sauce base. For depth, I also add beef broth and a bit of Worcestershire to the sauce to prevent the sauce from being too one-dimensional. In a pinch you can substitute mozzarella cheese instead, otherwise, grocery stores sell a Provolone-Mozzarella blend that will also work perfectly fine.
Best Noodle for Philly Cheesesteak Pasta
I really like cavatappi noodles (affiliate link) for this dish. They are long enough to pair well with sliced peppers and onions, and have plenty of surface area to hold the creamy sauce. However, rigatoni or penne pasta would also work well if you prefer. I even considered using egg noodles to make this dish similar to beef stroganoff, but felt they were not quite hardy enough.
Can Philly Cheesesteak Pasta Be Made in Advance
Unfortunately, since this recipe utilizes a cheese sauce, it will not reheat well. The problem with cheese sauces, such as any traditional macaroni and cheese recipe, is that the cheese heats up too quickly while being reheated and breaks down into a greasy mess. Your once rich and creamy sauce is now just an oil slick. Don't get me wrong, the leftovers will still taste good, but it isn't as good as the original serving.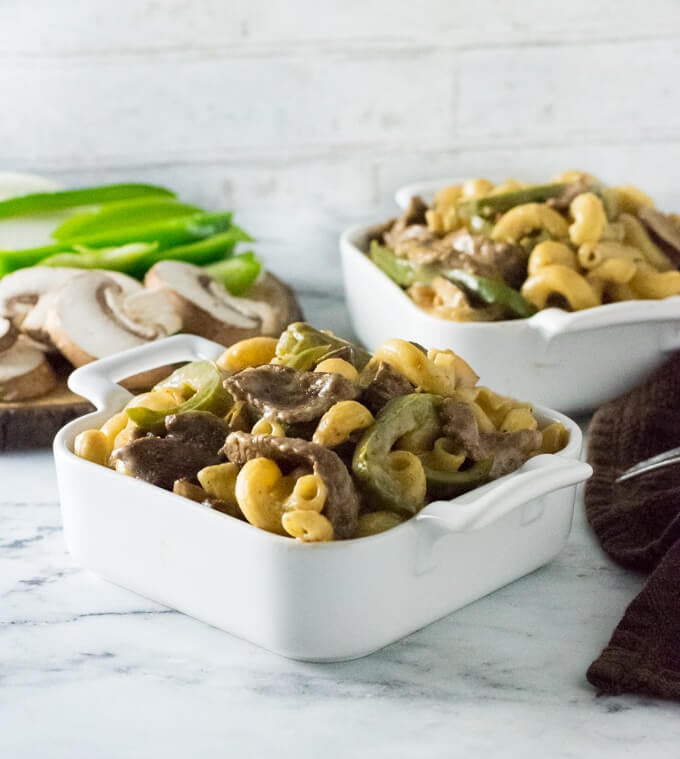 Philly Cheesesteak Recipes
Philly cheesesteaks have long been one of my favorite sandwiches and I have re-purposed them into many dishes. If you are craving more cheesesteak ideas, one of the following great recipes: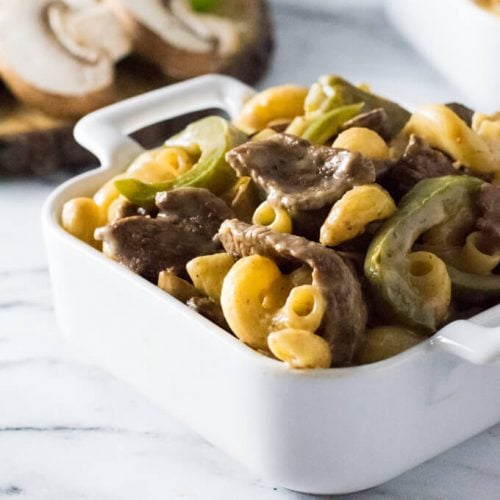 Print Recipe
Philly Cheesesteak Pasta
Inspired by its classic sandwich counterpart, this Philly cheesesteak pasta features tender beef, peppers, mushrooms, and onions smothered in a creamy Provolone sauce.


Ingredients
12

ounces

cavatappi pasta

(penne or rigatoni are fine substitutes)

2

tablespoon

cooking oil

(or as needed)

1 1/2

pounds

sirloin steak

(thinly sliced)

8

ounces

mushrooms

(sliced)

2

medium

green bell pepper

(sliced)

1

medium

yellow onion

(sliced)

3

cloves

garlic minced

(minced)

1/2

teaspoon

kosher salt

1/2

teaspoon

fresh ground pepper
Provolone Sauce
4

tablespoons

butter

4

tablespoons

flour

1

cup

milk

1

cup

beef broth

1

teaspoon

Worcestershire sauce

1 1/2

cup

shredded provolone cheese
Instructions
Cook pasta according to package instructions.

While pasta is cooking add cooking oil to large skillet or saute pan and set over medium heat. Add onions, peppers, and mushrooms and saute until mushrooms are cooked through. Add garlic and cook an additional 2 minutes. Onions and peppers should be slightly tender but still retain some firmness.

Remove vegetables from the skillet, add additional cooking oil as needed, salt and pepper the beef and sear over medium high heat until no longer pink.

Remove beef from the skillet, and shut off heat to let pan cool slightly. Once the pan is cool enough not to scorch butter, prepare the sauce by melting butter in the skillet over low heat and sprinkle in flour to form a roux. Stir continually to prevent burning and cook the roux for 3-5 minutes, or until beginning to brown. (you want to cook it long enough to cook out the raw flour taste)

Slowly incorporate milk, beef broth, and Worcestershire a little bit at a time, stirring the sauce to fully incorporate before more liquid is added to prevent lumps.

Add shredded cheese is batches, stirring to melt into the sauce.

Place noodles in a large bowl with beef and vegetables and pour sauce over. Mix to combine everything and serve.
Notes
IF YOU LIKED THIS RECIPE be sure to check out my Italian Subs as well!
*Calories listed are a vague estimate and accuracy should not be assumed.
If you enjoyed reading my recipe then you should probably like me on Facebook and follow me on Pinterest too. That's what I would do at least, and if you are willing to take my advice on the food you put into your body you should probably follow my advice on that too.