There is nothing quite like the aroma of flames licking a juicy cut of steak on the grill. Let's break down how to grill steak perfectly every time!
I wonder who the first person was to ever eat a cow? I would like to shake his hand. Can you imagine his euphoric joy upon taking the first bite? He was probably way happier than the first guy who tried to see if a poison ivy side-salad was edible... the name probably should have given it away but I don't think cavemen catch on to those type of things. Regardless, ever since that first Homosapien threw a big hunk of steak over the fire, man has spent millenniums perfecting this primal ritual. The process is as simplistic as it is flavorful. Afterall, it is so easy a caveman can do it.
Best Cuts of Steak for Grilling
Typically the best cuts of steak for grilling come from the rib and loin area of a cow. These muscles are not worked excessively, like shoulder muscles for example, so the meat stays delectably tender. Each butcher will have his preferred method of cutting steaks, so the exact cut available in your local store will vary. However, popular steaks for grilling include the rib-eye, t-bone, porterhouse, sirloin, and filet mignon.
Any tender cut of beef is well suited for grilling so don't hesitate to chat your butcher up for some of his favorites. You can often get lesser-known cuts like hanger steak at a substantial discount from their more popular brethren. Alternatively, you can grill up steak bites instead if you wish which can be a variety of cuts but is commonly sirloin.
How to Prepare Steak for Grilling
Approximately 20 minutes prior to grilling, remove the steaks from your refrigerator. The reason for doing this is to allow the steak to warm up slightly which will help it grill more evenly without the outer band overcooking before the interior can reach your desired temperature. During this resting period, it is a great time to season the steak liberally with salt and pepper and your favorite seasoning, such as my coffee crusted steak seasoning.
Alternatively, you can use a grilled steak marinade which not only adds incredible flavor to the steak but the oil coating the steak will also assist in the browning as it cooks. If you choose not to use a marinade, I still recommend rubbing the steak with oil prior to seasoning it.
Grill Temperature for Steak
Crank the heat as high as you can get it while grilling the steak. I find it is best when the grilling surface temperature exceeds 500 degrees. The hotter the grill is the better the exterior of the meat will brown without overcooking the interior. Cooking at too low of a temperature will leave you with a flavorless gray steak that will be unnecessarily tough. Though I didn't have any on hand when I cooked the steak in these photos, hardwood lump charcoal is my favorite for grilling steaks because it burns hotter than standard charcoal.
How to Grill Steak on Gas Grill
Grilling steak on a gas grill is the easiest method to grill steaks. Simply crank up the heat to high and place the steaks on the grate directly over the flame. If you like your steak more done, or if the exterior is charring too quickly, simply turn down the heat, move it away from the flame, or place it on your grill's upper rack, if available. That will slow the cooking down while allowing the interior to come up to temperature.
How to Grill Steak on Charcoal Grill
Grilling steak over charcoal is the most flavorful way to cook a steak as the aroma from the smoldering charcoal saturates every bite! Unfortunately, charcoal grills don't have much for temperature controls, which causes people to burn the steak or cook it at too low of a temperature. Luckily this can easily be avoided using zone cooking.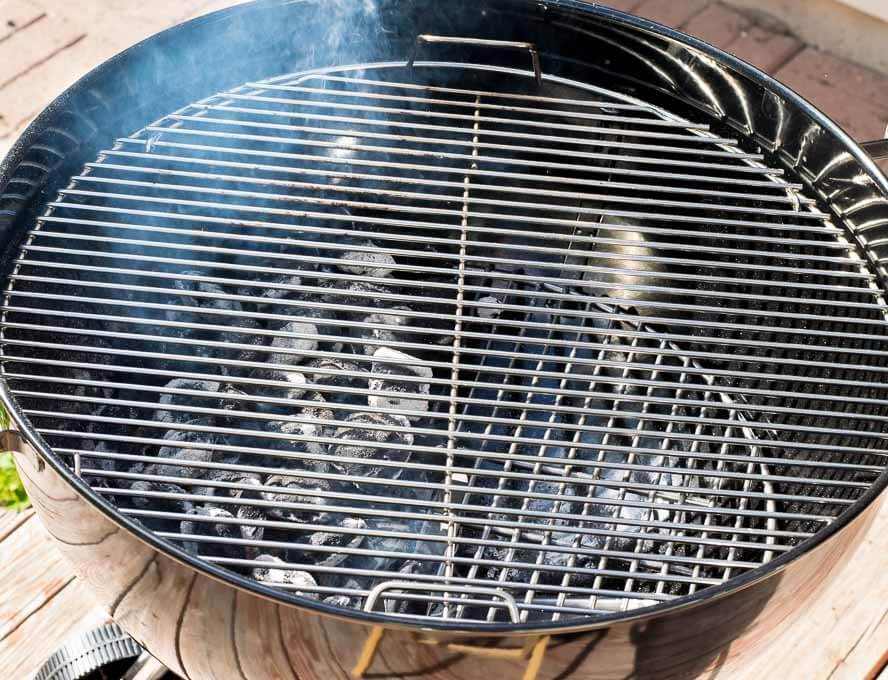 Simply light your charcoal in a full chimney starter until hot and then pour them out over half of the grill, as shown in the photo. This creates a high heat zone over the burning charcoal and a low heat zone over the empty side of the grill. Grill your steak on the grate directly over the charcoal until the steak forms a brown crust, then flip and repeat. The cook time will vary depending on your temperature, but ~4 minutes per side should get you close. If the steak begins burning before it is done, move it to the low heat side of the grill to finish cooking.
When is Steak Done
Your steak is done when it reaches 125 - 160 degrees, depending on your preferred level of doneness. I recommend using a [easyazon_link identifier="B017613C3C" locale="US" tag="foxvalfoo-20"]digital meat thermometer[/easyazon_link] for accurate readings.
125 degrees for rare steak.

135 degrees for medium-rare steak.

145 degrees for medium steak.

150 degrees for medium-well steak.

160 degrees for well-done steak.
After the steak has reached your desired level of doneness, let it rest for 5 minutes prior to serving. This allows the juices to redistribute into the meat, ensuring each bite is juicy perfection!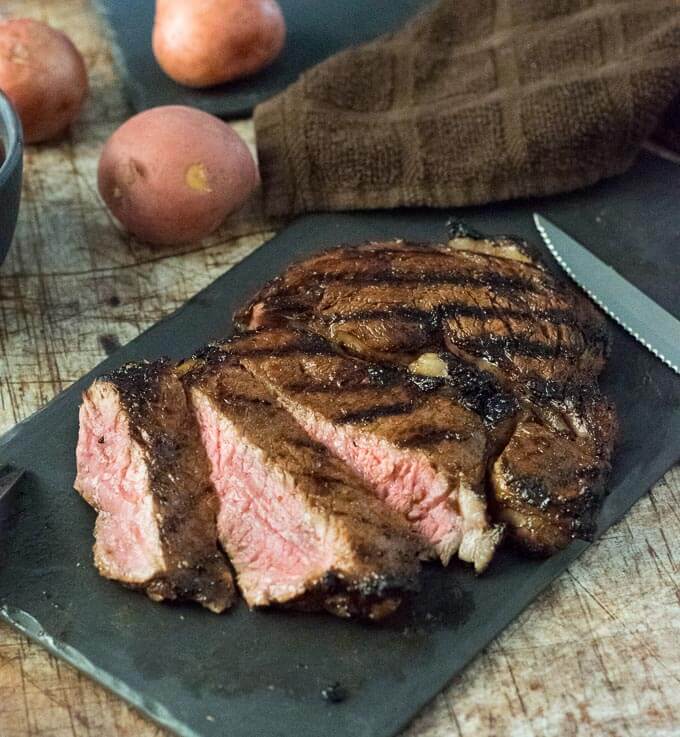 How to Grill Steak
There is nothing quite like the aroma of flames licking a juicy cut of steak on the grill. Let's break down how to grill steak perfectly every time!
Print
Pin
Rate
Save
Saved
Ingredients
1

beef steak

(t-bone or ribeye are great options)

2

teaspoons

cooking oil, plus more for grill grate

(see note below)

salt & pepper

(can also use steak seasoning of choice)
Instructions
Remove the steak from the fridge 20 minutes prior to grilling to allow it to come to room temperature. Rub the steak with cooking oil and add desired seasonings.

Light a full chimney of charcoal if using a charcoal grill and pour it over half of the grill. If using a gas grill, turn the heat on high.

Lightly oil the grill grate by adding oil to a paper towel and wiping down the grate. This will prevent sticking.

Place steak over the hottest part of the grill and let sit until the bottom forms a brown crust, ~4 minutes. Then flip and repeat.

Test steak doneness with a meat thermometer. If the exterior is nicely browned, but the interior is not yet at temperature, simply move the steak away from the heat source to finish cooking (or turn down heat to low on a gas grill).

Remove the steak from the grill when it reaches your preferred level of doneness and let rest 5 minutes prior to serving to allow juices to redistribute back into the meat.
Nutritional Information
Calories:
131
kcal
|
Carbohydrates:
13
g
|
Protein:
2
g
|
Fat:
8
g
|
Saturated Fat:
1
g
|
Sodium:
17
mg
|
Potassium:
805
mg
|
Fiber:
4
g
|
Sugar:
8
g
|
Vitamin A:
2830
IU
|
Vitamin C:
46.6
mg
|
Calcium:
34
mg
|
Iron:
0.9
mg
If you enjoyed reading How to Grill Steak then you should probably like me on Facebook and follow me on Pinterest too. That's what I would do at least, because if you don't get to know me but you still use my recipe it is kind of like taking candy from a stranger, and your mom taught you not to do that. Don't disobey your mom, subscribe to Fox Valley Foodie today.