These Philly Cheesesteak Sloppy Joes are not your mom's sloppy joes! Big cheesesteak flavor, tender pepper and onions, and gooey melted cheese are packed in every bite!
Well, my neighborhood is going to pot. The other night we had three squad cars on the street and two young men doing a very poor job exercising their right to remain silent. At least it made good entertainment for the evening. Now that I officially live on the bad side of town, I think the old man across the street and I are going to form our own gang. So watch out, this blog just got hardcore.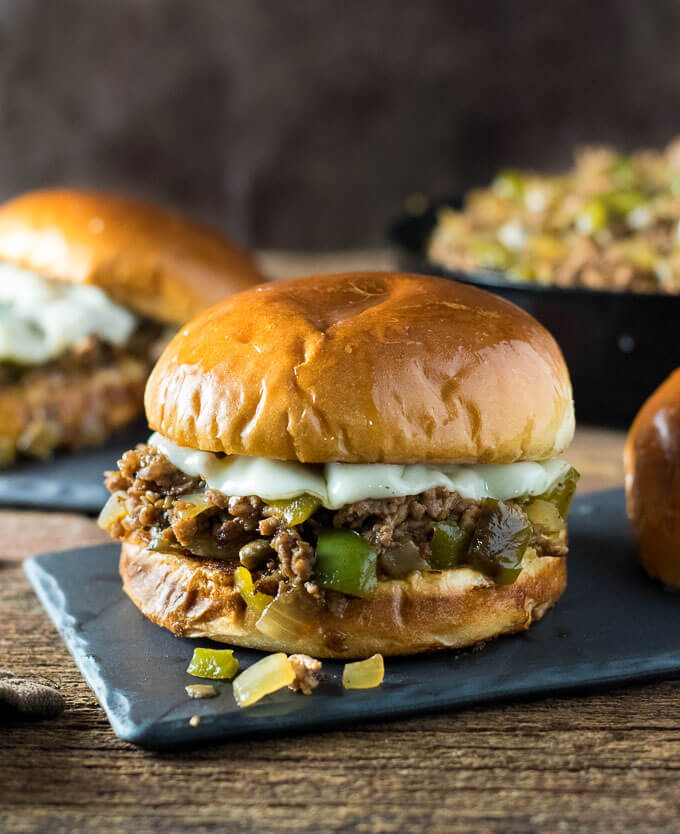 I suspect after a busy afternoon of gangstering we are going to work up quite the appetite, so I'll whip up a big batch of my Philly Cheesesteak Sloppy Joes. Sloppy joes are the perfect gangster food because sometimes life gets messy. Am I right?
What are Philly Cheesesteaks?
Traditionally, Philly Cheesesteaks are loaded with thinly sliced ribeye and topped with tender peppers, onions, and cheese. The cheese can be somewhat controversial, as "Cheeze Wiz" is the most authentic. However, many people prefer the melty goodness of provolone cheese blanketing their cheesesteaks instead. I am in the latter camp.
Crafting homemade Philly Cheesesteaks is often not worth the effort for the average home cook. Ribeye can be expensive and it is tedious to thinly slice the meat without a fancy deli slicer. Instead, reimagining it as a Philly Cheesesteak Sloppy Joe allows you to incorporate the flavors you love, with a lot less hassle!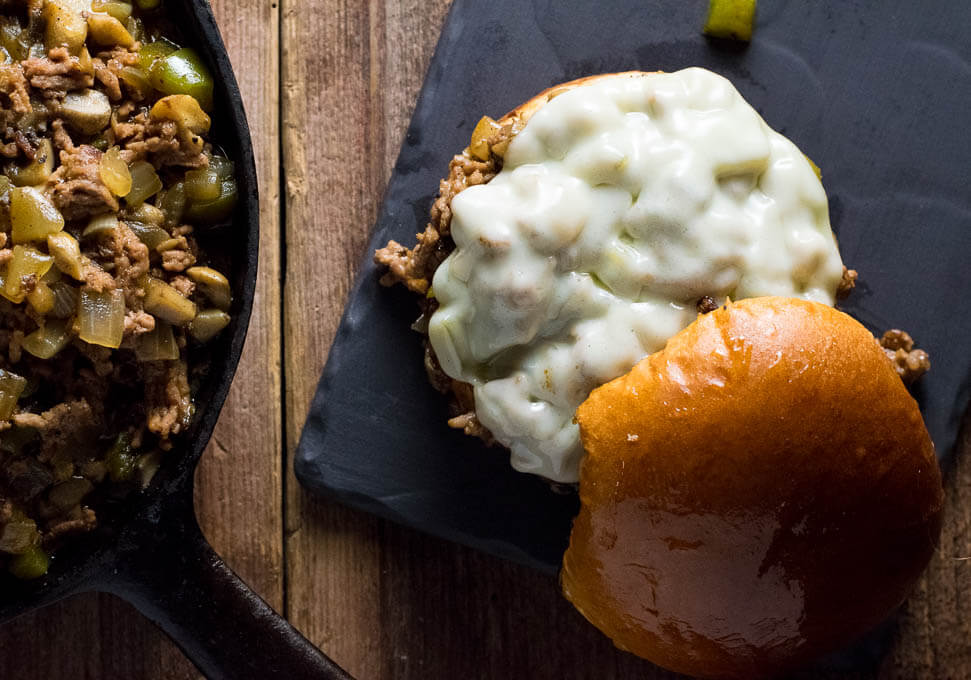 How to Make Philly Cheesesteak Sloppy Joes
The key to developing maximum flavor for these Philly Cheesesteak Sloppy Joes is forming a deep brown crust when cooking the beef. Don't be in a hurry to break apart and stir the beef. Instead, let it cook without interference for a few minutes at a time so a proper crust can form. This will add a lot of flavor to the final dish.
You can use any skillet for this recipe, however, a cast iron skillet is ideal for browning. Its thick construction is ideal for retaining heat and will always be one of the most versatile tools in your kitchen. People often want an easier method, and though I suppose you can make Philly Cheesesteaks Sloppy Joes in the slow cooker, your effort will be rewarded with much deeper flavors from using a skillet.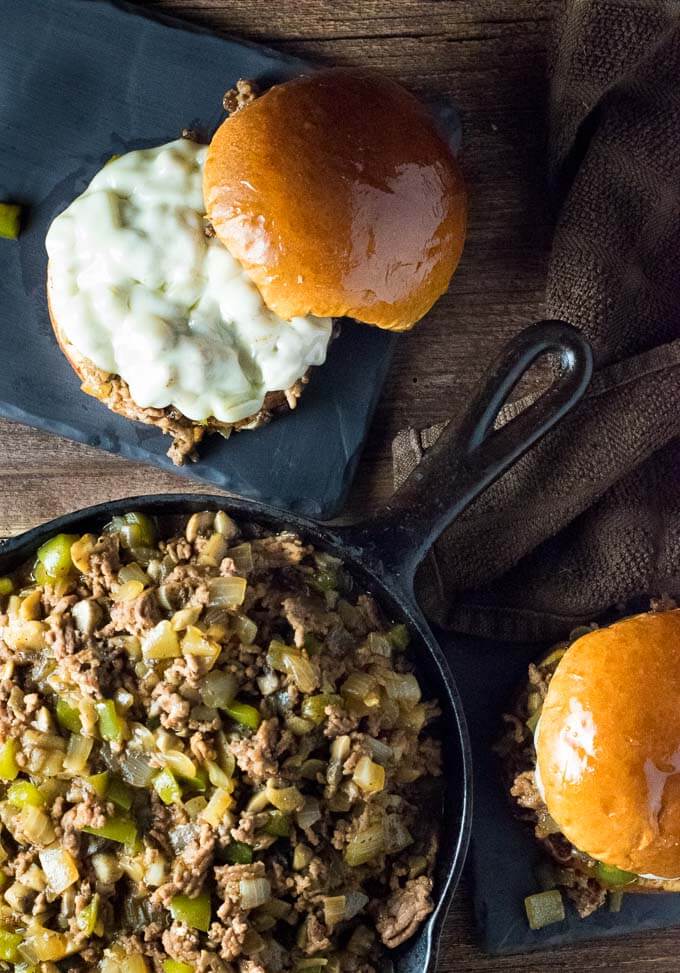 Homemade Sloppy Joes
For more homemade sloppy Joes, Check out these creations!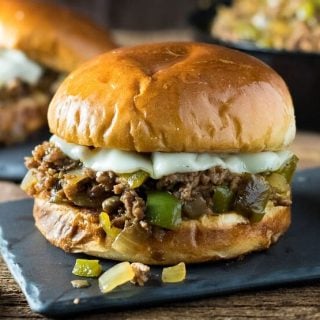 Philly Cheesesteak Sloppy Joes
These Philly Cheesesteak Sloppy Joes are not your mom's sloppy joes! Big cheesesteak flavor, tender pepper and onions, and gooey melted cheese are packed in every bite!
Print
Pin
Rate
Save
Saved
Ingredients
1

lb

ground beef

2

tablespoon

butter

1

yellow onion

(chopped)

1

green bell pepper

(diced)

8

oz

mushrooms

(minced)

2

tablespoon

ketchup

1

tablespoon

Worcestershire sauce

½

teaspoon

Kosher salt

½

teaspoon

fresh ground black pepper

1

cup

beef broth

1

tablespoon

cornstarch

6

hamburger buns

(brioche buns are perfect)

6

slices

provolone cheese
Instructions
Add ground beef to a skillet and cook until brown crust forms. Break apart the meat and brown further.

Once cooked through, remove the beef from the pan, leaving fat behind.

Add onions, pepper, mushrooms, and butter to the skillet and cook until tender, stirring occasionally.

Add beef back to the pan, along with ketchup, worchestershire sauce, salt, and pepper.

In a small dish combine cornstarch and beef broth by adding dribbles of the broth to the cornstarch a little bit at a time to prevent lumps from forming.

Add cornstarch mixture to the skillet, stir, and cook until liquid reduces to a thick saucy consistency. If it is too runny, continue cooking to reduce further.

Lightly toast insides of hamburger buns, add sloppy joe mixture and top with provolone cheese.
Nutritional Information
If you enjoyed reading my Philly Cheesesteak Sloppy Joes recipe then you should probably like me on Facebook and follow me on Pinterest too. That's what I would do at least, because if you don't get to know me but you still use my recipe it is kind of like taking candy from a stranger, and your mom taught you not to do that. Don't disobey your mom, subscribe to Fox Valley Foodie today.