This chicken with mushroom gravy recipe features dusted and seasoned chicken breasts smothered in a silky gravy loaded with sauteed mushrooms.
If you are looking for a crowd-pleasing family dinner, this is it. Chicken with mushroom gravy is a full-flavored meal that is fairly easy to prepare. Perfect for a Sunday supper served alongside roasted broccoli and carrots, and buttermilk cornbread!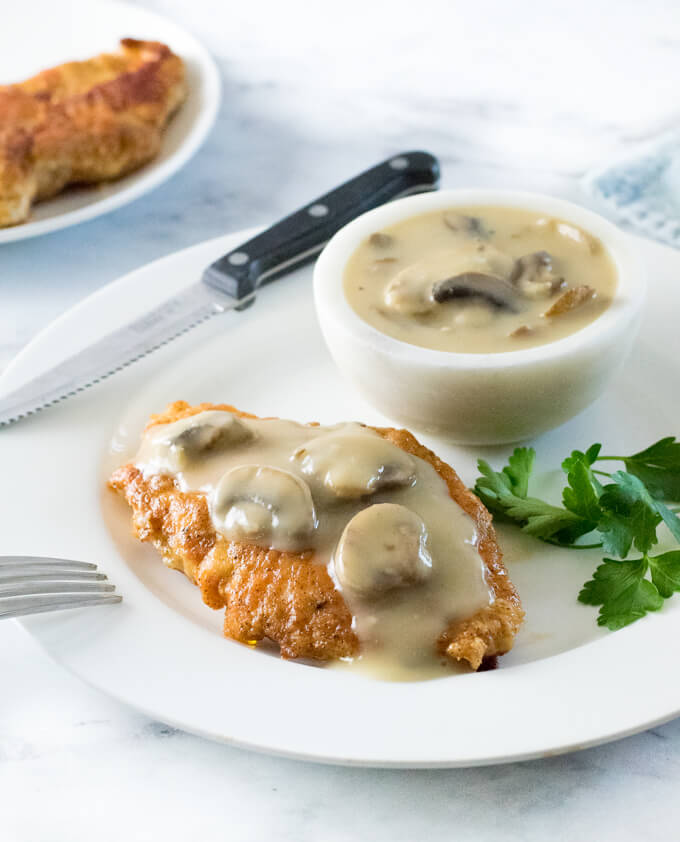 Chicken with Mushroom Gravy
Chicken breasts are pounded evenly and dusted with a mixture of flour and chicken seasonings, then pan-fried until cooked through. The dusting of flour lightly breads the chicken breast for added texture, which pairs wonderfully with a hearty mushroom gravy. This recipe is similar to chicken fried steak, but easier to prepare and not fully breaded and fried.
How to Make Mushroom Gravy
My mushroom gravy follows the same process as my traditional brown gravy recipe, with the obvious addition of mushrooms. The key to making a good gravy is to gently cook a roux in a small saucepan, continuing to stir as it browns, then slowly add liquid into the roux to form the gravy.
Adding the liquid slowly, while stirring, is important to ensure lumps don't form in your gravy. If you screw up and get a lumpy gravy, don't worry, you can strain out the lumps with a fine mesh strainer.
Honestly, you could probably cook the mushrooms right in the gravy if you wanted. However, I have always sauteed them first in a separate skillet then add them to the finished gravy.
How to lightly bread chicken breasts
Lightly breaded chicken is simply tossed in flour and seasonings. I love lightly breaded chicken breasts because they are much easier to make than fully breaded chicken (such as my chicken parmesan sandwich) and have a lot more flavor and texture than plain chicken breasts.
The reason they are easier to prepare is because you aren't setting up a full dredging station. Instead, the chicken breasts are pounded evenly and then tossed in the flour mixture which creates a light coating on the exterior of the chicken that browns wonderfully in minimal oil. There is no need to dredge the chicken in beaten eggs or milk, as the natural moisture from the meat will be enough for the flour and seasoning to stick to.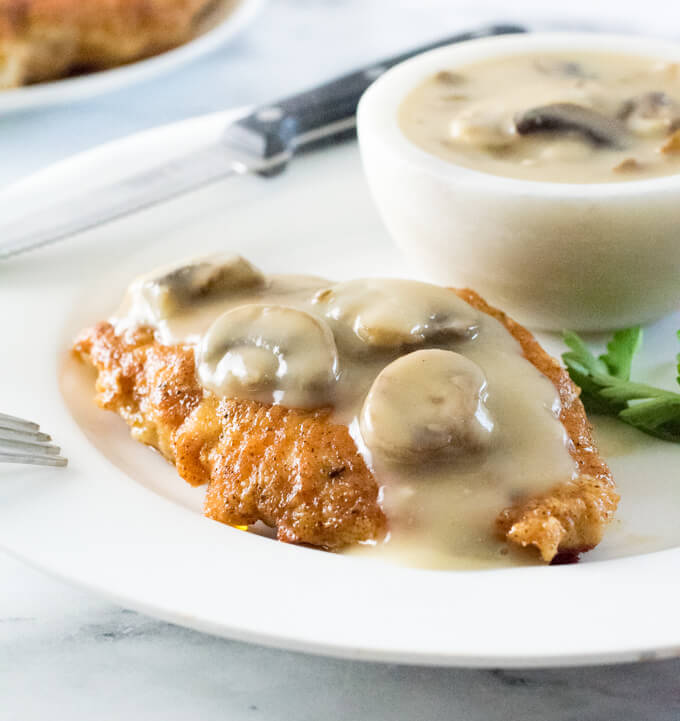 How long to cook chicken breasts in a skillet?
The chicken breasts will take about 10 minutes to cook in a skillet set over medium heat, or about 5 minutes per side, when pounded approximately 1" thick. You can pound them thinner if desired too. You will know the chicken is done when the interior reaches 165 degrees when tested with a meat thermometer.
Pounding the chicken breasts with a meat mallet is an important step because it allows the chicken to cook quickly and evenly in a skillet. Regular chicken breasts are too fat to cook easily in a skillet. With this recipe, in particular, the exterior coating would burn before the interior of the chicken cooked through.
How to customize this recipe
You do not have to use chicken breasts in this recipe. Substituting boneless skinless chicken thighs would be fantastic as well. Or make the gravy alone and pair it with your favorite chicken meal, such as my slow cooker chicken thighs. The gravy can also be doctored up with fresh herbs, or a dribble of soy or Worcestershire sauce.
Potato Side Dishes for this Meal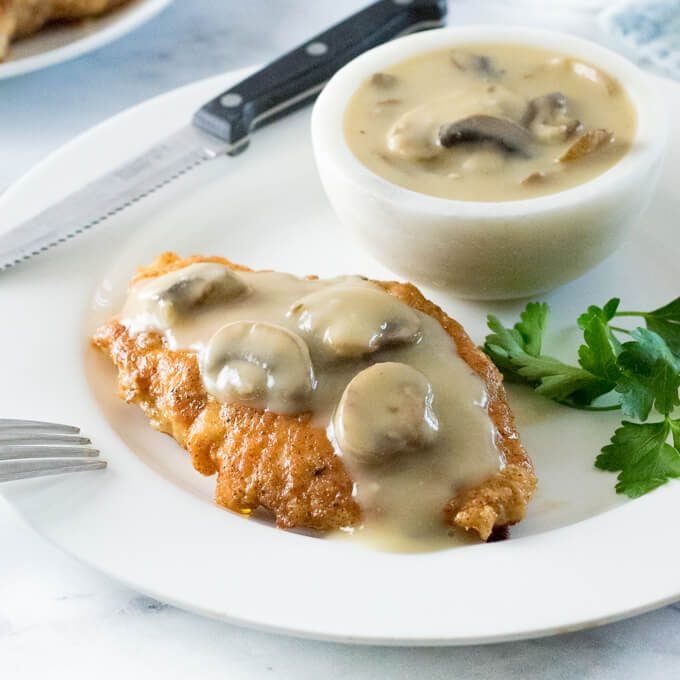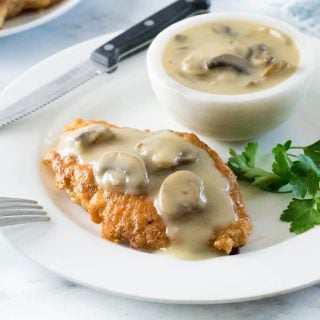 Chicken with Mushroom Gravy
This chicken with mushroom gravy recipe features dusted and seasoned chicken breasts smothered in a silky gravy loaded with sauteed mushrooms.
Print
Pin
Rate
Save
Saved
Ingredients
Chicken
1 ½

pounds

boneless skinless chicken breasts

½

cup

flour

1

teaspoon

salt

(plus more for dusting chicken)

½

teaspoon

black pepper

1

teaspoon

garlic powder

1

teaspoon

onion powder

1

teaspoon

paprika

1

teaspoon

oregano

2

tablespoons

cooking oil
Mushroom Gravy
¼

cup

all-purpose flour

¼

cup

butter

2

cups

chicken Broth

salt to taste

8

ounces

sliced mushrooms

(fresh, not canned)
Instructions
Chicken
Use a meat mallet to evenly pound the chicken breasts 1" thick, or less.

Mix together flour, salt, black pepper, garlic powder, onion powder, paprika, and oregano in a medium dish.

Lightly sprinkle chicken breasts with salt then dredge in the flour mixture to evenly coat.

Heat oil in a 12" skillet over medium heat and add chicken breasts. Cook for 5 minutes per side, or until the chicken reaches 165 degrees and the exterior has browned. Work in batches if needed.
Mushroom Gravy
Add mushrooms to a medium skillet and saute until tender. Add a splash of chicken broth to deglaze the skillet, reserving mushrooms and deglazing liquid.

Melt butter in a small saucepan set over medium-low heat and mix in flour. Stir continually until the mixture begins to deepen in color.

Slowly begin adding chicken broth, while still stirring, ensuring the liquid is incorporated before more is added. Stir in mushrooms and deglazing liquid.

If gravy is too thin, let it simmer for a few minutes to thicken. If the gravy gets too thick, add a few dribbles of water to thin it out. Prior to serving taste for salt and add more if needed.
Serving
Serve chicken breasts slathered in a generous helping of gravy.
Notes
If you like dark meat, feel free to substitute boneless skinless chicken thighs as well.
IF YOU LIKED THIS RECIPE you will love my Creamy Chicken Noodle Soup recipe as well!
Nutritional Information
Calories:
469
kcal
|
Carbohydrates:
22
g
|
Protein:
41
g
|
Fat:
24
g
|
Saturated Fat:
9
g
|
Cholesterol:
139
mg
|
Sodium:
1315
mg
|
Potassium:
941
mg
|
Fiber:
2
g
|
Sugar:
1
g
|
Vitamin A:
652
IU
|
Vitamin C:
11
mg
|
Calcium:
27
mg
|
Iron:
3
mg