These steak fries are oven baked with a crisp seasoned coating. Your family won't be able to get enough of this easy recipe!
Steak fries are the club bouncers of the potato world. They are thick and meaty, and when they show up in front of your face you know they mean business. However, the only thing that will knock you out with these fries, is the flavor!
What are they?
Steak fries are thick potato wedges that are seasoned and baked or fried until golden brown and tender. They are very similar to classic French fries, but cut thicker and often contain a crispier coating.
Best Potato for Steak Fries
Russet potatoes, known as baking potatoes, are the recommended potato for making the best steak fries. Russets cook up crisper than waxy potatoes such as Yukon gold potatoes and baby reds. This recipe could be attempted with sweet potatoes as well, but that would take the flavor in a completely different direction.
Steak Fries Seasoning
The secret to the great steak fries is liberally dusting them in a flavorful flour and spice seasoning mixture. This mixture combines with cooking oil allowing it to cling tightly to the potatoes while baking, giving them that crisp coating you crave.
Tip: I like using olive oil or peanut oil for best flavor, however, even regular vegetable oil will work.
You can make the fry seasoning by combining the following spices. As always, feel free to customize it with your favorite seasoning blends, like my French fry seasoning recipe.
Flour - The flour is what creates the crispiness!
Table Salt - You want to use a fine grain salt, not Kosher salt.
Black Pepper
Onion Powder
Garlic Powder
Oregano
Cayenne Pepper
How to Make Steak Fries
The best thick cut steak fries are dusted with flour. Why? The flour mixes with the seasonings and oil and turns crispy while baking.
Make sure you cut the thick wedges of potato evenly. If some fries are fatter than others the cooking time required will be inconsistent. I recommend using 4 large potatoes that are similar in size and shape. It makes it easier to make consistent cuts.
Once cut, add them to a large bowl with the oil and seasonings and toss to evenly coat. As soon as the oven is preheated you are ready to bake!
Tip: For perfect steak fries every time, I prefer to bake them on parchment paper. It makes for easier cleanup, but most importantly they don't stick!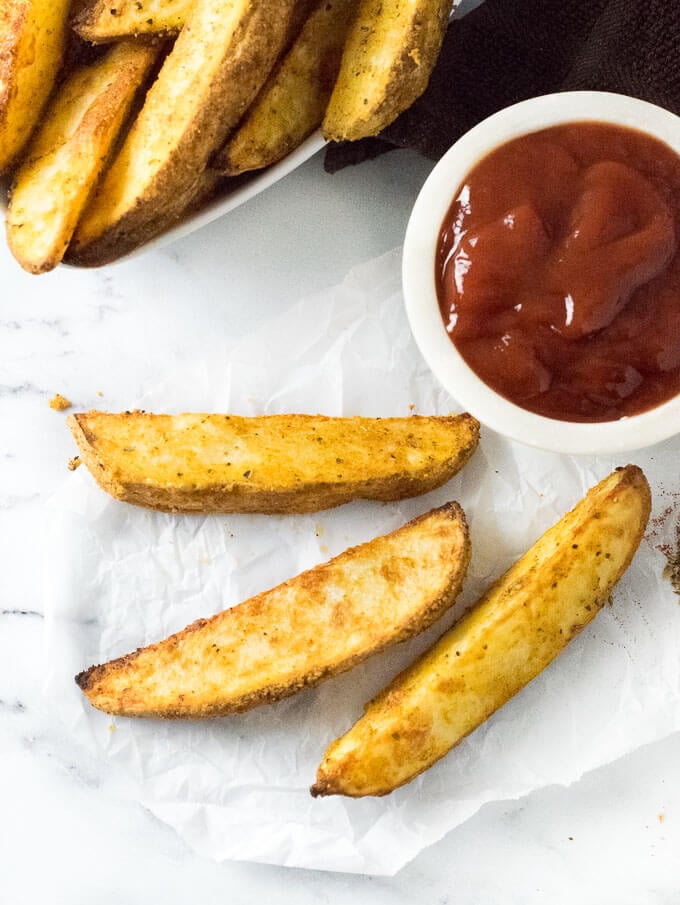 How Long to Bake Steak Fries
Spread out your fries evenly on a large baking sheet in a single layer so they are able to bake evenly. Place your baking sheet in a 450-degree oven for 25 minutes. The actual cooking time can vary a bit depending on how thick your fries are cut. Thinner fries will cook a few minutes faster, and really thick ones may take a few extra minutes.
When you flip the fries on the oven rack, pierce one with a fork to test for doneness. That will give you an idea of how much longer is required.
Other Ways to Cook Them
My recipe is designed to use in the oven, but there is no reason you can't deep fry these instead. I would deep fry in 350 degree oil until golden brown and tender.
Alternatively, you could use an air fryer instead, but it will likely take just as long as the oven. Approximately 20-25 minutes at 400 degrees.
The Best Sauces for Dipping Fries
Each perfectly seasoned and crispy steak fry deserves an equally flavorful condiment to pair with. These are some of the more popular, and my favorite, dipping sauces.
Ketchup - A classic with fries for a reason!
Ranch
Mayo - A favorite dipping sauce for many Europeans.
What to Serve with Steak Fries
Well, when deciding between main dishes the obvious answer is steak of course! These would be a phenomenal pairing with my Blue Cheese Crusted Steak recipe, steak bites, or a steak sandwich. If you aren't confident cooking a steak check out my How to Grill Steak tutorial.
Steak may be the obvious choice, but it isn't the only choice. These hearty fries are right at home next to a gourmet burger like my Caramelized Onion Burger, or a Wagyu Beef Burger. Be sure to read my homemade burgers tutorial to craft the restaurant quality burgers in your own kitchen!
Steak Fries
These steak fries are oven baked with a crisp seasoned coating. Your family won't be able to get enough of these!
Print
Pin
Rate
Save
Saved
Ingredients
4

large

Russet Potatoes

(approximately 2 ½ pounds)

¼

cup

Cooking Oil

3

tablespoons

Flour

1

teaspoon

Salt

¼

teaspoon

ground Black Pepper

¼

teaspoon

Onion Powder

¼

teaspoon

Garlic Powder

¼

teaspoon

Oregano

¼

teaspoon

Paprika

Dash Cayenne Pepper
Instructions
Preheat oven to 450 degrees.

Cut potatoes into wedges approximately an inch thick. (I typically get 8 wedges from a potato)

Place wedges in a large bowl and add oil and all seasonings. Toss to evenly coat the potatoes.

Place wedges in an even layer on a greased baking sheet lined with parchment paper and roast in the oven.

20 minutes into baking, check for doneness and flip wedges. Wedges can be removed if already cooked through, otherwise let cook 5 additional minutes, or until done.
Notes
Parchment paper is not required but makes for easier cleanup.
IF YOU LIKED THIS RECIPE you will also like my Baked Sweet Potato Fries. 
Nutritional Information
Calories:
437
kcal
|
Carbohydrates:
71
g
|
Protein:
8
g
|
Fat:
14
g
|
Saturated Fat:
1
g
|
Sodium:
600
mg
|
Potassium:
1538
mg
|
Fiber:
4
g
|
Sugar:
2
g
|
Vitamin A:
60
IU
|
Vitamin C:
21
mg
|
Calcium:
48
mg
|
Iron:
3.5
mg