This homemade salsa recipe is cooked on the stovetop to marry all of the vibrant flavors together and create a salsa better than your favorite Mexican restaurant.
I take my salsa very seriously. It has been a favorite treat of mine since I have been a kid. I've wanted to publish this recipe for years but held off until I refined it into what I believe is the best salsa recipe online. I hope you enjoy.
Cooked Salsa
Cooking salsa on the stovetop marries the flavors together and creates a flavorful sauce consistency. As compared to salsa fresca, the cooking process is how you recreate the flavors of your favorite store-bought jarred salsa. Since it is cooked, the cilantro is added last so the flavor it not cooked out of it. If you don't like cilantro, it can be omitted entirely.
What is the difference between salsa and Pico de Gallo?
There are many "salsa" recipes online that aren't actually salsa, but rather Pico de Gallo. Pico de Gallo is a delicious fresh salsa comprised of finely chopped vegetables that remain uncooked. Salsa, on the other hand, is typically cooked to meld the flavors together and features a thinner, "sauce", consistency. After all, salsa means "sauce" in Spanish.
Is this like Mexican Restaurant Salsa?
Many Mexican restaurants make their salsa fresh on a daily basis. You will notice immediately after cooking this salsa it has a distinct sharp 'restaurant-like' flavor. This is because the flavors didn't have time to marry yet, making it similar to the salsa prepared daily at many Mexican restaurants.
However, as the salsa sits in your refrigerator the flavors will continue to meld, creating a flavor profile more similar to your favorite store-bought jarred salsa.
Homemade Cooked Salsa Ingredients
Canned whole tomatoes - these are already peeled, consistent in flavor, and already have the ideal amount of juice to thin out your salsa.
White onion - good flavor and crunch.
Jalapeno peppers - provides the classic salsa heat!
Cilantro - adds a wonderfully fresh taste.
Garlic - imparts an earthy undertone.
Apple cider vinegar - sharpens the flavor while also adding complexity.
Lemon juice - brightens the flavor.
Salt - makes the flavors stand out.
Can I make this recipe with fresh tomatoes?
Yes, you can substitute garden-fresh tomatoes in this recipe. However, I don't recommend store-bought tomatoes since they typically lack flavor from being prematurely picked.
I use a ratio of roughly 4:1 tomatoes to onion. So, for this recipe use two pounds of cored and peeled paste tomatoes (such as roma) with 8 ounces of onion. Tomatoes will vary in water consistency depending on the exact variety you are growing, so plan to add tomato juice or water to the recipe as needed.
How to make salsa
This is a fairly easy recipe to make. The tomatoes get pureed in a blender until smooth, then poured into a sauce-pan. All of the remaining ingredients (minus cilantro) are added to the saucepan as well and simmered for approximately 45 minutes, or until the salsa has reached your preferred consistency. The longer it simmers the thicker it becomes. Once it is done simmering cilantro can be stirred in.
How to store homemade salsa
There are salsa recipes that can be canned, this is not one of them. Instead, it should be stored in the refrigerator in an airtight container. If you don't plan to eat it within a week it can be frozen and thawed when ready to enjoy.
Troubleshooting this recipe
Your salsa is too thin - Relax, you just have to simmer it longer. The longer it simmers the thicker it becomes.
Your salsa is too thick - If your salsa has the consistency of pasta sauce you likely simmered it too long and cooked out too much moisture. This is an easy fix, just add water back to the salsa to thin it out to the ideal consistency.
This isn't spicy enough! - I would describe this salsa as between mild and medium. If you want a spicier salsa increase the jalapeno as much as desired or even use serrano for more heat.
What else can I add? - Add tequila, substitute lime juice, fire-roasted tomatoes, or even seasonings like cumin and chili powder.
Recipes that use salsa
If you are looking for ways to use your salsa, try these exciting recipes: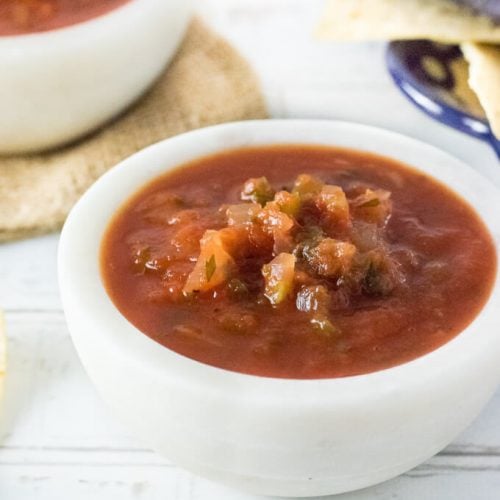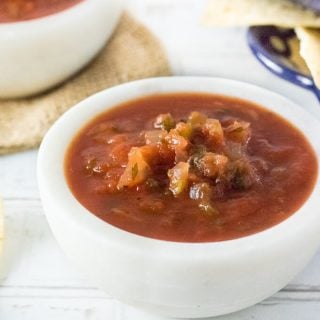 Homemade Cooked Salsa
This homemade salsa recipe is cooked on the stovetop to marry all of the vibrant flavors together and create a salsa better than your favorite Mexican restaurant.
Print
Pin
Rate
Save
Saved
Ingredients
56

ounces

canned whole tomatoes

*

8

ounces

finely chopped white onion

(~½ large onion)

4

ounces

finely chopped jalapeno

(3 medium peppers)**

2

cloves

minced garlic

3

tablespoons

apple cider vinegar

1

tablespoon

lemon juice

1

tablespoon

kosher salt

¼

cup

minced cilantro
Instructions
Add canned tomatoes, including the juice, to a blender. Puree until smooth.

Pour blended tomatoes into a medium saucepan and add onion, jalapeno, garlic, vinegar, lemon juice, and salt. Bring to a simmer and cook for 45 minutes or until it thickens to your desired consistency.***

Remove from stovetop and refrigerate in an airtight container. Consume within a week or freeze for longer storage.
Notes
*You can remove the seeds from the tomatoes if you want, however, I have made this recipe with and without removing seeds and it tastes great both ways. Since it is blended, the seeds don't detract from the texture.
**Add more jalapenos to reach your desired level of spiciness. As written, this recipe is between mild and medium.
***If your salsa is too watery, it just needs to simmer longer. If it starts looking like pasta sauce, then it is too thick and you should add some water to thin it back out.
IF YOU LIKED THIS RECIPE try my homemade nacho cheese sauce as well!
Nutritional Information
Calories:
21
kcal
|
Carbohydrates:
5
g
|
Protein:
1
g
|
Fat:
1
g
|
Saturated Fat:
1
g
|
Sodium:
463
mg
|
Potassium:
180
mg
|
Fiber:
1
g
|
Sugar:
3
g
|
Vitamin A:
154
IU
|
Vitamin C:
15
mg
|
Calcium:
28
mg
|
Iron:
1
mg