Heartier than the classic soup, this creamy chicken noodle soup is loaded with the flavors you love in a luxurious and filling broth!
I hate getting sick. Admittedly, I am a big ol' man-baby every time I come down with a bug. Next time I am knocked out of commission with a debilitating case of the sniffles I'm gonna make me a big bubbling pot of this creamy chicken noodle soup to snuggle up with in bed while my wife spoon feeds it to me, and gently pats me on the head. I'm not sure she is on board with this plan, but hey, a man can dream!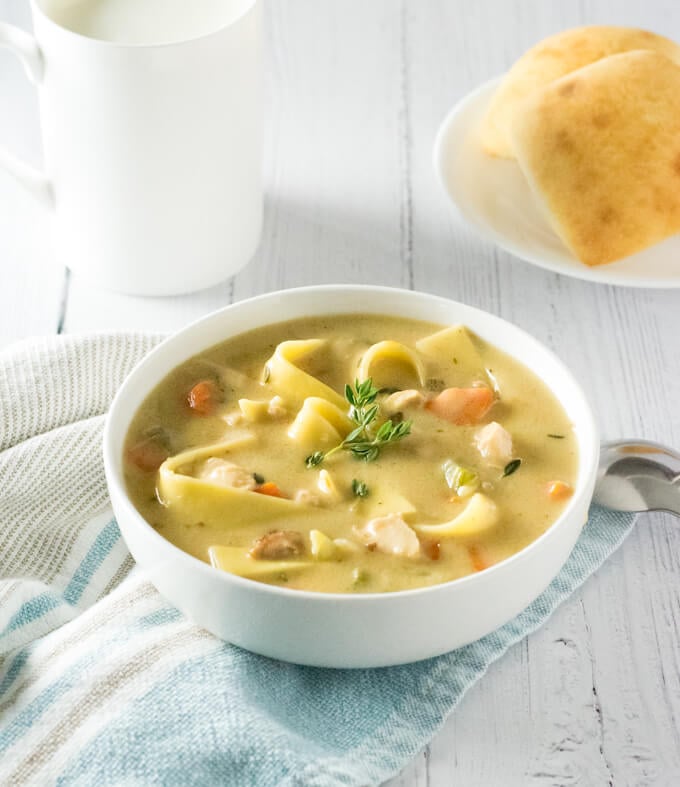 Creamy Chicken Noodle Soup
My creamy chicken noodle soup recipe packs all of the classic chicken noodle soup flavors you already know and love into the soup pot and then fortifies them with a thick and creamy broth.
A traditional chicken noodle soup typically uses chicken stock as the base of the soup. However, my creamier version thickens the liquid with a roux blended with heavy cream. A roux is a mixture of butter and flour that is cooked together and slowly blended with liquids to create thick sauces and creamy soup bases.
Best Noodles for Chicken Noodle Soup
Egg noodles are a popular choice for chicken noodle soup. However, for this heartier twist on the classic recipe, I recommend finding wide egg noodles. In particular, you are looking for thicker than normal noodles. Not only do these heartier noodles have great texture, but they also stand up to the thicker broth exceptionally well.
Best Cut of Chicken for Chicken Noodle Soup
This recipe only calls for one pound of chicken meat, so a whole bird is not needed. This gives you flexibility choosing the best cut of chicken for the soup. I recommend purchasing one pound of boneless skinless chicken thighs.
Not only is this cut of meat less expensive, the dark meat holds up to overcooking in soups better than white meat, which quickly becomes dry. Most grocers sell boneless skinless chicken thighs now, but you can always bone your own chicken thighs if needed.
How to Make Creamy Chicken Noodle Soup
Pull out your soup pot (affiliate link) for this recipe. Though the recipe contains multiple cooking steps, you can prepare everything in this one pot. Carrots cook more slowly than the other vegetables, so I recommend sauteing them in the pot for a few minutes before adding the onion, celery, and garlic. Once the vegetables have softened, remove them and prepare the roux.
You will want to continue to stir the roux as it cooks so it does not burn. When adding liquid to the roux just dribble in a few splashes at a time so everything incorporates evenly. Otherwise, you can get lumps. Once all of the liquid has been added to the roux, you can add all of the soup ingredients and finish cooking the soup. I do, however, recommend holding off on adding the noodles until the end so you don't overcook them. Otherwise, they fall apart and become mushy.
How to Reheat Creamy Chicken Noodle Soup
The flavor of this soup is phenomenal when reheated. However, a lot of the liquid will soak into the noodles as it sits in your refrigerator, making your leftover soup considerably thicker than when it was initially served.
You can reheat this soup in the microwave, or on the stovetop, however, I also recommend adding additional chicken broth, as needed, to thin the soup out once it has been reheated. Wait until it has been reheated to do this because it does thin out some as it comes back to temperature.
In lieu of chicken broth, you can also thin it out with additional heavy cream, half and half, or even milk in a pinch. You won't need a lot of liquid, so add it slowly and stir it in completely before adding more.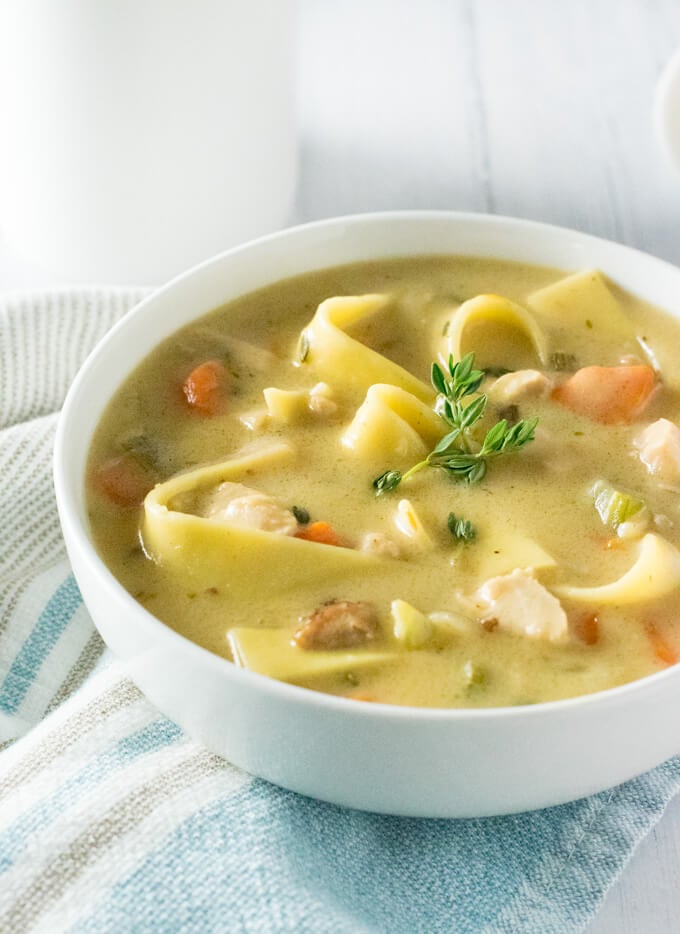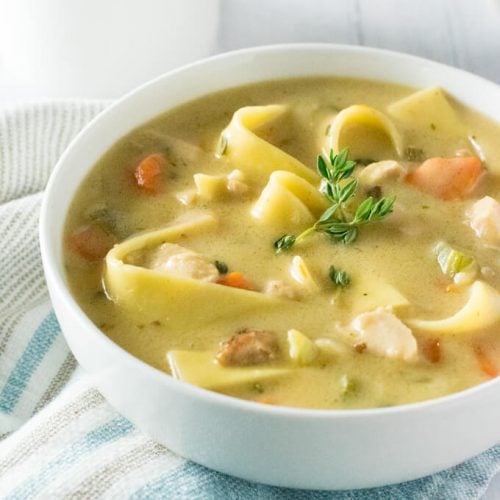 Creamy Chicken Noodle Soup
Heartier than the classic soup, this creamy chicken noodle soup is loaded with the flavors you love in a luxurious and filling broth!
Print
Pin
Rate
Save
Saved
Ingredients
1

tablespoon

cooking oil

1

cup

heavy cream

6

cups

chicken stock

1

small

onion

(chopped)

2

large

carrots

(peeled and sliced into half-moons)

3

ribs

celery

(diced)

3

cloves

garlic

(minced)

5

tablespoons

butter

⅓

cup

all-purpose flour

1

pound

boneless skinless chicken thighs

(small chop)

2

sprigs

fresh thyme

(divided)

2

teaspoons

kosher salt

½

teaspoon

freshly ground black pepper

3

cups

wide egg noodles
Instructions
Add cooking oil to a soup pot set over medium heat and add carrots, saute until they start getting tender. Add onions and celery and continue to saute until all vegetables are tender. Add garlic and cook an additional 2 minutes.

Remove vegetables from pot and set aside.

Set heat to low and add butter. Once melted, sprinkle in flour and continue to stir until mixture begins to deepen in color, approximately three minutes.

Slow incorporate heavy cream into the roux (butter/flour), stirring in a splash at a time. Add the chicken stock in the same manner.

Return the vegetables to the soup pot, along with chicken, salt, pepper, and 1 sprig of thyme. Simmer for 30 minutes.

Add noodles and remaining sprig of thyme and cook for an addition 15 minutes, or until noodles have softened. Remove thyme sprigs and serve.
Nutritional Information
Calories:
613
kcal
|
Carbohydrates:
38
g
|
Protein:
24
g
|
Fat:
40
g
|
Saturated Fat:
19
g
|
Cholesterol:
161
mg
|
Sodium:
1197
mg
|
Potassium:
517
mg
|
Fiber:
1
g
|
Sugar:
5
g
|
Vitamin A:
947
IU
|
Vitamin C:
1
mg
|
Calcium:
51
mg
|
Iron:
2
mg