Deep charred flavor permeates each bite of this roasted broccoli and carrots side dish. It is incredibly simple to prepare and a sure favorite!
Well, it is mosquitogedden around Wisconsin right now after all of the rain we've gotten recently. It dang near feels like a plague when you go outside. I went hunting this weekend and got eaten alive by the skeeters infesting the swamp. I suspect I was extra tasty because of all the roasted broccoli and carrots I've eaten lately. It probably makes my blood sweeter. You're welcome mosquitoes.
Roasted Broccoli and Carrots
Roasted broccoli and carrots is an incredibly simple side dish, yet full of deep roasted flavor. Broccoli and carrots are tossed in olive oil and generously seasoned with salt and pepper then roasted in the oven until charred and delicious.
Coating the vegetables in oil is the secret to this recipe. The oil intensifies the heat during the roasting process and "fries" the exterior of the broccoli florets creating blackened crispy goodness! Salting generously really brings out the flavor!
What Temperature to Roast Broccoli and Carrots
I find 400 degrees to be the sweet spot for roasting broccoli and carrots. 400 degrees is hot enough to char the broccoli yet low enough to give the much harder carrots sufficient time to cook.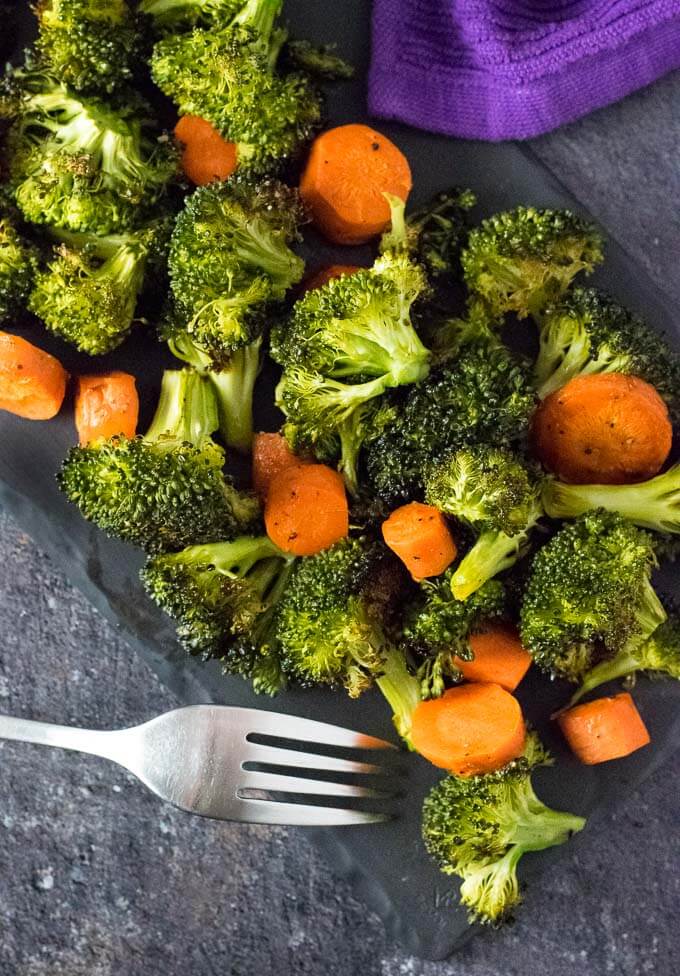 How Long to Cook Broccoli and Carrots in the Oven
I roast broccoli and carrots for 25 minutes, however, there is some flexibility in this. Broccoli cooks faster than carrots do, resulting in tender charred broccoli and tender-crisp carrots. It is a nice contrasting texture. However, if you like your carrots to be more tender feel free to give them up to a 10-minute headstart prior to adding the broccoli.
Can I Roast Broccoli Carrots and Cauliflower
You don't have to just stick with roasted broccoli and carrots. You can add additional vegetables to fit your taste. Roasted broccoli carrots and cauliflower is a popular alternative as well. Just substitute an equal amount of cauliflower for broccoli and continue with the recipe as written.
Print Recipe
Roasted Broccoli and Carrots
Deep charred flavor permeates each bite of this roasted broccoli and carrots side dish. It is incredibly simple to prepare and a sure favorite!
Ingredients
1

pound

Broccoli Florets

3

medium

Carrots

(chopped into 3/4" slices)

2

tablespoon

Olive Oil

1/2

teaspoon

Kosher Salt

1/4

teaspoon

fresh Ground Pepper
Instructions
Preheat oven to 400 degrees.

In a large bowl toss broccoli florets and carrots with olive oil salt and pepper.

Pour vegetables evenly onto a baking sheet and place in the oven for 25 minutes. Broccoli will be charred and carrots will be tender-crisp.

Optional: If you prefer carrots to be more tender put them into the oven 10 minutes prior to adding the broccoli florets.
Loved this recipe?

Be sure to rate it and share you thoughts below!
*Calories listed are a vague estimate and accuracy should not be assumed.
If you enjoyed reading my Roasted Broccoli and Carrots recipe then you should probably like me on Facebook and follow me on Pinterest too. That's what I would do at least, because if you don't get to know me but you still use my recipe it is kind of like taking candy from a stranger, and your mom taught you not to do that. Don't disobey your mom, subscribe to Fox Valley Foodie today!