Your whole family will love this exceptionally tender Brown Sugar Meatloaf. It is loaded with the rich flavors of Worcestershire and French onion and painted with a sweet and tangy brown sugar glaze. This is comfort food at its finest. Taste why readers are calling this the best meatloaf recipe ever!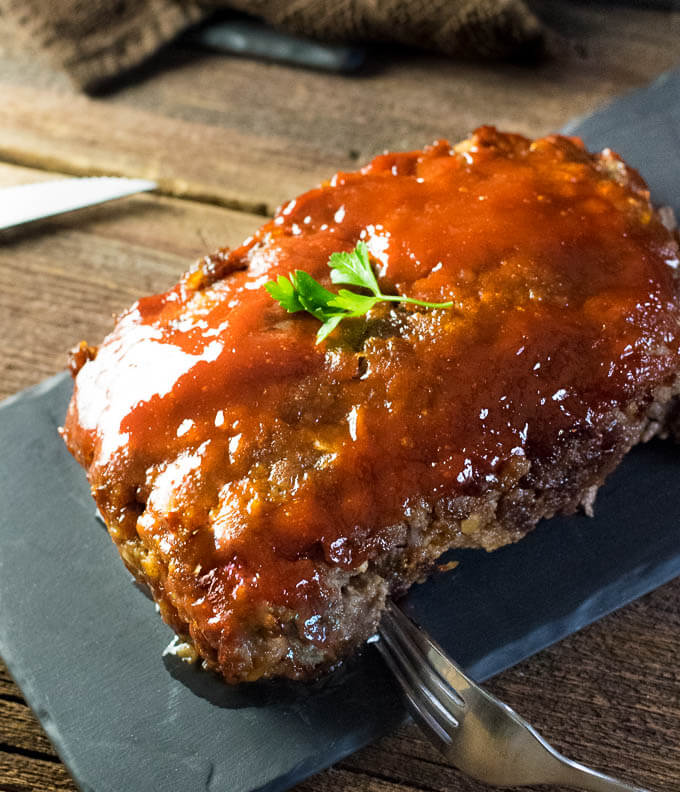 Is there any dinner entrée name that sounds more appealing than "Meatloaf"? Think about it... Loaf of meat. Mmm, tantalizing... I guess it is a perfectly descriptive name. Truth in advertising, if you will. However, growing up I never really had meatloaf. What I was served would be more aptly named "meatbrick". It was a largely flavorless, overly dense, hunk of meat, that sent me running from the idea of meatloaf for years.
My family, however, loves meatloaf and routinely asks me to make it. I developed this brown sugar meatloaf recipe for them, and guess what? I love it too! Who knew meatloaf could taste good! Well, I guess everyone but me knew that. So, I guess I may be the last one to the party, but at least I have a tasty meatloaf recipe to show for it!
I have since gone on and even created a Smoked Meatloaf and a Cheeseburger Meatloaf recipe. They taste insane, you'll want to check them both out!
How to Make Brown Sugar Meatloaf
This recipe is similar to a classic meatloaf (mom's meatloaf), but with an added secret ingredient. I add one powdered onion soup mix packet to the meatloaf mixture. I got the idea from my father-in-law, who uses it in his burgers. It really adds a great depth of flavor to the meatloaf, without being overpowering at all.
The best meatloaf is tender, not a dense brick. Adding breadcrumbs and milk helps keep the meatloaf tender while adding moisture, and the egg will bind it all together. One cup of breadcrumbs and one cup of milk in this easy recipe makes it exceptionally tender. If you like a firmer meatloaf you can cut back on these amounts slightly.
To make the meatloaf all of the meat mixture ingredients get combined in a small bowl or mixing bowl. This is then formed into a loaf, typically using a loaf pan. All of the brown sugar sauce ingredients get similarly mixed and then are painted on top of the loaf as a sweet and tangy glaze, as well as inside the loaf pan. At this point, the raw meatloaf is ready for baking!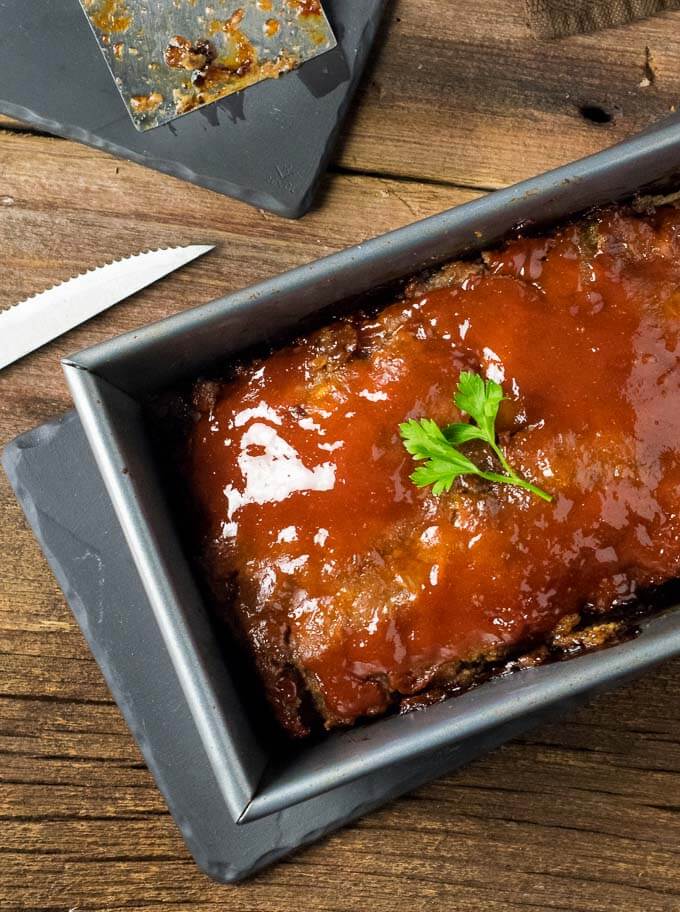 At what temperature should I bake Meatloaf?
The best temperature for baking meatloaf is in a preheated oven set at 350 degrees. It is a low enough temperature to allow the interior of the meatloaf to heat up before the exterior dries out.
How long to bake meatloaf
When baking meatloaf in a bread loaf pan it takes approximately 1 hour and 10 minutes to reach an internal temperature of 165 degrees. However, it is important to note cook time will vary depending on the thickness of your meatloaf, using a digital oven thermometer will ensure you remove the Brown Sugar Meatloaf as soon as it is done baking. No one wants to eat overcooked dry meatloaf!
Ingredient Substitutions
I understand that not every kitchen is stocked with each ingredient you need, and sometimes you forget to grab the right items at the store. Here are some easy substitutions for this recipe.
Meat - Rather than using lean ground beef, this would also work excellent as a venison meatloaf. Ground turkey is also a lean meat that can be used to make your meat loaf. Finally, ground pork can also be used. Ground pork works well by itself or blended with your ground beef (Frankly, that would be an amazing combo with the BBQ sauce in my BBQ Meatloaf recipe).
Breadcrumbs - Rather than traditional breadcrumbs you can use panko breadcrumbs instead, or make your own bread crumbs from crumbling toast or saltine cracker crumbs! I do not recommend using Italian bread crumbs or you will throw off the flavor.
Milk - Feel free to substitute beef broth.
Worcestershire sauce - You could add a little soy sauce, or eliminate this ingredient completely.
What hamburger should I use?
The best hamburger to use in meatloaf is the traditional 80/20 blend of meat/fat, such as ground chuck. This is the same blend the best burgers are made from. If you go with lean ground beef, like a 90/10 ground beef, your meatloaf will not have enough moisture and will lack juiciness and flavor. Conversely, too much fat would lead to a big greasy mess. 80/20 beef is the sweet spot where there is enough fat to be juicy but not so much that the meatloaf turns greasy.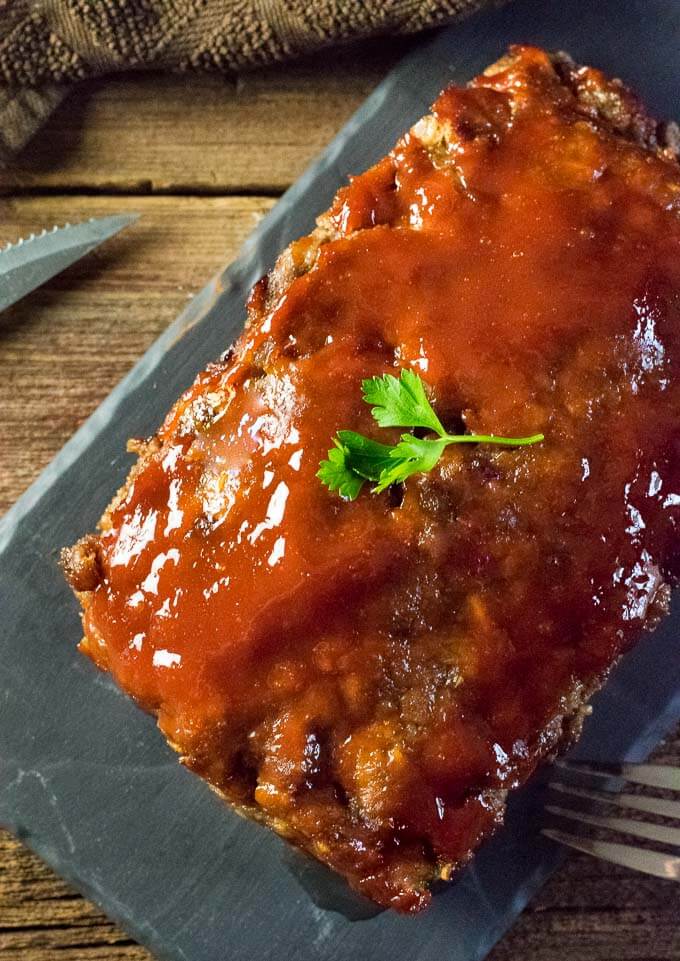 Meatloaf Glaze
The meatloaf glaze is what separates a good meatloaf from a great meatloaf. In a pinch you can certainly use a plain ol' ketchup glaze, however, adding brown sugar and cider vinegar to your ketchup mixture adds an enticingly sweet and sour component that your family won't be able to get enough of.
The brown sugar glaze is exceedingly simple to make, just mix together ½ cup of ketchup, ¼ cup of brown sugar, and a quarter cup of cider vinegar and paint it on the meatloaf before it goes in the oven.
Meatloaf FAQs
Can you freeze meatloaf?
Yes, you can mix the meatloaf in advance and store it in the freezer prior to baking. I recommend wrapping it in plastic wrap and placing it in a freezer safe bag to prevent freezer burn. Also plan on letting it thaw out in the refrigerator for a day or longer prior to baking.
How to reheat leftover meatloaf?
Leftover meatloaf can be reheated at the same temperature as baking it (350 degrees). However, I do recommend covering it with aluminum foil so it doesn't dry out. It will reheat faster than it initially cooked, so check on it periodically. Use leftovers to make a phenomenal meatloaf sandwich the next day.
Can you make meatloaf on a baking sheet?
Using a loaf pan is the most common way to make meatloaf, but you can certainly make it on a baking sheet as well if you don't have one available. The loaf just needs to be formed with your hands and it will generally keep its shape. You can also use a muffin tin to make individual meatloaves.
What to serve with it?
Mashed potatoes! There is no greater side dish, or more classic pairing to make a complete meal with meatloaf than fluffy mashed potatoes! This is a great pairing not only because they taste great together, but also because the mashed potatoes can be prepared on the stove top while the meatloaf bakes. You could even make some buttermilk cornbread to serve with the meatloaf. Cornbread can be made in advance and warmed prior to serving, or you can bake them with the meatloaf, even though the oven temperature may not be perfect.
Try any of these vegetables on the side:
Can you do me a favor? If you enjoyed my post would you mind sharing it with your friends? You can see more of my recipes by liking me on Facebook and follow me on Pinterest too. Otherwise, stay up to date by getting each new post sent directly to your inbox by subscribing today.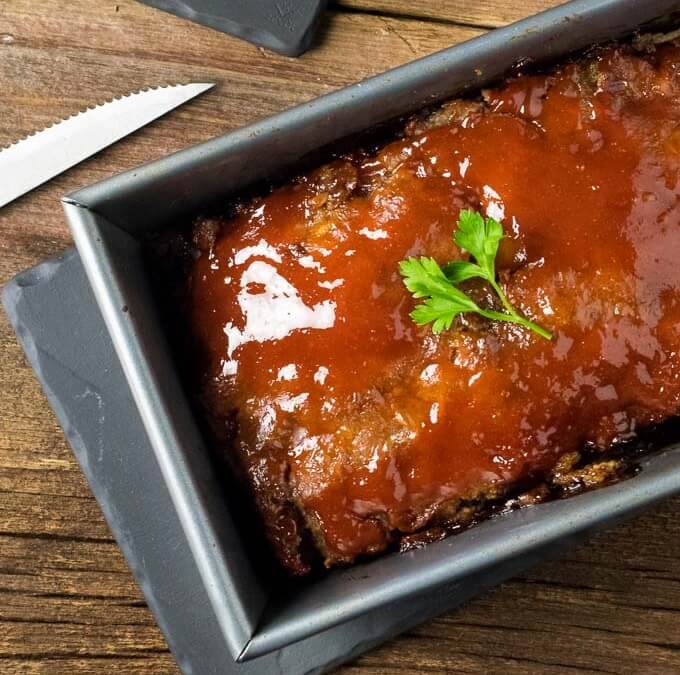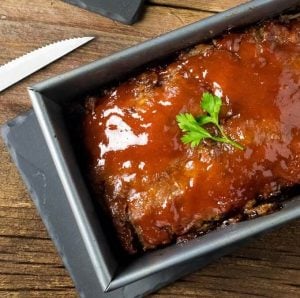 Brown Sugar Meatloaf
Your family will love this exceptionally tender Brown Sugar Meatloaf. It is loaded with the rich flavors of Worcestershire and French onion and painted with a sweet brown sugar glaze!
Print
Pin
Rate
Save
Saved
Ingredients
Meatloaf
1 ½

pounds

ground beef

1

cup

breadcrumbs

1

ounce

packet onion soup mix

1

tablespoon

Worcestershire sauce

1

egg

beaten

1

teaspoon

table salt

(or to taste)

¼

teaspoon

black pepper

1

cup

milk
Sauce
½

cup

ketchup

¼

cup

apple cider vinegar

¼

cup

brown sugar
Instructions
Preheat oven to 350 degrees.

Gently crumble ground beef in a large bowl, breaking up into small pieces. Add remaining meatloaf ingredients to the bowl and gently combine, being careful not to overwork the meat.

Mix all sauce ingredients together and spread half of the sauce along the bottom and sides of a bread loaf pan.

Add meatloaf to a loaf pan and press firmly into a loaf shape.

Liberally paint remaining sauce over the loaf.

Place meatloaf in the oven and bake for 1 hour 10 minutes, or until the internal temperature reads 165 degrees.

Let rest for five minutes, then slice and serve.
Nutritional Information
Calories:
668
kcal
|
Carbohydrates:
44
g
|
Protein:
35
g
|
Fat:
37
g
|
Saturated Fat:
14
g
|
Cholesterol:
126
mg
|
Sodium:
1237
mg
|
Potassium:
750
mg
|
Fiber:
1
g
|
Sugar:
25
g
|
Vitamin A:
255
IU
|
Vitamin C:
1.8
mg
|
Calcium:
170
mg
|
Iron:
5.1
mg
This recipe was originally published on FoxValleyFoodie.com on April 7, 2017.