Boldy seasoned and outrageously flavorful, this mouthwateringly tender BBQ Meatloaf won't last long on your dinner table.
Guys, I made a grave mistake. I made this BBQ meatloaf for dinner last night and had to share it with my family. Don't get me wrong, they are pretty good people and deserve to eat on occasion, however, after the first bite, I REALLY wanted to devour this whole meatloaf by myself. I totally could have done it too, if it weren't for those meddling kids. The rich and saucy flavor penetrating each bite is still haunting me.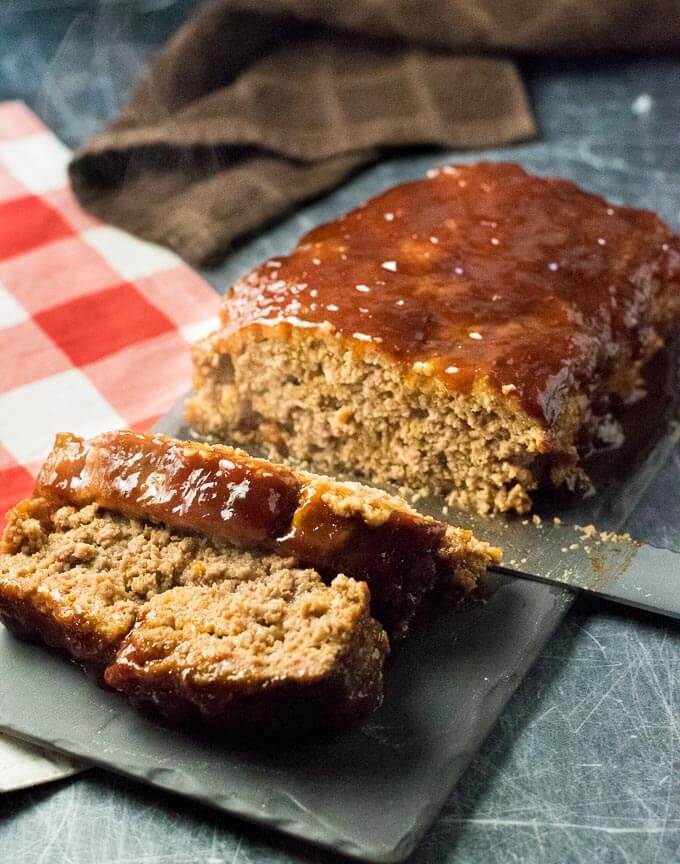 If you have never had BBQ Meatloaf,  you need to put it on your dinner menu pronto! This recipe combines the fork tenderness of a great meatloaf with the bold flavors of a classic BBQ dry rub seasoning the beef, and, of course, saucy BBQ sauce lacquered on top!
How to Make Meatloaf
As I explain in my original meatloaf recipe, the secret to making great meatloaf is to not overwork the meat. The more the meat is press and squished, the denser your meatloaf will be. You only want to work the meat enough to blend all of the ingredients together. Additions, like egg and breadcrumbs, provide you with a little forgiveness as they help hold the meat together and hold in moisture.
Much like making perfectly tender homemade burgers, or the best meatballs, I recommend buying freshly ground beef from the butcher counter at your grocery store when making meatloaf, rather than pre-packaged tubes of meat. Freshly ground beef is typically less compacted, allowing you to still see the individual strands of meat from the meat grinder. This creates a more tender final dish.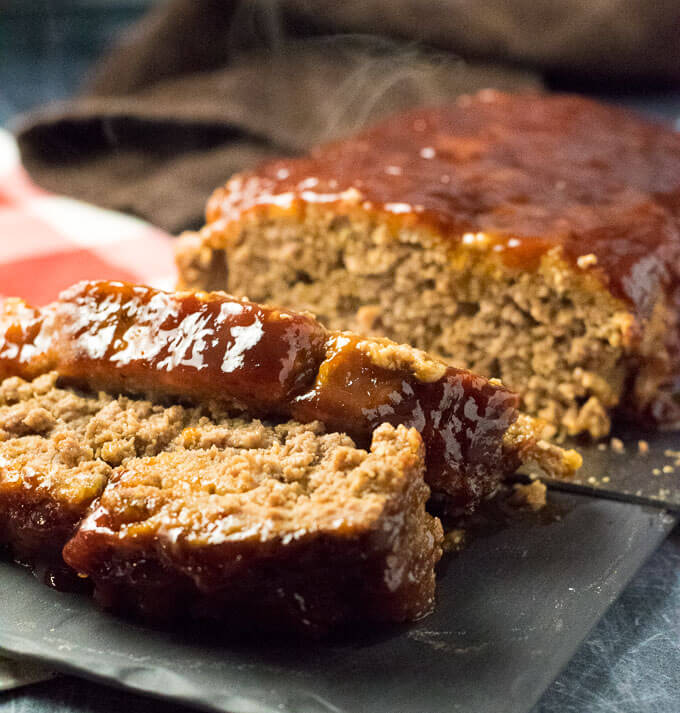 How to Cook BBQ Meatloaf
Baking BBQ Meatloaf in the oven at 350 degrees for 70 minutes will yield great results. However, if the weather cooperates and you are feeling daring, fire up the grill and cook over indirect heat at a similar temperature. Be careful to monitor the temperature to prevent burning and you should have a meatloaf that is out of this world.
What to Cook Meatloaf In?
I recommend using a bread pan (affiliate link) for meatloaf. It is the perfect shape and size. If you don't own one you can pick up foil ones at the grocery store. However, in a pinch, there is no reason why you can't simply form a loaf and bake it in a baking pan.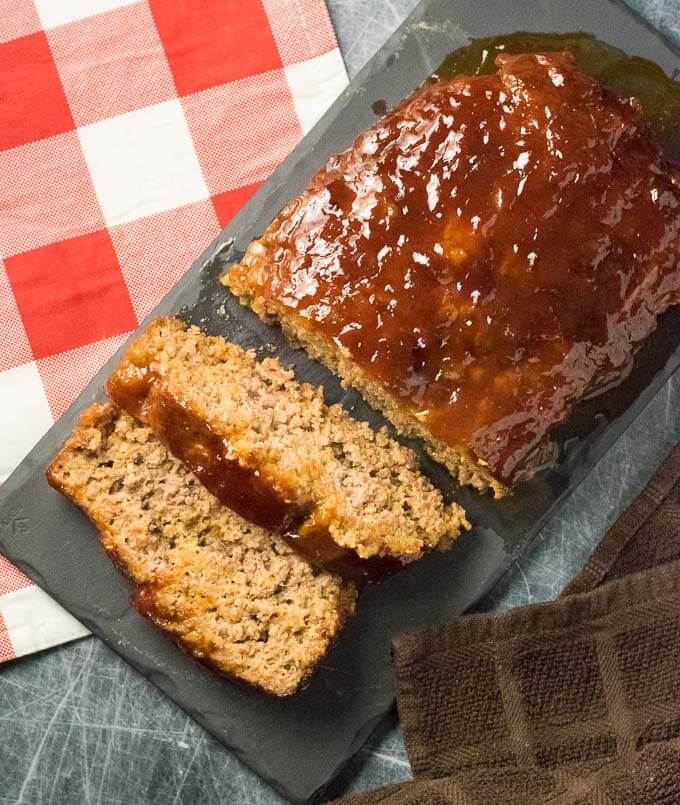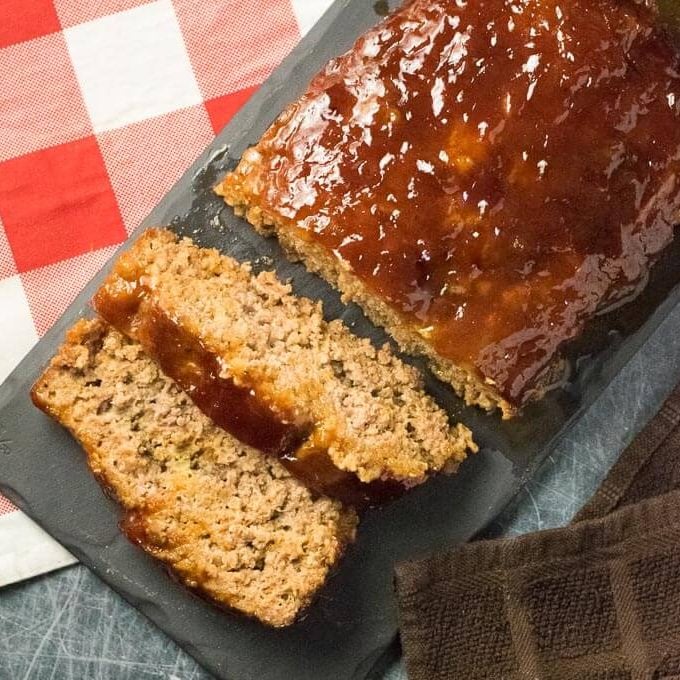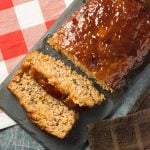 Print Recipe
BBQ Meatloaf
Boldy seasoned and outrageously flavorful, this mouthwateringly tender BBQ Meatloaf won't last long on your dinner table.
Ingredients
Meatloaf
1 1/2

lbs

ground beef

1

cup

breadcrumbs

1

cup

milk

1

egg

(beaten)

1

tbsp

Worcestershire sauce

3

dashes

liquid smoke

(optional)

1

tablespoon

brown sugar

1

teaspoon

table salt

(or to taste)

1/2

teaspoon

black pepper

1/2

teaspoon

smoked paprika

1/2

teaspoon

garlic powder

1/2

teaspoon

onion powder

1

dash

cayenne pepper
BBQ Sauce - Use 1 cup of your favorite BBQ sauce or use the recipe below
1/2

cup

ketchup

1/4

cup

apple cider vinegar

1/4

cup

brown sugar

2

teaspoons

worchestershire sauce

1

dash

cayenne pepper
Instructions
Preheat oven to 350 degrees.

In large bowl, gently crumble ground beef then add all remaining meatloaf ingredients.

Using your fingers gently combine all ingredients and meat being careful not to overly squish or press the meat (this makes the meatloaf dense)

Mix BBQ sauce ingredients together in a bowl.

Pour 1/4 cup of sauce in the bottom of a bread pan, or enough to evenly coat the bottom.

Add meatloaf to the bread pan and gently press into a solid loaf shape, pressing only hard enough for the meat to hold together.

Pour remaining BBQ sauce evenly over the top of the meatloaf.

Place in the oven for 70 minutes, or until the internal temperature reaches 165 degrees.

Remove from oven, let cool for 5 minutes and serve.
*Calories listed are a vague estimate and accuracy should not be assumed.
If you enjoyed my BBQ Meatloaf recipe then you should probably like me on Facebook and follow me on Pinterest too. That's what I would do at least, because if you don't get to know me but you still use my recipe it is kind of like taking candy from a stranger, and your mom taught you not to do that. Don't disobey your mom, subscribe to Fox Valley Foodie today.