Each tender bite of this Cheeseburger Meatloaf is loaded with all of the classic cheeseburger flavors you love, including a hidden layer of melty Cheddar cheese! This recipe you need to taste to believe!
Last week I set out to combine two of the greatest comfort foods known to man, the classic cheeseburger, and a hearty meatloaf dinner. And ermahgerd! After a bit of trial and error, my recipe turned out insane! Don't just take my word for it, I even invited my mother over for a tasting and she raved as well. Moms would never give their children unconditional praise and encouragement, right?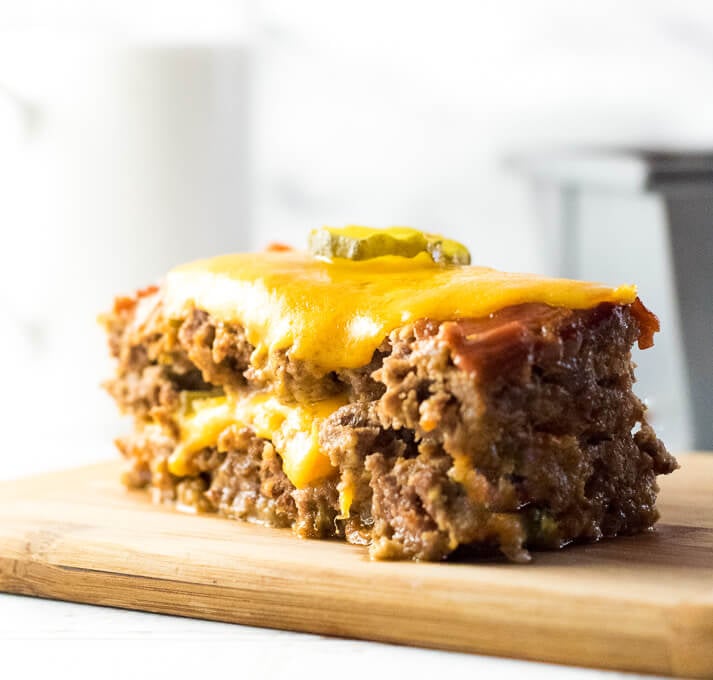 My first attempt at making this Cheeseburger Meatloaf was a failure.  Though I used a similar approach as my very successful original meatloaf recipe, the flavor was spot on, but it was too tender. Yes, apparently there is such a thing. It pretty much just cracked and crumbled apart. After a bit of tweaking, I am very happy with the final recipe.
How to Make Meatloaf
To understand this recipe, you need to understand the basics for making meatloaf. Meatloaf is typically filled with binders such as breadcrumbs, and eggs, as well as milk for added moisture. I typically add these pretty aggressively to my meatloaf, as it is the key to making a very tender meatloaf. However, when adding additional ingredients like melted cheese, and chunks of pickles and onions, the meatloaf has a hard time holding itself together, which was the problem I encountered.
How to Make Cheeseburger Meatloaf
Using fewer breadcrumbs and milk is the key to making Cheeseburger Meatloaf. It creates a firmer loaf that is better suited for holding together the pool of melted cheese inside, without crumbling apart. Yet, it is still sufficiently tender. Additionally, my Cheeseburger Meatloaf adds a ketchup and mustard sauce to the meat mixture which also adds additional moisture, which is part of the reason I am able to use less milk.
Cheeseburger Meatloaf Ingredients
To replicate that classic Americana taste, you need to combine all of the classic cheeseburger ingredients in the meatloaf.  For this reason, I make Cheeseburger Meatloaf with pickles, onions, ketchup, and yellow mustard. Melted mild cheddar cheese tops the meatloaf and also hides inside the center. 
I recommend dicing the pickles and onion finely to ensure the texture is consistent with the meatloaf. Pickles, in particular, bring a lot of great flavor, so I don't recommend omitting them unless you really hate pickles.
What Temperature to Bake Meatloaf
Bake meatloaf at 350 degrees. This allows the interior to slowly heat up without the exterior drying out, or burning. I always recommend baking meatloaf in a bread pan (affiliate link). It helps the meatloaf hold its shape, and the metal walls help heat it faster and more evenly.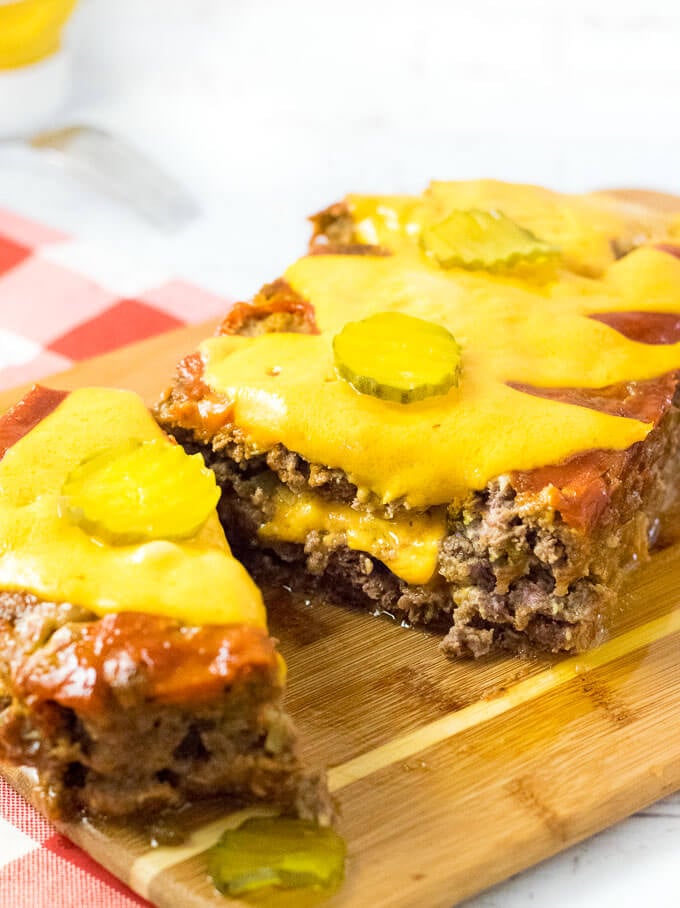 Print Recipe
Cheeseburger Meatloaf
Each tender bite of this Cheeseburger Meatloaf is loaded with all of the classic cheeseburger flavors you love, including a hidden layer of melty Cheddar cheese! This recipe you need to taste to believe!
Ingredients
Meatloaf
1 1/2

lbs

ground beef

1/2

cup

breadcrumbs

1/2

cup

milk

1

tablespoon

Worcestershire sauce

1

egg

(beaten)

1

teaspoon

table salt

1/4

teaspoon

black pepper

1/3

cup

diced yellow onion

1/3

cup

diced dill pickles

6

deli slices

Mild cheddar cheese
Sauce
3/4

cup

Ketchup

¼

cup

Yellow mustard
Instructions
Preheat oven to 350 degrees.
Sauce
Prepare the sauce by mixing ketchup and mustard together. Set aside.
Meatloaf
Gently crumble ground beef into a large bowl. Add 1/4 cup of prepared sauce to the bowl, as well as breadcrumbs, milk, Worcestershire, egg, salt, pepper, onion, and pickles.

Gently combine all ingredients with your hands until well mixed.

Ladle enough sauce on the bottom of a meatloaf pan to cover.

Place half of meatloaf mixture into a bread pan and spread out evenly.

Place two layers of cheddar cheese into the middle of the meatloaf, keeping it about an inch from any edge. Approximately 3 slices of cheese, broken up as needed.

Add remaining meatloaf mixture into the bread pan and press firmly to seal the edges around the interior layer of cheese.

Coat the top of the meatloaf with remaining sauce.

Place in the oven and bake for 80 minutes, or until the internal temperature reaches 160 degrees.

Remove from oven, cover the top of the meatloaf with slices of cheese and place back in the oven until melted, ~3 minutes.

Remove from oven, let cool briefly and serve.
*Calories listed are a vague estimate and accuracy should not be assumed.
If you enjoyed my Cheeseburger Meatloaf recipe then you should probably like me on Facebook and follow me on Pinterest too. That's what I would do at least, because if you don't get to know me but you still use my recipe it is kind of like taking candy from a stranger, and your mom taught you not to do that. Don't disobey your mom, subscribe to Fox Valley Foodie today.