This hot and bubbly fried pickle dip is the perfect savory appetizer for any pickle lover at your next party! I love this easy dip because it can be made in advance and baked right before the party starts, or since it only requires about five minutes of prep work, it is just as easy to quickly prepare and throw it in the oven right away. Best of all, no deep fryer is needed to enjoy deep fried pickles!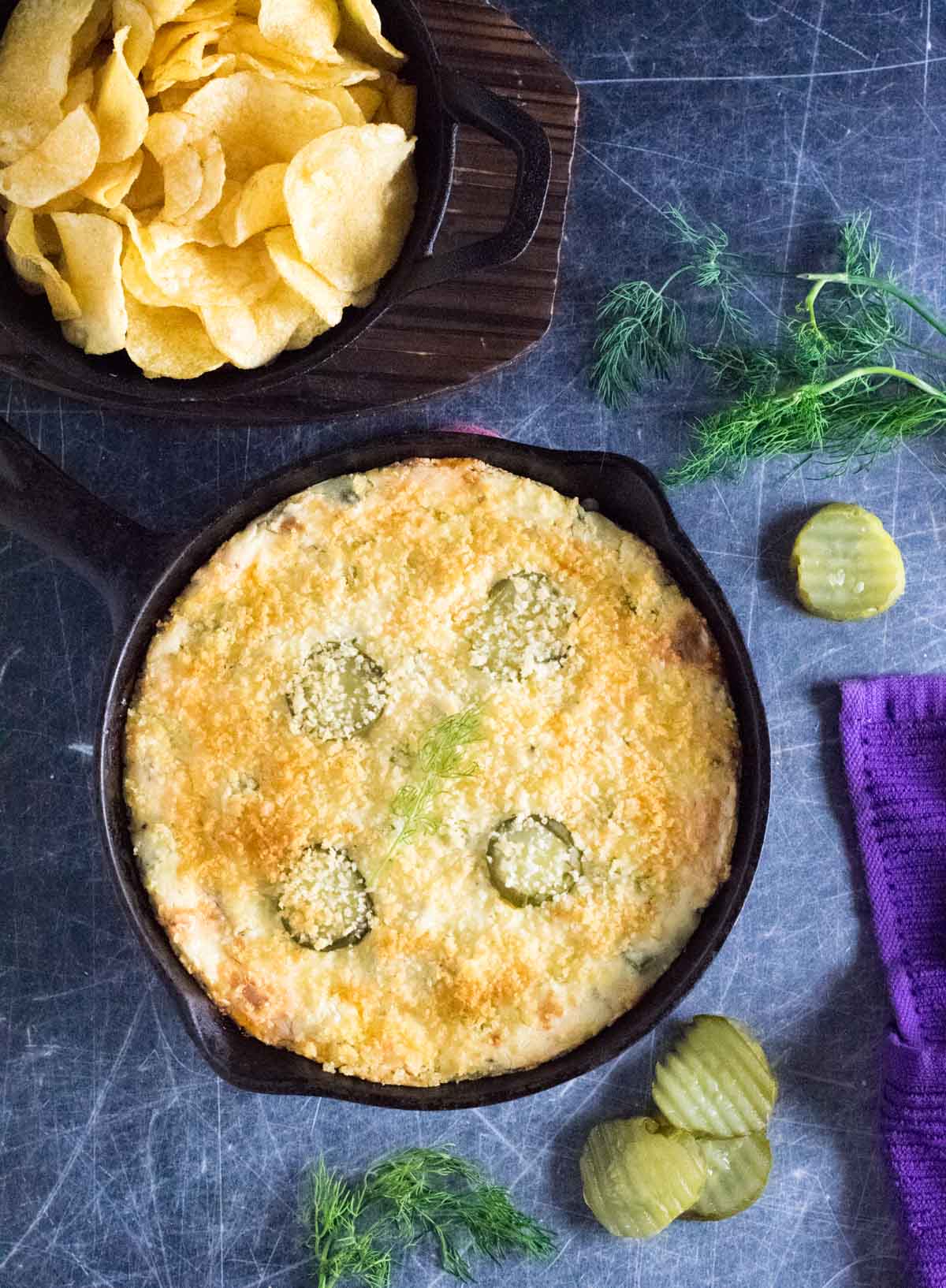 What is it?
This fried pickle dip recipe was the result of combing one of my all time favorite dips - my cheddar dill pickle dip, with one of my favorite appetizers, fried pickles! What makes this creamy dip different is it is baked with a buttery breadcrumb crust and served hot, like fried pickles. There is also a generous amount of ranch seasoning mixed into this dip, replicating the ranch dressing you dip fried pickles into.
Ingredients and Substitutions
Cream cheese - This is the base of the dip and should not be substituted.
Sour cream - Sour cream lightens the firmness of the cream cheese, making it more dipable. You can substitute Greek Yogurt or mayo.
Shredded cheddar cheese - Sharp cheddar will have the strongest flavor, but mild cheddar is more deliciously gooey when melted. Either are great.
Dill pickles - If you are adventerous, you can try this with bread and butter pickles, but I don't personally recommend it.
Dill pickle juice - This is referencing the pickle brine from a jar. Not only does it add a lot of dill pickle flavor, but it also makes the dip softer and creamieer.
Fresh dill - Dried dill can be substituted, but using fresh herbs gives the dip a noticably fresh flavor.
Ranch seasoning - This is sold in packets in the dressing aisle at the grocery store.
Panko breadcrumbs - Regular plain breadcrumbs can be substituted.
Butter - Olive oil can also be used.
Garlic powder - Onion powder can be used as well, or instead.
Salt - I recommend table salt over kosher salt because of the smaller salt grains.
Optional: Black pepper and some crushed red pepper flakes can be added if you desire a little heat.
How to make it
Make this fried dill pickle dip by first softening the cream cheese. This is important because it allows it to blend with the sour cream more evenly. Then all of the remaining dip ingredients get mixed in as well. An electric hand mixer works well for combining everything, otherwise a fork can also be used.
Make the buttery topping next by mixing melted butter with your panko bread crumbs, salt, and garlic powder. The breadcrumbs are then added to the top of your dip in an oven safe dish.
Tip: For a more golden brown crust, you can toast the buttered panko crumbs in a dry skillet prior to adding it as a topping to your delicious dip. Alternatively, it will brown in the oven too, but you'll have less control over the final color unless you also broil it.
Leaving your dip uncovered, place it in a 400 degree oven for 20 minutes, or until hot and bubbly. Once it is removed from the oven, let it cool for 5 minutes, then serve.
How to serve it
You have a variety of options to serve with your dip. I recommend any of the following:
Potato chips - I personally use kettle chips.
Pretzels
Bagle chips
Crackers
Vegetables
More Easy Dips
Recipe FAQs
Is fried pickle dip Keto friendly?
Fried pickle dip can easily be made to fit a keto diet. All you have to do is remove the panko breadcrumbs and use crushed pork rinds instead. Then serve your dip with fresh veggies or additional pork rinds for dipping.
How to store leftover pickle dip?
Leftover dip should be placed in an airtight container and refrigerated to keep fresh. It is best to enjoy within five days. Leftovers can be microwaved when you serve the dip again.
Can you do me a favor? If you enjoyed my post would you mind sharing it with your friends? You can see more of my recipes by liking me on Facebook and follow me on Pinterest too. Otherwise, stay up to date by getting each new post sent directly to your inbox by subscribing today.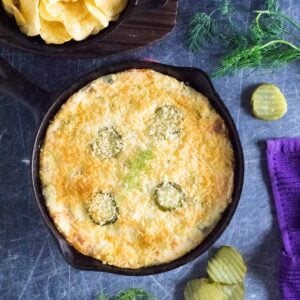 Fried Pickle Dip
This hot and bubbly fried pickle dip is the perfect savory appetizer for pickle lovers at your next party.
Print
Pin
Rate
Save
Saved
Instructions
Combine all dip ingredients together in a large bowl and stir together until well combined.

Pour pickle dip into a small oven-safe pan, such as a 9" skillet.

Mix together melted butter, panko breadcrumbs, garlic powder, and salt. Once combined, sprinkle the topping evenly over the top of the dip.

Place the dip in the hot oven uncovered and bake for 20-25 minutes, or until it is hot and bubbly.

Serve with chips, pretzels, or crackers.
Notes
If you plan to serve this dip cold add an additional ¼ cup of pickle juice to the dip or it will be too firm to dip into.
If you need to further brown your panko breadcrumbs, you can place the dip briefly under the broiler, but be sure to keep an eye on it so it doesn't burn.
Nutritional Information
Calories:
180
kcal
|
Carbohydrates:
5
g
|
Protein:
4
g
|
Fat:
16
g
|
Saturated Fat:
9
g
|
Polyunsaturated Fat:
1
g
|
Monounsaturated Fat:
4
g
|
Trans Fat:
1
g
|
Cholesterol:
46
mg
|
Sodium:
576
mg
|
Potassium:
74
mg
|
Fiber:
1
g
|
Sugar:
2
g
|
Vitamin A:
590
IU
|
Vitamin C:
1
mg
|
Calcium:
113
mg
|
Iron:
1
mg