Richly flavored, juicy, and perfectly fork tender, this Classic Meatloaf recipe is meatloaf done the way it should be. Dare I say? It is better than your mom's meatloaf!
Everyone seems to think their mom's meatloaf is the world's best. It appears giving birth to a child instantly gives you +10 meatloaf making ability. Well, unfortunately, I am nobody's mother, so as a 30-something white male from a middle-class family, I've had to overcome a lot of adversity in my life to craft the best classic meatloaf recipe, that, I dare say, is better than your mom's. Sorry mothers, you gotta step up your meatloaf.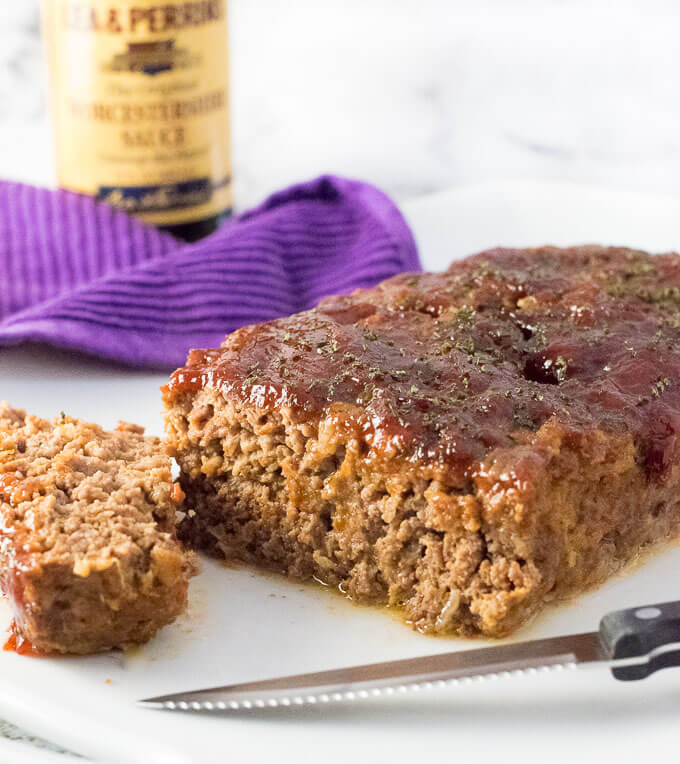 What is Classic Meatloaf
To me, a classic meatloaf recipe relies on enhancing the rich beef flavor rather than trying to transform it into something else, like say my Cheeseburger Meatloaf, or BBQ Meatloaf. Another recipe I created uses onion soup mix for flavoring which isn't typically used in traditional meatloaf, and though many people tell me it is my best meatloaf recipe, it isn't a "Classic" meatloaf.
Classic meatloaf should be topped with a ketchup-based sauce, often brown sugar is mixed in for sweetness. It should be perfectly fork tender, but not crumble apart, and boast a rich beefy flavor. Each bite should be dripping with nostalgia, and taste like 1957.
How to Make Meatloaf Tender
There is nothing worse than a tough meatloaf. Seriously, it is worse than a death in the family, or your kids not loving you. It will likely cause both. Don't do it.
Meatloaf is made tender by adding breadcrumbs, eggs, and liquid. The breadcrumbs soak up the liquid, making the loaf less dense, while the eggs bind it all together. However, you can go overboard, as I discovered testing this recipe. My first test run used a full cup of breadcrumbs, which caused the whole meatloaf to crumble and fall apart as soon as it was removed from the pan. Cutting back the recipe to ¾ cup is the sweet spot where it is tender as can be without falling apart.
How to Make Classic Meatloaf
Many, if not most, meatloaf recipes call for milk as the liquid of choice. I bet that is how your mom's meatloaf is made. Milk is certainly a good option, however, for a traditional meatloaf recipe, I prefer to use beef broth and Worcestershire because it fortifies the richness of the beef. Since a classic meatloaf doesn't rely on overpowering ingredients, like BBQ sauce, it is important to add flavor wherever you can.
I also think a small amount of ground sage and tomato paste really sends this recipe out of the park. It adds just a touch of herbal sweetness that plays nicely with the richness of the beef.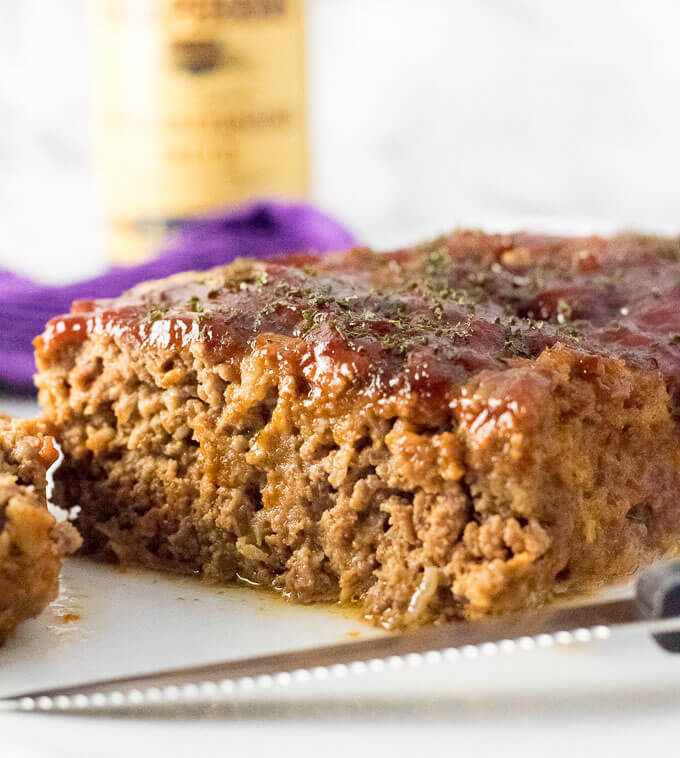 How Long to Cook Meatloaf
Bake the meatloaf at 350 degrees for 1 hour. Always check on your meatloaf after 45 minutes with a digital thermometer, as baking time can vary. I've had meatloaf finish cooking at 50 minutes, and some at 1 hour and 15 minutes. Meatloaf is done when the internal temperature exceeds 160 degrees.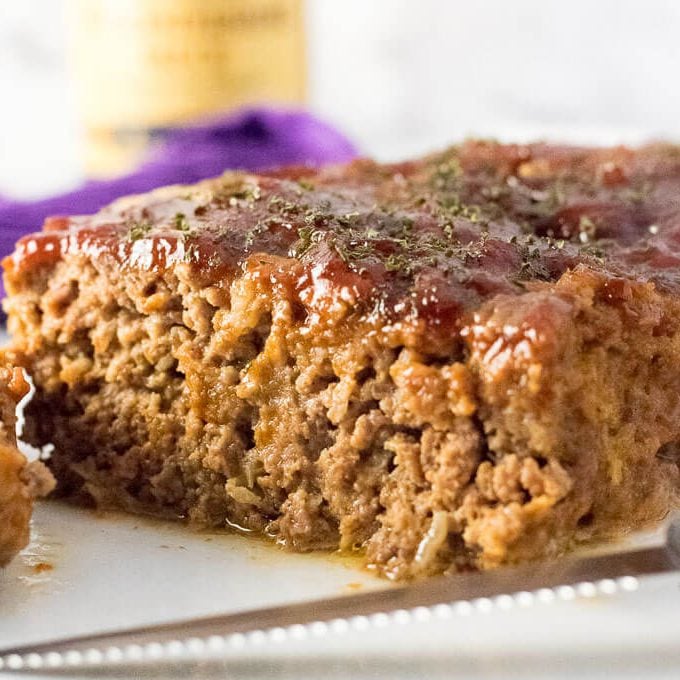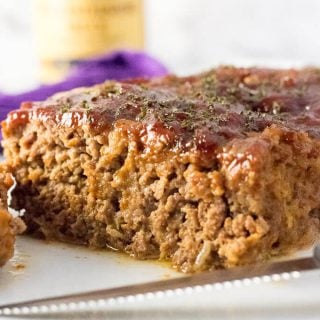 Classic Meatloaf - Better than Mom's
Richly flavored, juicy, and perfectly fork tender, this Classic Meatloaf recipe is meatloaf done the way it should be. Dare I say? It is better than your mom's meatloaf!
Print
Pin
Rate
Ingredients
Meatloaf
1 ½

lbs

ground beef

(80/20 beef recommended)

¾

cup

breadcrumbs

½

cup

grated onion

¾

cup

beef broth

1

egg

(beaten)

2

tablespoons

tomato paste

1

tablespoon

Worcestershire sauce

1

teaspoon

table salt

½

teaspoon

garlic powder

¼

teaspoon

ground sage

¼

teaspoon

black pepper
Sauce
½

cup

ketchup

2

tablespoons

brown sugar

1

tablespoon

Worcestershire Sauce
Instructions
Sauce
Mix ketchup, Worcestershire, and brown sugar together in a dish and set aside.
Meatloaf
Preheat oven to 350 degrees.

Gently crumble beef into a large bowl and sprinkle with breadcrumbs and grated onion.

Add all remaining meatloaf ingredients to a separate bowl and whisk to combine. Once combined, pour into the bowl with meat and mix with your hands to combine all ingredients together. (see note below)

Ladle a couple tablespoons of sauce on the bottom of a bread pan and add meatloaf, pressing to form into the shape of the pan.

Top meatloaf with remaining sauce.

Place meatloaf in the oven for 1 hour, or until internal temperature exceeds 160 degrees. Check for doneness after 45 minutes.

Remove from oven, let rest 5 minutes, then slice and serve.
Notes
*Combining the remaining meatloaf ingredients separately from the beef and breadcrumbs helps them disperse more evenly when combined with the meat.
IF YOU LIKED THIS RECIPE check out my Homemade Sloppy Joes recipe too!
Nutrition
Calories:
602
kcal
|
Carbohydrates:
31
g
|
Protein:
34
g
|
Fat:
36
g
|
Saturated Fat:
13
g
|
Cholesterol:
161
mg
|
Sodium:
1447
mg
|
Potassium:
782
mg
|
Fiber:
1
g
|
Sugar:
15
g
|
Vitamin A:
335
IU
|
Vitamin C:
4.1
mg
|
Calcium:
98
mg
|
Iron:
5.4
mg
If you enjoyed my Classic Meatloaf recipe then you should probably like me on Facebook and follow me on Pinterest too. That's what I would do at least, because if you don't get to know me but you still use my recipe it is kind of like taking candy from a stranger, and your mom taught you not to do that. Don't disobey your mom, subscribe to Fox Valley Foodie today.