Boiled red potatoes are a simple side dish to create on the fly. Delicious when painted with butter and parmesan, or seasonings can be customized to your tastes.
This is a great side dish I make frequently, particularly when we are having a "meat and potatoes" meal, like venison loin or steak. Admittedly, I change up the flavor of it just about every time it is prepared, so let me show you a few different ways to enjoy these.
Boiled red potatoes are one of the easiest ways to prepare a delicious side dish. Best of all, it allows for infinite possibilities. The potatoes are simmered in water until hot and tender then can be tossed with butter, salt, and flavorings of your choice, such as Parmesan, fresh herbs, or your favorite seasoning blend.
Red Potato Substitutions
Boiling red potatoes for a side dish works particularly well when using baby red potatoes or new potatoes. Since they are smaller in size, baby reds boil quicker and are already practically bite-sized to eat. However, you can use traditional red potatoes as well, just expect them to take longer to cook. Alternatively, this works with any waxy potato, so you can substitute Yukon gold potatoes which have a similar flavor and creamy texture.
Note: Russet potatoes can also be boiled, but they have a much starchier texture that is quite different than red potatoes.
How long to boil red potatoes
Place potatoes in a large saucepan or pot of heavily salted cold water, using enough water to cover the potatoes. Set your pot of water over medium high heat and bring to a boil. The exact cook time varies depending on the size of the potatoes
Baby Red Potatoes (and small red potatoes) are done after boiling in 15-20 minutes.
Medium red potatoes can take 30 minutes if left whole.
Large red potatoes I recommend chopping them in half or quarters and simmer 20-25 minutes. Whole potatoes will take needlessly long to boil.
Tip: Cover the pot to bring to a boil faster, but I typically then remove the lid to prevent the water from bubbling over when pressure builds up.
When are boiled potatoes done
Red potatoes are done boiling when the skin starts to crack and the potato is fork tender when pierced with a fork or sharp paring knife. Properly cooked potatoes have an internal temperature of 210 degrees when tested with a digital thermometer.
When done boiling, empty pot and discard the remaining water and cool the potatoes slightly by letting them sit. They are now ready for your favorite herbs and seasonings!
Ways to add flavor to them
Your potatoes are done boiling, now what? Jazz up their flavor with any of the suggestions below.
Tip: Potatoes will always taste best served with a bit of butter and salt. For this reason, I recommend salted butter. If using unsalted butter, add an extra pinch of salt. If you are trying to avoid dairy products, I would recommend using olive oil instead.
Smashed potatoes
My all-time favorite use for boiled potatoes is to make smashed potatoes. Once the potatoes have boiled, place them on a baking sheet and "smash" them to flatten, less than an inch thick. These are then painted with oil, salt, and seasonings and baked in a 450 degree oven for 30 minutes, or until crispy. Insanely delicious!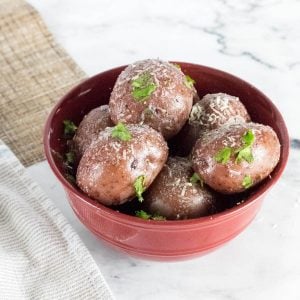 Boiled Red Potatoes
Boiled red potatoes are a simple side dish to create on the fly. Paint them with butter, salt, and Parmesan or customize the seasonings to your tastes.
Print
Pin
Rate
Ingredients
2

pounds

red potatoes

salt
Optional
3

tablespoons

butter

(melted)

2

tablespoons

grated Parmesan
Instructions
Place red potatoes in a large pot of cold water, covering the potatoes by an inch. Add a large pinch of salt.

Bring water to a boil and reduce to a simmer. Cook the potatoes for approximately 20 minutes, depending on size.*

Potatoes are done when skin starts to crack and are completely tender when pierced with a fork.

Drain water from pot, or remove potatoes into a separate large bowl to combine with your desired flavorings.
Optional
Choose your desired way to flavor the potatoes such as tossing them with 3 tablespoons of melted butter and 2 tablespoons of grated Parmesan cheese. Alternatively, you can dust them with your favorite seasoning blend.
Notes
*Small potatoes will be done in 15-20 minutes, medium potatoes can take up to 30 minutes. Large red potatoes should be chopped in half or quartered to reduce cook time to 20-25 minutes. 
Store leftover potatoes in the refrigerator in an airtight container. They can be reheated in the microwave and enjoyed within five days.
IF YOU LIKED THIS RECIPE be sure to check out my Scalloped Potatoes and Ham recipe too!
Nutrition
Calories:
106
kcal
|
Carbohydrates:
24
g
|
Protein:
3
g
|
Fat:
1
g
|
Saturated Fat:
1
g
|
Sodium:
27
mg
|
Potassium:
688
mg
|
Fiber:
3
g
|
Sugar:
2
g
|
Vitamin A:
11
IU
|
Vitamin C:
13
mg
|
Calcium:
15
mg
|
Iron:
1
mg