Roasted Venison Loin is served with a balsamic reduction pan sauce, for an elegant preparation of wild game. The sharpness of balsamic vinegar offers a nice contrast to the deep earthy flavor of venison and black peppercorns.
I've always loved venison and equally the hunting that was required to get it. I have such fond memories of waking up hours before any teenager would ever dream of getting out of bed, dressing in so many layers that I looked like the blaze orange Michelin tire man, and marching into the pitch black woods with my brother, my dad, and all the memories that tradition brings.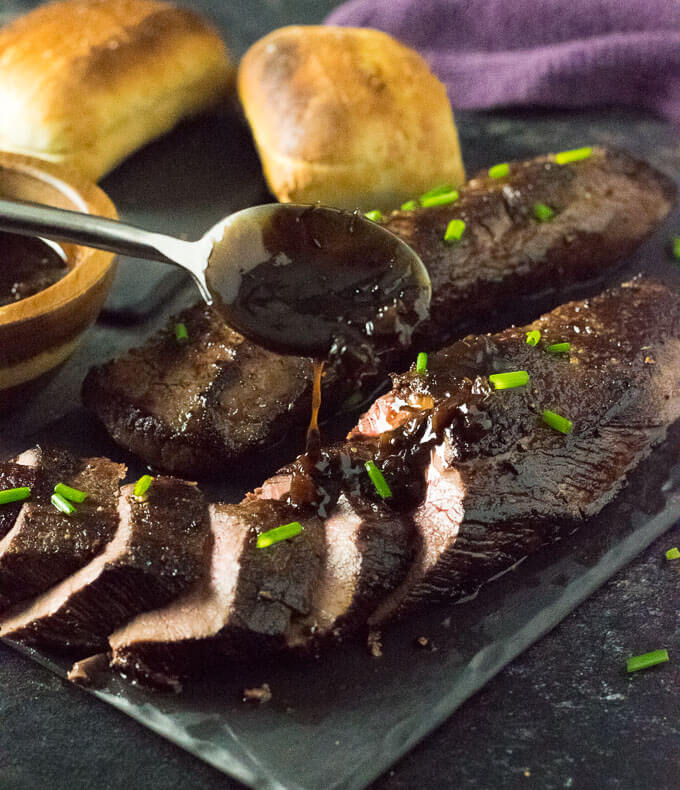 I missed more deer than I hit probably, including a grandiose buck that was never even fired at because I had a chemistry textbook sitting on my lap (Yet more proof to a 17 year old that Chemistry is the worst class ever), a doe sitting 15 yards away while I was too busy second-guessing myself to pull the trigger, and one deer that would have ran me over if I let it, while I meticulously slung bullets at every tree in the woods.

I still vividly remember the first deer I ever shot and I can't remember a time being more proud of an accomplishment. I shot it while it was running, probably more luck than anything, but when I realized it went down it was a feeling of euphoria unlike anything else. If we had Facebook in 1998 that deer would probably have been my profile pic for the next year. It wasn't a large buck, but it was my buck.
A few years later we lost access to our hunting land after the lady who owned it passed away. We never found a suitable new place to hunt, and as my dad's health deteriorated hunting became less of a concern. Before long my hunting traditions transitioned to hunting memories.
As an adult, I refused to let my passion for the outdoors be extinguished and I spent a few frustrating years hunting alone in the blaze orange pumpkin patches known as public land. However, this year I was blessed to be able to purchase 40 acres and a cabin up north, and for the first time in 15 years, my dad and I will be reunited in pursuit of a trophy buck on opening morning. Equally as importantly, my stepson will be joining us as we forge a whole new generation of traditions.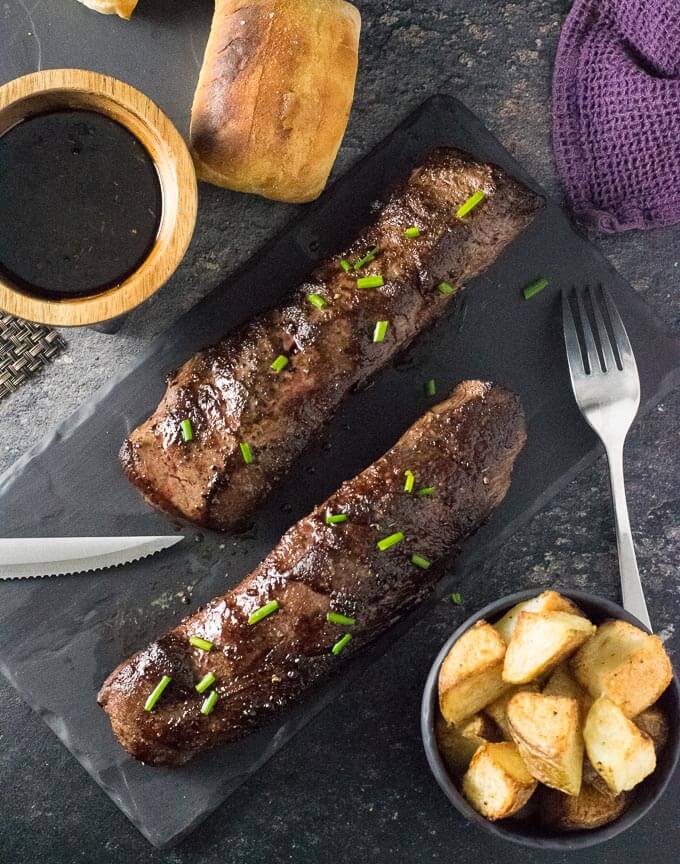 I still couldn't tell you one thing I learned from that chemistry book in my tree stand, but I can recite every step my dad taught me about skinning and butchering a deer 20 years ago. Combine that knowledge with someone who knows his way around a kitchen, and I've become pretty adept at butchering my own venison and crafting enticing new recipes like this roasted venison loin.
If you are lucky enough to have venison in your freezer, don't take it for granted. Venison should be cherished as much as the memories that go into commandeering it. It has fantastic flavor, can be extremely tender and is exceptionally lean.
If you are wondering what to do with a venison loin and want a dish worthy of the memories it includes, might I offer a suggestion: Roasted venison loin with a balsamic pan sauce. It is simple, elegant, and damn tasty. Don't have venison? This can be made with a beef loin as a fine substitute.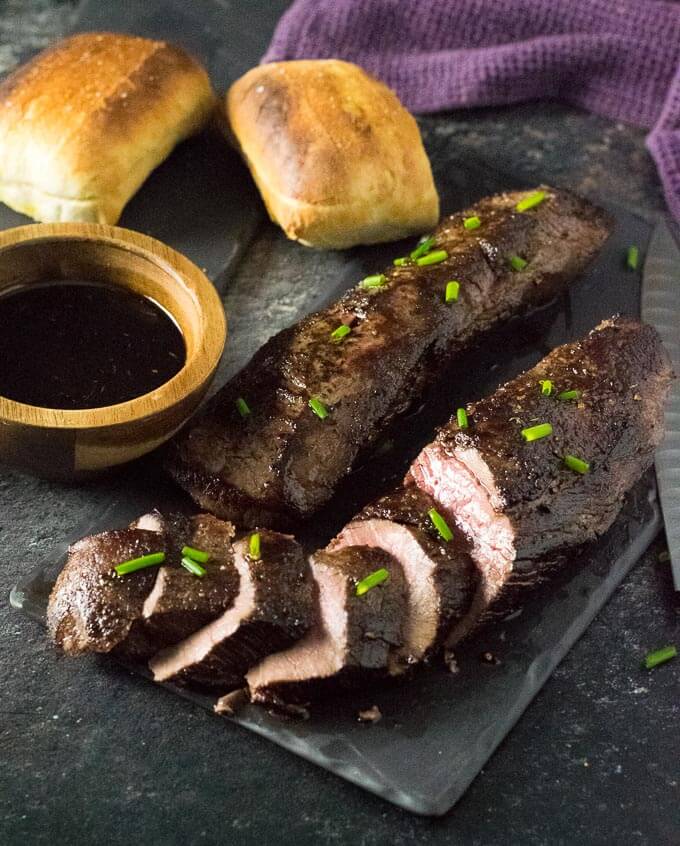 Venison Loin vs Venison Tenderloin
Venison loin and venison tenderloin are often confused. Venison loin, also known as the backstrap, runs along the backbone of the deer, while the tenderloin is found inside of the rib cavity. If you came here hoping to find a venison tenderloin recipe, don't fret. This recipe can be used for venison loin and venison tenderloin, just expect tenderloin to cook more quickly.
How to Cook Venison Loin
Venison tenderloin can be cooked just like a beef loin. Seer it in a skillet over high heat to form a mouthwatering crust, then finish cooking it in the oven, allowing it to gently come to temperature without the exterior burning. I recommend cooking venison loin to 130-145 degrees. Cooking backstraps beyond that is excessive for a tender cut of meat and will lead to dryness.
Have you purchased a good meat thermometer yet? Don't guess on your cooking time and don't risk ruining a great roasted venison loin. Spending a little money on a good meat thermometer (affiliate link) will yield constant dividends. You won't regret it.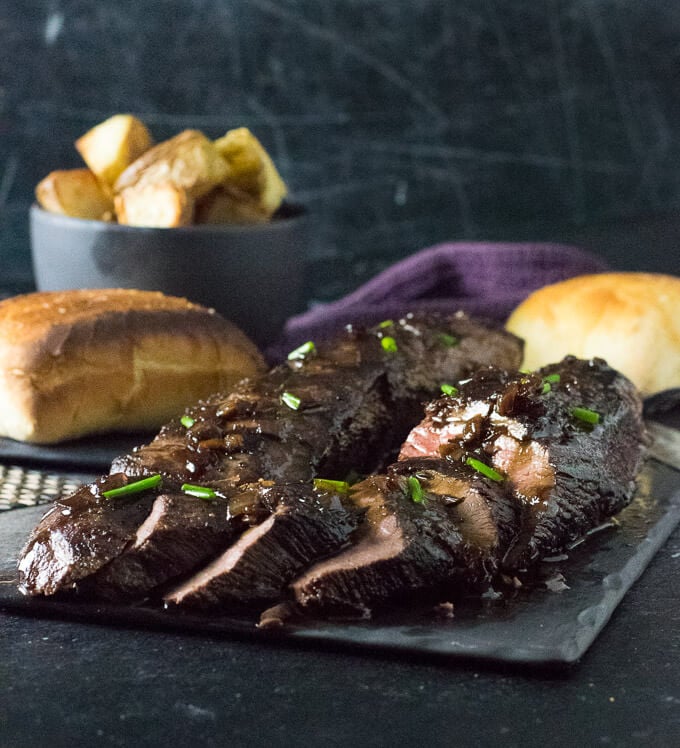 Venison Recipes
You have a whole deer to cook up, but don't worry, I have you covered. Make sure to use some of the venison hamburger to craft some mouthwatering venison burgers, venison meatloaf, and venison meatballs. Also, make sure you don't waste the neck because that can be turned into an incredibly tender Beer Braised Venison Neck. And if you are looking for more venison tenderloin recipes, try my marinated venison tenderloin, this recipe can also be used with the backstrap as well! 
Venison FAQs
What is Venison Loin?
Venison loin is also known as the backstrap, which is a long strip of meat that runs along the spine. This is NOT the tenderloin, which is a very small, and exceptionally tender strip of meat found inside the cavity of the deer.
What is the best cut of venison for roasting?
The venison loin, tenderloin, and steaks from the hindquarter are all perfect for roasting. These cuts can often be used interchangeably in recipes.
What does soaking deer meat in milk do?
Soaking deer meat in milk can reduce the gaminess of the venison. In my experience, it will not completely eliminate it but it can lessen it. The gamey flavor is often caused by the diet of the deer, or not handling the meat properly after it is killed.
Roasted Venison Loin with a Balsamic Reduction Pan Sauce
Roasted Venison Loin with a Balsamic Reduction Pan Sauce is an elegant preparation of wild game. The sharpness of balsamic vinegar offers a nice contrast to the deep earthy flavor of venison and black peppercorns.
Print
Pin
Rate
Save
Saved
Ingredients
1 ½

lb

Venison Loin

Salt

Fresh cracked Black Pepper

1 ½

tablespoon

Olive oil

(divided)

¼

cup

minced Shallots

1

teaspoon

fresh Thyme

¼

cup

Balsamic Vinegar

½

cup

Beef Broth

(unsalted)

1

tablespoon

Butter
Instructions
Preheat oven to 350 degrees.

Coat venison in ½ tablespoon of oil and coat liberally with salt and fresh cracked pepper.

Heat remaining oil in hot skillet over medium-high heat.

Add venison and brown on all sides.

Remove venison from skillet, place in separate pan and place in oven until internal temperature reaches 130-145 degrees depending on preference. (cooking time will vary depending on the size of your deer/loin)

While venison is in the oven place shallots in the original skillet used to sear the venison and cook until softened.

Deglaze pan with balsamic vinegar and add beef broth and thyme.

Cook on high until sauce reduces from a water liquid to a thin syrup consistency.

Add cold butter to the sauce and stir,

Let the venison rest for 5-10 minutes prior to slicing.
Notes
Troubleshooting: If the sauce is too thick, add a teaspoon of water at a time to thin. If the sauce is too thin, continue to cook and it will thicken.
If you have ground venison in your freezer, you are going to want to check out my mouthwatering Venison Chili recipe as well!
Nutritional Information
Calories:
342
kcal
|
Carbohydrates:
2
g
|
Protein:
51
g
|
Fat:
12
g
|
Saturated Fat:
4
g
|
Cholesterol:
141
mg
|
Sodium:
237
mg
|
Potassium:
711
mg
|
Sugar:
2
g
|
Vitamin A:
90
IU
|
Vitamin C:
0.3
mg
|
Calcium:
14
mg
|
Iron:
7.1
mg
This recipe was originally published on FoxValleyFoodie.com December 20, 2014.
Don't forget to check out the rest of my mouthwatering venison recipes too!
Thoughts on this recipe, or perhaps a favorite hunting memory? Post it in the comments below! And as always, please show your support for Fox Valley Foodie by liking me on Facebook and pinning on Pinterest.