This robust steak seasoning rub comes alive on a thick juicy steak when kissed by the flames of your grill! Make a big batch to keep on hand in your kitchen, or quickly whip it up to dust on a couple steaks.
Steak is kind of like ice cream for grownups. I just wish someone would stick it in a cone for me to devour as I skip happily down the street. Although, even in my thirties, I would probably still cry and throw a tantrum when one careless move sends my steak tumbling out onto the sidewalk. At least it wouldn't melt, I guess... Heck, I would probably just pick it up and keep eating it. Don't judge me.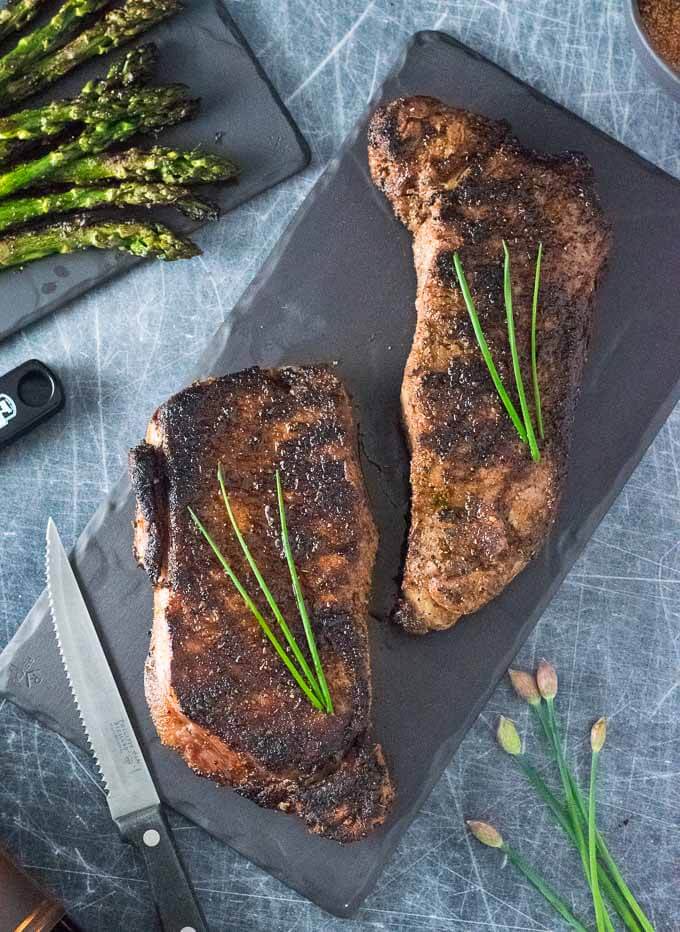 OK, let's be honest, eating a steak out of a sugar-coated ice cream cone likely isn't the ideal flavor combination. Instead, dust it with my steak seasoning rub to really ignite your taste buds! Plus, the satisfaction of making your own homemade steak rub with a few simple seasonings sure beats anything you'll buy at the grocery store.
Ingredients and Substitutions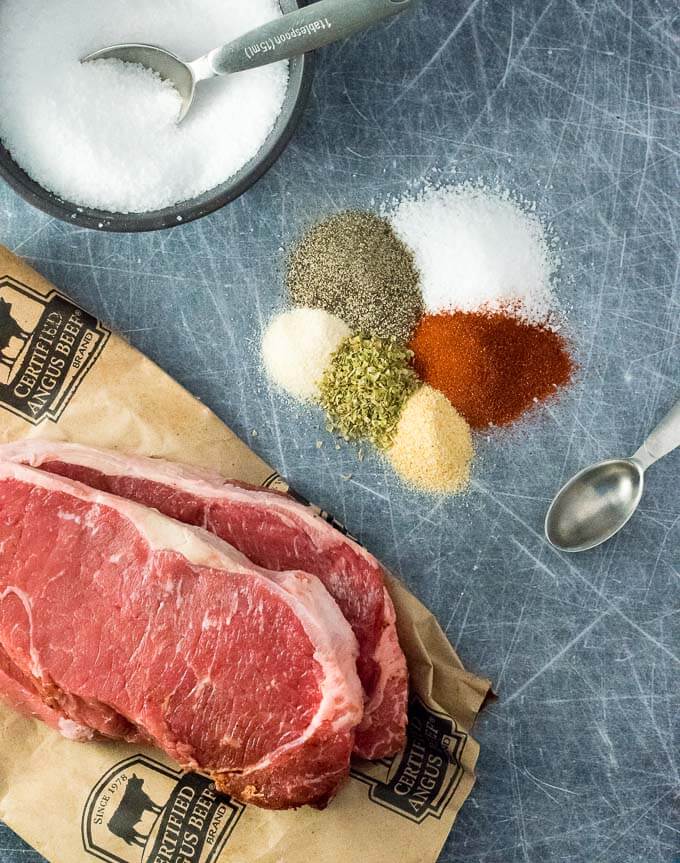 Ground black pepper - I strongly recommend using fresh ground black pepper.
Sweet paprika - Sweet paprika has a little kick, you can substitute regular paprika for a more mild flavor.
Kosher salt - Because kosher salt has larger grains, you will need to use less salt if you substitute a finer grain salt like table salt or sea salt.
Dried oregano
Garlic powder
Onion powder
Optional: For an extra punch of flavor a pinch of crushed red pepper flakes can also be added.
How to use it
To make this steak seasoning rub recipe, all you need to do is mix these simple ingredients together and dust it on your own steak! This spice rub works on any cut of steak from sirloin steak to filet mignon. The best way to apply this to any steak is to first lightly rub the steak with olive oil. The oil will ensure the seasoning sticks to the meat.
Try this delicious steak seasoning rub with any of these steak recipes: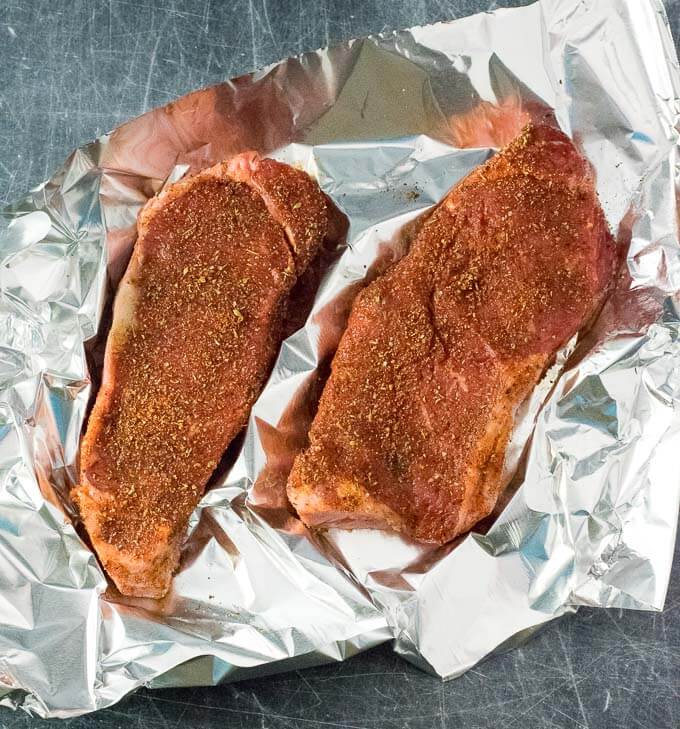 Steak Seasoning Rub for Grilling
This is the best steak seasoning rub to use on steaks cooked on the grill. Personally, I think the 'sweet paprika' is the secret ingredient that makes this rub stand out, however you can substitute regular paprika in your dry rub recipe if you really insist. If you like the rub to be a bit sweeter, add 1-2 teaspoons of brown sugar, however, it will scorch more easily.
Grilled steaks have infinitely more flavor then pan-seared steak. Don't be intimidated by grilling, check out my write-up on How to Grill Steak. I personally use a Weber Grill and I have really been giving it a workout this summer.
Grilling Tip: I keep aluminum foil on hand whenever I am grilling steak. Not only is it great for wrapping vegetables to cook on the grill without burning, but I also like using it to transport meat to and from the grill. When lining a tray, it makes for exceptionally effortless cleanup!
How to Store Steak Seasoning
If you make an extra large batch of this steak seasoning rub, you can keep extra in your kitchen pantry for next time. This rub can be kept fresh in a spice jar or another airtight container and stored in a cool dark place, like a kitchen cabinet, for months. Spices have a long shelf life and can last for years, but you will find the flavor weakens over time.
Try these steak marinades too!
Steak Seasoning FAQs
Should I dry rub a steak?
Yes, using a dry rub spice blend to season steak prior to grilling is an easy way to add flavor to a steak. Contrary to popular belief, a dry rub will not tenderize the meat, but it does make the exterior taste phenomenal!
What should I season a steak with?
Although salt and fresh cracked black pepper are perfect for keeping it simple, more flavor can be added to steak with the addition of oregano, garlic, onion powder, and some paprika. These are all very complimentary to the flavor of the meat and will go well with any steak.
Is steak seasoning better than using a steak marinade?
Both steak seasoning and marinades add flavor to your steak. Neither is better, they are just different ways to make a steak more flavorful. The acidity in a steak marinade can tenderize the exterior of the meat slightly, but it doesn't actually sink deep into the meat as many people believe.
Do you add oil to a dry rub?
Do not mix your dry rub with oil or it will turn rancid in storage. However, lightly coating your meat with oil prior to adding your dry rub will help the rub stick to the meat better.
Can you do me a favor? If you enjoyed my post would you mind sharing it with your friends? You can see more of my recipes by liking me on Facebook and follow me on Pinterest too. Otherwise, stay up to date by getting each new post sent directly to your inbox by subscribing today.
Steak Seasoning Rub
This robust Steak Seasoning Rub comes alive on a thick juicy steak when kissed by the flames of your grill! This recipe is perfect for coating four boneless strip steaks.
Print
Pin
Rate
Save
Saved
Instructions
Combine all ingredients in a small bowl.

Dust liberally on both sides of the steak and cook immediately. 

Tip: For best results, rubbing olive oil on steaks will help the seasoning stick best.
Nutritional Information
Calories:
11
kcal
|
Carbohydrates:
2
g
|
Sodium:
1165
mg
|
Potassium:
51
mg
|
Vitamin A:
860
IU
|
Calcium:
7
mg
|
Iron:
0.4
mg