This is a sponsored conversation written by me on behalf of Meijer. The opinions and text are all mine.
This robust Steak Seasoning Rub comes alive on a thick juicy steak when kissed by the flames of your grill! Make a big batch to keep on hand in your kitchen, or quickly whip it up to dust on a couple steaks.
Steak is kind of like ice cream for grownups. I just wish someone would stick it in a cone for me to devour as I skip happily down the street. Though, even at 35 years old, I would probably still cry and throw a tantrum when one careless move sends my steak tumbling out onto the sidewalk. At least it wouldn't melt, I guess... Heck, I would probably just pick it up and keep eating it. Don't judge me.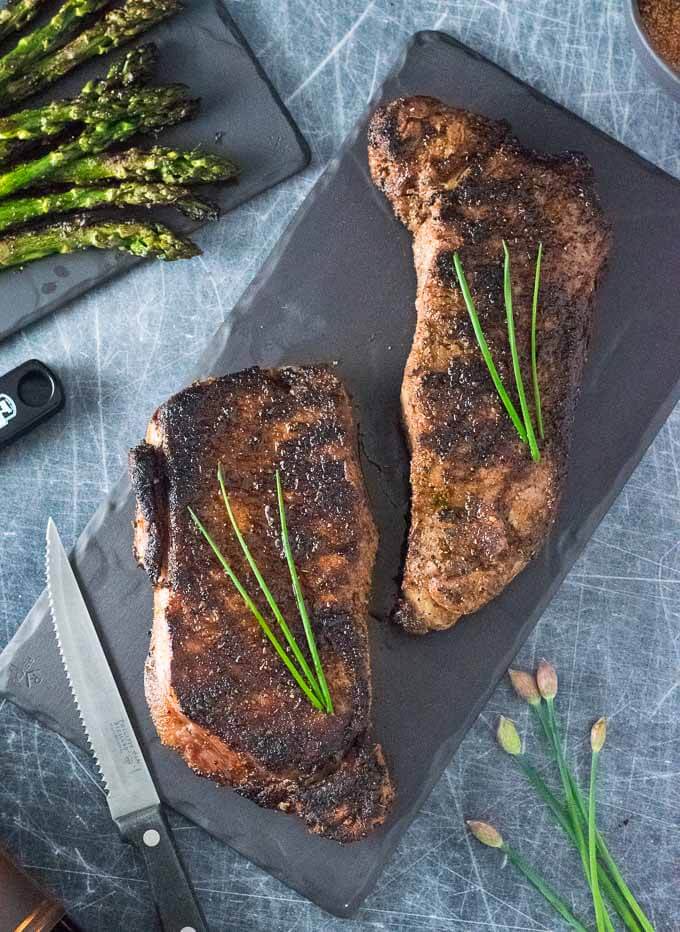 OK, let's be honest, eating a steak out of a sugar-coated ice cream cone likely isn't the ideal flavor combination. Instead, dust it with my steak seasoning rub to really ignite your taste buds!
Combining this robust rub with a high-quality hand cut steak is pure poetry. Recently, a Meijer Supercenter opened in my neighborhood and their steaks are absolutely phenomenal! Hand cutting their steaks right in the store allowed me to easily find a variety of thicknesses to suit my grilling needs. I love shopping where there is a butcher on hand to get me the cut I'm craving. Plus all of the boneless strip steaks I picked out were Certified Angus Beef!
What is Certified Angus Beef?
Don't be confused by various "Angus" products you see at many other stores, not all are created equal. Instead, look for the "Certified Angus Beef" brand and you can trust you are getting the highest quality beef that is exceptionally tasty, tender, and juicy. Only 3 in 10 Angus cattle meet the requirements to be Certified Angus Beef, and only the best Choice cuts, or Prime cuts, can qualify.
Meijer stores have always maintained a dedication to providing the highest quality fresh foods, while still keeping prices low. As Fred Meijer always said, "Customers don't need us, we need them." This is why I love to get my steaks there, they routinely exceed my expectations by providing higher quality meat, such as Certified Angus Beef, for less money. How can you beat that?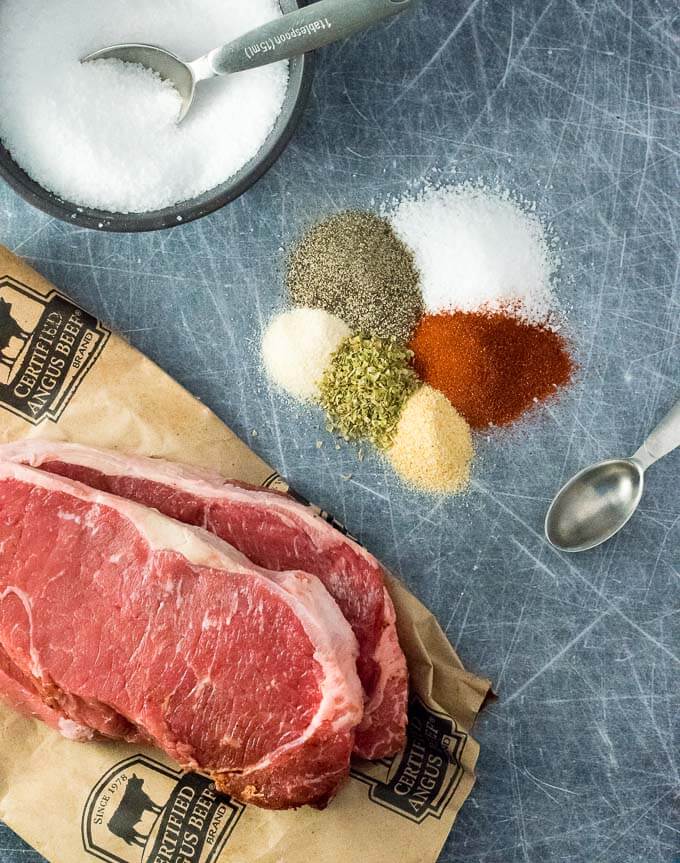 Steak Seasoning Rub for Grilling
This steak seasoning rub really shines when it is cooked on the grill. Personally, I think the 'sweet paprika' is the secret ingredient that makes this rub stand out, however you can substitute regular paprika if you really insist. If you like the rub to be a bit sweeter, add 1-2 teaspoons of brown sugar, however, it will scorch more easily.
With the 4th of July breathing down on us like a runaway firecracker, I expect you plan on cooking out, and so do I. So let's do it right. If you are cooking up some boneless strip steaks for the holiday, make sure to grill them! Grilled steaks have infinitely more flavor than pan-seared steak. Don't be intimidated by grilling, check out my write-up on How to Grill Steak. Alternatively, you can use this seasoning on steak bites instead.
During my first trip to the new Meijer store, I purchased a Weber Original Kettle Premium Grill I have had my eyes on for years. I have really been giving it a workout this summer, and it has made an appearance in quite a few posts already! I love how Meijer is so much more than just groceries, they have everything! Heck, you can even get cards and 'Patriotic Party' supplies for your 4th of July cookout!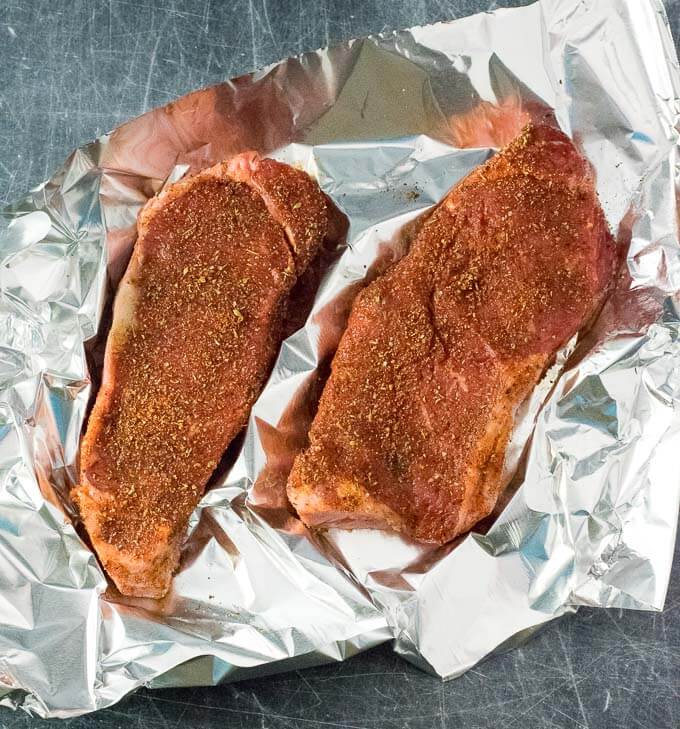 Grilling Tip: I keep Reynolds Foil on hand whenever I am grilling. Not only is it great for wrapping vegetables to cook on the grill without burning, but I also like using it to transport meat to and from the grill. When lining a tray, it makes for exceptionally effortless cleanup!
Pairing Wine with Steak
Grilled steak goes exceptionally well with red wine. I often prefer to keep red blends on hand for cookouts because they seem to be a crowd pleaser, while still pairing nicely with beef. Cask & Barrel ages a portion of their red blend in bourbon barrels for 4 months, adding a distinct oak char flavor to an already fruit-forward wine. You can find Cask & Barrel Bourbon Red Blend in Meijer's liquor department. Grab a couple bottles for your cookout when you are there picking up some Certified Angus Beef boneless strip steaks.
Steak Seasoning Rub
This robust Steak Seasoning Rub comes alive on a thick juicy steak when kissed by the flames of your grill! This recipe is perfect for coating four boneless strip steaks.
Print
Pin
Rate
Ingredients
1

tablespoon

fresh coarse ground black pepper

1

tablespoon

sweet paprika

2

teaspoons

kosher salt

½

tablespoon

dried oregano

½

tablespoon

garlic powder

½

tablespoon

onion powder
Instructions
Combine all ingredients in a small bowl.

Dust liberally on steaks and cook immediately. Tip: Rubbing oil on steaks will help it stick best.
Nutrition
Calories:
11
kcal
|
Carbohydrates:
2
g
|
Sodium:
1165
mg
|
Potassium:
51
mg
|
Vitamin A:
860
IU
|
Calcium:
7
mg
|
Iron:
0.4
mg
If you enjoyed reading my Steak Seasoning Rub recipe then you should probably like me on Facebook and follow me on Pinterest too. That's what I would do at least, because if you don't get to know me but you still use my recipe it is kind of like taking candy from a stranger, and your mom taught you not to do that. Don't disobey your mom, subscribe to Fox Valley Foodie today.