One of my favorite plants to grow in any garden is dill. I love the aroma of it in my yard almost as much as I love the flavor of it in my favorite dishes. Let's take a look at how to get the most out of this herb.
What is dill?
Dill is a popular summer herb in the celery family used for flavoring dishes and pickling. It packs a bright herbal flavor that combines lemon with a hint of licorice.
What part of the plant do I use?
Leaves - The feathery leaves are the main part of the dill plant used for cooking. They have a bright herbal flavor, and are the most tender part of the plant which allows them to be used in dishes without changing the texture.
Head of Dill - A head of dill is the yellow, flowered portion, of the plant. Since it is primarily stems it isn't used in traditional cooking much but is perfect for imparting dill flavor in pickling recipes. One head of dill is often placed in each quart jar of pickled vegetables.
Stems - Stems still contain a powerful dose of flavor, but thicker stems have an unpleasant texture which makes most people avoid using them in cooking. Thin, tender stems can be chopped up with the leaves.
Seeds - Seeds can be used whole or crushed as a seasoning. Grind them in a spice grinder to flavor vegetables, sauces, and more.
How to buy it
Most grocery stores will keep fresh dill in herb packets found in the refrigerated section of the produce department. Look for dill that has a vibrant green color. Yellowing or blackening dill should be avoided and not used.
How to store it
Fresh dill has a very short shelf life and should be refrigerated wrapped in plastic or in a container. Dill will wilt and begin to blacken within a few days of being picked, so expect to use it fairly quickly.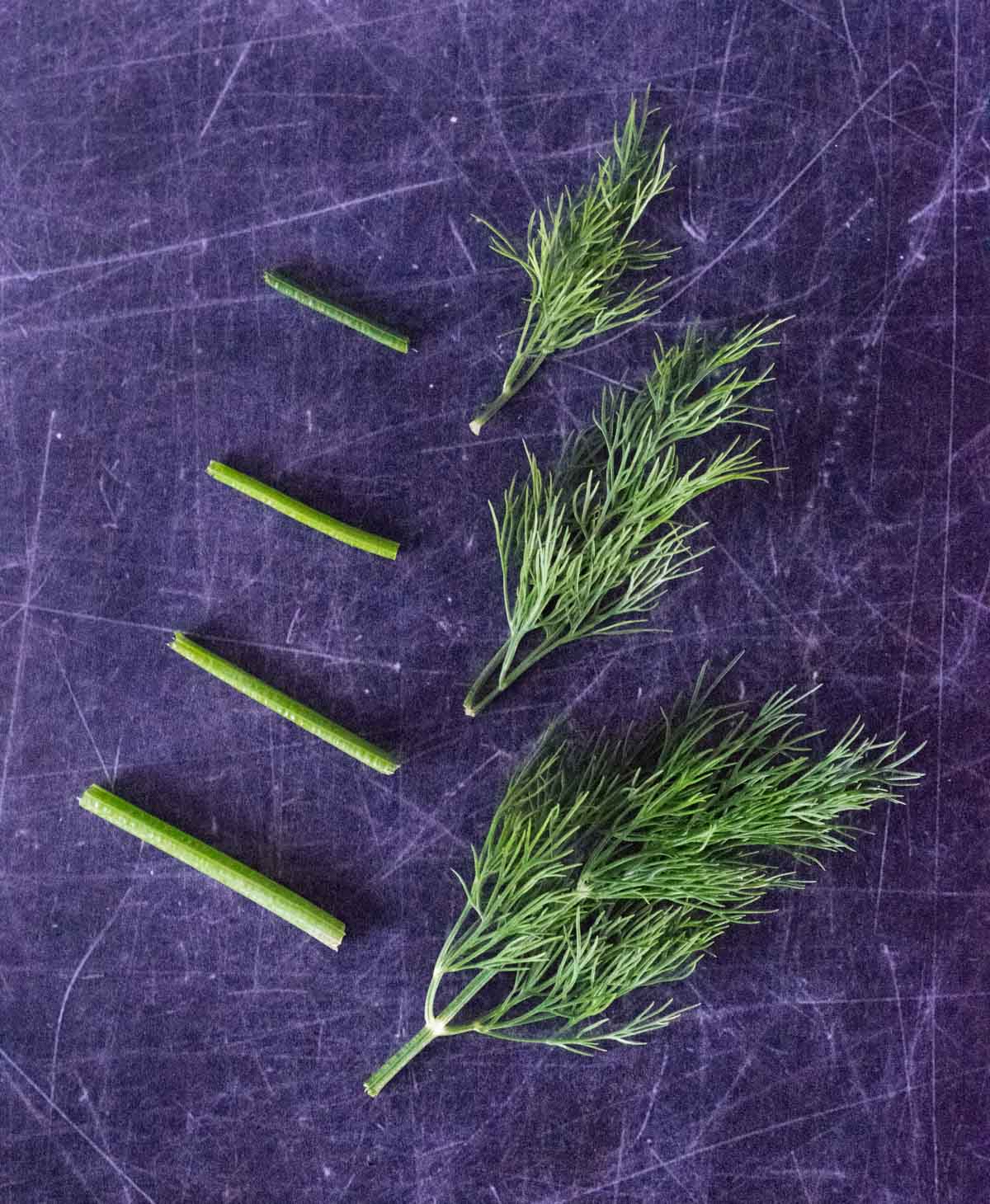 Substitute for fresh dill
You can find dried dill weed in the spice section of your grocery store. This stable seasoning can be stored in your pantry for long term use and used when you don't have fresh dill available. However, the flavor is remarkably less vibrant than fresh dill. Use one teaspoon of dry dill weed for every tablespoon you would use of fresh dill.
Recipes featuring dill
If you are looking for ways to use fresh dill in your garden, give any of these recipes a try!