One of my favorite plants to grow in any garden is dill. I love the aroma of it in my yard almost as much as I love the flavor of it in my favorite dishes. Let's take a look at how to use dill and get the most out of this flavorful herb.
What is dill?
Dill is a popular summer herb in the celery family used for flavoring dishes and pickling. This annual herb can be used fresh or dried and is frequently a key ingredient in pickle recipes, salad dressings, and potato dishes. It is most commonly available in spring and early summer.
What does dill taste like?
Dill packs a bright herbal flavor that combines lemon with a hint of licorice in its vibrantly green feathery leaves. Fresh dill weed has a noticeably brighter flavor than dried dillweed and is best used when available.
What part of the plant do I use?
Leaves - The thin feathery green leaves of dill are the main part of the plant used for cooking. Dill leaves have a bright herbal flavor, and are the most tender part of the plant. This makes them ideal to be used in dishes without changing the texture.
Head of Dill - A head of dill is the yellow, flowered portion, of the dill plant. Since it is primarily stems it isn't used in traditional cooking much but is perfect for imparting dill flavor in pickling recipes. One head of dill is often placed in each quart jar of pickled vegetables.
Stems - Dill stems still contain a powerful dose of flavor, but thicker stems have an unpleasant texture which makes most people avoid using them in cooking. The best way to use the thin, tender stems is to chop them finely with the leaves.
Seeds - Dill seeds can be used whole or crushed as a seasoning. Grind them in a spice grinder to flavor vegetables, sauces, and more.
How to buy it
Most grocery stores will keep fresh dill in herb packets found in the refrigerated section of the produce department. Look for a bunch of dill that has fresh leaves with a vibrant green color. Yellowing or blackening dill should be avoided and not used.
How to store it
Like other fresh herbs, fresh dill has a very short shelf life and should be refrigerated wrapped in plastic or in an airtight container. Dill will wilt and begin to blacken within a few days of being picked, so expect to use it within three days.
Alternatively, you can find dried dill weed in the spice section of your grocery store, or you can also dry your own dill at home with a dehydrator. The dried herb can be stored in your pantry for long-term use and used when you don't have fresh dill available. However, the flavor is remarkably less vibrant than fresh dill.
A better alternative to dehydrating is to freeze it to preserve its fresh flavor. I recommend finely chopping the dill in a food processor and turning it into a thick paste by adding a small amount of water. This can then be frozen in an ice cube tray then stored in a sealable bag or container and kept in the freezer for up to three months.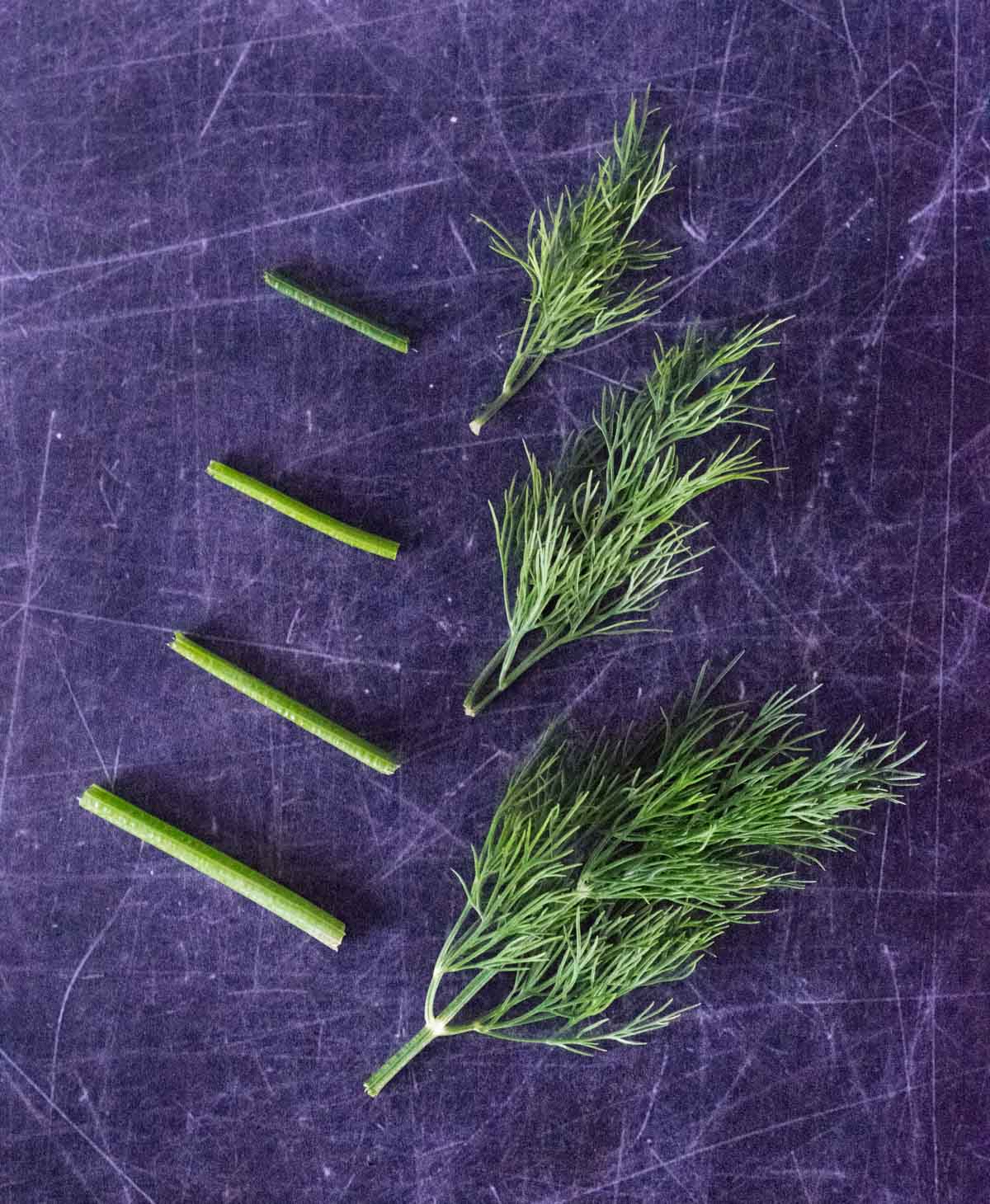 How to Substitute Fresh vs Dried Dill
You will need more fresh dill than dried dill when substituting this herb because dill loses volume and flavor as the moisture dries down. Substitute a 3:1 ratio of fresh vs dried dill. So for example, you can use 1 tablespoon fresh dill or 1 teaspoon of dried dill weed in a given recipe.
The 10 Best Recipes with Dill
If you are looking for ways to use fresh dill in your garden, give any of these recipes a try! The following is a collection of my favorite recipes using dill.
Can you do me a favor? If you enjoyed my post would you mind sharing it with your friends? You can see more of my recipes by liking me on Facebook and follow me on Pinterest too. Otherwise, stay up to date by getting each new post sent directly to your inbox by subscribing today.