This Carolina reaper hot sauce recipe uses the world's hottest pepper to make a fiery sauce that will set your taste buds ablaze! This homemade hot sauce is not for the faint of heart, but rather for hot sauce lovers who truly like things hot! Oh, and I do mean HOT! If you crave the hottest sauce you can get your hands on, the heat level of this simple recipe is off the charts!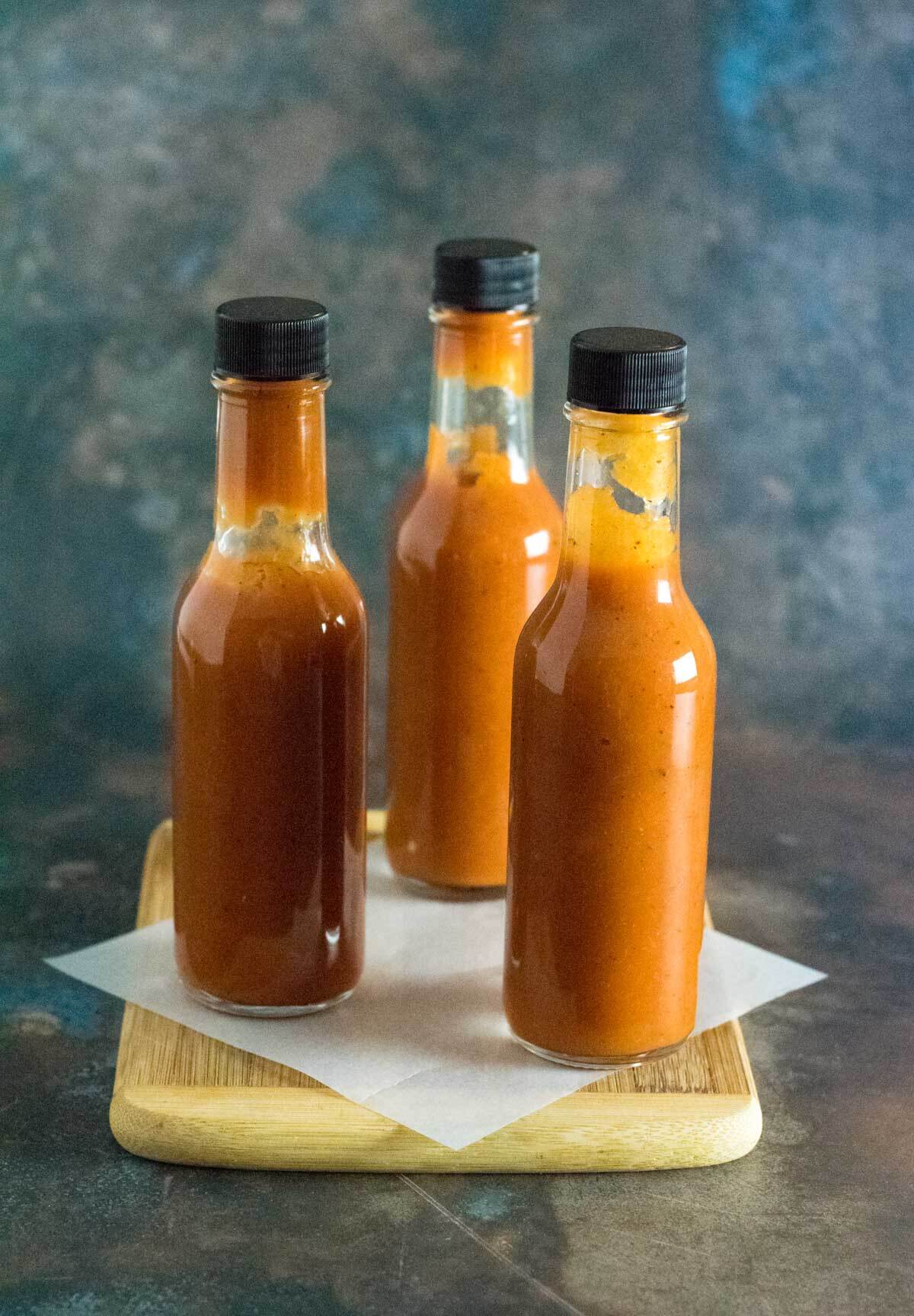 What is a Carolina Reaper Pepper?
Developed by Ed Currie in South Carolina, the Carolina Reaper pepper broke the Guinness world record for being the hottest pepper on the planet in 2017. The pepper is vibrantly red with a twisted bumpy texture and is known for its sweet and fruity flavor profile that quickly transforms into a searing heat measuring up to an incredible 2.2 million Scoville heat units.
Warning! Because of the intense Scoville rating of this pepper, special care should be given by home cooks when handling it to make your own sauce. The capsaicin will quickly create a chemical burn when it touches parts of your skin, so I recommend you wear gloves when making your Carolina Reaper sauce to protect your bare hands. Since this is the world's hottest chili pepper, it is also strongly recommended to be wearing eye protection to protect against sauce splashing back at you when cooking or blending it.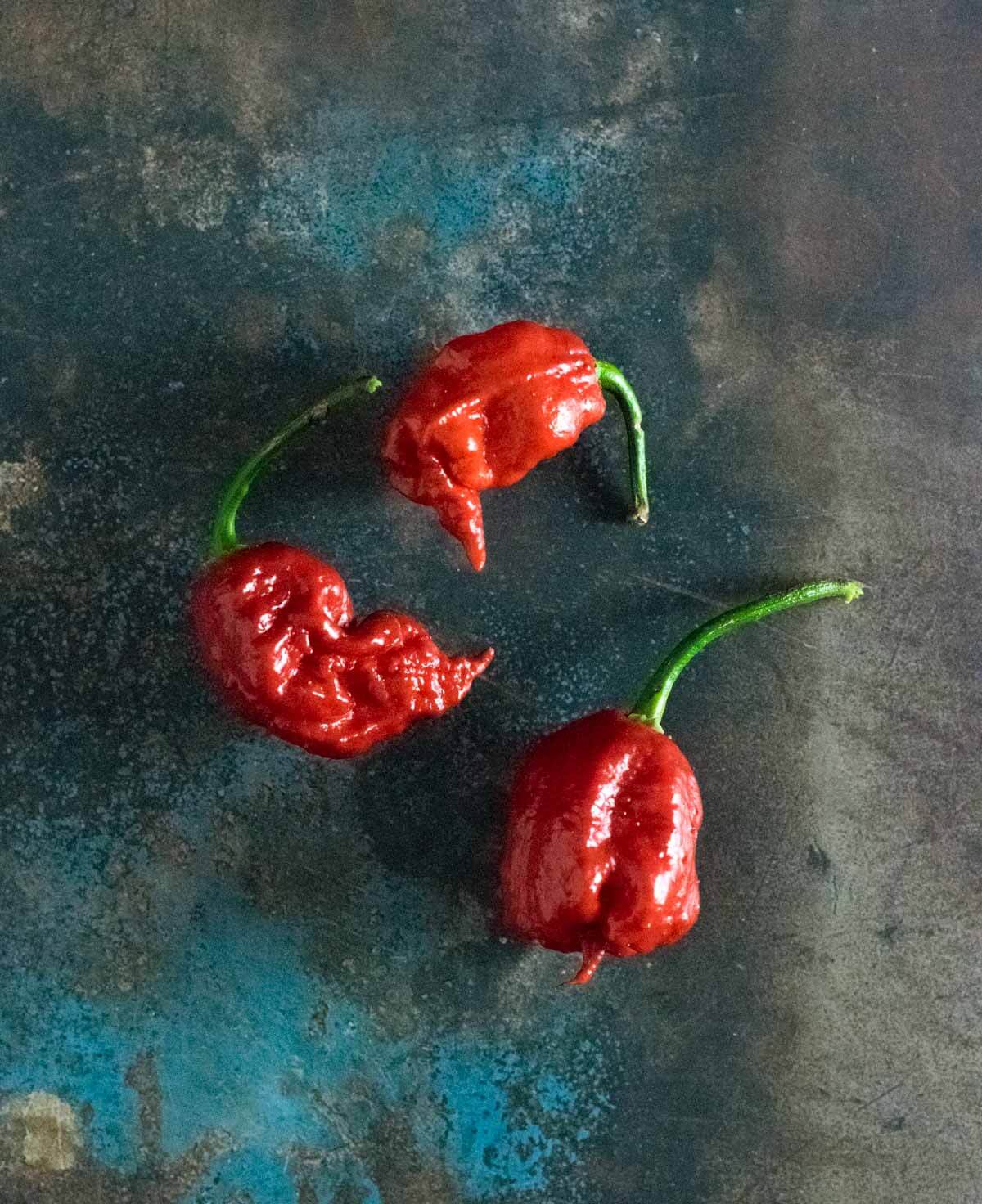 Ingredients and Substitutions
Carolina Reaper peppers - You can substitute other peppers, like Ghost peppers, with this recipe as well. This recipe even works well when combining a variety of peppers, like serrano peppers or habanero peppers, for a more complex flavor.
Fresh carrots 
Yellow onion
Garlic cloves
Apple cider vinegar - White vinegar can be substituted.
Red wine vinegar - Citrus, such as lemon juice or lime juice, is also a great addition to your hot pepper sauce for more acidity.
Tomato paste - Tomato sauce can be substituted, but I would increase the quantity to approximately 1 cup.
Smoked paprika - Regular paprika can be substituted, but smoked paprika will have a much better flavor.
Fresh ground black pepper - I strongly recommend using fresh ground pepper rather than pre-ground. It has a much fresher flavor.
How to make it
Begin making your homemade Carolina Reaper hot sauce by preheating your oven to 450 degrees. While the oven heats up, peel your carrots and chop them into two inch chunks. Place the chopped carrots on a rimmed baking sheet and roast for 45 minutes, or until the carrots are tender and slightly charred.
Halfway through roasting the carrots, add your onion to the baking sheet as well. In the final 5 minutes, add the garlic cloves and remove the baking sheet from the oven when everything has softened.
Set your broiler to high heat and place the Carolina Reaper chili peppers on the baking sheet and set them in the oven on the top rack, directly below the broiler. Watch the chili peppers closely while broiling to prevent burning, and remove them from the oven when slightly charred.
Place all ingredients in a saucepan and bring to a simmer. Simmer for ten minutes, or until the carrots, onion, and garlic are completely tender, then pour the hot sauce mixture into your blender or food processor and puree until smooth. (be sure to protect your eyes from splashback when blending hot peppers).
Add water to the hot sauce mixture, if needed, to ensure it has a pourable consistency, and return it to the saucepan. Heat the sauce to 180 degrees and immediately fill it into sterilized hot sauce bottles.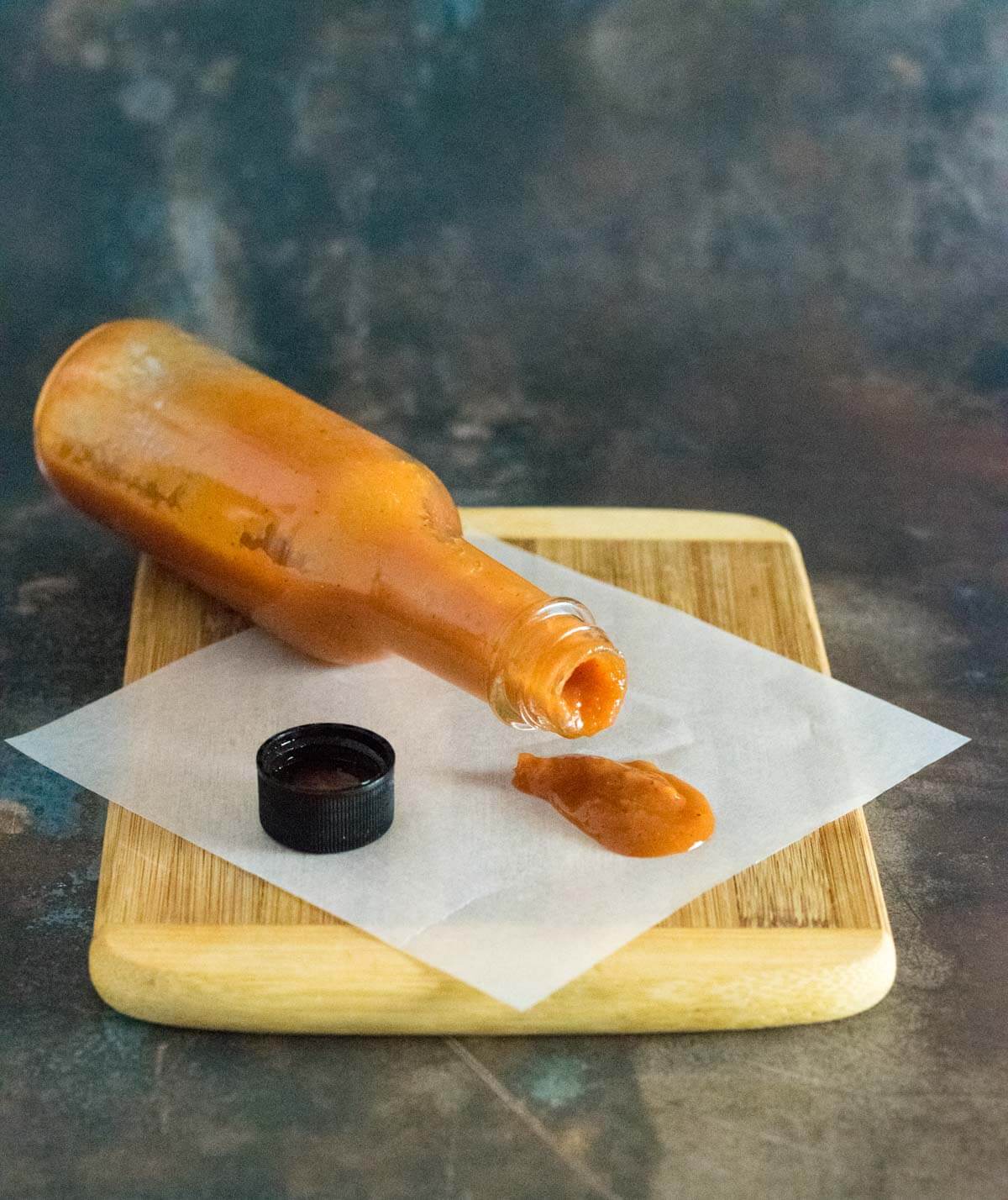 How to store hot sauce
When making your own hot sauce, it needs to have a ph level below 4.6 for shelf-stable storage. The lower the ph, the longer it will last. At 3.8 ph you can expect a sauce to be shelf-stable for up to 6 months when added to properly sterilized woozy bottles. When in doubt, store the bottles in your refrigerator.
To properly process your hot sauce for long-term storage, sterilize your bottles in a large pot of boiling water and heat the sauce to above 180 degrees. Then remove the bottles from the boiling water and immediately fill the bottles with the heated sauce and seal them with a clean cap. Finally, flip the bottles upside to sterilize the cap.
More Hot Sauce Recipes
Can you do me a favor? If you enjoyed my post would you mind sharing it with your friends? You can see more of my recipes by liking me on Facebook and follow me on Pinterest too. Otherwise, stay up to date by getting each new post sent directly to your inbox by subscribing today.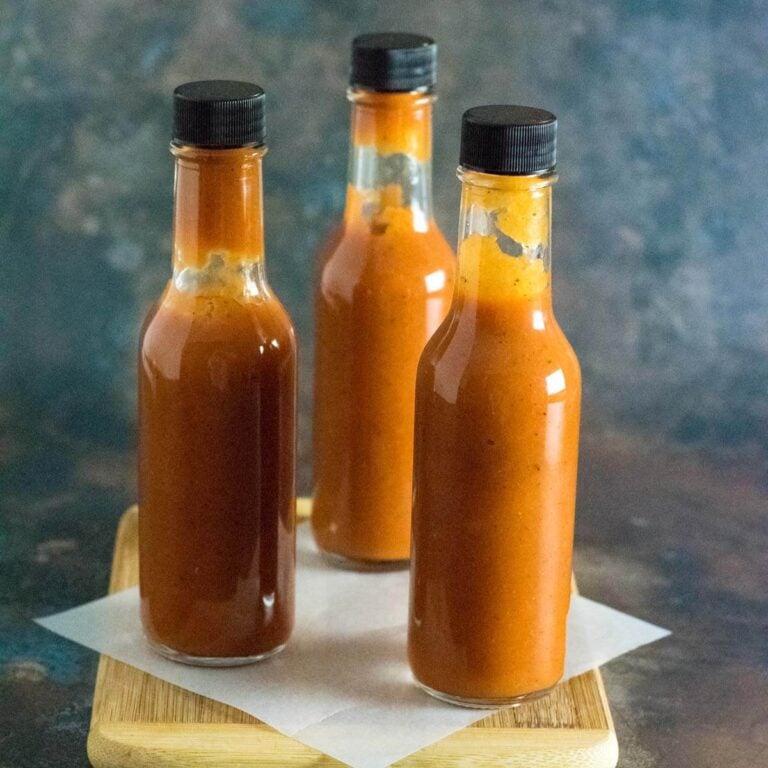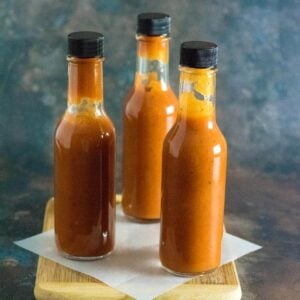 Carolina Reaper Hot Sauce
This Carolina reaper hot sauce recipe uses the world's hottest pepper to make a fiery sauce that will set your tastebuds ablaze!
Print
Pin
Rate
Save
Saved
Ingredients
3

ripe

Carolina Reaper peppers

2

carrots

peeled

½

medium

onion

3

cloves

garlic

1 ½

cups

apple cider vinegar

¼

cup

red wine vinegar

4

tablespoons

tomato paste

½

teaspoon

smoked paprika

½

teaspoon

fresh ground black pepper
Instructions
Preheat your oven to 450 degrees.

Chop peeled carrots into 2" chunks and place on a rimmed baking sheet. Place the baking sheet in the oven and roast the carrots for 45 minutes, or until tender and beginning to char.

Approximately halfway through roasting the carrots, add the onion to the baking sheet and continue to roast the vegetables. Finally, add garlic cloves in the final five minutes of roasting.

Remove the roasted carrots, onion, and garlic from the oven and set the broiler to high. Place the Carolina Reapers on the baking sheet and set on the top rack, directly under the broiler, and broil peppers until beginning to char. *

Stir together apple cider vinegar, red wine vinegar, tomato paste, smoked paprika, and ground black pepper in a saucepan. When all vegetables are done roasting add them to the saucepan and gently simmer everything for 10 minutes (or longer) to ensure all of the vegetables have fully softened from cooking.

Transfer the hot sauce mixture to your blender and carefully puree everything together until the sauce is smooth and thin. Add water, if needed, to thin it into a pourable consistency then return the mixture to your saucepan and heat it to almost a simmer.

While the hot sauce is heated above 180 degrees, ladle the sauce into sterilized glass bottles, seal them shut with clean caps, and stand them upside down for five minutes to sanitize the caps.
Notes
*The peppers can be roasted rather than broiled, but since they contain so much capsaicin you want to cook them as quickly as possible to avoid lingering fumes irritating your eyes, throat, and lungs. Using your broiler, or grilling them outside, are your best options for roasting your Reapers.
You can use less than 3 peppers to tame down the heat a little if desired.
It is a good idea to always use rubber gloves when handling hot peppers or the capsaicin will quickly burn your skin.
The ph needs to be under 4.6 for shelf-stable storage. At 3.8ph hot sauce will be shelf stable for approximately six months.
This recipe yields approximately 4 bottles of sauce.
Nutritional Information
Calories:
8
kcal
|
Carbohydrates:
1
g
|
Protein:
0.2
g
|
Fat:
0.03
g
|
Saturated Fat:
0.01
g
|
Polyunsaturated Fat:
0.01
g
|
Monounsaturated Fat:
0.003
g
|
Sodium:
21
mg
|
Potassium:
50
mg
|
Fiber:
0.3
g
|
Sugar:
1
g
|
Vitamin A:
730
IU
|
Vitamin C:
1
mg
|
Calcium:
4
mg
|
Iron:
0.1
mg