Naturally flavorful and lean, bison meatloaf is a showstopper on the family dinner table. If you have never tried bison before, this meatloaf recipe is a great introduction!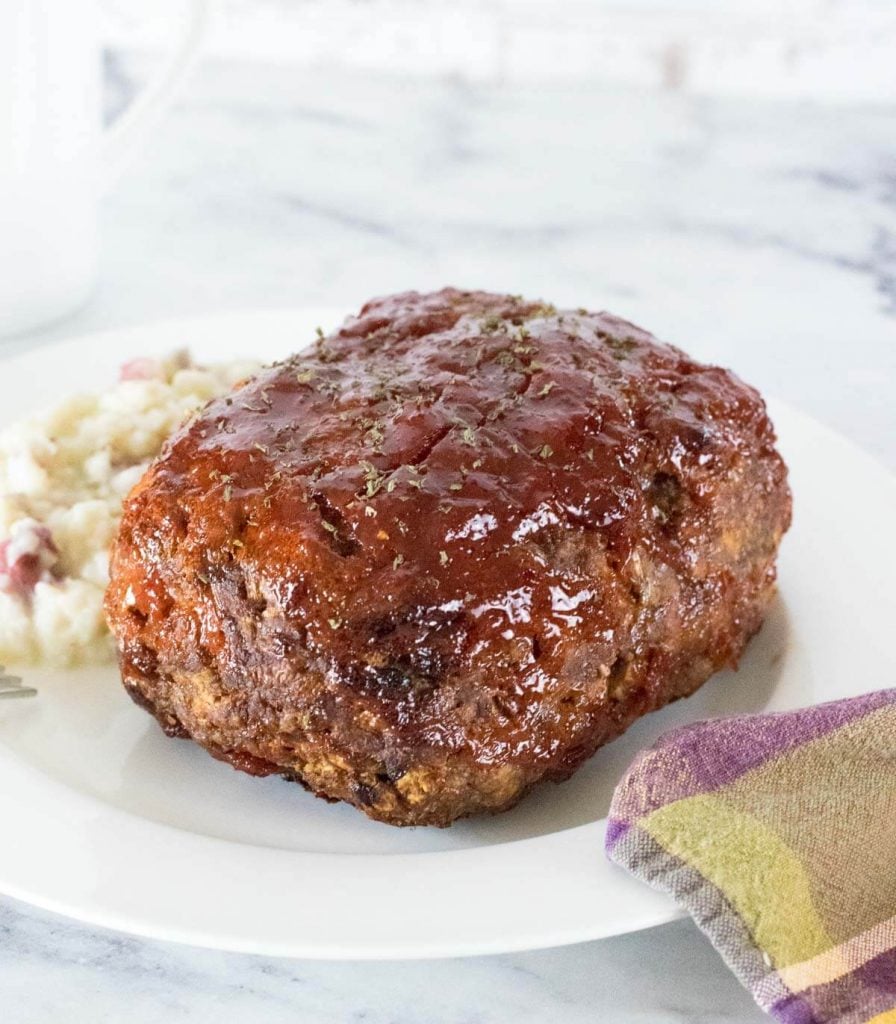 Ground Bison Meat
Bison is leaner than beef, and sweeter tasting, so you can expect the ground bison you purchase to be leaner than the ground beef you would typically use to make a classic meatloaf. Fat is needed to create a moist and juicy meatloaf, so I compensate for that by adding in shredded parmesan cheese. The cheese adds moisture and compliments the sweet flavor of the bison well.
Is ground buffalo the same as bison?
Technically speaking, buffalo is not the same animal as bison. However, the names have been used interchangeably for years. Bison refers to the animal that commonly roamed the American great plains. Whereas, a buffalo is an animal such as the water buffalo or cape buffalo, found in Asia and Africa.
Meatloaf Ingredients
Typically ground bison is purchased from a store or from a local farm already packaged in one pound packages. I typically like to make my meatloaf one and a half pounds, but wasting a half-pound of bison meat would be a shame. As such, I reduced the recipe to accommodate the packaging size, feel free to scale it up as needed.
1 pound ground bison
¼ cup Breadcrumbs
½ cup Beef broth
1 Egg (beaten)
¼ cup grated onion
¼ cup shredded Parmesan
1 tablespoon tomato paste
2 teaspoons Worcestershire sauce
¾ teaspoon Table salt
¼ teaspoon paprika
¼ teaspoon Black pepper
⅛ rounded teaspoon ground sage
⅓ cup ketchup
2 tablespoon balsamic vinegar
1 tablespoon brown sugar
The breadcrumbs are a binder the soaks up the liquid of the broth and egg. These ingredients work together to hold everything together and retain moisture. The remaining ingredients are added primarily for flavor, with Parmesan serving the dual purpose of adding fat as well.
Tip: If you want more fat (moisture) added to your bison meatloaf, mix in some bacon!
How to make it
Gently crumble your meat into a large bowl. Crumbling it helps ensure all of the remaining ingredients disperse evenly. All of the remaining meatloaf ingredients can then be mixed in as well until thoroughly incorporated.
Make the glaze by mixing the ketchup, balsamic vinegar, and brown sugar together. Take a couple of tablespoons of the glaze and paint the bottom of your baking pan (or bread pan) with it. This helps prevent the meatloaf from sticking. The meatloaf is then set on a baking pan and formed into a loaf, and the remaining glaze is painted on top.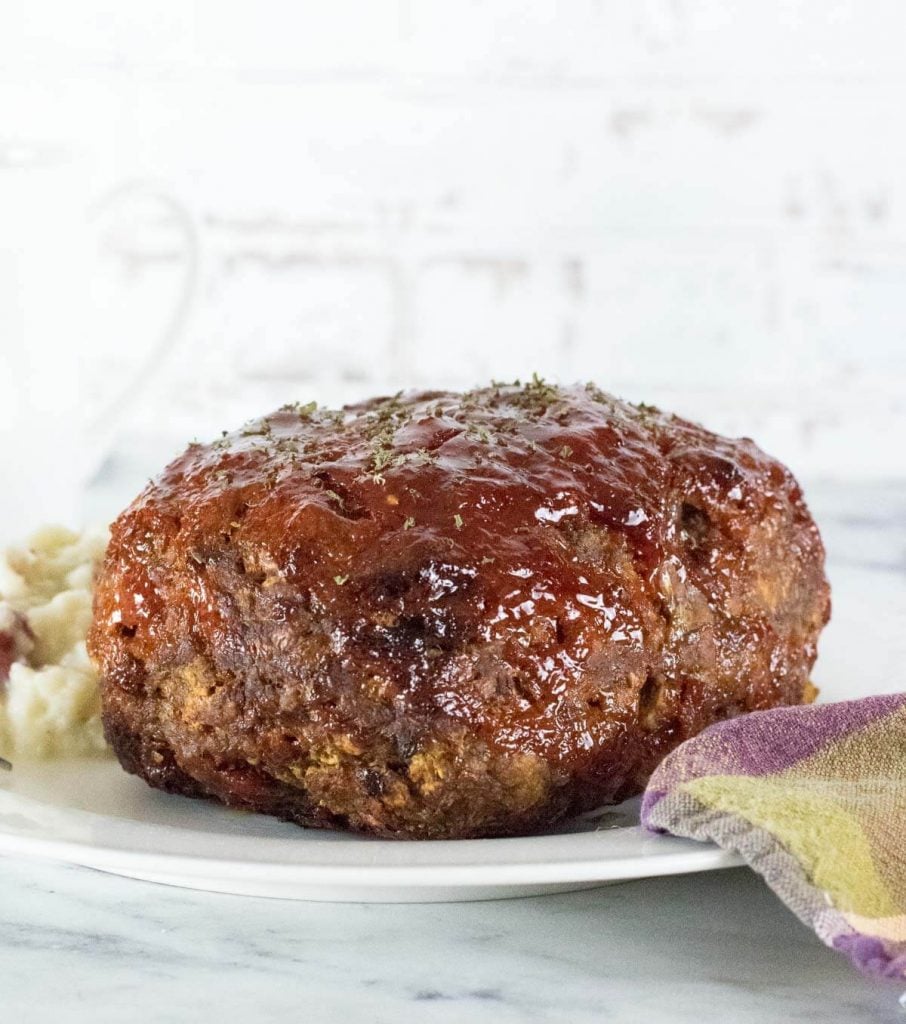 How long do I cook a one pound meatloaf?
Bake your meatloaf at 350 degrees for 40 minutes. However, the exact time can vary depending on the thickness of your loaf which is why I always use a meat thermometer and pull it when it reaches 160 degrees. One pound meatloaves generally cook faster than larger loaves, but if you make them too thick, they can take longer. For example, I made my loaf thicker for these photos, and it took over an hour. Having your loaf about two-three inches thick should be just right.
Can I freeze meatloaf?
Yes! Meatloaf is great to make in advance and freeze prior to baking. Wrap it tightly in plastic wrap and store in an airtight container to prevent freezer burn. You'll want to remove it from the freezer at least a day prior to baking to allow it to thaw back out.
More Meatloaf Ideas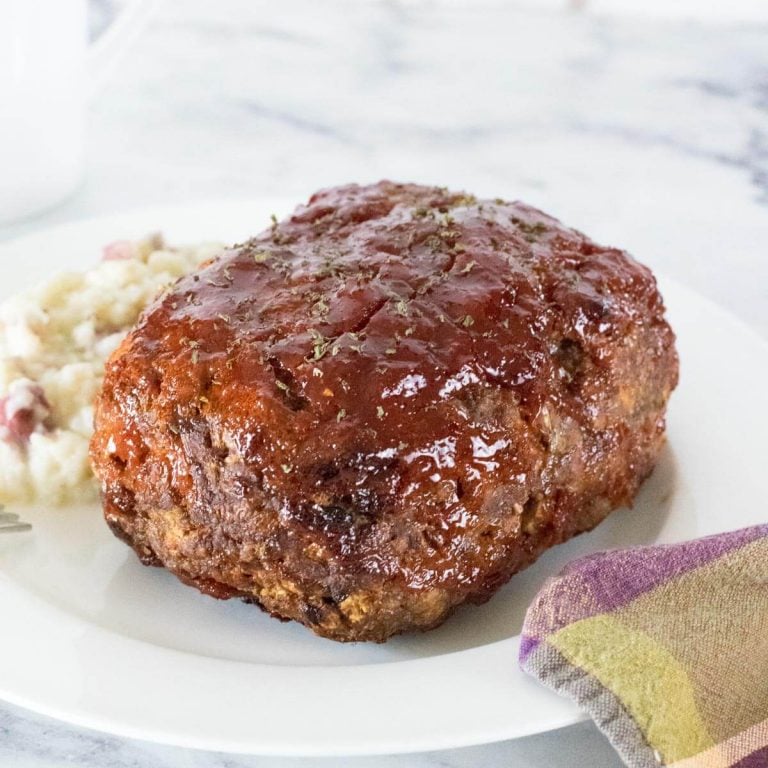 Bison Meatloaf
Naturally flavorful and lean, bison meatloaf is a showstopper on the family dinner table.
Print
Pin
Rate
Save
Saved
Ingredients
1

pound

ground bison

¼

cup

breadcrumbs

½

cup

beef broth

1

egg

(beaten)

¼

cup

grated onion

¼

cup

shredded Parmensan

1

tablespoon

tomato paste

2

teaspoons

Worcestershire sauce

¾

teaspoon

table salt

¼

teaspoon

paprika

¼

teaspoon

black pepper

⅛

rounded teaspoon ground sage
Glaze
⅓

cup

ketchup

2

tablespoons

balsamic vinegar

1

tablespoon

brown sugar
Instructions
Preheat oven to 350 degrees.

Gently cumble bison into a large bowl and add all remaining meatloaf ingredients. Work together to fully incorporate.

Mix together glaze ingredients in a separate dish.

Paint two tablespoons of glaze on the bottom of a bread pan, or baking pan, and set meatloaf mixture on top of it. Form meatloaf into a loaf 2-3" thick. Then paint the remaining glaze on top of the meatloaf.

Place meatloaf in the oven and bake for 40 minutes, or until the internal temperature reaches 160 degrees.

Let cool slightly and serve.
Nutritional Information
Calories:
459
kcal
|
Carbohydrates:
21
g
|
Protein:
32
g
|
Fat:
26
g
|
Saturated Fat:
11
g
|
Cholesterol:
160
mg
|
Sodium:
662
mg
|
Potassium:
706
mg
|
Fiber:
1
g
|
Sugar:
13
g
|
Vitamin A:
379
IU
|
Vitamin C:
3
mg
|
Calcium:
50
mg
|
Iron:
5
mg