Chicken meatloaf is healthier than traditional meatloaf, but still packs big flavors in each tender bite.
After spending much of the past week sick, it feels good to be back in the saddle again. Well, not a real saddle per se, it is hard to type while riding a horse, but calling my office chair a saddle does makes it sound cooler… like I am a rough and ready cowboy ready to tame the wilds of the world wide web armed with nothing but a pantry of seasoning and some ground chicken. Hey, it's my fantasy, let me live it.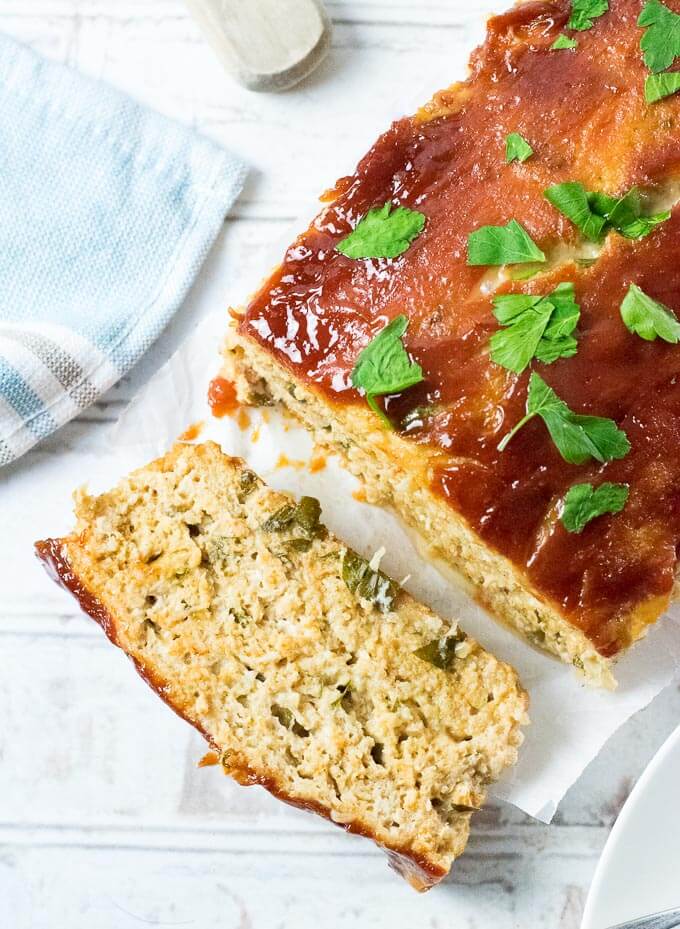 Chicken Meatloaf
Chicken meatloaf is prepared much in the same way as a classic beef meatloaf, ground meat is combined with breadcrumbs and seasonings and then baked in the oven until done. The obvious difference is the primary protein is chicken rather than beef.
I tried a variety of glazes and toppings for this meatloaf, but ultimately, my favorite was the same glaze I use in my classic meatloaf recipe. It is delectably sweet and tangy, and perfect for painting on any meatloaf!
In hindsight, I think using a gravy-like sauce such I created for my cocktail meatballs, would have tasted phenomenal as well, had I thought to test it. Perhaps, with a handful of herbs tossed in as well… just an idea to spur your own creativity!
Is Chicken Meatloaf Healthy
Chicken meatloaf is healthier than traditional meatloaf because ground chicken is exceptionally lean. Ground chicken has roughly half the calories as the same sized portion of 80/20 ground beef.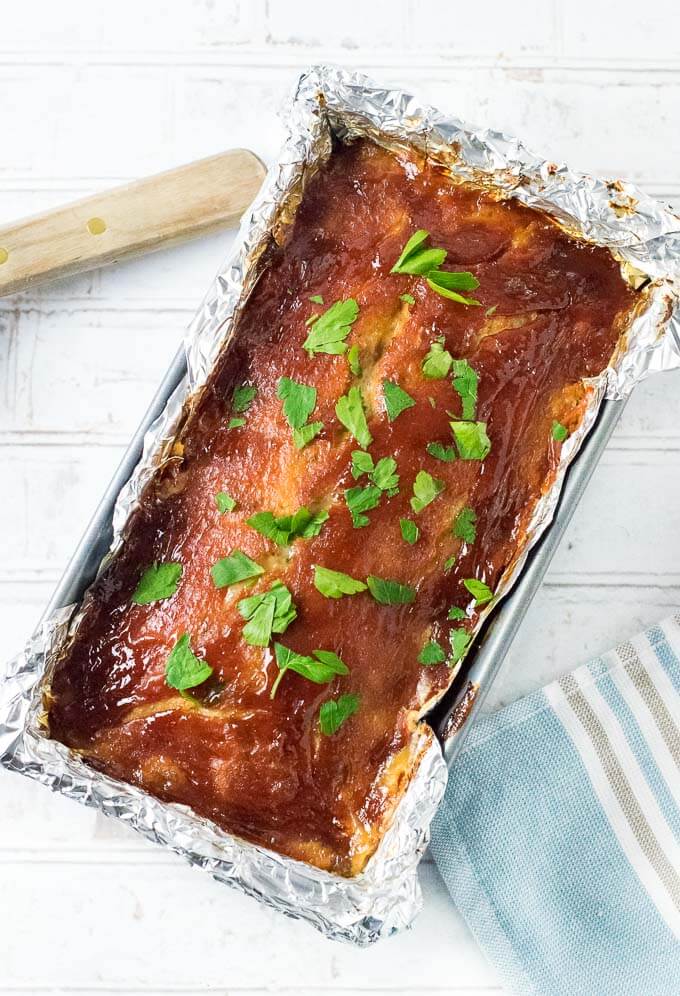 How to Prevent Chicken Meatloaf from Being Dry
The biggest concern when making a meatloaf with lean meat is how to prevent it from being too dry. Fat adds a lot of calories, but it also adds moisture and flavor.
Since the ground chicken doesn't contain much fat, the moisture in this meatloaf comes from the breadcrumbs soaking up the milk, as well as the shredded Parmesan cheese which will melt into the meatloaf.
How Long to Bake Chicken Meatloaf
It is particularly important to bake chicken meatloaf long enough, since you don't want to serve your family uncooked chicken. The internal temperature of the meatloaf needs to reach 165 degrees, which will take approximately 90 minutes at 350 degrees.
It is important to note, the baking time will vary depending on the thickness of your meatloaf, so I always recommend using a digital meat thermometer to monitor your progress.
Print Recipe
Chicken Meatloaf
Chicken meatloaf is healthier than traditional meatloaf but still packs big flavors in each tender bite.
Ingredients
2

lbs

Ground Chicken

1

cup

Breadcrumbs

1

cup

Milk

2

Eggs

(beaten)

1/2

cup

grated Onion

1/2

cup

shredded Parmesan

1/3

cup

chopped Parsley

2

tablespoons

Tomato Paste

1

tablespoon

Worcestershire Sauce

1 1/4

teaspoons

Table Salt

1/2

teaspoon

Garlic Powder

1/4

teaspoon

ground Sage

1/4

teaspoon

ground Black Pepper
Meatloaf Glaze
1/2

cup

Ketchup

2

tablespoons

Brown Sugar

1

tablespoon

Worcestershire Sauce
Instructions
Preheat oven to 350 degrees.

Gently crumble chicken into a large bowl. In a separate dish, combine all dry ingredients and mix together, then sprinkle over ground chicken. Add remaining wet ingredients and mix thoroughly to combine.

In a separate dish, prepare the meatloaf glaze by mixing ketchup, brown sugar, and Worcestershire sauce together.

Add a couple of tablespoons of glaze to the bottom of a bread pan and add the chicken meatloaf mixture into the pan and form into a loaf. Paint the chicken meatloaf with the remaining glaze.

Bake in the oven uncovered for 90 minutes, or until the internal temperature reads 165 degrees with a digital meat thermometer.

Remove from the oven, let rest for a few minutes, slice and serve.
*Calories listed are a vague estimate and accuracy should not be assumed.
If you enjoyed reading my recipe then you should probably like me on Facebook and follow me on Pinterest too. That's what I would do at least, and if you are willing to take my advice on the food you put into your body you should probably follow my advice on that too.