This outrageously tender venison pot roast is smothered in a luxurious herb-infused gravy and piles of hearty mushrooms. This hearty dinner is best served over fluffy mashed potatoes to soak up every delicious morsel, a perfect way to celebrate a successful deer season! One bite and this may likely be your new favorite way to enjoy deer meat, just be sure to thank the hunter for the harvest.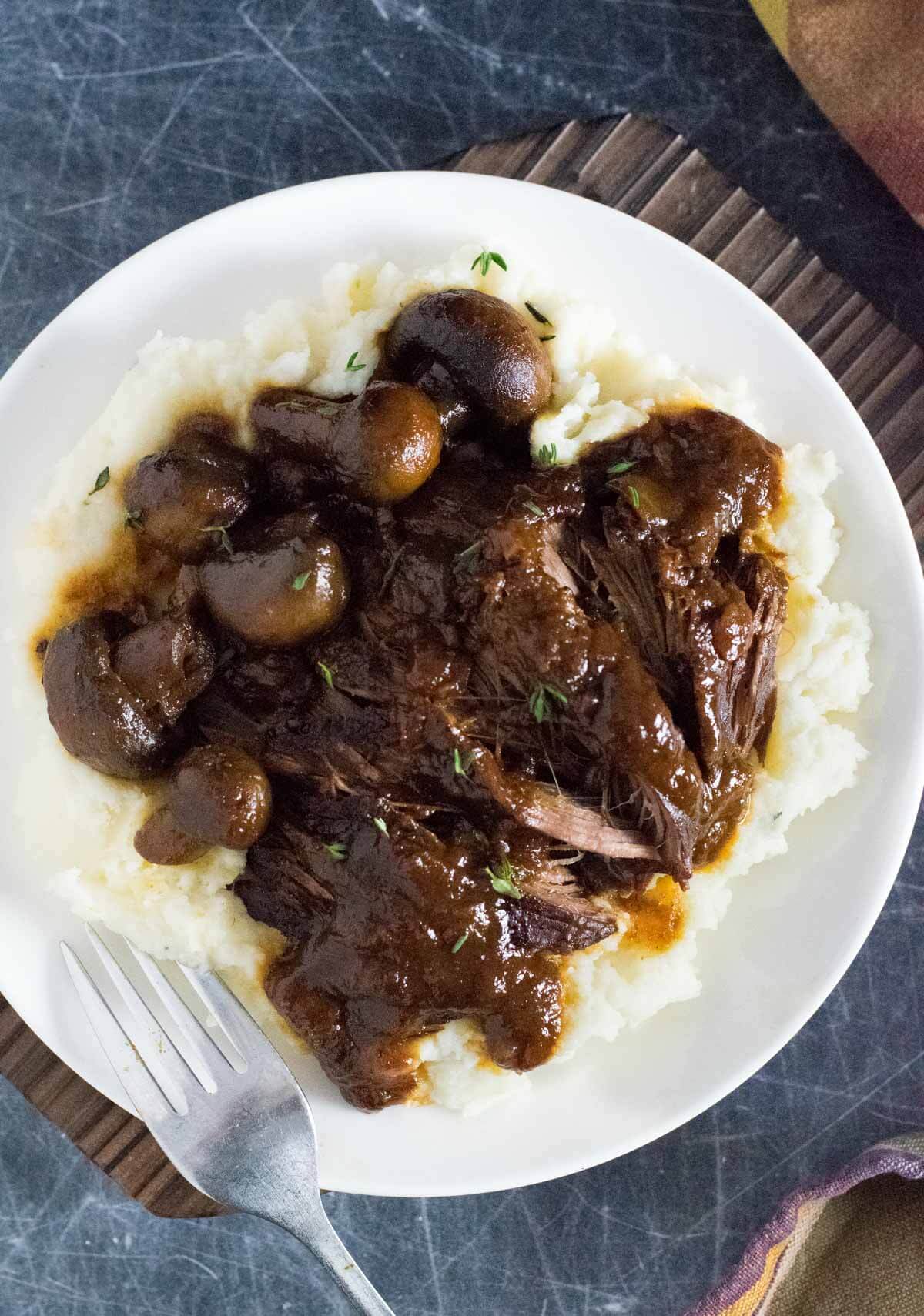 What is it?
My venison pot roast recipe is best made in a Dutch Oven where the meat can be first seared for extra flavor, then braised in the oven with mushrooms and onions in a flavorful liquid that thickens into the most wonderful gravy you have ever tasted!
Some pot roast recipes include celery, carrots, and potatoes to make it a one-pot meal. However, when simmered in a large amount of liquid that more closely resembles a beef stew, than a true pot roast. Still, it is delicious, so you are welcome to add them to the pot if desired.
Ingredients and Substitutions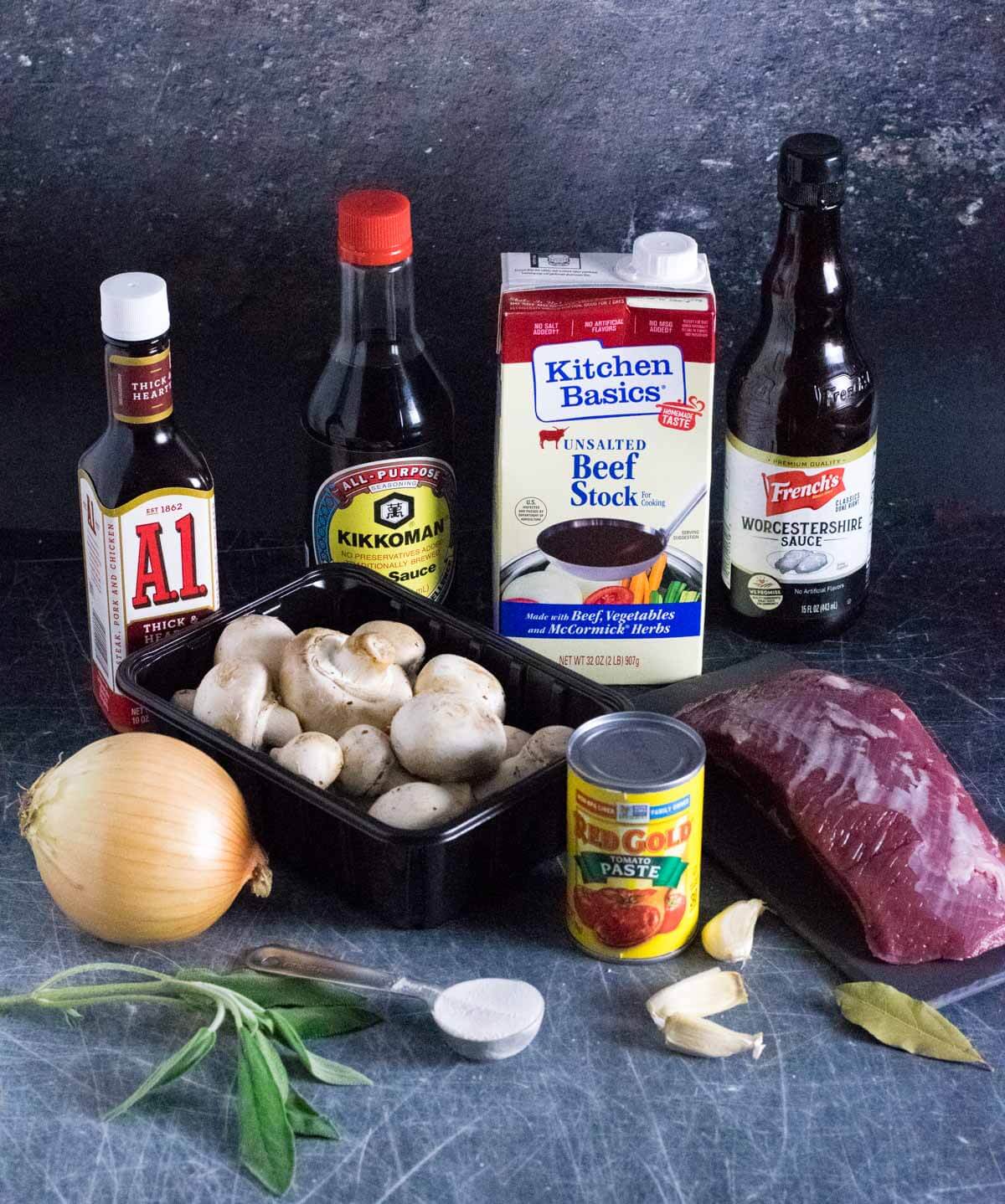 Boneless venison roast

- You can use just about any cut of venison for this recipe. However, this is particularly good with shanks (the connective tissue and sinew will melt away while cooking). You can even use a venison neck roast. However, I personally used leg meat.
Cooking oil - Olive oil, canola oil, or your favorite vegetable oil will all work well.
Medium onion - A yellow onion or sweet onion is best.
Mushrooms - Button mushrooms, baby bella mushrooms, or wild mushrooms all work well.
Garlic cloves - You can also substitute a teaspoon of garlic powder.
All purpose flour - Flour is added to thicken the braising liquid into a gravy. Corn starch can also be used, but I find the results to be a little more unpredictable.
Tomato paste
Unsalted beef stock - You want to use unsalted stock because the liquid will reduce while cooking, which could result in it being overly salty when condensed.
A.1. Steak Sauce
Soy sauce
Worcestershire sauce
Brown sugar - Adds just a touch of sweetness, but this can be ommitted.
B

utter

- Like a lot of wild game, venison is a very lean meat, so there isn't much fat to add moisture to the pot roast. Butter is added to the braising liquid for extra moisture and flavor.
Fresh sage - This recipe will work equally well with fresh rosemary or fresh thyme.
Bay leaf
How to make it
This Dutch oven venison pot roast recipe begins by seasoning the venison with kosher salt on all sides, then searing it on the stovetop in cooking oil over medium-high heat. The venison doesn't need to be cooked through, just browned on the exterior. Once it has been seared, remove it from your pot and set it aside.
Add the mushrooms and onions to your pot and reduce the heat to medium. Saute the onions until tender, then add garlic and cook for an additional two minutes.
Next, the flour and tomato paste are added. Stir this around to evenly disperse it then add beef stock, A.1. sauce, soy sauce, Worcestershire sauce, brown sugar, and black pepper. The venison is added back into your pot at this time.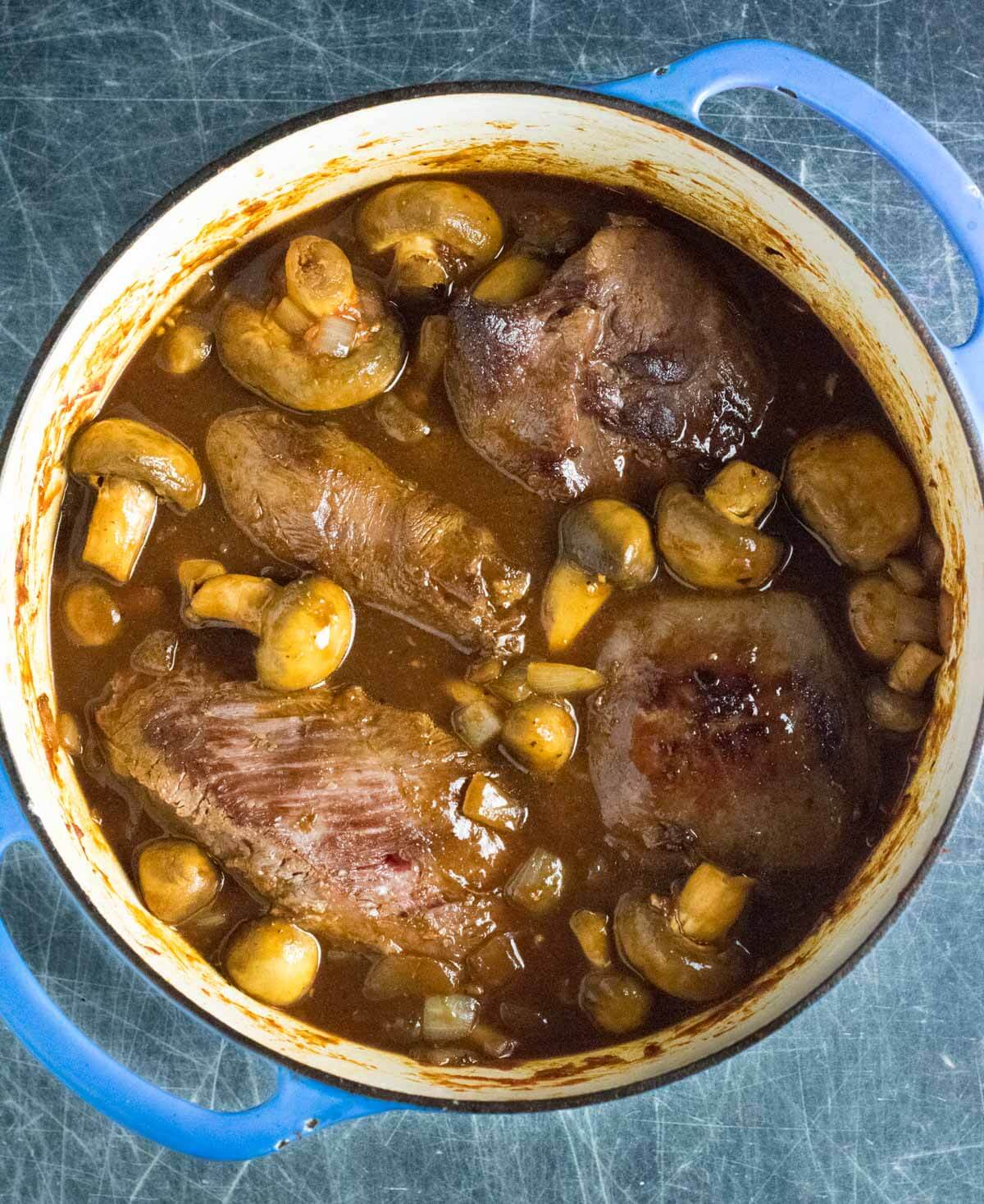 Place the lid on your Dutch oven and set it in a 300 degree oven to braise for three hours. After three hours the fresh sage, bay leaf, and butter should be added. Then let it braise for an additional hour uncovered.
At this point, your deer roast will be tender and easily shredded and your braising liquid will have thickened into a gravy to serve on top of the meat. Serve this over mashed potatoes or egg noodles, along with crusty bread or dinner rolls.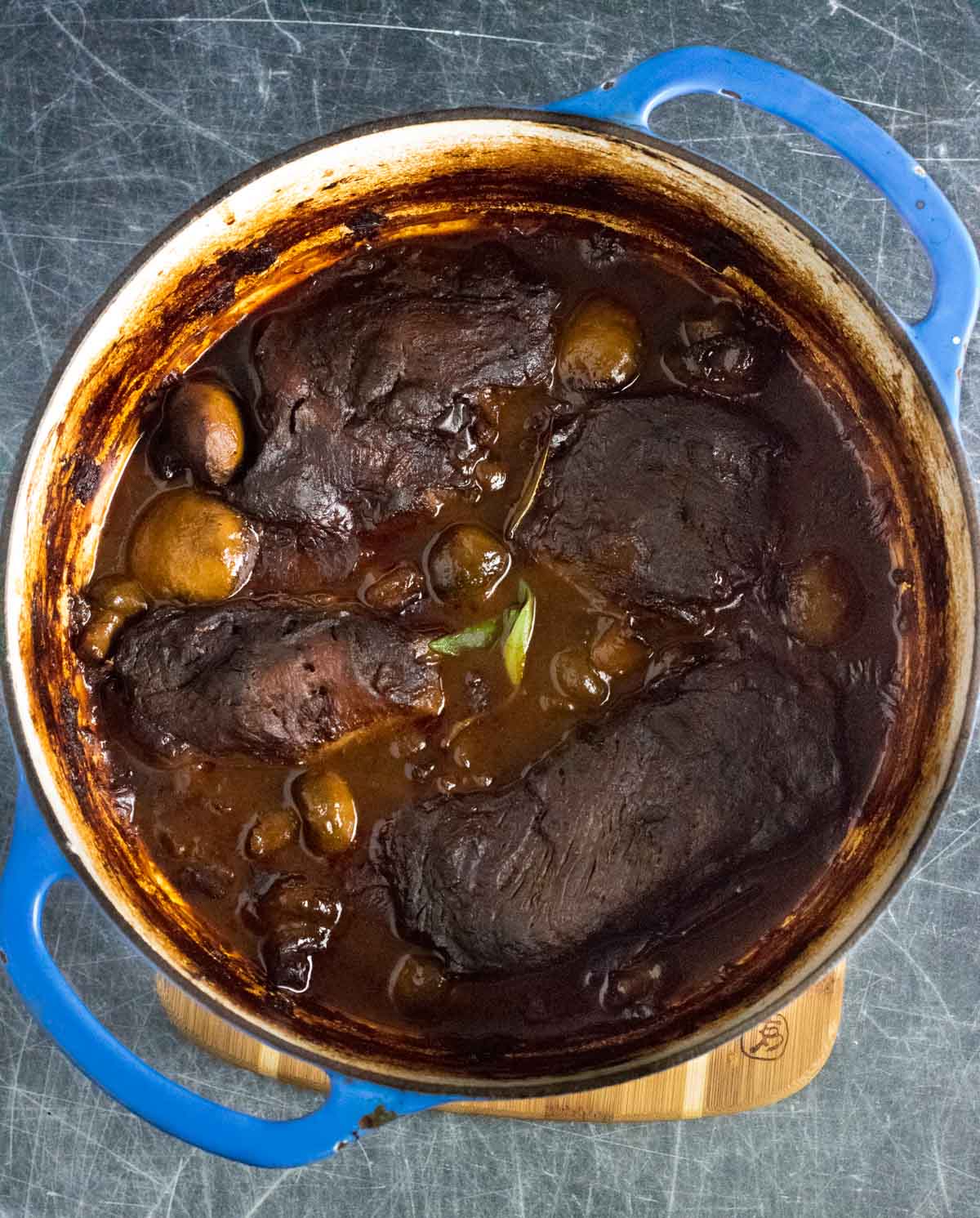 Can this also be a slow cooker venison pot roast?
The idea of a slow cooker venison pot roast may be tempting enough to make you want to cut corners and reach for your crock pot, but don't do it. There are a few issues with this idea.
First of all, you won't be able to sear the deer meat in the slow cooker, which will result in less flavor. But the bigger issue is that your braising liquid isn't going to thicken into a rich gravy in the slow cooker like it will when properly cooked in the oven. If you are really wanting to use your crockpot, use my slow cooker venison stew recipe instead.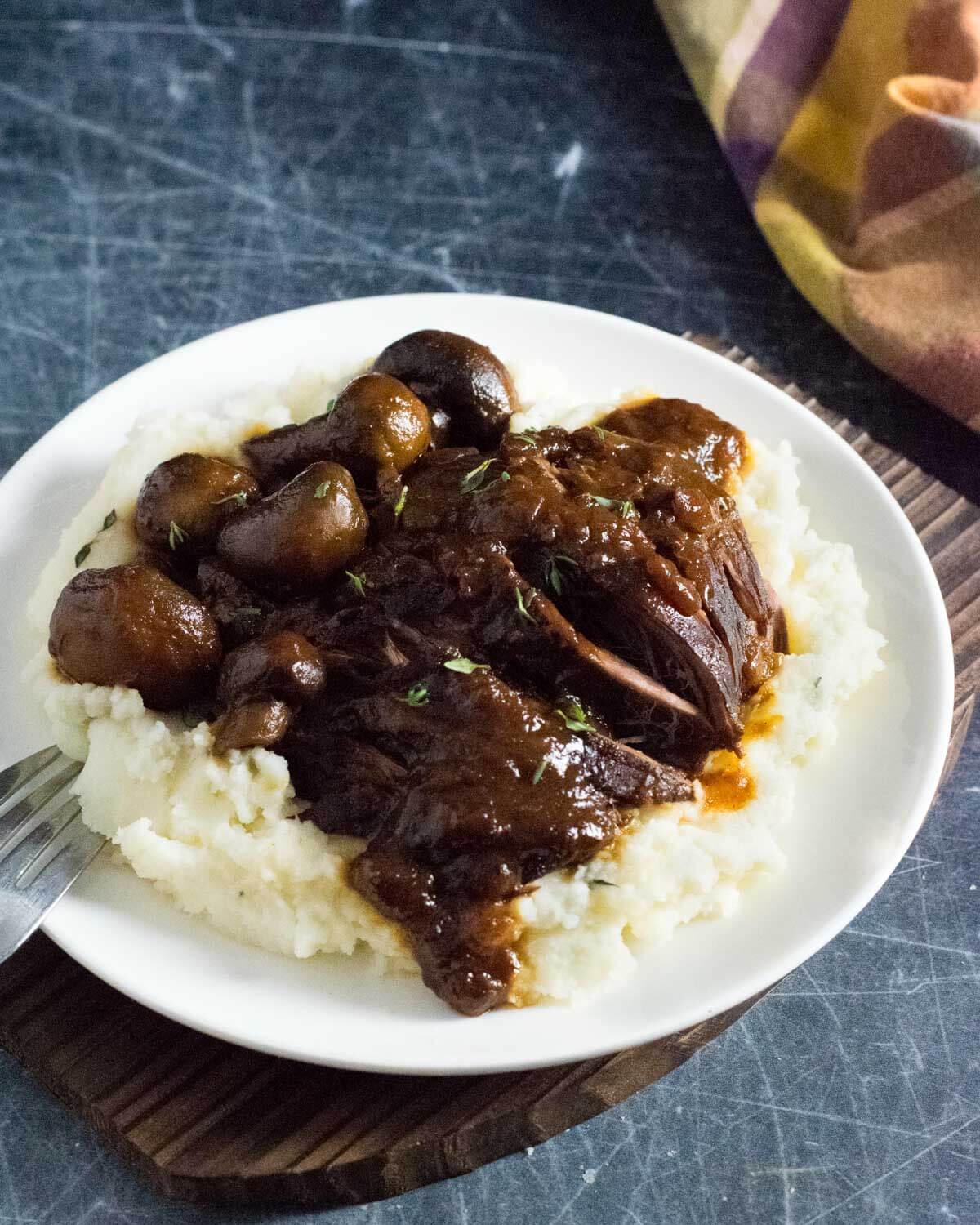 Storing Leftovers
Leftover pot roast should be stored in an airtight container, or a covered pot, in the refrigerator and eaten within five days. It can be reheated in the microwave or on the stovetop. If the gravy thickens too much while sitting in the fridge, add a splash of beef stock to it to thin it out slightly.
More Hearty Venison Recipes
Can you do me a favor? If you enjoyed my post would you mind sharing it with your friends? You can see more of my recipes by liking me on Facebook and follow me on Pinterest too. Otherwise, stay up to date by getting each new post sent directly to your inbox by subscribing today.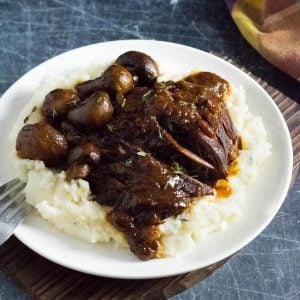 Venison Pot Roast
This outrageously tender venison pot roast is smothered in a luxurious gravy and hearty mushrooms, perfect for piling on mashed potatoes!
Print
Pin
Rate
Save
Saved
Ingredients
2

tablespoons

cooking oil

3

pound

venison roast

2

teaspoons

kosher salt

1

sweet onion

chopped

16

ounces

mushrooms

whole or sliced

3

cloves

garlic

minced

1

tablespoon

flour

¼

cup

tomato paste

2

cups

unsalted beef stock

2

teaspoons

A.1. Steak Sauce

2

teaspoons

soy sauce

2

teaspoons

worcestershire sauce

1

tablespoon

brown sugar

2

teaspoons

fresh ground black pepper

2

tablespoons

butter

1

sprig

fresh sage

can also use rosemary or thyme

1

bay leaf
Instructions
Preheat oven to 300 degrees.

Pat the venison roast with paper towels to dry it and liberally salt all sides with 2 teaspoons of kosher salt.

Set your large Dutch oven on the stovetop over medium high heat and add cooking oil. Once the oil is shimmering add the venison roast and sear on all sides.

Remove the seared venison and set aside, then reduce the heat to medium.

Add chopped onion and mushrooms to the pot, along with another drizzle of cooking oil if needed. Saute until onions are tender, then add minced garlic and cook for an additional two minutes.

Stir in flour and tomato paste, along with beef stock, A.1. steak sauce, soy sauce, Worcestershire sauce, brown sugar, and black pepper. Scrape the bottom of the pot to loosen any burnt on bits.

Add venison back into your Dutch oven and cover with the lid. Place in your oven for 3 hours.

After three hours remove the lid of your Dutch oven, add a sprig of sage, bay leaf, and two tablespoons of butter, then let the meat braise for an additional hour.

Remove the pot roast from the oven, discard bay leaf and the sprig of sage. Shred the meat if desired, or slice the venison roast across the grain into slices and serve with mushrooms and the braising liquid as gravy over mashed potatoes.
Notes
The venison used in this recipe doesn't need to be one single large cut of meat, you can use large chunks that equal three pounds when combined.
If the braising liquid is too thin you can thicken it by simmering it on the stovetop for a few minutes after the pot roast has finished cooking, however, this shouldn't be necessary. 
I recommend serving this with my fluffy mashed potatoes.
Tip: Venison is very lean, which makes it naturally drier. My personal recommendation is to serve the meat shredded because the sauce will soak around each shred of meat, keeping it moist and flavorful.
Nutritional Information
Calories:
412
kcal
|
Carbohydrates:
13
g
|
Protein:
57
g
|
Fat:
14
g
|
Saturated Fat:
5
g
|
Polyunsaturated Fat:
3
g
|
Monounsaturated Fat:
6
g
|
Trans Fat:
1
g
|
Cholesterol:
203
mg
|
Sodium:
1309
mg
|
Potassium:
1422
mg
|
Fiber:
2
g
|
Sugar:
6
g
|
Vitamin A:
290
IU
|
Vitamin C:
6
mg
|
Calcium:
56
mg
|
Iron:
9
mg