My marinated chicken of the woods recipe will transform your forest find into a mouthwatering gourmet sandwich guaranteed to make you hunt for more!
This simple recipe isn't the only way to cook these gourmet mushrooms either, so I will also share with you more tasty ideas to try.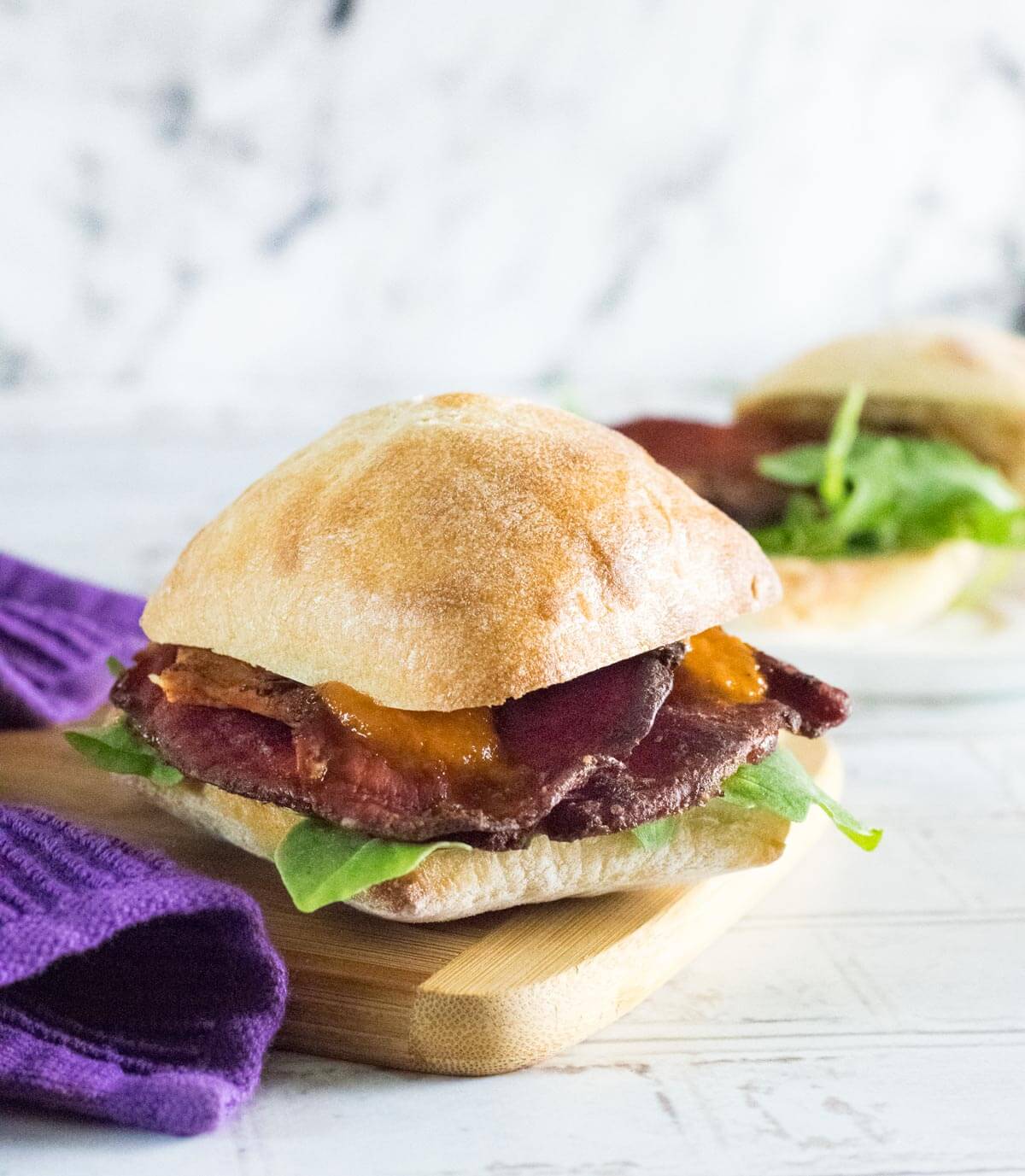 What is it?
Scientifically named laetiporus sulphureus, this delicious wild mushroom is more commonly known as chicken of the woods due to its deliciously mild flavor and meaty texture. Other names include lobster of the woods and sulphur shelf.
The chicken mushroom is easy to recognize due to its unique characteristics. It boasts a bright orange color and the underside has tiny pores rather than gills. However, if it is your first time mushroom foraging always confirm your find with an expert forager before eating. Never munch on a hunch!
These big mushrooms can often be found in late summer and early fall growing on an dead oak tree decaying on the outer edge of a forest. It is not recommended to eat any found growing on conifer trees, however.
Hen of the woods vs chicken of the woods
People often think hen of the woods mushrooms are the same as chicken of the woods because they have such similar names. Although they both commonly grow on old oak trees, and are each polypores, the mushrooms are very different. Hen of the woods is one of the most commonly foraged edible mushrooms but lacks the recognizable orange color found in chicken of the woods. Instead, it is most commonly gray or brown.
What does it taste like
Chicken of the woods mushrooms got their name because many people say they taste like chicken. But do they actually taste like chicken? Only in the fact that they are both very mild. They can be a great chicken substitute in many recipes but they are far more tender than chicken. Frankly, I find they taste more like crab, without any of the seafood aftertaste.
Regardless of what they taste similar to, they are incredibly delicious. They don't pack the earthy musky flavor many people associate with more common mushrooms. This makes this well suited to use in a variety of recipes.
To avoid any adverse reactions, a wild chicken of the woods mushroom should never be eaten raw. Cooking will reduce potential stomach issues, and kill any heat-sensitive toxins in the mushrooms.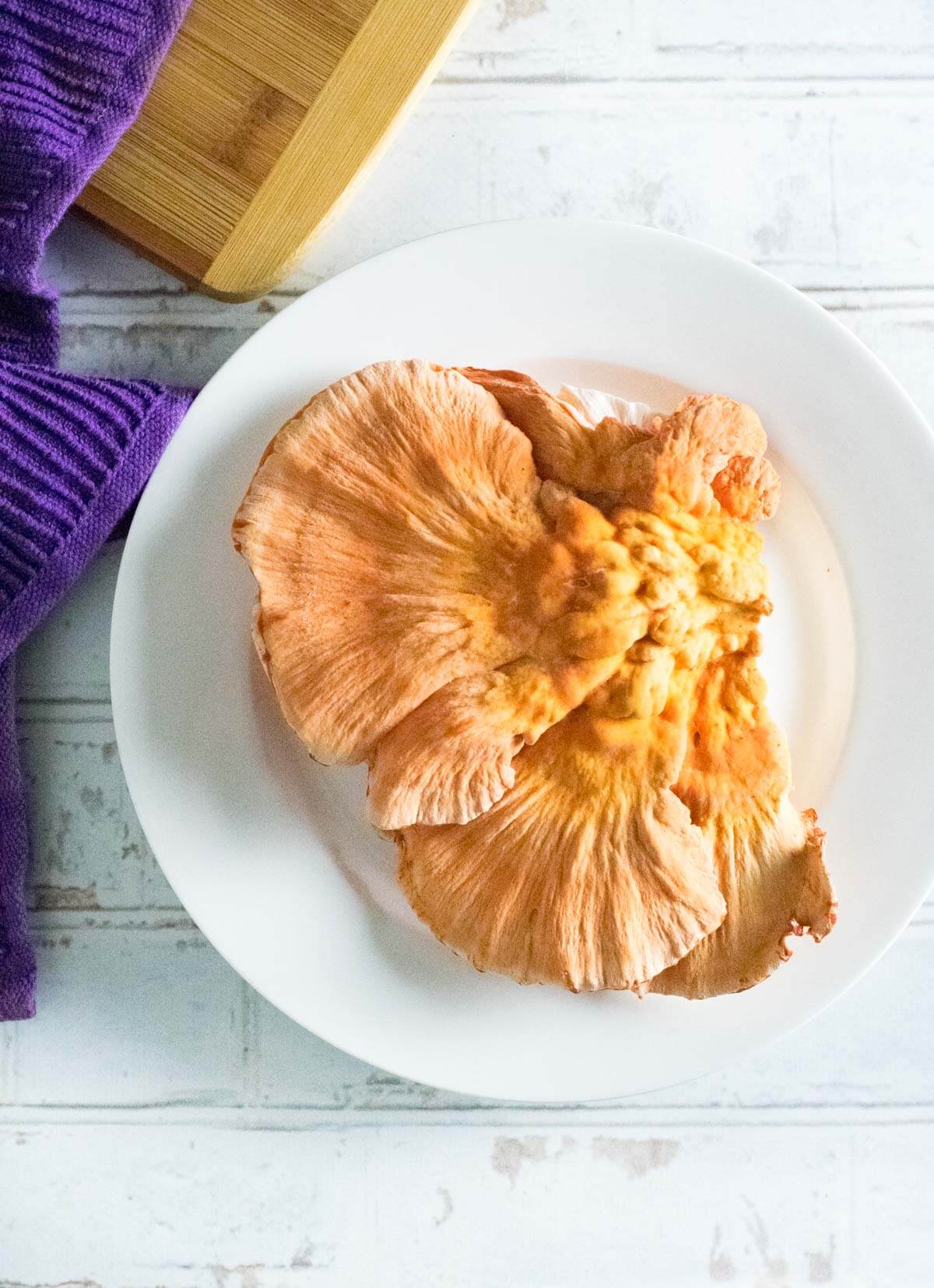 How to clean chicken of the woods
Cleaning wild mushrooms is a simple process that largely common sense, I hope. Remove any bugs, large dirt particles, or forest debris on the surface of the mushrooms. The mushroom may have grown around sticks and weeds that should also be trimmed off. Then wash the mushroom under cold water, giving it a light scrub if needed. Once washed, immediately dry it with a paper towel.
How to cook chicken of the woods
Chicken of the woods needs to be cooked prior to eating. Pan-frying or sauteeing in a couple of tablespoons of butter is often the easiest way to do it. It is quick, easy, and leaves you with a versatile cooked mushroom that can be used for many different meals.
To prepare them for cooking it is often best to cut them into small pieces or strips. For my sandwich though, the best way is to cut them into slightly bigger flats that are an even thickness. Cutting them up helps them cook more evenly.
Prior to sauteing, I add a more robust flavor to these delicious mushrooms by marinating them for four hours. The marinade has an olive oil base which is perfect to use for my sauteing oil as well. I find it is easiest to marinate them in a large sealable plastic bag. However, a large bowl also works.
Ingredients & Substitutions
Chicken of the woods - You can substitute another type of mushroom too.
Olive oil
White Wine Vinegar - Red wine vinegar is also great for this easy recipe.
Worcestershire sauce
Dijon mustard
Garlic - Garlic powder can be substituted.
Salt & Black pepper
Once they are done marinating they can be added directly to a hot skillet. I even pour some marinade in the skillet with them to cook into the mushrooms.
Cook the mushrooms over medium heat until cooked through, tender, and beginning to brown. The time will vary depending on the thickness of your mushrooms.
More ways to enjoy these mushrooms
Chicken of the woods is a highly versatile mushroom substitute for chicken meat in many recipes. Not only do they make a wonderful mushroom sandwich, but you can incorporate them into these ideas too.
Chicken of the Woods Pasta - 4 ounces mushrooms (sauteed), tossed with cooked fettuccini noodles, and 1 jar of your favorite pasta sauce. Dust with grated parmesan cheese if desired.
Chicken Fried Chicken of the Woods - Follow my Chicken fried venison recipe, but use the mushroom cap as a meat substitute then fry until golden brown.
Coconut Curry Soup - The mild flavor of these mushrooms would make them perfect to use in this vibrant soup!
Fresh herbs - If you just wish to cook some of these wild mushrooms to use in your own recipes, or as a simple side dish, consider sauteeing them in butter and fresh herbs. Fresh rosemary, sprigs of thyme, and/or sage leaves would work perfectly. Adding a small amount of lemon juice would be a great addition here as well.
Can you do me a favor? If you enjoyed my post would you mind sharing it with your friends? You can see more of my recipes by liking me on Facebook and follow me on Pinterest too. Otherwise, stay up to date by getting each new post sent directly to your inbox by subscribing today.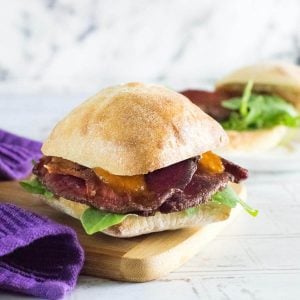 Marinated Chicken of the Woods Recipe
My marinated chicken of the woods recipe will transform your forest find into a mouthwatering gourmet sandwich guarenteed to make you hunt for more!
Print
Pin
Rate
Save
Saved
Ingredients
8

ounces

chicken of the woods mushrooms
Marinade
½

cup

olive oil

2

tablespoons

white wine vinegar

2

teaspoons

Dijon mustard

2

teaspoons

Worcestershire sauce

2

cloves

garlic

minced

¼

teaspoon

black pepper

¼

teaspoon

salt
Sandwich
2

ciabatta buns

toasted

¼

cup

arugula

2

tablespoons

pasta sauce

warmed
Instructions
How to cook Chicken of the Woods

Clean the mushrooms thoroughly of all dirt and debris. Then cut the mushrooms into 3-4" wide flat pieces that are able to be stacked on a sandwich.

In a small bowl mix together the olive oil, white wine vinegar, Dijon mustard, Worcestershire sauce, cloves of garlic, salt and pepper.

Pour the marinade into a sealable gallon bag with the mushroom pieces. Let marinate for four hours.

After marinating add mushrooms and some of the marinade into a large skillet set over medium heat and saute until mushrooms are tender and beginning to brown.
Assembling the Sandwich
Place arugula on the bottom of a toasted ciabatta bun and pile mushroom slices on top along with a ladle of warmed pasta sauce. Serve immediately.*
Notes
There are other condiments that would be equally great. My Peppered Balsamic Mayo would be incredible on this chicken of the woods sandwich too.
*Provolone, mozzarella, or Parmesan cheese could be added if desired.
Nutritional Information
Calories:
649
kcal
|
Carbohydrates:
33
g
|
Protein:
9
g
|
Fat:
55
g
|
Saturated Fat:
8
g
|
Sodium:
768
mg
|
Potassium:
490
mg
|
Fiber:
2
g
|
Sugar:
4
g
|
Vitamin A:
134
IU
|
Vitamin C:
5
mg
|
Calcium:
24
mg
|
Iron:
2
mg
This recipe was originally published July 14, 2021 here on FoxValleyFoodie.com.