Slow cooker venison stew will warm your soul with each thick and hearty herb-infused spoonful. Tender chunks of venison, mushrooms, and gnocchi slowly simmer to perfection in a wonderfully silky broth infused with fresh rosemary. This is the perfect recipe to savor the flavors of the hunt.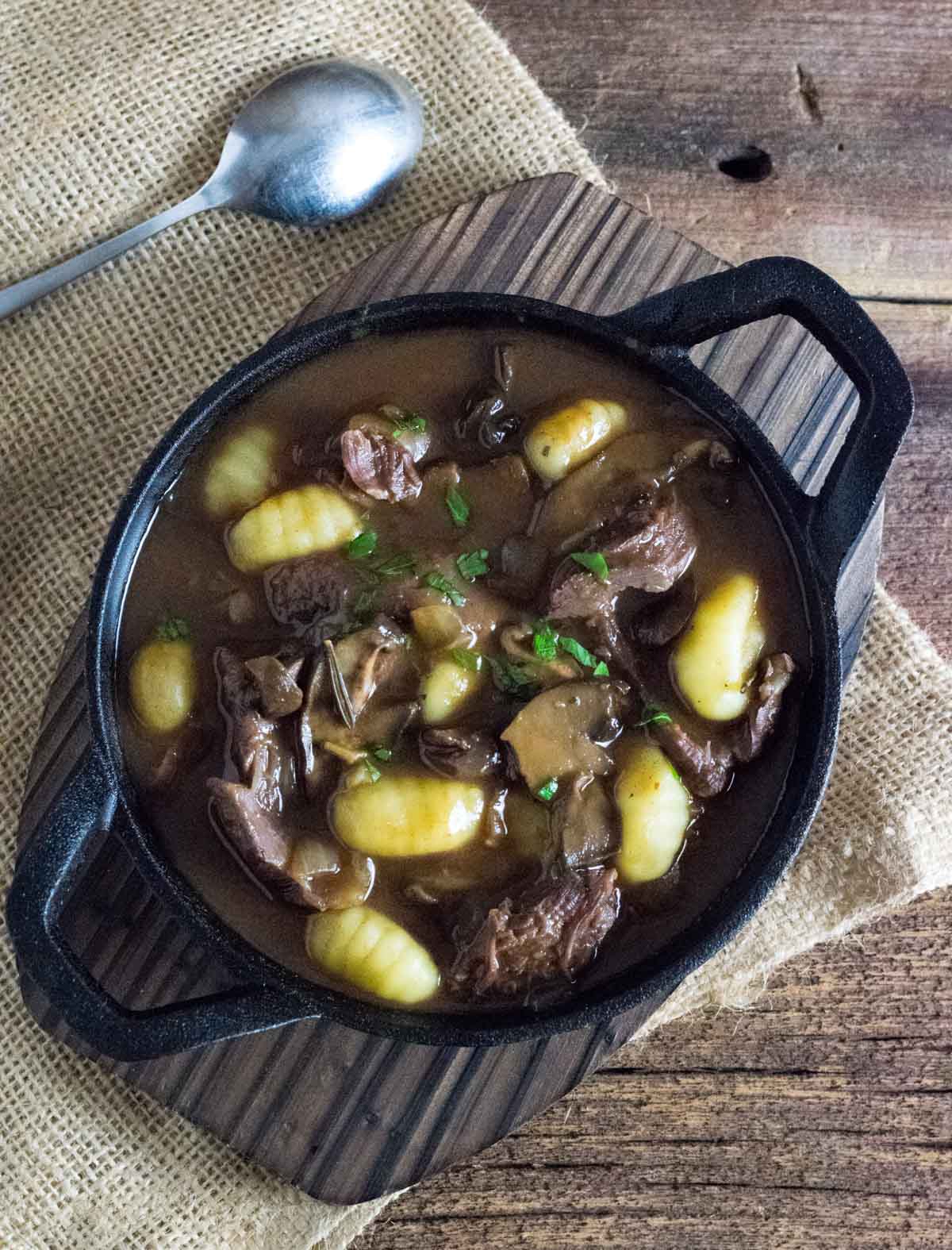 I love this easy slow cooker recipe, not only for the incredible flavors, but it also works with any type of wild game meat you have on hand. You could even use beef if your family doesn't hunt. This hearty meal will soon be a dinner time favorite any way you make it!
What cut of venison is best for stews?
Venison shank meat makes the best stew for multiple reasons. First of all, it is a total pain to trim off all of that silverskin to use for anything else (notice in my photo how little I trim it). Some people will send it through the meat grinder, but if not done properly that silverskin will bind up the cutting blade pretty quickly. Frankly, the hassle isn't worth the little ground venison it yields.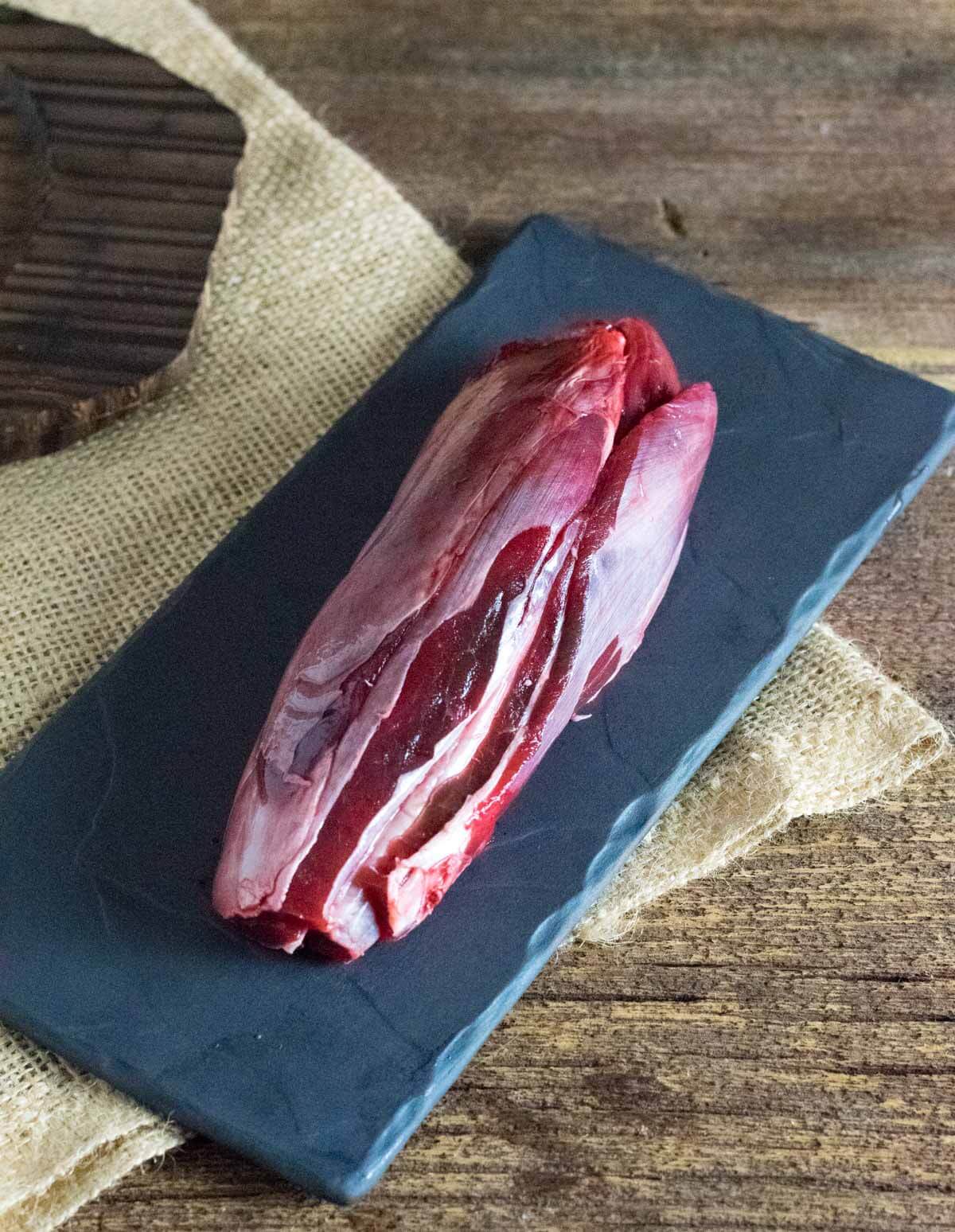 However, when used in a stew, all of that silverskin you see in the picture will melt into the broth, making it even silkier! Plus, the shank meat will turn incredibly tender, making it easily shreddable with a fork.
Do I have to use venison shank for this recipe? No! Shoulder cuts are great to use in venison stews as well. Shoulder meat is less tender than the loin, or hindquarters, yet will still render into exceptional tender morsels after a long bath in the slow cooker.
In the end, any cut of venison steak will work in this stew, but pieces of tougher meat are best, like those from an older buck. So use what you have on hand. Shanks would be my first choice, followed by shoulder meat, followed by whatever else is in your freezer.
Ingredients Needed for Venison Stew
Venison stew meat - I recommend shank meat, or shoulder meat ideally.
Mushrooms - Any variety of mushroom will work nicely. This is a great recipe to use a gourmet blend of your favorite wild mushrooms. They add a wonderfully earthy flavor to your stew.
Sweet onion - Yellow onion is a good substitute, or you can use red onion for a stronger flavor.
Garlic
Beef stock - You can use beef broth as well, but stock is best. Chicken broth or stock can also be substituted but beef is my first choice. Bonus points if you took the time to make your own venison stock!
All purpose flour - This thickens the stew.
Tomato paste
Worcestershire sauce
Fresh rosemary - Fresh thyme or fresh sage would also be a good substitute.
Bay leaf
Black pepper
How to make it
Your first choice when making this delicious deer stew is to decide how much effort you want to put into it. This slow cooker recipe can be as simple as dumping everything into the crock pot and turning it on, or you can take a few extra minutes to extract a little more flavor out of the ingredients on the stove top.
Sauteing the onion, mushrooms, and garlic in a large skillet set over medium heat will develop more flavor. You will want to add two tablespoons of butter or olive oil to assist with the cooking. Once the onions are golden brown and mushrooms are tender, they can be transferred to the slow cooker. Next, you can sear the venison as well if desired, as browned meat always imparts a deeper flavor into stews. This is entirely optional.
Regardless if you decide to use your stovetop for any additional cooking, you will want to begin by sprinkling the flour into the bottom of a slow cooker then adding just enough beef stock to get it saturated in liquid. Whisk it to break up any clumps then add more beef stock to create a slurry. This will prevent the flour from clumping up during cooking.
Next, all of the remaining ingredients for this easy venison stew can be added. I personally recommend adding the gnocchi about 15 minutes prior to serving, but you can add it whenever you choose. Gnocchi is a hearty enough dumpling not to fall apart during cooking.
Set your slow cooker to high heat and cook for 4 hours, or 6 hours on low heat. However, there is nothing wrong with letting it cook longer.
How to store leftovers
Stews are great to make in advance because the flavors continue to meld as they rest in the refrigerator, making them even more flavorful the second day. Make sure to place your crockpot venison stew in a large airtight container to prevent odors from the refrigerator from seeping into the stew.
Alternatively, this hearty stew can be frozen as well. I recommend eating the stew within five days of it going in the fridge, or within three months of freezing.
Can this recipe be made on the stovetop?
Yes, although this is a slow cooker venison stew recipe, it can just as easily be made in a Dutch oven as well on your stovetop. Follow the directions as written and simmer covered on low heat until the venison is fork tender.
More Hearty Venison Recipes
Can you do me a favor? If you enjoyed my post would you mind sharing it with your friends? You can see more of my recipes by liking me on Facebook and follow me on Pinterest too. Otherwise, stay up to date by getting each new post sent directly to your inbox by subscribing today.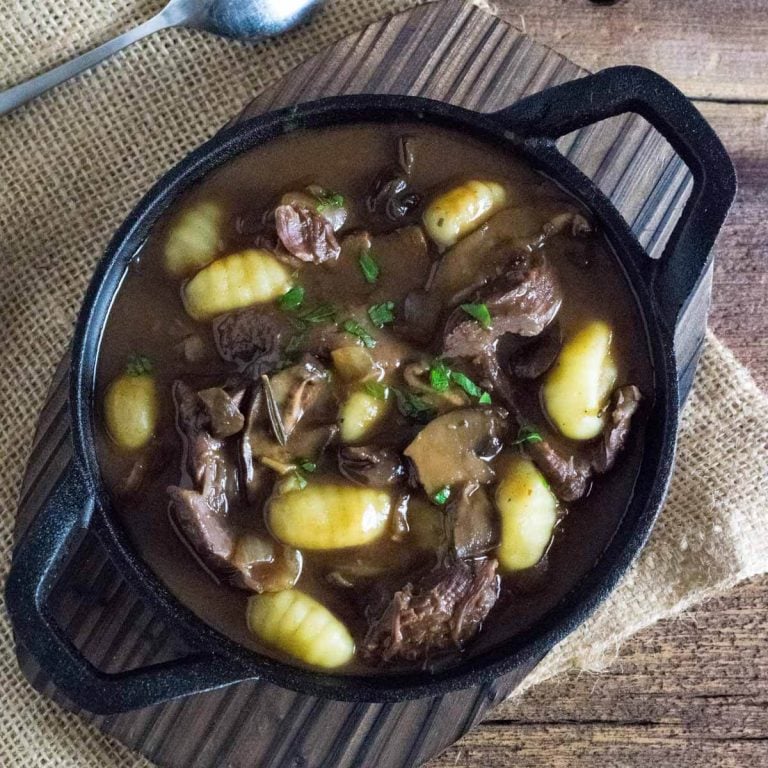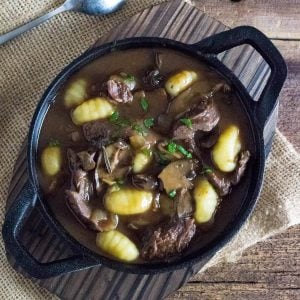 Slow Cooker Venison Stew
Slow cooker venison stew will warm your soul with each thick and hearty herb-infused spoonful.
Print
Pin
Rate
Save
Saved
Ingredients
2

pounds

venison stew meat

cubed

1

pound

mushrooms

sliced

½

sweet onion

chopped

3

cloves

garlic

minced

5

cups

beef stock

¼

cup

flour

2

tablespoon

tomato paste

1

tablespoon

Worcestershire sauce

1

sprig

fresh rosemary

1

bay leaf

¼

teaspoon

fresh ground pepper

kosher salt to taste

8

ounces

gnocchi
Instructions
Sprinkle flour in the slow cooker then add a couple of splashes of beef stock - just enough to get all of the flour wet. Whisk the flour to ensure it fully incorporates with the liquid. Then add a little more liquid, enough to make a slurry, and whisk again. This step will prevent the flour from becoming lumpy.

Add venison, sliced mushrooms, onion, garlic, tomato paste, Worchestershire sauce, rosemary, bay leaf, and fresh ground pepper to your slow cooker, along with the remaining beef stock.

Set slow cooker on high and let cook for 4 hours, or set on low heat for 6 hours.

15 minutes prior to serving add the gnocchi and shred the venison, if desired.

Ladle into bowls and serve with crusty bread to sop up the dark rich both.
Notes
If using venison shank meat it doesn't need to be cubed. As it simmers it will break down and become easily shreddable, which you can do prior to serving. Simply remove the venison meat with a slotted spoon, shred with a fork on a cutting board, and then transfer venison back into the crockpot.
Optional: For even more flavor you can saute the onion, and garlic on the stovetop prior to adding to the slow cooker and sear the venison.
Nutritional Information
Calories:
325
kcal
|
Carbohydrates:
27
g
|
Protein:
44
g
|
Fat:
5
g
|
Saturated Fat:
2
g
|
Polyunsaturated Fat:
1
g
|
Monounsaturated Fat:
1
g
|
Cholesterol:
129
mg
|
Sodium:
699
mg
|
Potassium:
1242
mg
|
Fiber:
2
g
|
Sugar:
5
g
|
Vitamin A:
131
IU
|
Vitamin C:
6
mg
|
Calcium:
49
mg
|
Iron:
8
mg