Beer braised venison neck renders a traditionally tough cut of venison into a mouthwateringly tender roast with a rich silky gravy.
Venison neck is not the most popular cut of meat found on a deer. If venison neck was a student-athlete, it would only be put in the game when the team is up by 30 and they just want a heart-warming 'Rudy' moment. If venison meat was an academic problem, it would be so tough that only a feel-good movie featuring Matt Damon could crack it. However, don't despair. When properly prepared a venison neck roast can be an exceptional tender and flavorful meal!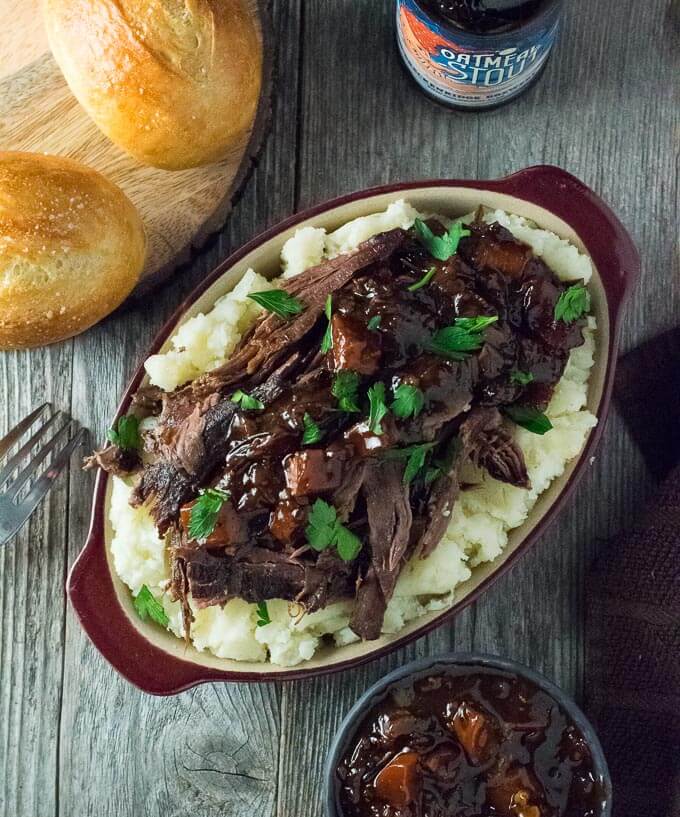 How to Butcher Venison Neck
Most people I know turn venison neck into hamburger meat. Often, I've seen people unknowingly waste much of it because of the sinew and fat laced throughout can make it almost impossible to remove meat cleanly. However, take heart, because the fat found in the venison neck is actually perfect for braising.
As the venison neck cooks this fat will melt out and help fortify your sauce, resulting in an exceptionally flavorful gravy to serve with the braised venison neck. When butchering venison neck you can simply leave it whole to use for a meal like this. Otherwise, you can grind it up into hamburger, even without trimming away most of the fat. As long as the fat is thin enough to see through, it is good enough for the grinder.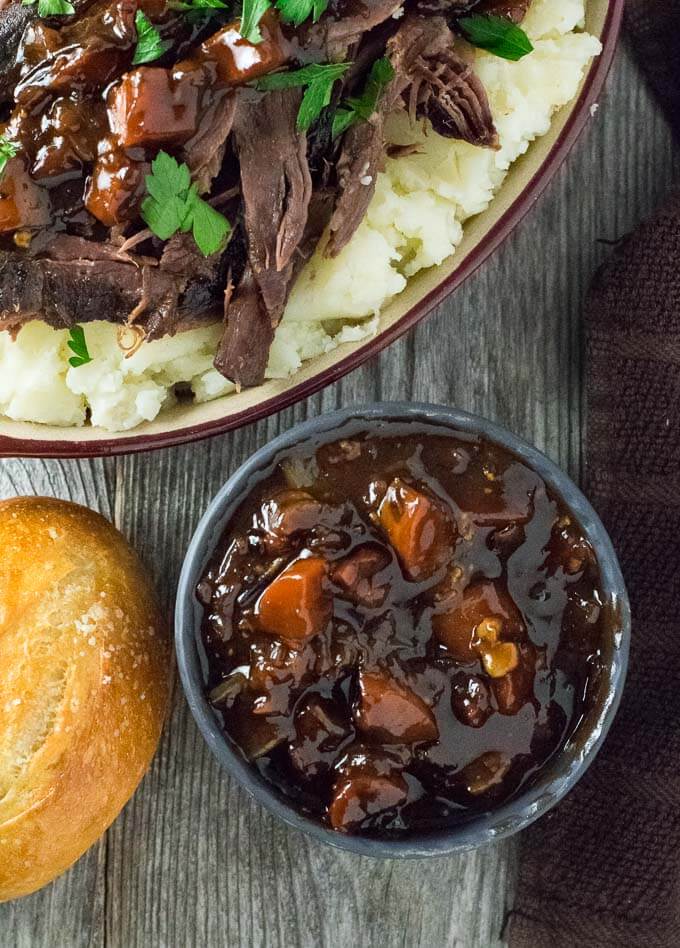 How to Roast Venison Neck
I often refer to my beer braised venison neck recipe as roasted venison neck. However, technically it isn't roasted because it is cooking in liquid, rather than dry heat. Because of the tough nature of venison neck, you will typically find braising it will lead to much better results than roasting it. However, most of the roasted venison neck recipes found online are actually braised venison necks.
Beer Braised Venison Neck
Using a large Dutch Oven is ideal for this recipe because its wide opening can accommodate larger venison necks more easily. Before you start cooking check to see if your neck will fit in the pot if it does not, all you need to do is cut it down to fit and you can proceed with the recipe as written.
The beer and beef broth form the base of the sauce. As the neck cooks the liquid will slowly thicken into a gravy fortified with vegetables and herbs. This can be served alongside the venison or over it. Serving a heaping helping of fluffy mashed potatoes alongside is recommended.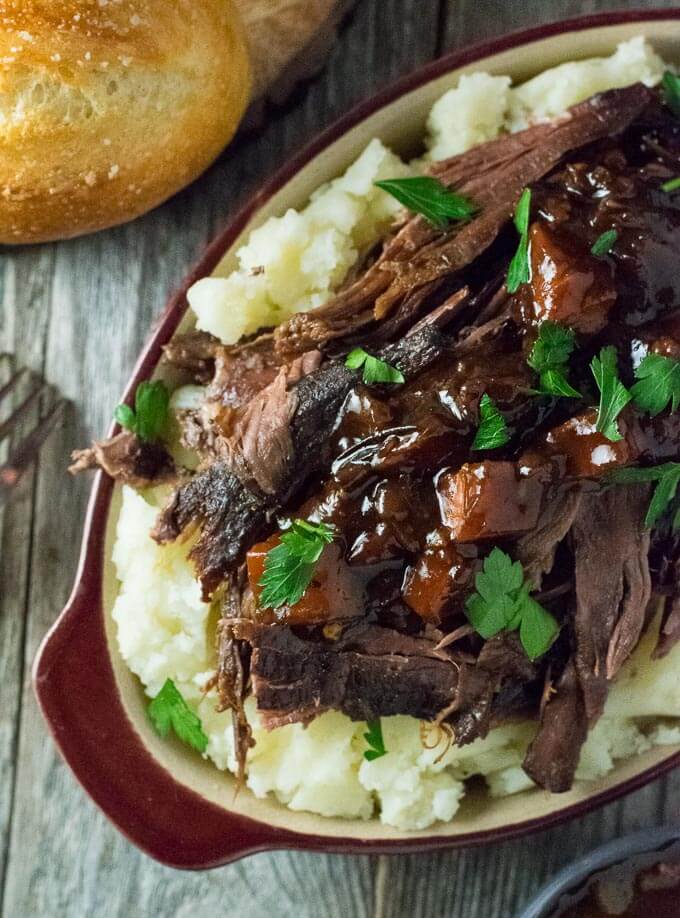 Troubleshooting Beer Braised Venison Neck
There are two main problems you could encounter when cooking this beer braised venison neck - the meat is too tough, or too much liquid evaporated. Luckily, they are both simple problems to correct.
If you have reached the end of the cooking time and the meat is still not easily shredded with a fork, it just needs to be cooked longer. The longer the meat cooks, the more tender it will become. If you check on the venison and find almost all of the liquid has evaporated, simply add more water to maintain a saucy consistency. Alternatively, you can use any leftover broth or beer too.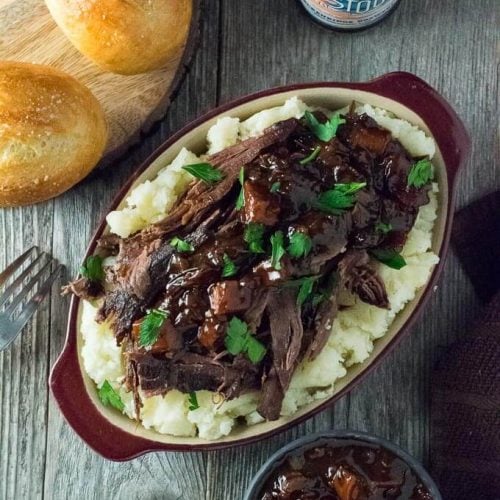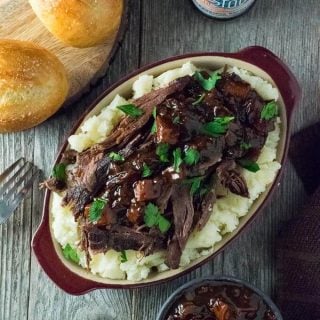 Beer Braised Venison Neck
Beer braised venison neck renders a traditionally tough cut of venison into a mouthwateringly tender roast with a rich silky gravy.
Print
Pin
Rate
Save
Saved
Ingredients
1

Venison Neck

2

tablespoons

Cooking Oil

2

medium

Carrots

(chopped)

1

large

Yellow Onion

(chopped)

2

stalks Celery

(chopped)

4

cloves

Garlic

(chopped)

3

cups

Low Sodium Beef stock

18

oz

Stout Beer

2

tablespoons

Tomato Paste

2

tablespoons

Brown Sugar

2

tablespoons

flour

2

sprigs

fresh Thyme

1

sprig

Rosemary

2

Bay leaves

½

teaspoon

ground Black Pepper

Parsley for garnish
Instructions
Preheat oven to 375 degrees.

Ensure your neck roast will fit in your pot or dutch oven, cut it in half or trim it down as needed. The neck of a young deer should fit well, larger mature deer may need to be trimmed.

Heat oil in the dutch oven over medium-high heat and sear the venison neck on all sides until browned.

Remove the neck, add additional oil if needed, and saute the carrots until they begin to tenderize, then add onion and celery and cook until all vegetables are tender and beginning to brown. Add garlic and saute for an additional 1-2 minutes.

Return venison neck back to the pot and add remaining liquids, seasonings and herbs.

Cover dutch oven with a lid and place in the oven, checking on it hourly and rotating the neck to ensure even cooking.

Neck roast is done when easily shredded with a fork. about 4-5 hours. Add additional liquid to the pot if too much evaporates.
Notes
If too much moisture evaporates the neck can dry out and you won't have a gravy to serve over it. If the liquid is getting low just add more water, however adding additional broth or beer is fine too.
IF YOU LIKED THIS RECIPE check out my Roasted Venison Loin recipe too!
Nutritional Information
Calories:
124
kcal
|
Carbohydrates:
14
g
|
Protein:
1
g
|
Fat:
4
g
|
Sodium:
69
mg
|
Potassium:
198
mg
|
Fiber:
1
g
|
Sugar:
6
g
|
Vitamin A:
3555
IU
|
Vitamin C:
5.8
mg
|
Calcium:
27
mg
|
Iron:
0.5
mg
Don't forget to check out the rest of my mouthwatering venison recipes too!
If you enjoyed reading my Beer Braised Venison Neck recipe then you should probably like me on Facebook and follow me on Pinterest too. That's what I would do at least, because if you don't get to know me but you still use my recipe it is kind of like taking candy from a stranger, and your mom taught you not to do that. Don't disobey your mom, subscribe to Fox Valley Foodie today.