This homemade venison breakfast sausage is loaded with fresh herbs and spices, making each bite mouthwateringly flavorful. I am not going to beat around the bush, this is the best venison breakfast sausage recipe you will find!
I love this easy recipe because the fresh sage, thyme, and rosemary each add an incredible amount of flavor, while the perfect balance of sweet and heat plays in the background. Best of all, this recipe is great to use simply as bulk deer sausage, breakfast patties, or sausage links. Don't be intimidated if you have never made your own sausage before, this is the perfect recipe to start with!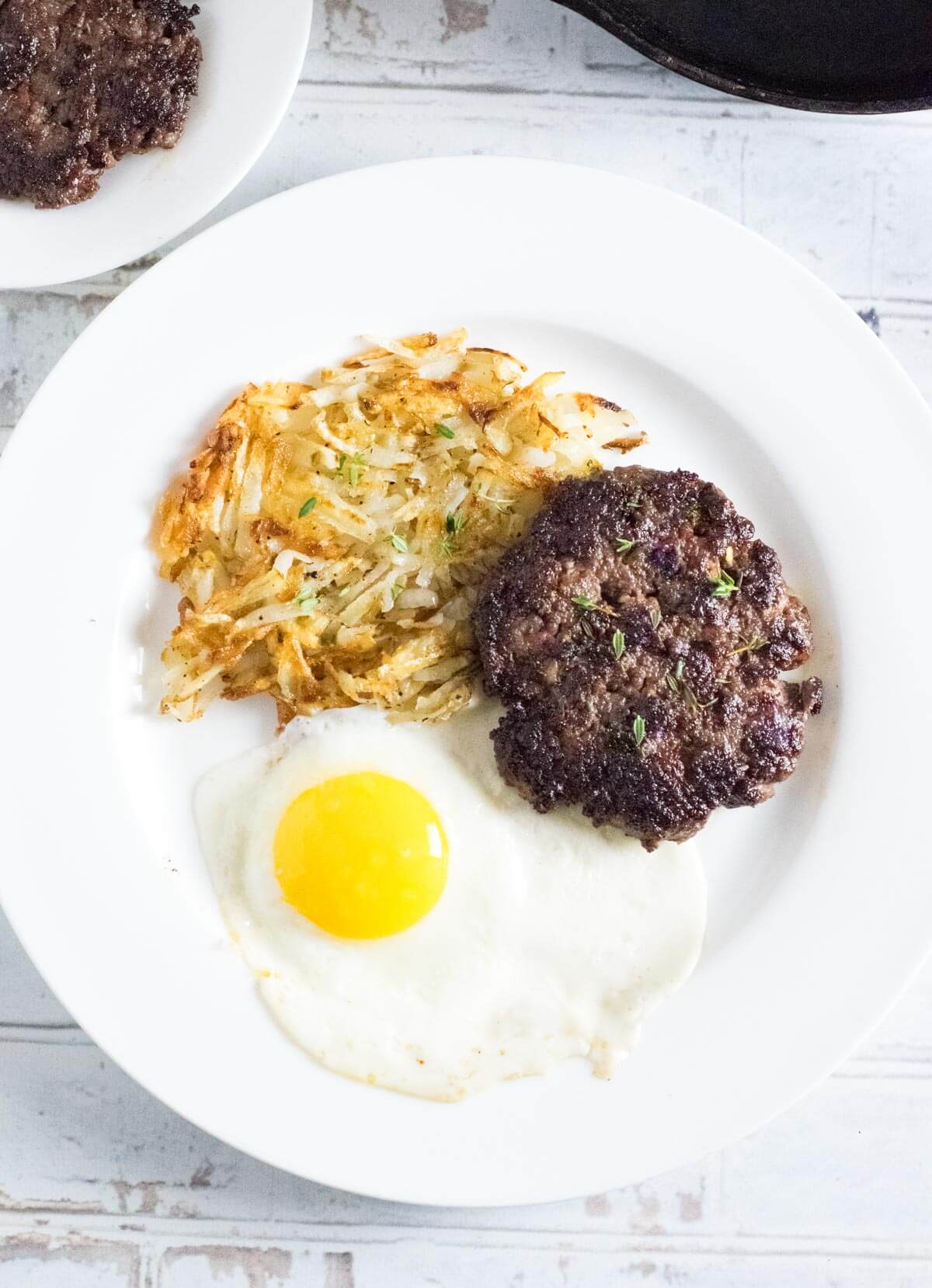 What is breakfast sausage?
Breakfast sausage is traditionally a seasoned pork sausage loaded with herbs and spices and served alongside breakfast favorites such as pancakes, scrambled eggs, hashbrowns, or biscuits and gravy. My recipe replaces pork with ground venison but still utilizes pork fat because venison is too lean to make good sausage by itself.
The best breakfast sausage will contain around 30% pork fat. This is important because the fat makes the meat taste juicier, while also carrying the flavor of the herbs and spice mixture.
Ingredients Needed for Venison Breakfast Sausage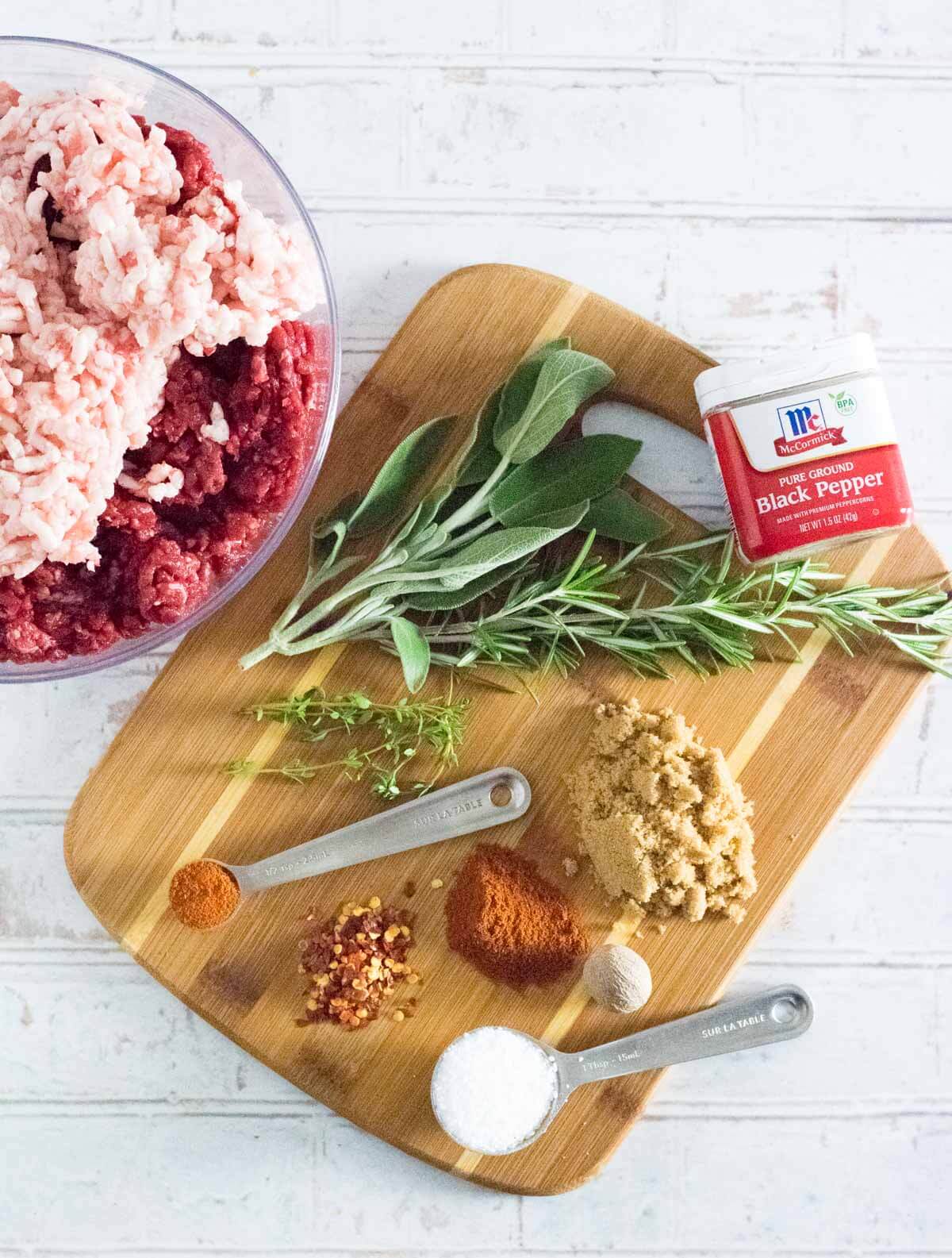 Venison - I recommend using venison trim or tough cuts such as you would use for grinding venison into hamburger, however any cut of deer meat will work.
Pork fat - Call your local butcher or deer processor rather than trying to find this at a grocery store.
Fresh sage leaves
Fresh thyme leaves
Fresh rosemary leaves
Kosher salt
Fresh ground black pepper
Smoked Paprika
Fresh grated nutmeg
Cayenne pepper
Crush red pepper flakes
Important note: You technically can substitute dried herbs and pre-ground black pepper and nutmeg, but I strongly urge you to resist that temptation. The fresh ingredients are what make this recipe truly exceptional! Trust me, the difference in flavor is noticeable.
How to make it
Although technically optional, the best way to make your venison breakfast sausage is if you first pre-chill the meat, fat, and meat grinder attachments in the freezer for 30-60 minutes. This firms up the meat and fat so it cuts more easily without smearing and binding up the grinder. In my opinion, the best way is to lay the meat trim and fat out on a cookie sheet in the freezer so it chills more evenly.
Once all of your ingredients are prepped run the venison trim and pork fat once through the meat grinder using a fine grinding plate. Fat grinds best when combined with meat, so I recommend alternating between meat and fat as you grind.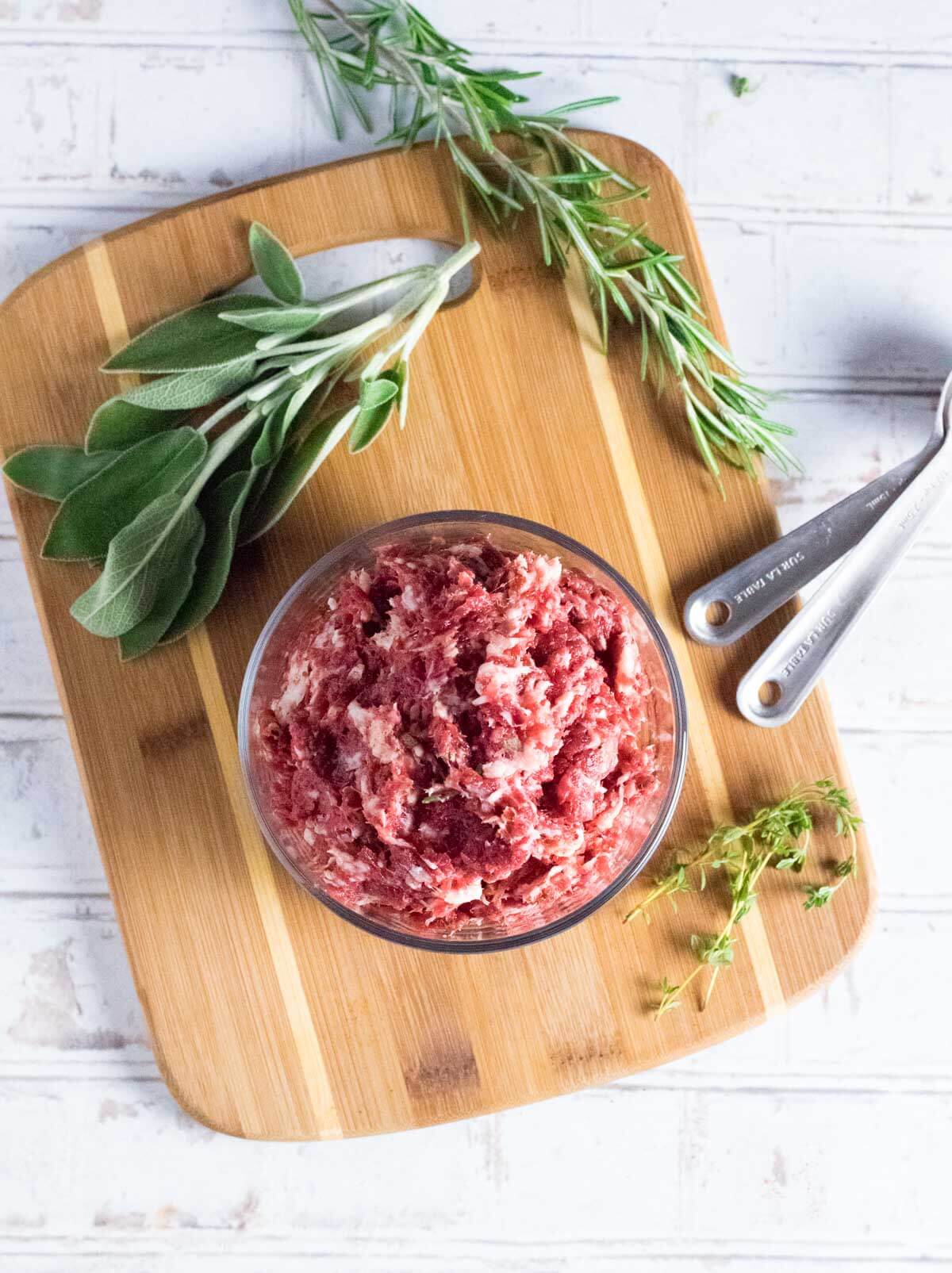 Place the ground meat and pork fat in a large bowl and add in the finely minced sage, thyme, rosemary, brown sugar, salt, black pepper, paprika, nutmeg, cayenne pepper, and crushed red pepper flakes. Mix everything together until well combined.
You now have loose sausage you can form into venison breakfast sausage patties, stuff into breakfast sausage links or use as bulk sausage for gravy or other purposes.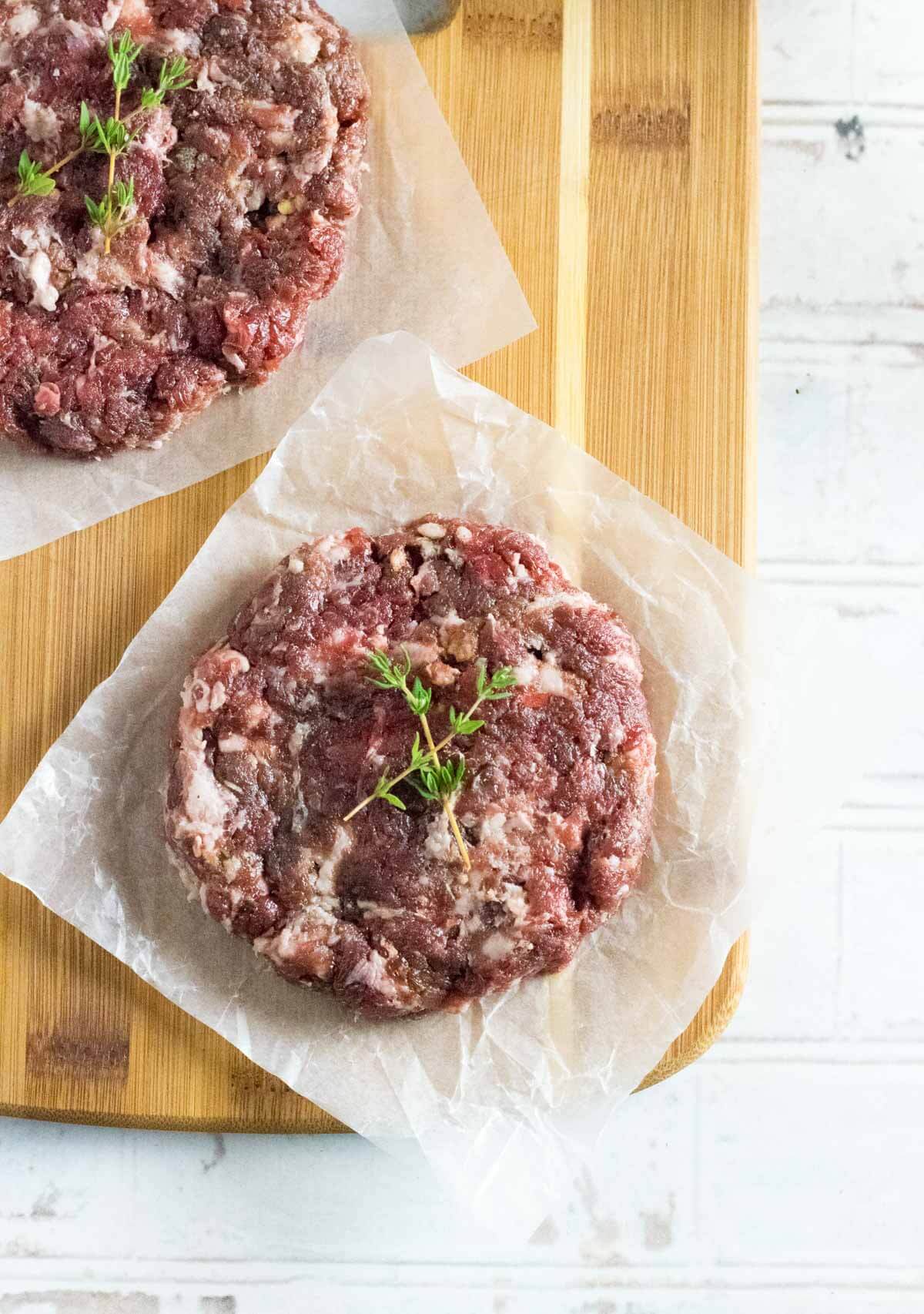 How to customize this recipe
All of the herbs and spices can be tweaked to your liking. Add more of what you love and less of what you don't. Here are some suggestions for making your own version of this fresh sausage:
Use maple syrup instead of brown sugar to make maple venison breakfast sausages.
Regular or sweet paprika can be used instead of smoked paprika in your spice blend.
Reduce the cayenne or crushed red peppers for a more mild flavor.
Add a quarter teaspoon of fresh ground clove or fennel seeds to your sausage seasonings.
Use this recipe with other wild game meat such as elk, moose, bear, or hog.
How to use your homemade breakfast sausage
You've now perfected the best venison sausage recipe. So what is the best way to enjoy it? Try these delicious ideas!
How to store it
If you are storing thawed breakfast sausage in your refrigerator keep it in an airtight container and enjoy it within five days of thawing. However, breakfast sausage stores well in the freezer as well for later use.
The sausage should be wrapped in plastic wrap and placed inside a freezer bag to prevent freezer burn, or stuffed in airtight packaging that minimizes exposed surfaces such as ground hamburger bags. Fresh pork fat starts tasting rancid within six months. For the best flavor, I recommend enjoying your homemade breakfast sausage within three months.
More Venison Recipes
Can you do me a favor? If you enjoyed my post would you mind sharing it with your friends? You can see more of my recipes by liking me on Facebook and follow me on Pinterest too. Otherwise, stay up to date by getting each new post sent directly to your inbox by subscribing today.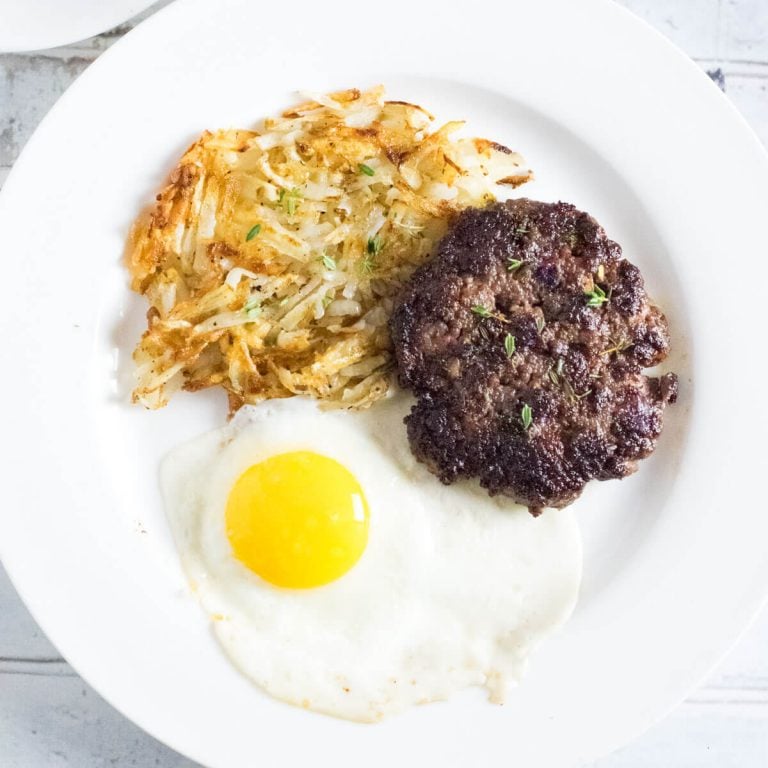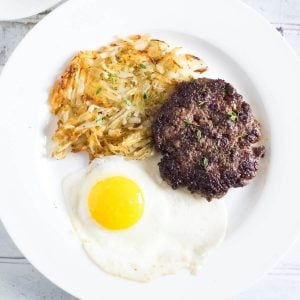 Venison Breakfast Sausage
This homemade venison breakfast sausage is loaded with fresh herbs and spices, making each bite mouthwateringly flavorful!
Print
Pin
Rate
Save
Saved
Ingredients
2

pounds

venison

1

pound

pork fat

1

tablespoon

minced fresh sage leaves

1 ½

teaspoons

minced fresh thyme leaves

½

teaspoon

minced fresh rosemary leaves

4

teaspoons

brown sugar

1

tablespoon

kosher salt

1 ½

teaspoons

fresh ground black pepper

1

teaspoon

smoked paprika

½

teaspoon

fresh grated nutmeg

½

teaspoon

cayenne pepper

½

teaspoon

red pepper flakes
Instructions
Grind venison and pork fat once through a meat grinder using a fine grinding plate.

In a large bowl mix together the ground venison, fat, sage, thyme, rosemary, brown sugar, salt, black pepper, paprika, nutmeg, cayenne pepper, and crushed red pepper flakes until well combined.

Form the mixture into small patties, breakfast links, or use as bulk sausage. Patties should be cooked for approximately 3 minutes per side in a large skillet over medium heat.
Notes
It is always best to place your grinding attachments, meat, and fat in the freezer to chill for 30-60 minutes prior to grinding. This prevents sticking and smearing, resulting in a better grind.
If you don't do your own wild game processing and only have preground venison already mixed with fat, that is fine to use. It will still taste good, you will just have leaner sausage. Although if you have a meat grinder I would recommend running it through one more time with additional pork fat.
If you want to make breakfast links I recommend adding ⅓ cup of water to make the mixture tacky so it stuffs easier.
Nutritional Information
Calories:
440
kcal
|
Carbohydrates:
2
g
|
Protein:
17
g
|
Fat:
40
g
|
Saturated Fat:
16
g
|
Polyunsaturated Fat:
5
g
|
Monounsaturated Fat:
18
g
|
Cholesterol:
100
mg
|
Sodium:
622
mg
|
Potassium:
257
mg
|
Fiber:
1
g
|
Sugar:
1
g
|
Vitamin A:
155
IU
|
Vitamin C:
1
mg
|
Calcium:
12
mg
|
Iron:
3
mg