These old fashioned pancakes offer no shortcuts to ensure you get the lightest, fluffiest, and most flavorful buttermilk pancakes you have ever savored for breakfast! But don't worry, that doesn't mean they are hard to make, they are just delicious to eat!
Most of us have fond memories of our moms making us pancakes for breakfast. She would wake up early, painstakingly open the box of Bisquick, lovingly add water, and stir. Mmm, mmm, where did she find the time?!? Ok, I am not talking about THOSE good old fashioned pancakes. I am talking about the good old-fashioned pancakes grandma used to make that were incredibly light and fluffy and full of flavor! No box mix can touch the flavor of this recipe.
Ingredients and Substitutions
All purpose flour
White Sugar - Malted milk powder was often used in old fashioned panacke recipes and it still used by many restaurants and diners. It makes a great substitute for sugar while adding another layer of flavor.
Baking Powder
Baking Soda
Salt
Eggs
Buttermilk - You can substitute milk instead. Whole milk is the best substitute, but any milk is fine. You can even add a little lemon juice to the milk to replicate the tanginess of buttermilk.
Butter - I prefer strictly butter, but you can also use a mixture of olive oil as well.
How to make them
The first secret to perfecting old fashioned buttermilk pancakes begins by separating the egg yolk from the whites. You need to whisk the egg whites in a small bowl until stiff peaks are formed, ideally with a hand mixer unless you enjoy torturing yourself. The reason for this will be explained shortly.
With the exception of the egg whites, combine the wet and dry ingredients in separate large bowls. Wet batter ingredients include egg yolks, buttermilk, and melted butter. Once each is properly mixed combine the two bowls together.
The next secret is to leave the batter lumpy. Stir your mixture to combine the wet and dry ingredients but only stir enough to ensure everything is mingled. The lumps will work themselves out and result in a lighter pancake.
Now for the most important step. FOLD the remaining egg whites into the mixture half at a time. Be careful not to over agitate the batter because you want to leave all of the bubbles intact. This will give the delicious pancakes extra rise.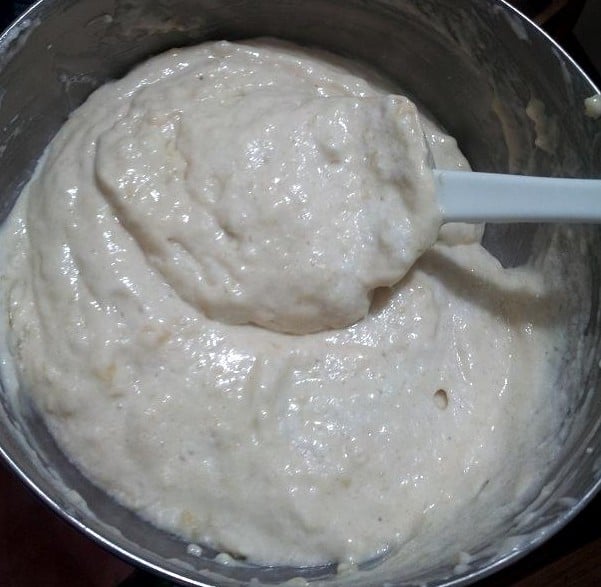 Now let the batter rest for 15-30 minutes to allow the baking powder to work its magic and let the flour absorb the moisture.
Finally, you are ready to cook your homemade pancakes! Heat your griddle to 375 degrees, brush with butter, pour batter onto the hot surface and begin frying!  Flip the pancake when you see bubbles on the surface.
Tip: I prefer to use my favorite griddle to make the pancakes quicker, but you can use a nonstick skillet, or cast-iron skillet with equally great results. You will want to set your stovetop burner between medium-heat and medium-low heat for best results.
What to serve with pancakes
You have now made the best pancakes ever, now it is time to serve them with any or all of your favorite toppings. After all, you need the perfect toppings to finish off the perfect pancakes, right?
Maple syrup
Butter
Jam
Fresh fruit
Confectioner sugar
Honey
Peanut Butter
Ways to Customize this recipe
If you would like to add additional ingredients such as blueberries, chocolate chips or anything else – don't mix it in the batter. They will just sink to the bottom. Instead, sprinkle the additions on the pancakes as soon as they are ladled onto the griddle.
If you really want to replicate the flavor of an exceptional diner pancake replace the sugar with malted milk powder instead. You could even add a little vanilla extract with the wet ingredients.
Can pancake batter be made in advance?
If you had hoped to make the batter in advance, you can cheat and do so. However, your results will not be the same. The pancakes will still have good flavor but the light and airy pancake will be replaced with a thin and dense saucer instead because the bubbles in the batter will have long since burst.
How to store leftover pancakes
Leftover pancakes store well and reheat well. They should be placed in an airtight container in your refrigerator and eaten within five days. However, they can be frozen as well for up to three months. If freezing I recommend placing a piece of parchment paper between each one so they don't freeze together.
When you are ready to reheat your leftover pancakes I recommend gently heating them in a pan on the stovetop. A microwave would not be recommended, as it would ruin the texture.
More Pancake Recipes
Can you do me a favor? If you enjoyed my post would you mind sharing it with your friends? You can see more of my recipes by liking me on Facebook and follow me on Pinterest too. Otherwise, stay up to date by getting each new post sent directly to your inbox by subscribing today.
Old Fashioned Pancakes
I'm going to let you in on the secrets to making old fashioned pancakes not only as good as your grandma's, but better! The use of real ingredients and adhering to some easy tricks will produce a light and fluffy pancake that no box can ever replicate.
Print
Pin
Rate
Save
Saved
Ingredients
2 ½

cups

flour

¼

cup

sugar

or malted milk powder

2

teaspoon

baking powder

2

teaspoon

baking soda

½

teaspoon

salt

2

eggs

yolks separated

2 ½

cups

buttermilk

adjust as needed to get pourable consistency

½

cup

butter

melted
Instructions
Separate egg yolks from whites and whisk egg whites until stiff peaks are formed.

Combine egg yolks, melted butter, and buttermilk in a large bowl and mix together.

In a separate bowl combine all dry ingredients and mix together.

Once wet and dry ingredients are each are mixed, combine together in a large mixing bowl. Do not over mix or the pancakes will be tough. Mix just to combine leaving some lumps. (The lumps will work themselves out and you will have a lighter pancake for stirring less)

FOLD egg whites into mixture half at a time being careful not to overly agitate.

Let the batter rest 15-30 minutes.

Heat griddle to 375 degrees and brush with butter before frying. Or use medium heat on your stovetop.

Cook pancakes until golden brown, and flip once the batter begins to bubble on top. Repeat until all batter has been used.

Serve with maple syrup, and additional butter as desired.
Notes
This recipe will yield 12-16 pancakes when using approximately ⅓ cup of batter.
If working in batches, you can keep cooked pancakes warm by placing them on a baking sheet in a 200 degree oven.
Nutritional Information
Calories:
442
kcal
|
Carbohydrates:
54
g
|
Protein:
11
g
|
Fat:
21
g
|
Saturated Fat:
12
g
|
Polyunsaturated Fat:
1
g
|
Monounsaturated Fat:
5
g
|
Trans Fat:
1
g
|
Cholesterol:
106
mg
|
Sodium:
822
mg
|
Potassium:
350
mg
|
Fiber:
1
g
|
Sugar:
13
g
|
Vitamin A:
717
IU
|
Calcium:
194
mg
|
Iron:
3
mg
This recipe was originally published May 20, 2012 on FoxValleyFoodie.com.