Step-by-step guidance explaining how to make homemade shredded hash browns from scratch perfectly every time.
Do you ever discover yourself cooking a bag of frozen hash browns and find yourself thinking, "You know, these are good and super easy to make… hmmm, almost too easy!" Would your life be better if making breakfast was a little more time consuming, required more energy, and ran a much higher risk of utter failure? If so, keep reading! If not, check out my easy hash brown casserole instead!

Growing up I hated hash browns. I associated them with tater tots, which when in casserole form was my nemesis until my mom first whipped up turkey patties as her new form of cruel and unusual punishment. It wasn't until my later twenties that I finally reconciled with hash browns, conceding that they were just harmless potatoes in a shredded form when not tossed together with cream of mushroom, canned green beans and other unspeakable ingredients that my dad screamed at me to stuff down my gullet. Ah… good times…
Like the college student that all of a sudden discovers he can drink beer, I went slightly overboard making homemade shredded hash browns. Eating frozen hash browns wasn't good enough for me; I needed to know how to make them from scratch and how to do so perfectly. So for about a year, I made them multiple times a week until I could fully understand each facet of the process. Why did some recipes call for soaking the potatoes and others rinsing them? Is changing the water or using ice cubes really necessary? I don't like blindly following recipes. I want to know why I am doing something so I can figure out for myself if there is a better way.
Here is what I learned:
(Making hash browns from scratch wasn't good enough for me, I eventually went on to also create Cheddar-Crusted Homemade Hash Browns! You need to check them out.)
How to Make Homemade Shredded Hash Browns 
First thing I learned: Peel the potato only if desired. This will not affect the final dish. Some like the rustic look of potato skins in their food, others do not. Pick a side. Then shred the potato and then quickly move onto the next step to prevent oxidation.
Second thing I learned: Some recipes call for soaking the potato in ice water, while others just say to rinse the shreds. What you are actually doing here is removing the excess starch from the shreds so you get a crisper final product. Cold water prevents oxidation and if you decide to soak the potatoes changing the water will remove more starch and speed the process. Personally, I prefer to rinse the shreds in a strainer under the faucet until the water runs clear because it is easier to tell when the objective has been accomplished. When the water runs clear I know the starch has been removed.
Third thing I learned: The stored water must be removed from the potato shreds and there are multiple ways to accomplish this. Personally, I like to just grab a fist full and squeeze it over the sink. However, if you are cooking for others you may want to ring it tightly in cheese cloth or just squeeze out the liquid in a ricer. Whatever method you choose, be sure to work in batches so the water can easily disperse. The more water that is removed, the crisper the hash brown will be. Once water has been drained, mix in salt and pepper.
Fourth thing I learned: Heat a nonstick pan (This pan has been my main workhorse for years and I would buy it again in a second) with a mixture of oil and butter on medium high. Butter gives hash browns better flavor, but adding oil prevents the butter from burning by raising its smoke point. The fat mixture lies more thinly in the pan and also coats it more evenly which allows for more even contact with the hash.
The above link is an affiliate link. Any purchases made through that link help support FoxValleyFoodie.com at no additional cost to you.
Fifth thing I learned: Place the hash in the hot pan and press with a spatula to evenly flatten the potato shreds. Thinner is better as this will ensure everything cooks. If you desire healthier hash browns you can use a minimal amount of oil/butter, but more fat will result in crispier hash browns.
Sixth thing I learned: Once the bottom is crispy you can use a spatula to divide the hash brown into four sections and then proceed to gingerly flip them. OR you can man up and flip the whole thing in the pan with a quick upward flick of your wrist… don't worry your dog will love you as you practice. Once flipped proceed to cook until the bottom is crisp.
Once you have finished cooking your homemade shredded hash browns you can serve them immediately or place in a warm oven to keep them warm while you work on additional batches.
How to Prepare Hash Browns in Advance
You can shred the potatoes and leave them soaking in water for a few hours until you are ready to cook. This will remove the excess starch and prevent oxidation until you are ready to cook.
I never had good results with par-cooking the hash. Blanching the potato shreds did prevent oxidation but the hash browns never stayed together when cooked and the flavor was off.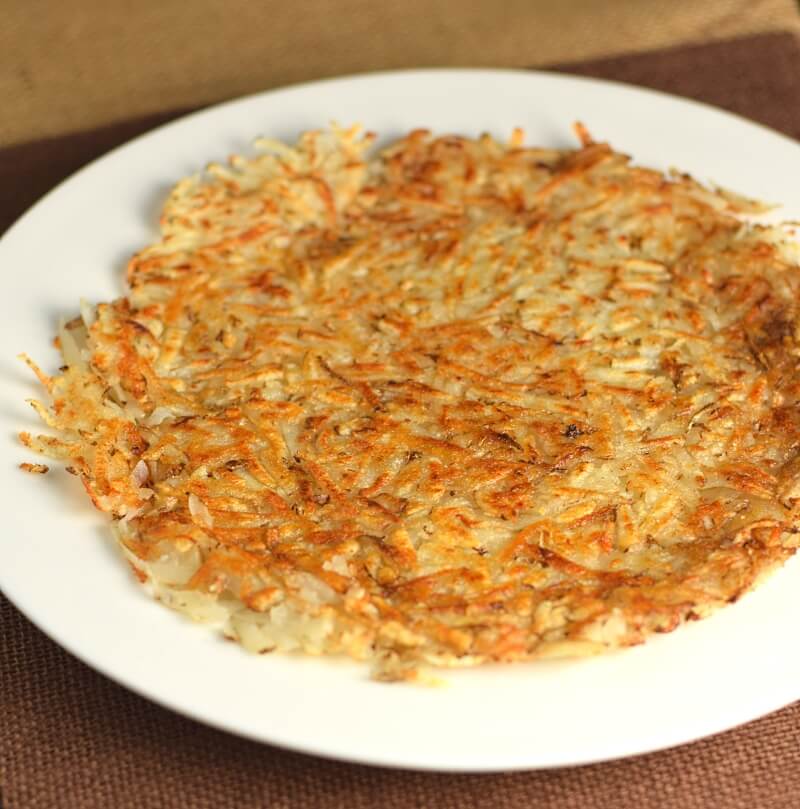 Final thought:
I doubt that I just spared any of you from a year-long sabbatical to fully understand the inner workings of the perfect shredded hash brown. However, if I have perhaps given one person a sense of personal satisfaction for not only following my recipe but actually understanding what they are doing and why… then I am just as happy.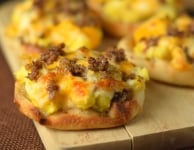 If you need a breakfast suggestion to pair this with, I highly recommend my English Muffin breakfast pizzas.  Check out the recipe, I think you will love it! Melted cheese, fluffy scrambled eggs, sawmill gravy, and sausage, all atop a crispy English muffin!  What's not to love?
A Treatise on How to Make Homemade Shredded Hash Browns
Deliciously crispy homemade shredded hash browns made from scratch!
Print
Pin
Rate
Ingredients
1

baking potato

Salt

Pepper

1

TBSP

Butter

2

TBSP

Oil
Instructions
Peel desired amount of skin off potato,

Shred potato through a cheese grater or food processor

Rinse shreds under cold running faucet until starch has been removed

Drain the water and wrap clumps of shredded potato in cheesecloth or ricer and squeeze tightly to remove all moisture.

Mix salt and pepper with shredded potatoes

Melt butter in non-skillet with oil. Place hash in hot pan on medium-high heat and press with spatula to flatten into a uniform thickness around pan.

Once bottom is crispy divide into four sections and flip (or keep it whole if you are able to flip it), continue cooking until it has the desired crispness.
Nutrition
Calories:
258
kcal
|
Carbohydrates:
19
g
|
Protein:
2
g
|
Fat:
19
g
|
Saturated Fat:
4
g
|
Cholesterol:
15
mg
|
Sodium:
56
mg
|
Potassium:
444
mg
|
Fiber:
1
g
|
Vitamin A:
175
IU
|
Vitamin C:
6.1
mg
|
Calcium:
14
mg
|
Iron:
0.9
mg
This recipe was originally published on FoxValleyFoodie.com June 3rd, 2012.
If you enjoyed my Homemade Hash Browns from Scratch recipe then you should probably like me on Facebook and follow me on Pinterest too. That's what I would do at least, because if you don't get to know me but you still use my recipe it is kind of like taking candy from a stranger, and your mom taught you not to do that. Don't disobey your mom, subscribe to Fox Valley Foodie today.