Learning how to make venison sausage is a great way to save money on wild game processing. Let me show you how to make professional quality deer sausage in your own home. Be sure to also check out the bonus Jalapeno Cheddar Snack Sticks recipe at the bottom of the page!
There is something immensely rewarding about being entwined with your food from the spent shell casing to stuffed sausage casing. In this day and age, in particular, people are getting so far removed from the origins of their food, they almost forget that it doesn't actually come from a grocery store or fast food drive-thru, but rather an animal from a farm or forest that God has provided for us. There is no better way to reacquaint yourself with your food than mastering the art of sausage making.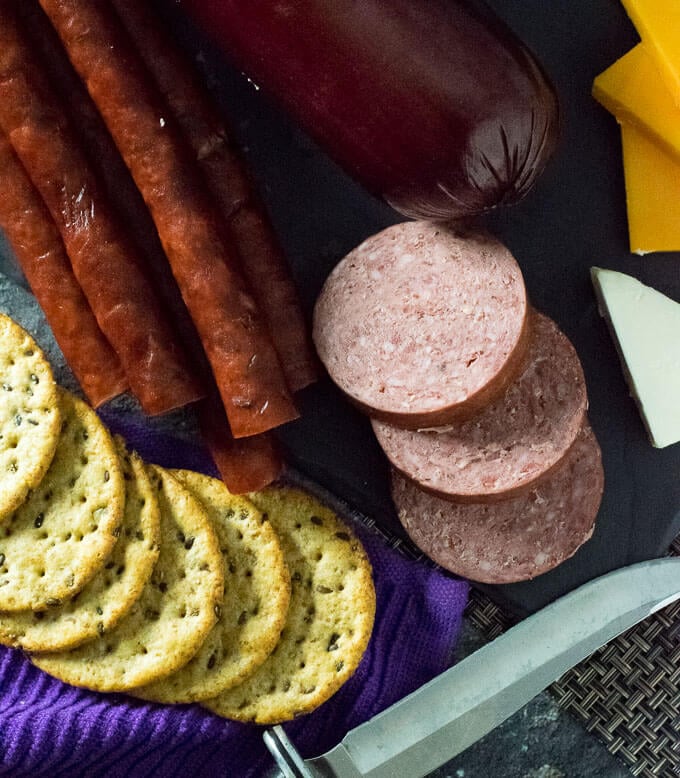 This write-up covers all of the essential information you need to learn to craft high-quality cured venison sausage that is every bit as flavorful as what your local butcher or deer processor will provide you. In particular, this will give you the information needed to make the most popular venison sausages like summer sausage and snack sticks. Plus, the methods don't apply solely to deer sausage, but also beef, pork, or any wild game sausage you wish to make - the principals are all the same.
Best Fat For Venison Sausage
Fat is exceptionally important when making sausages for two primary reasons. 1) Fat carries flavor. 2) Fat prevents the sausage from being dry and crumbly. Venison is a famously lean meat, and what fat is found on the deer carcass isn't well suited for cooking, so venison must be blended with another animal's fat for sausage making.
I like using beef suet as my fat of choice when making venison burgers because it lasts longer in the freezer and adds a rich beefy flavor to my hamburgers. However, beef suet is not my choice for sausage making because it's low melting point causes a concern that is may prematurely render and leech out of the sausage.
Pork fat is the best fat for venison sausage or most any sausage. It has a clean flavor, allowing the venison to shine through, and it will not render out during the cooking process as easily as beef. You will not find pork fat for sale at your neighborhood grocery store, instead, call your local butcher shop and he will be happy to sell you pure pork fat or trimmings.
Note: If you plan to use some of the venison to make ground venison jerky, I recommend grinding some without adding fat.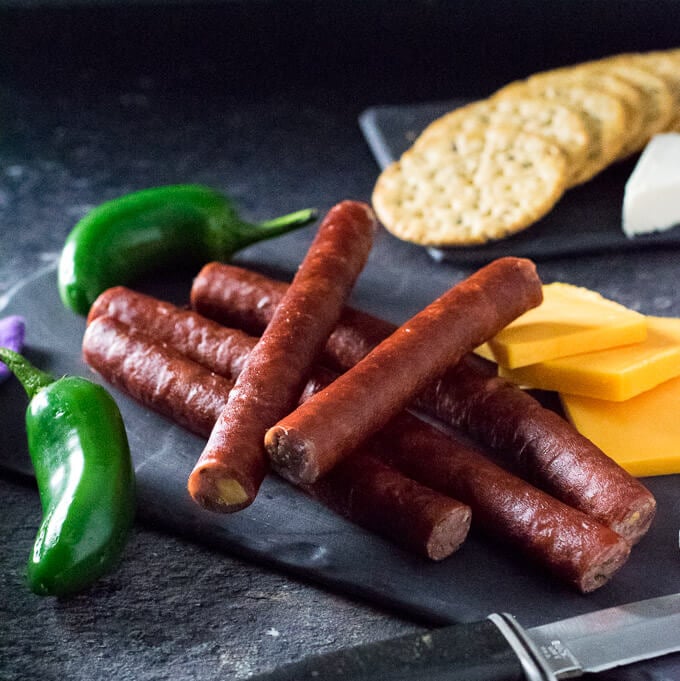 How Much Fat to Blend with Venison
This is important! You want 30% fat blended into your venison for sausage making... I never said it was going to be healthy, just that it would taste good! If you want it to be a tad leaner, you can go as little as 20% fat, but understand you will sacrifice some flavor and texture, and never go any leaner than that. This is true for summer sausage, snack sticks, breakfast sausage, and most other sausages.
When you buy your pork fat from your local butcher it may still have pork meat attached to it, and that is perfectly fine. You can either trim it off or blend it with the venison. You just want to ensure the total fat equals 30% of the total volume with the meat. As an example: If you have 7 pounds of venison, you need 3 pounds of pork fat. If the trimmings you receive from the butcher are 75% fat, and 25% meat, you will use 6 pounds of venison, 1 pound of pork, and 3 pounds of pork fat. Regardless of what other meats are blended with the venison, you want to ensure you keep the fat at around 30%.
In case it isn't completely obvious, you will need a digital kitchen scale for this.
Venison Sausage Making Equipment
Unlike making a simple venison chili, you are going to need more than your basic pots and pans for sausage making. Luckily, with the money you save by butchering your own deer, you can buy all of the sausage making equipment you need with the savings from just a few deer! Specifically, you need a quality meat grinder, a sausage stuffer, and a smoker.
Meat grinder: Unless you are a masochist, stay away from the Kitchen Aid grinding attachment, it is way to small to be practical. I have also previously used lesser expensive grinders with plastic gears, but they quickly break when the grinding gets tough. I personally use and recommend the LEM Big Bite Grinder because the metal gears are reliable and I find the #8 grinder size to be perfect for processing one deer.
Sausage Stuffer: Making sausage without a proper sausage stuffer is an infinitely more tedious task. A sausage stuffer not only quickly fills your casings, but it also fills them more fully and evenly. I have made sausages without a sausage stuffer but I would never do it again. It is an essential piece of equipment.
Electric Smoker: Technically, you can use any smoker to make great smoked sausages. However, due to the extremely low temperatures required to maintain during the sausage smoking process, most sausage making enthusiasts use an electric smoker for consistent results. I have used charcoal smokers for sausage making in the past with success, but maintaining temperatures as low as 130 degrees and incrementally stepping up the temperature as needed proved difficult. I prefer charcoal smokers for BBQ, and electric smokers for sausages.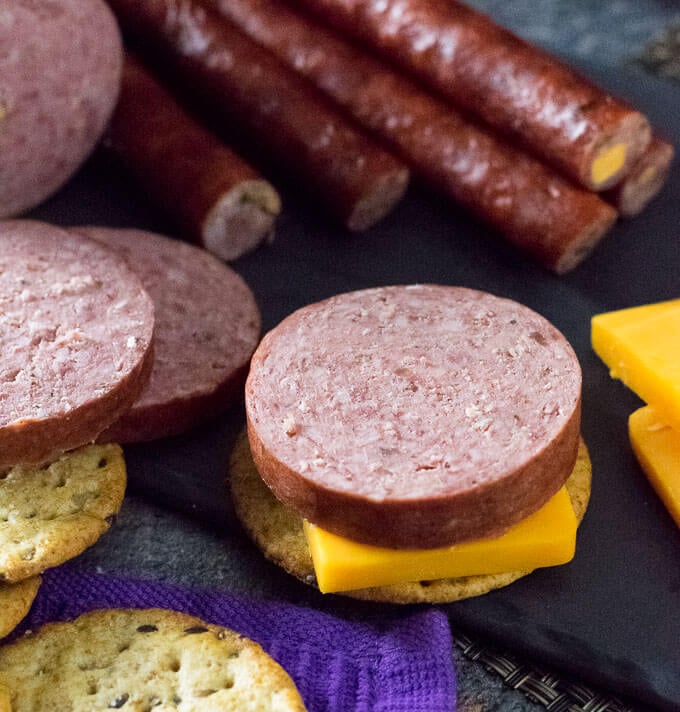 Cured Venison Sausage Additives
Making venison summer sausages and snack sticks requires additives you don't use in traditional cooking. These additives are needed to ensure a safe final product while also adding flavor.
Cure: Pink Cure, also known as Prague Powder #1 is one of the most popular curing agents. Cures typically contain a blend of salt and sodium nitrate/nitrite, which is needed as a preservative to prevent dangerous bacteria from breeding in the sausage during the extended low-temperature cooking sessions. Cure can be purchased online or from some butchers. Always read the label to ensure you use the proper amount.
Encapsulated Citric Acid: This is the home sausage maker's shortcut to achieving that classic tangy flavor found in most cured meats such as snack sticks and summer sausages. Starter cultures can be used instead, or even buttermilk powder, however, encapsulated citric acid is the easiest and most consistent option for home sausage makers. Never grind ECA with the meat and only add ECA directly prior to stuffing and smoking the sausages to prevent it from breaking down prematurely, which can ruin the texture and flavor of the sausage.
Non-Fat Milk Powder: This is a more common ingredient, and readily available at any grocery store. Non-fat milk powder serves as a binder for your sausage, helps reduce shrinkage, and creates a juicier final product. When crafting your own recipes use about 1 cup per 5 pounds of meat/fat, however, you can adjust this to fit your tastes.
How to Make Venison Sausage
You can make venison sausage with your own recipe, such as my jalapeno cheddar snack sticks recipe below, or you can use the store-bought sausage seasoning packets (such as LEM Backwoods sausage seasoning) found at most outdoor retailers. The sausage making process is largely the same either way.
First, you will typically grind the meat and fat together with a coarse grinding plate, then the seasonings and additives can be mixed in, and everything is run through the grinder a second time. You can use a ⅛" grinding plate on the second run for a finer textured sausage or stick with the coarse grinding plate. Then place everything in your refrigerator overnight to allow the flavors to meld.
The following morning you will add the encapsulated citric acid and stuff the meat mixture into your sausage casings. Keep in mind, the smaller casing you use, the more laborious the stuffing process will be. I like 17 - 19mm Smoked Collagen Casings for snack sticks, and 2.4" - 2.9" casings for summer sausages.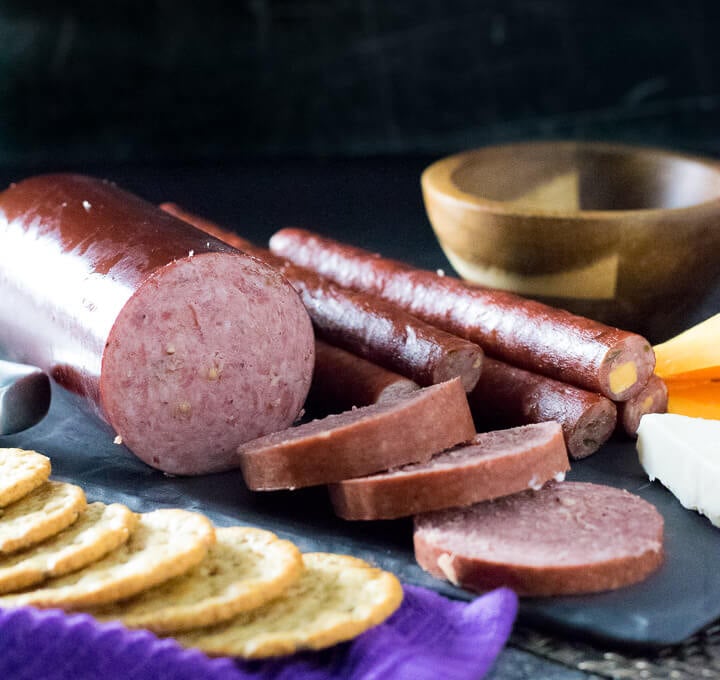 Smoking Venison Sausage
Preheat your smoker while you are stuffing your sausages. You want to start your sausages smoking at 130 degrees for about one hour. This gives the sausage time to soak up the smoke flavor, while the cure you used ensures the meat stays safe even at this low temperature. After one hour you will incrementally start increasing the temperature up to 180 degrees. I typically increase it by 20 degrees an hour until it reaches 180. The purpose for doing this is to slowly cook the sausage without excessively heating the fat, causing it to liquify and render out.
Your sausages are done when they reach 152 degrees with a digital meat thermometer. At this point remove them from the smoker and soak them in ice water to stop the cooking process and set the fat. Congratulations, your deer sausage is now done and ready to be packaged and stored!
Tip: Since the sausages are done cooking at 152 degrees, I avoid using LEM branded Encapsulated Citric Acid since the capsules don't begin to melt until 150 degrees. Instead, I use other brands such as WaltonsInc.com, which begin melting at 135 degrees.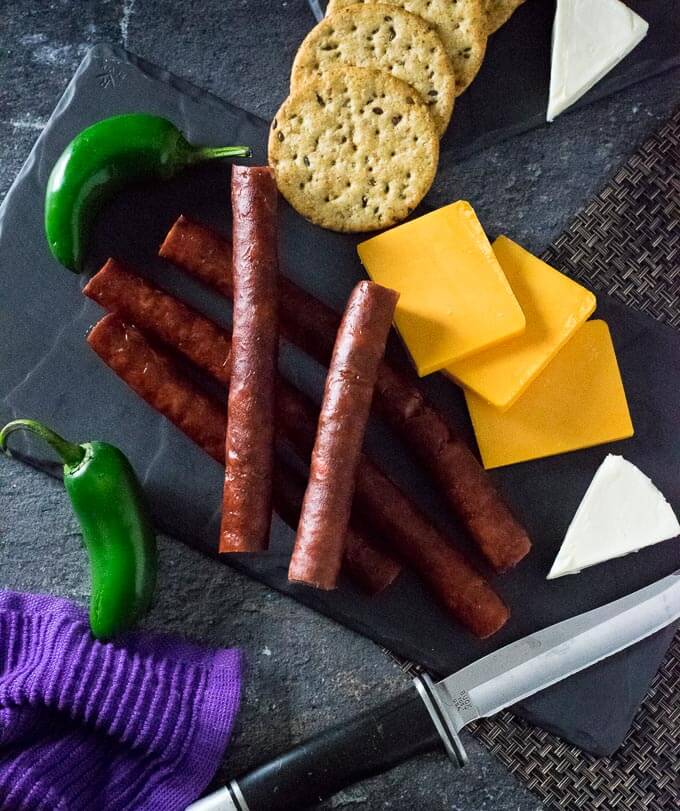 Venison Sausage Recipes
Hopefully, this write-up helps you out regardless if you are using a tried and true sausage recipe, like my jalapeno cheddar snack sticks below, or even if you prefer the simplicity of the store-bought seasoning packets. With the right equipment and understanding, there is no reason why your homemade sausage can't be every bit as flavorful as your favorite butcher's!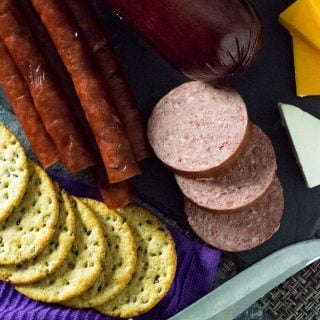 Venison Sausage - Jalapeno Cheddar Snack Sticks
These jalapeno cheddar snacks sticks have just the right amount of spice to really wake up your taste buds. Making homemade venison sausage never tasted so good!
Print
Pin
Rate
Save
Saved
Ingredients
7

lb

Venison

(can substitute or combine with other meats)

3

lbs

Pork Fat

1 ½

cups

Water

2

cups

Non Fat Milk Powder

2

oz

Dried Jalapenos

(about 1 cup)

⅔

cup

Sugar

⅓

cup

Worcestershire Sauce

5

teaspoons

Black Pepper

2 ½

teaspoons

Dry Mustard

2 ½

teaspoons

Garlic Powder

2

teaspoons

Celery Seed

5

tablespoon

Salt

0.5

oz

Pink Cure

(Prague Powder #1 among other names)

1 ½

lbs

High Temp Cheddar Cheese

1.2

oz

Encapsulated Citric Acid.

19

mm

Smoke Collagen Casing
Instructions
Grind venison and fat together through a ⅜" grinding plate.

Combine water, non-fat milk powder, jalapeno flakes, sugar, Worcestershire, black pepper, dry mustard, garlic powder, celery seed, salt, and pink cure. Mix to combine then pour over meat and combine further.

Run mixture through the ⅜" grinding plate a second time, then place in the refrigerator overnight to allow flavors to meld.

Preheat smoker to 130 degrees and add desired wood.

Add high temp cheese and encapsulated citric acid to the sausage mixture and combine thoroughly.

Load venison sausage mixture into sausage stuffer and tightly fill into 19 mm casings.

Hang sausage in the smoker, or lay flat on racks if needed, ensuring sausage is not touching to allow for even cooking.

Smoke sausage at 130 degrees for one hour then increase the temperature to 140 degrees and cook for another hour. Proceed to increase the temperature hourly at twenty degree increments until the smoker reaches 180 degrees.

Sausages are done when they reach 152 degrees, ~7 hours, cooking time will vary.

Remove snack sticks from smoker and place in ice cold water to stop cooking and set fat. Once cooled, the sticks can be cut and stored.
Notes
*If you are in a hurry, you do not have to place sausage mixture in the refrigerator overnight prior to smoking, however, it is recommended for best flavor.
**If you lay the venison sausage flat on racks, periodically rotate the racks to ensure even cooking.
***Dried jalapenos can be hard to find in stores. They can easily be ordered on Amazon.
IF YOU LIKED THIS RECIPE you will love my venison meatballs recipe too!
Nutritional Information
Calories:
340
kcal
|
Carbohydrates:
5
g
|
Protein:
16
g
|
Fat:
27
g
|
Saturated Fat:
11
g
|
Cholesterol:
79
mg
|
Sodium:
717
mg
|
Potassium:
273
mg
|
Sugar:
4
g
|
Vitamin A:
210
IU
|
Vitamin C:
0.5
mg
|
Calcium:
142
mg
|
Iron:
2
mg
Don't forget to check out the rest of my mouthwatering venison recipes too!
If you enjoyed reading my Venison Sausage recipe then you should probably like me on Facebook and follow me on Pinterest too. That's what I would do at least, because if you don't get to know me but you still use my recipe it is kind of like taking candy from a stranger, and your mom taught you not to do that. Don't disobey your mom, subscribe to Fox Valley Foodie today!