Let's make the best fried egg sandwich! Start with the right ingredients, pay attention to the details, and you can craft the ultimate breakfast sandwich!
Sometimes simple recipes are the best, this is my go-to meal right here. Egg sandwiches are quick, easy, cheap, and delicious. I swear, I will often make these every day for weeks on end! Although technically a breakfast sandwich, I actually prefer to eat them for an easy lunch. The best part is, there are a ton of ways to customize an egg sandwich so it never feels boring.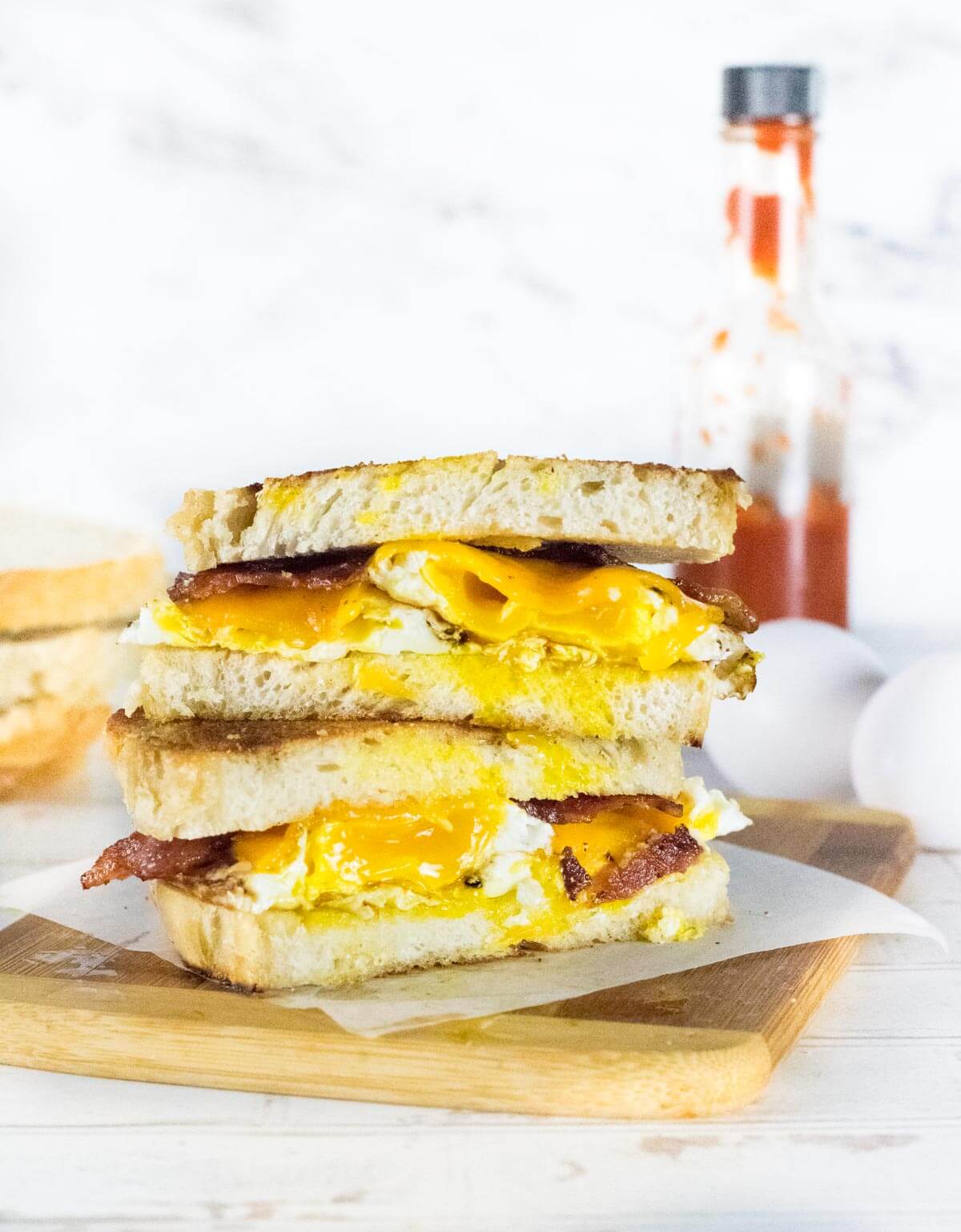 What is it?
Simply put, a fried egg sandwich is two over-easy eggs, served between two pieces of toast, and most often topped with cheese and meat, such as slices of bacon. I prefer my eggs simply salt and peppered, but sometimes I jazz it up with Jerk seasoning or other exotic spices.
How to Fry the Egg
The best fried eggs for sandwiches are over-easy, leaving the yolk still runny. If you don't like runny yolk, there is no harm in cooking the egg for an extra couple of minutes to craft a hard-cooked egg.
To make an over-easy egg, melt one tablespoon of butter in a non-stick frying pan set over medium heat, and add two eggs. Lightly salt and pepper the eggs (I like a lot of black pepper!) and let cook for 2 minutes, or until the bottom is firm.
Gently flip the eggs, being careful not to break the yolk, and cook for one minute longer. If you prefer a fully cooked egg yolk, cook for an additional 2 minutes, or until the yolk is completely firm to the touch. You now have a perfect fried egg!
Other ways to make eggs for breakfast sandwiches
Over-easy eggs are the best for breakfast sandwiches because the broken yolk serves double duty as a luxurious condiment, and flipping the eggs allows you to melt cheese on top as they finish cooking. However, if you are looking to switch things up, try these methods as well:
Omelets - Omelets are my second favorite way to make breakfast sandwiches. They are light and tender, and still quick to make. They are a particularly good choice if you don't like runny yolk in your sandwiches. To use an omelet for breakfast sandwiches fold them into quarters.
Scrambled Eggs - These are the easiest for many people to make, and will make a fine sandwich, but scrambled eggs are messier because smaller pieces like to fall out of the sandwich.
Sunny Side Up - Sunny-side up eggs are fried eggs that aren't flipped over. I only recommend using these if you don't plan to add cheese to your sandwich.
Best bread for an egg sandwich
Sourdough - A fresh loaf of sliced sourdough bread is the best bread for making fried eggs sandwiches, in my humble opinion. The tangy crunch of toasted sourdough is the perfect complement to the mild flavor of eggs.
White bread - Not really gourmet, but simple toasted slices of bread are the classic choice, served in diners all across the country. It isn't my favorite, but it will do in a pinch.
English Muffins - A toasted English muffin is another favorite of mine, and will put you one step closer to recreating McDonald's Egg McMuffin.
Croissant - Croissants make such phenomenal breakfast sandwiches, that they warrant their own separate recipe. Making them with omelet eggs will recreate fast-food breakfast sandwiches, but serving them with a fried egg is comfort food at its finest!
Egg Sandwich Toppings
A basic fried egg sandwich is elevated to a great sandwich with proper toppings. At a minimum, I recommend meat and a slice of cheese, with crispy bacon and cheddar cheese being my go-to favorites. However, breakfast sausage patties, ham, or even venison bacon are favorite alternatives of mine. For a more non-traditional route, you can add sliced avocado and / or tomato.
I find cheddar cheese to be the best for fried egg sandwiches. Mild cheddar melts the best, while sharp cheddar packs the most flavor. I also like using pepper jack cheese when making spicier egg sandwiches. However, when it comes to cheese there are many good options including simple American cheese.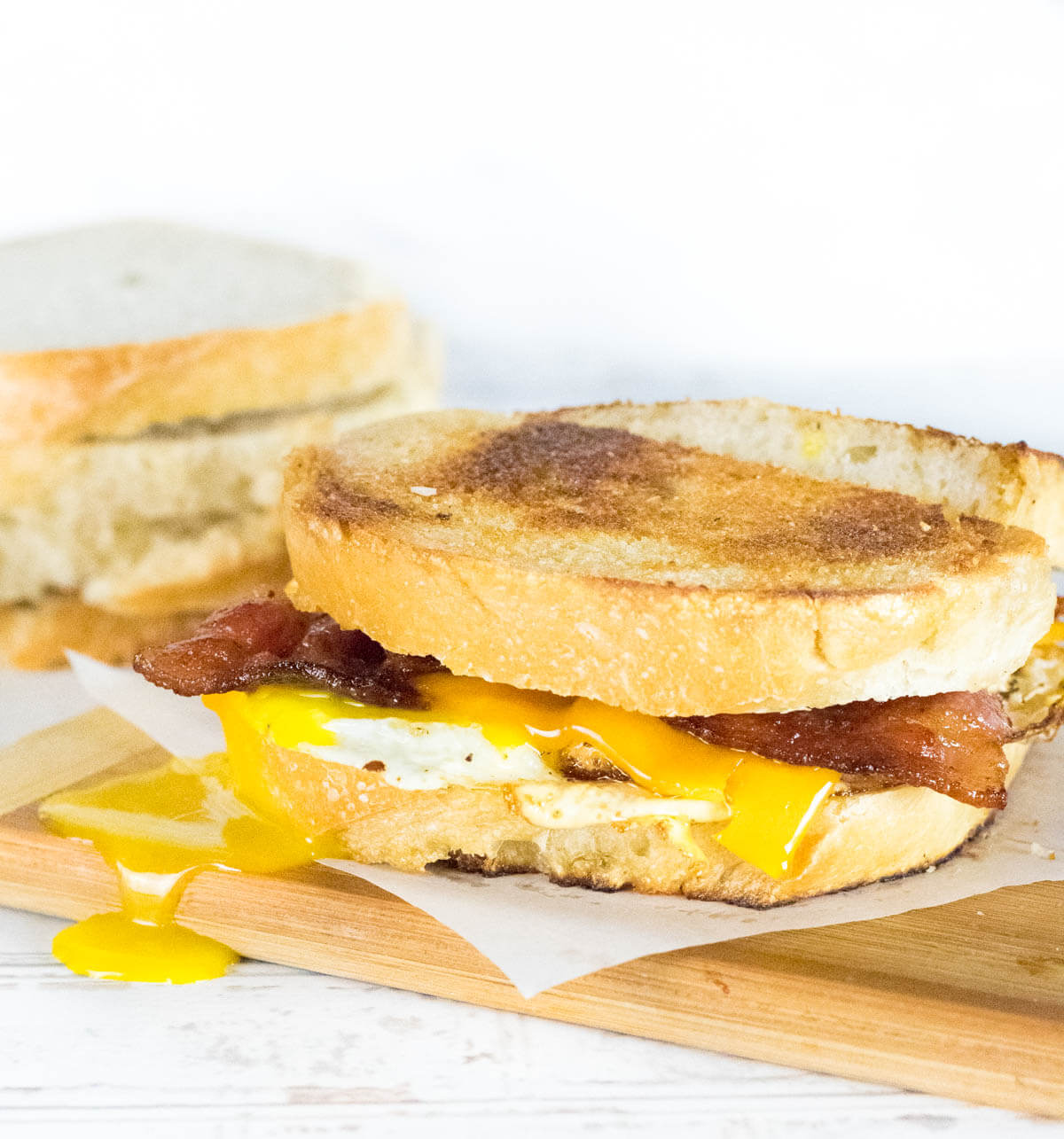 What Condiments Go on Egg Sandwiches
Butter - Keep it simple with a swipe or two of melted butter.
Mayo - Perfect on its own, or mix it with other condiments.
Hot Sauce - This is my favorite condiment for my fried eggs sandwiches. Sometimes I'll mix the hot sauces with mayo other times I'll use different sauces dabbed on alone.
Chipotle Mayo - Creamy and smoky! This really adds a gourmet flair to a simple egg sandwich.
Russian Dressing - Its tangy kick pairs perfectly with eggs!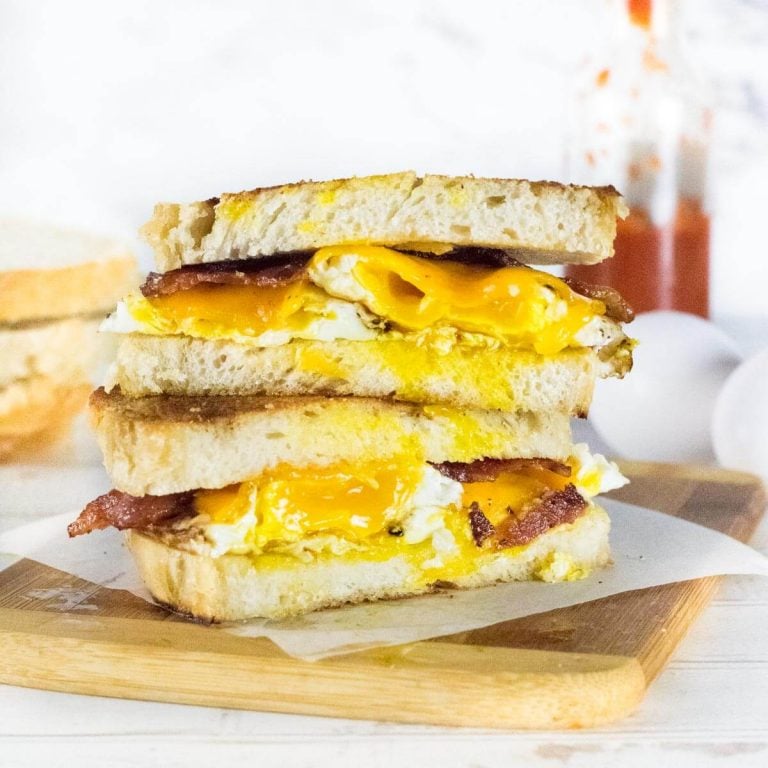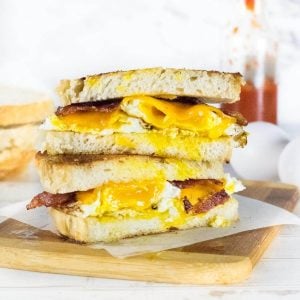 Fried Egg Sandwich
Let's make the best fried egg sandwich! Start with the right ingredients, pay attention to the details, and you can craft the ultimate breakfast sandwich!
Print
Pin
Rate
Save
Saved
Ingredients
2

sliced

sourdough bread

2

tablespoons

butter

(divided)

2

large

eggs

salt and ground black pepper

1

slice

cheddar cheese

2

strips

thick cut bacon

(cooked)
Instructions
Butter the exterior of sourdough bread with 1 tablespoon of butter (½ tablespoon for each slice of bread) and toast the bread, buttered side down, in a skillet set over medium heat until the exterior is golden brown.

Melt the remaining tablespoon of butter in a separate large skillet set over medium heat and add two cracked eggs. Sprinkle with salt and pepper to taste and let cook for two minutes, or until the bottom of the eggs are firm. Gently flip the eggs and cook for an additional minute. Place cheese slice on the top of eggs after flipping so it begins to melt.*

Remove eggs from skillet, place on top of a sourdough slice, top with bacon, and add the remaining slice of sourdough on top (along with any condiment you desire), ensuring the buttered side of the bread slices are on the exterior.
Notes
*Instead of cooking the eggs in butter, you can use rendered bacon fat for added flavor. Otherwise, olive oil is a good substitution. 
Need to feed a crowd? Make these Breakfast Sliders instead!
Nutritional Information
Calories:
718
kcal
|
Carbohydrates:
3
g
|
Protein:
26
g
|
Fat:
66
g
|
Saturated Fat:
31
g
|
Cholesterol:
498
mg
|
Sodium:
934
mg
|
Potassium:
281
mg
|
Sugar:
1
g
|
Vitamin A:
1410
IU
|
Calcium:
179
mg
|
Iron:
2
mg