This cheese sauce recipe for fries is easy to make, incredibly creamy, and can be prepared faster than it takes to cook your French fries. Sharp cheddar gives this sauce incredible flavor, while a small amount of cream cheese is the secret ingredient to make it outrageously creamy!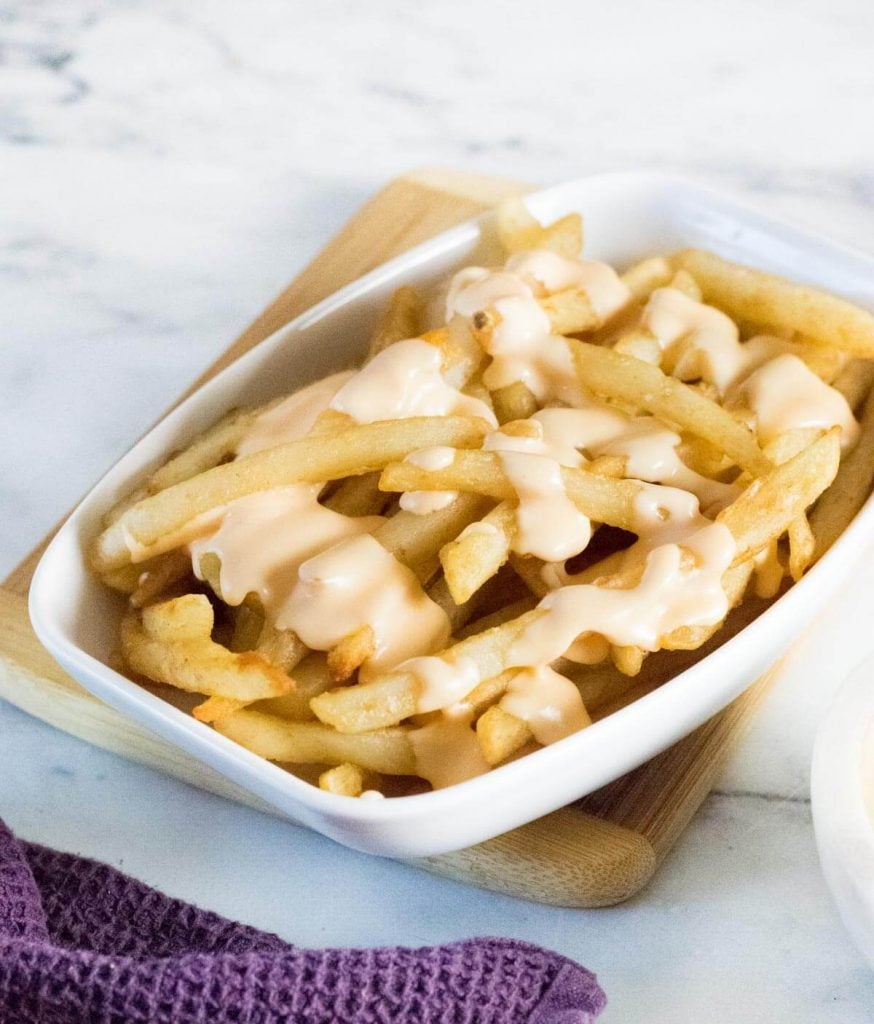 You will love drizzling this over a hot batch of crispy French fries, but beyond making the best cheese fries you've ever had, it can also be used with steak fries, tater tots, or in place of nacho cheese sauce. Plus, there are easy ways to customize this to fit anyone's tastes.
Ingredients and Substitutions
Butter & Flour - Combined, these will make a roux that is the foundation of this sauce.
Half and half - Half and half makes the sauce wonderfully creamy. Heavy cream can also be used, or simply use milk.
Milk - Milk helps thin the sauce to the proper consistency.
Cream Cheese - This is the secret ingredient. It helps as a binder and makes the sauce creamier.
Sharp Cheddar - Mild or medium Cheddar cheese can be used but sharp cheddar cheese brings more flavor.
Hot sauce - I recommend a vinegar-based sauce like Texas Pete or Tabasco.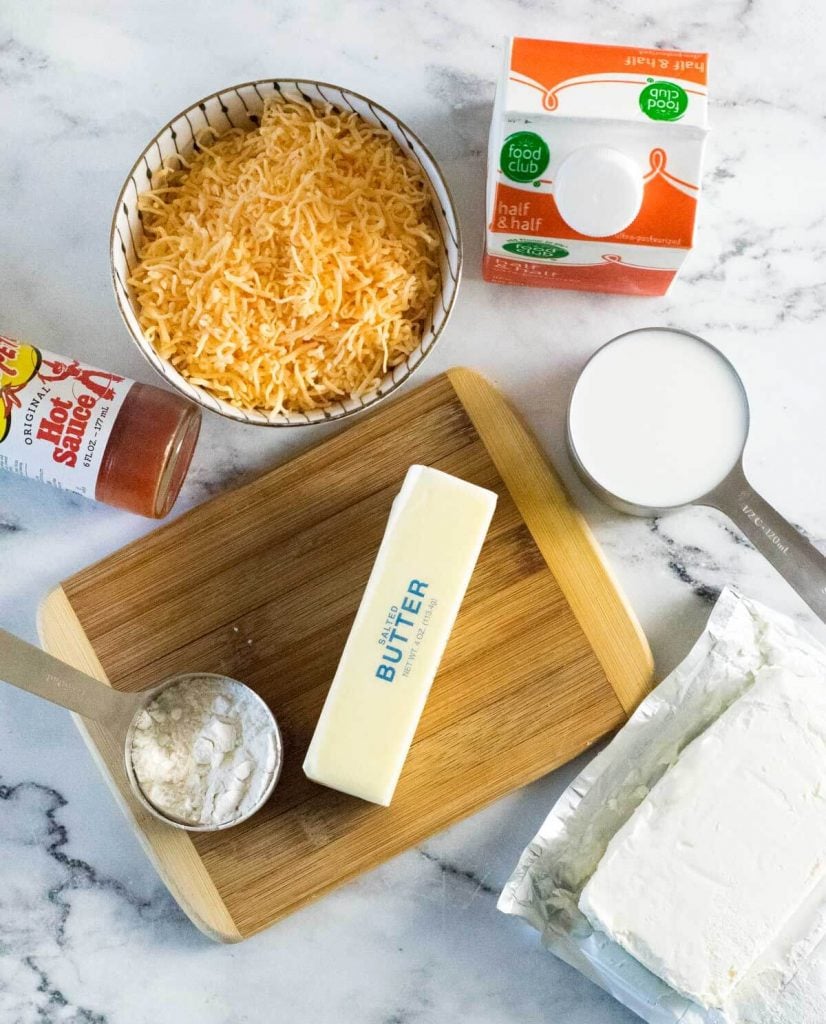 How to make the cheese sauce
The foundation of this cheese sauce recipe is a roux. A roux is a mixture of butter and flour that is gently cooked in a small saucepan while being stirred to prevent scorching. After a few minutes the raw flour taste will be cooked out of it and the Half and Half and milk can be added.
Important: Add the liquids in slow dribbles, stirring to incorporate them before adding more. If you dump everything in at once the sauce won't come together. Adding a couple tablespoons at a time is perfect.
Next we will temper the cream cheese. It is important to mix the warm sauce into the cream cheese, rather than the other way around, or the cream cheese will curdle. To do this, warm the cream cheese in the microwave or by soaking the closed packet in hot water. Then start mixing a couple tablespoons of sauce at a time into the cream cheese. Once enough sauce has been mixed with the cream cheese to turn it into a saucy consistency it can be added to the sauce pan.
Finally, the sharp cheddar cheese, hot sauce, and salt can be added to your sauce pan. Mix everything well and enjoy.
Troubleshooting tip: If you sauce is too thick you can pour in a little more milk to thin it out. If the sauce is too thin, just simmer it for a few minutes and it will thicken up.
Ways to Customize this Recipe
The best way to customize your homemade cheese sauce is to change which cheeses are used. My recommendation is to always use two kinds of cheese, one creamy, and one strongly flavored. However, there are a lot of cheese sauce recipes that only use sharp cheddar.
Creamy cheeses would include American cheese, Monterey Jack, and Havarti. Strongly flavored cheeses could be any spicy cheese, smoked cheese, or aged cheese. Pepper Jack could go into either category.
You can also add roasted garlic to make a garlic cheese sauce, your favorite hot peppers for a spicy kick, or smoky bacon! If using bacon, I would also dribble in a little bacon grease for added flavor.
Finally, dress up this easy recipe with your favorite seasonings such as smoked paprika, cayenne pepper, or Old bay seasoning.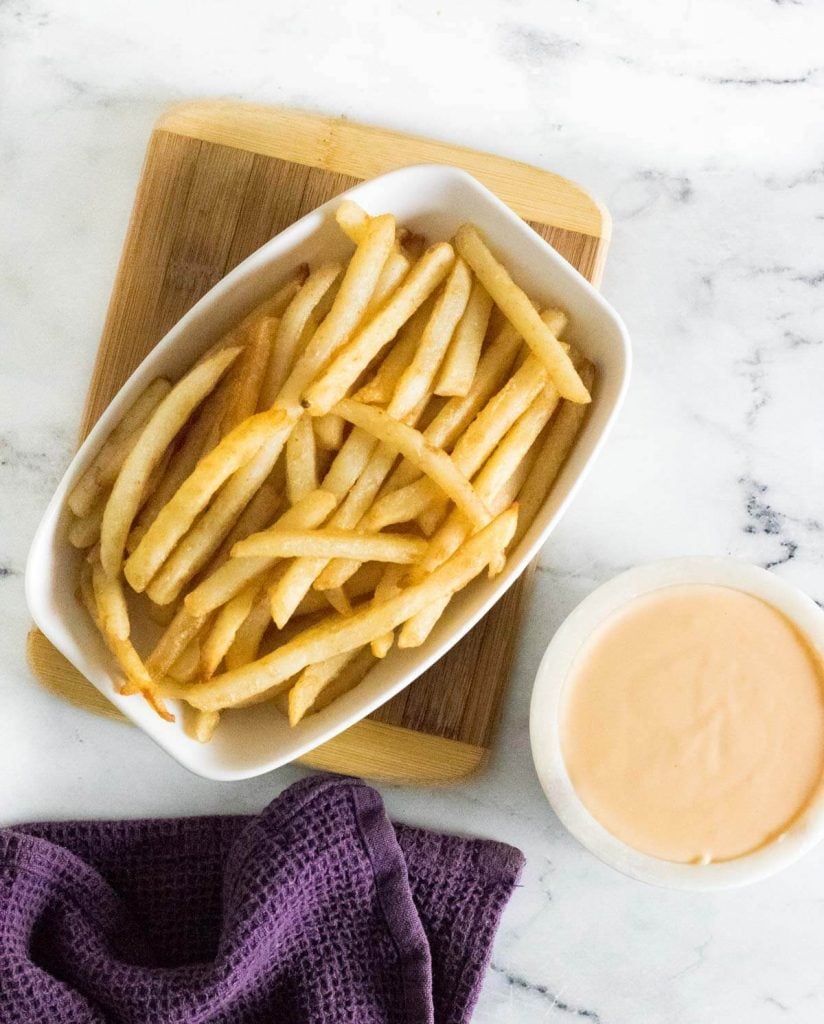 How to use this sauce
This sauce is intended to transform any basic French fry into deliciously addicting cheese fries, but there are many more ways to enjoy it as well. This is the perfect cheese sauce to use with any of these foods:
Serve over tater tots
Cheesy broccoli, cauliflower, or Brussel sprouts
Dip or potato or tortilla chips
Pretzels dipping sauce
Can you do me a favor? If you enjoyed my post would you mind sharing it with your friends? You can see more of my recipes by liking me on Facebook and follow me on Pinterest too. Otherwise, stay up to date by getting each new post sent directly to your inbox by subscribing today.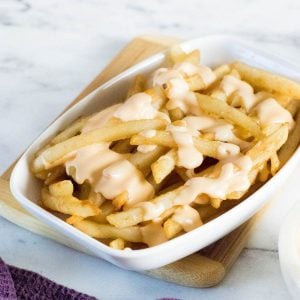 Cheese Sauce for Fries
This cheese sauce recipe for fries is easy to make, incredibly creamy, and can be prepared faster than it takes to cook your French fries.
Print
Pin
Rate
Save
Saved
Ingredients
2

tablespoon

butter

2

tablespoon

flour

1

cup

half and half

½

cup

milk

plus more as needed

2

ounces

cream cheese

warmed

6

ounces

sharp Cheddar cheese

shredded

½

teaspoon

hot sauce

⅛

teaspoon

salt

French fries for serving
Instructions
Melt butter in a small sauce pan set over medium-low heat. Once melted, add flour and whisk to combine.

Continue whisking for 3 minutes, or until the flour mixture begins to darken slightly.

Slowly whisk in the half and half and milk a couple tablespoons at a time. Ensure the liquid is fully incorporated into the sauce prior to adding more. Bring the sauce to a gentle simmer.

Place the cream cheese in a bowl and warm in the microwave until heated through. Then laddle the warmed sauce into it. Once the cream cheese is a saucy consistency it can be poured into the saucepan.*

Add shredded cheddar to the saucepan a handful at a time. Mix it into the sauce prior to adding more.

Add hot sauce and salt to the sauce, then serve immediately over crispy fries.
Notes
*T

empering the cream cheese prevents it from curdling.
If the sauce is too thin, simmer it a few minutes longer.
If the sauce is too thick, add a little more milk.
This creamy sauce is great to serve with deep-fried French fries. But it is also equally enjoyable with oven-baked and air fryer fries.
Nutritional Information
Calories:
191
kcal
|
Carbohydrates:
4
g
|
Protein:
7
g
|
Fat:
16
g
|
Saturated Fat:
10
g
|
Trans Fat:
1
g
|
Cholesterol:
50
mg
|
Sodium:
248
mg
|
Potassium:
94
mg
|
Fiber:
1
g
|
Sugar:
1
g
|
Vitamin A:
528
IU
|
Vitamin C:
1
mg
|
Calcium:
210
mg
|
Iron:
1
mg