Nacho salsa dip is a quick and easy appetizer that only requires three simple ingredients and can be customized a million different ways. This is a perfect dip to prepare for your next party, or game day with family and friends!
Nacho Salsa Dip
Nacho salsa dip is a Tex-Mex party appetizer consisting of three simple ingredients: nacho cheese sauce, salsa, and lean ground beef. This recipe is very similar to a beef queso dip with a nacho flavored twist, and is a great dip to make in advance and simply reheat for your party.
How to Make this Recipe
This dip is fairly effortless to prepare, the beef needs to be browned in a skillet, then mixed with salsa and heated nacho cheese sauce. As soon as it is mixed together it can be served with tortilla chips.
Personally, I recommend using my nacho cheese sauce recipe, but store bought works equally well. You will need one 15 ounce can from the store, or 2 cups of my homemade nacho cheese.
I also recommend using lean ground beef, such as 90/10 beef. Fattier beef adds grease to the dip that just isn't needed and doesn't improve the flavor.
How to customize your nacho salsa dip
You can use my recipe as a create base to customize to fit your tastes. You can add fresh onions for a crunch, your favorite hot sauce, or even substitute out salsa for Pico de Gallo. If you want the dip to be even creamier, cream cheese can be added along with shredded cheese, but that would dilute the nacho and salsa flavors, so adjust accordingly.
How to serve Nacho Salsa Dip
This dip should be served warm alongside tortilla chips. If you plan on bringing it to a potluck I recommend putting it in a small slow cooker to keep warm while serving. It is best to use a slow cooker that has a "Warm" setting, so you don't cook the sauce.
More Easy Party Appetizers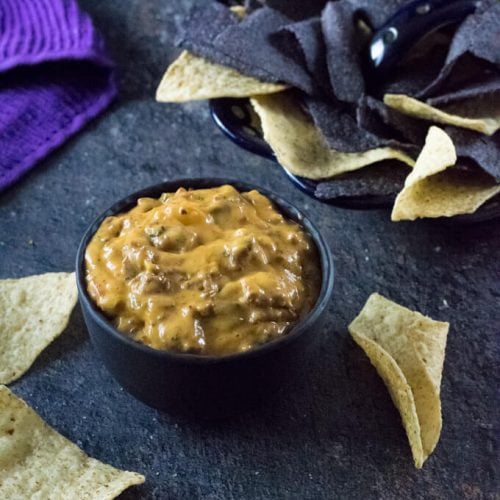 Print Recipe
Nacho Salsa Dip
Nacho cheese dip is a quick and easy appetizer that only requires three simple ingredients and can be customized a million different ways.
Instructions
Brown beef in a skillet set over medium heat. Break into crumbles as it cooks.

Warm nacho cheese sauce and salsa in a small saucepan while beef cooks.

When beef is finished browning, add to saucepan with nacho cheese sauce. Stir to combine and serve with tortilla chips.
Loved this recipe?

Be sure to rate it and share you thoughts below!
*Calories listed are a vague estimate and accuracy should not be assumed.
Can you do me a favor? If you enjoyed my post would you mind sharing it with your friends? You can see more of my recipes by liking me on Facebook and follow me on Pinterest too. Otherwise, stay up to date by getting each new post sent directly to your inbox by subscribing today.