Making your own homemade refried beans from scratch is easier than you think. This recipe shows you how to make them from dry or canned beans.
Refried beans are the perfect side for any Mexican meal. Serve this alongside tacos, taquitos, burritos, fajitas, and more.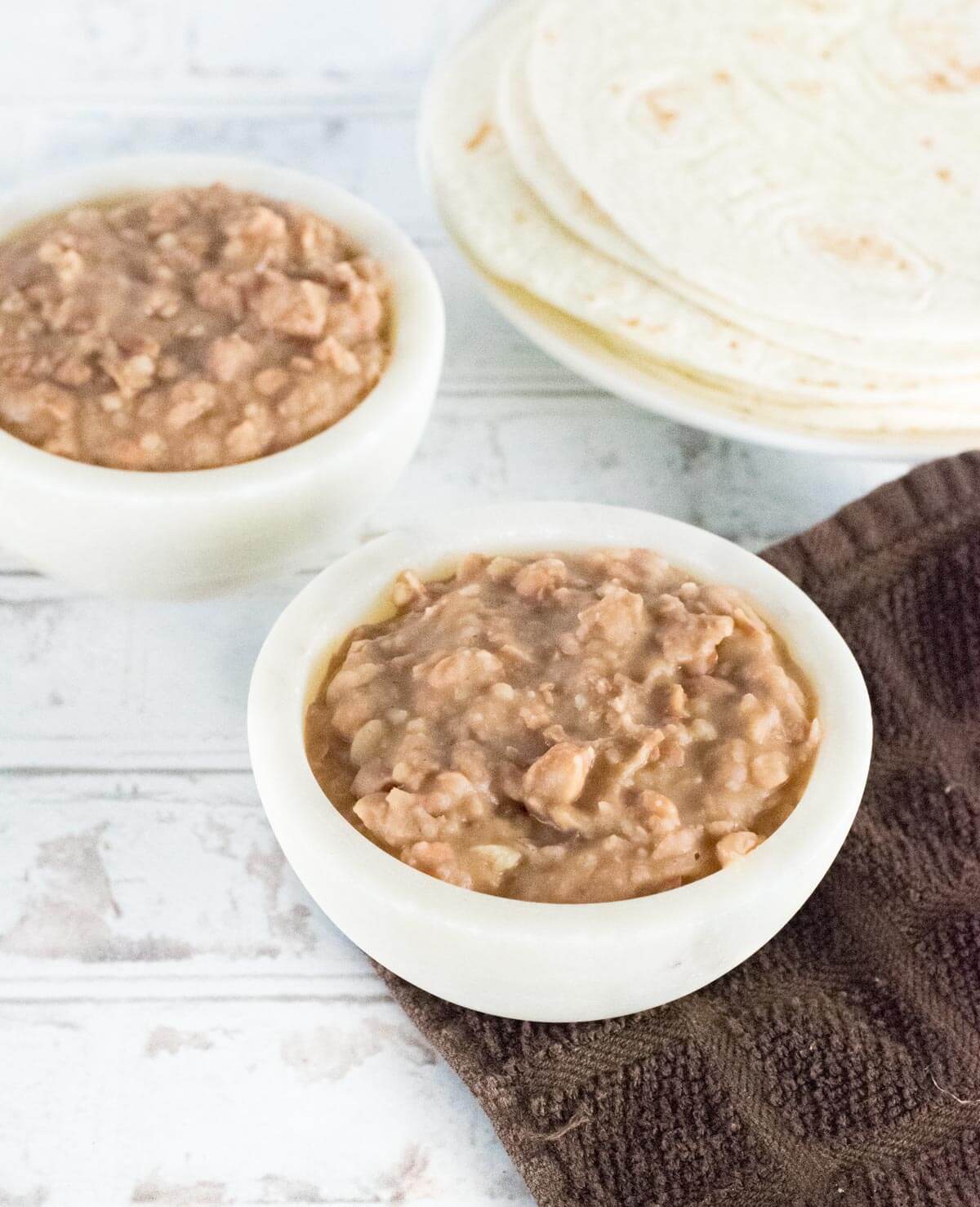 Homemade Refried Beans
Homemade refried beans aren't as complicated as many people fear. It is basically a simple process of cooking the beans, then mashing them with fat and seasonings. Contrary to what the name implies, there is no "frying" involved. Fat just gets heated in a saucepan and the beans are added and mashed together. That is easiest enough, isn't it? Honestly, it similar to making mashed potatoes, but easier.
Best Beans for Refried Beans
Pinto beans are the traditional choice for refried beans, however, black beans are also used. For authentic refried beans you will want to start with dry beans. However, you can make easy refried beans using canned beans as well. I'll show you how to make both.
How to use dry beans
The process for using dry beans is longer because the beans need to soak and be cooked until soft. Begin by soaking the beans in water overnight, then the following day you can place them in a pot of clean water and simmer them until soften. Check for doneness after an hour, but they can take longer depending on their size and age.
Tip: Soaking the beans can be skipped if you are pressed for time, just expect to simmer the beans an hour or two longer before they are softened.
You will want to reserve 1 cup of the cooking liquid to add to the refried beans as they cook. This creates the creamy consistency that you are after. Don't worry if it looks too thin, it will thicken as it simmers.
How to use canned beans
Canned beans are the easiest way to make homemade refried beans. They are already cooked so you can skip the soak and simmer. Begin by heating the fat and garlic in your saucepan then add the drained beans. You will want to reserve ⅓ cup of the bean liquid from the can to add with the beans.
Important notes: Canned beans typically already have salt added. Therefore you need to add less salt to your refried beans if using canned. Also, canned beans seem to retain more liquid, which is why you need to add less to the refried beans than when using dry beans.
Best fat for refried beans
Lard is the traditional fat to use with refried beans and the best choice for replicating the classic flavor. However, bacon fat can be substituted instead. Bacon fat will change the flavor of the beans, but it still tastes good. Also, bacon fat is salty, so you will likely want to add less salt to your refried beans.
How to customize this recipe
I like keeping my homemade refried beans pretty basic. However, you can jazz up the flavor by adding peppers, chorizo, or seasonings such as paprika, cumin, or Mexican oregano. As previously mentioned, you can also use black beans instead of pinto beans, such as what I call for in my Chorizo Nachos.
Homemade Refried Beans
Making your own homemade refried beans from scratch is easier than you think. This recipe shows you how to make them from dry or canned beans.
Print
Pin
Rate
Save
Saved
Ingredients
1

pound

dry pinto beans

(can substite canned beans, see note*)

1

onion

(quartered)

2

tablespoons

lard

(can substitute bacon grease)

1

clove

garlic

(minced)

1

teaspoon

kosher salt

fresh ground pepper to taste
Instructions
Place dry pinto beans in a large bowl and cover with 6 cups of water. Place in the refrigerator overnight to allow beans to soak.

Remove beans from soaking water, and discard water. Place beans in a pot and add fresh water to cover by a couple inches. Add quarted onion and simmer for at least an hour, or until the beans are completley soft.

Remove beans from the water, and reserve the cooking liquid.

Add lard and minced garlic to a separate saucepan and cook over medium low heat until the garlic is fragrant, but not burnt.

Add beans and 1 cup of the reserved cooking liquid. Mash beans until creamy and simmer until thickened to your ideal consistency. Approximately 5 minutes.

If beans get too thick, add more liquid. If they are still too thin, simmer them longer.
Notes
*30 ounces of canned beans can be substituted instead. Drain the beans and reserve the liquid. You will only need to add ~⅓ cup of the canned bean liquid to the bean mash, rather than the 1 cup of cooking liquid called for in this recipe.  You will also want to cut the salt in half since canned beans already contain salt.
IF YOU LIKED THIS RECIPE you will also love my Spanish Rice with Salsa. 
Nutritional Information
Calories:
118
kcal
|
Carbohydrates:
22
g
|
Protein:
7
g
|
Fat:
1
g
|
Saturated Fat:
1
g
|
Sodium:
390
mg
|
Potassium:
367
mg
|
Fiber:
7
g
|
Sugar:
1
g
|
Vitamin A:
247
IU
|
Vitamin C:
4
mg
|
Calcium:
50
mg
|
Iron:
2
mg