Let's take a look at how to make nacho cheese sauce with real cheese and just the right kick. This easy appetizer is ready in less than 10 minutes.
Sing with me: "Nacho nacho man! I gotta be a nacho man!" That was pretty much my mantra this week. I typically take pride in perfecting a recipe in a couple of tries, but this nacho cheese sauce required six attempts before I was finally happy with it.
First, I wasn't happy with the flavor. Then I wasn't happy with the cheese I was using. Finally, I aimed to create a creamier consistency. Tweaking all of these aspects of the sauce gave me a lot of insight into what makes a great nacho cheese sauce.
Homemade Nacho Cheese Sauce
In my opinion, a great homemade nacho cheese sauce is thick and creamy, has a subtle cheddar flavor, and just the right amount of kick from jalapeno. Let me stress, jalapeno is key! Just adding cayenne pepper alone may increase the spiciness, but it will be lacking that distinctive classic nacho cheese flavor.
How to Make Nacho Cheese Sauce
To impart the flavor of the jalapeno into the sauce I slice the jalapeno into quarters and stir it in with the butter as it melts. Fat does a really good job soaking up flavor so the jalapeno flavor ends up permeating every nook and cranny of the sauce.
It is important not to scrape out the membrane of the jalapeno, since that is where the heat is. The seeds can be removed, if desired, but honestly, I keep those in too.
The base of the sauce is formed by creating a roux. A roux is a mixture of fat and flour that is stirred together while being cooked. Half and half and milk is then added to the roux to form a sauce, and finally, cheese is melted into the mixture.
TIP: It is very important to slowly add the milk/half and half into the roux a little at a time while stirring. If liquid is added too quickly, your sauce won't incorporate properly and can get lumpy.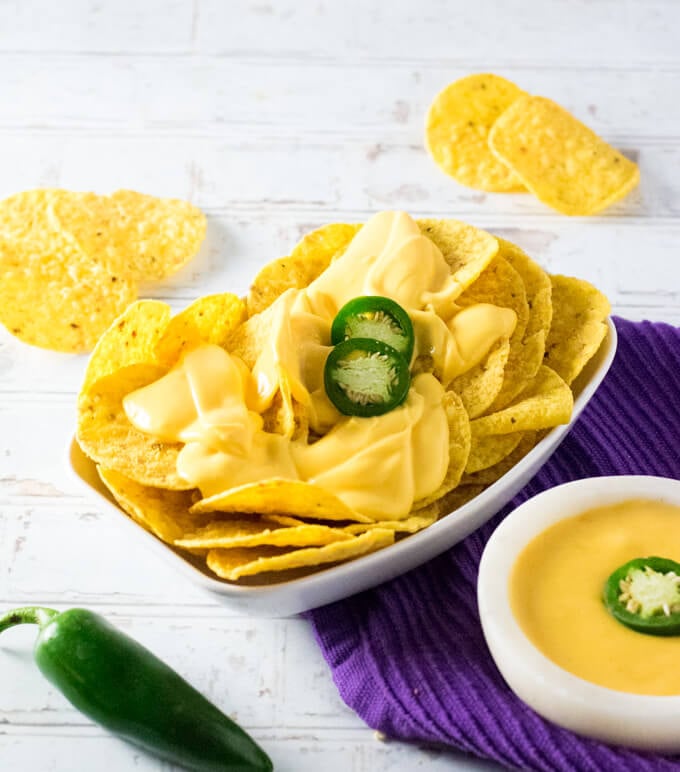 Why is My Cheese Sauce Grainy
Your nacho cheese sauce will get grainy if you are using the wrong cheese, or dairy product. You need fat in the milk to help the cheese incorporate into the sauce more evenly. Using a low-fat milk, such as 1% milk, made a remarkably worse cheese sauce than when I used half and half. Half and half not only allowed the cheese to melt into the sauce better, but it gave the final sauce a much silkier consistency. Using only half and half would make the sauce too thick, which is why I also use a half cup of milk to thin it out.
I also tested this nacho cheese recipe using only mild/sharp cheddar cheese. Sharp cheddar was the clear flavor winner, but it does not melt into the sauce as well. Instead, you should use a mildly flavored easy melting cheese like Monterey Jack to form the base of the cheese sauce, then melt in the sharp Cheddar for flavor. You will get the benefit of the creamy sauce base from the Jack cheese, and the flavor boost from cheddar... the best of both worlds!
Tip: It is best to shred your own cheese with a cheese grater (affiliate link) when making sauces, as pre-shredded cheese often are coated with anti-caking agents which negatively impacts sauces.
How to Make Nacho Cheese Sauce
Let's take a look at how to make nacho cheese sauce with real cheese and just the right kick. This easy appetizer is ready in less than 10 minutes.
Print
Pin
Rate
Save
Saved
Ingredients
1

jalapeno

2

tablespoon

butter

2

tablespoon

flour

1

cup

half and half

½

cup

milk

(plus more as needed)

4

ounces

Monterey Jack cheese

4

ounces

sharp Cheddar cheese

⅛

teaspoon

salt

¼

teaspoon

cayenne pepper
Instructions
Remove the stem end of the jalapeno and slice lengthwise into quarters.

Melt butter in a saucepan on medium-low heat and add jalapeno quarters, salt, and pepper. Stir the jalapeno and seasonings in the butter as it melts to infuse it with the flavor of the pepper and spices.

Sprinkle in flour and stir to make a roux. Cook the flour mixture for 2-3 minutes while continuing to stir, to cook out the raw flour flavor.

Stir in half and half by adding a few splashes at a time, stirring to fully incorporate before more liquid is added. Repeat with milk as well.

Heat sauce mixture to almost boiling, then turn heat to low and beginning adding Monterey Jack cheese a handful at a time, stirring to melt into the sauce before more cheese is added. Once Monterey Jack cheese has been added, repeat the process with Cheddar cheese.

Once cheese has been added to the sauce, check for proper thickness. Add a tablespoon of milk at a time if you need to thin the sauce out. If the sauce gets too thin, you can heat it longer to thicken up. Jalapeno peppers can be removed for serving.
Nutritional Information
Calories:
191
kcal
|
Carbohydrates:
4
g
|
Protein:
9
g
|
Fat:
16
g
|
Saturated Fat:
10
g
|
Cholesterol:
48
mg
|
Sodium:
244
mg
|
Potassium:
85
mg
|
Fiber:
1
g
|
Sugar:
1
g
|
Vitamin A:
515
IU
|
Vitamin C:
2.3
mg
|
Calcium:
257
mg
|
Iron:
0.3
mg