This cold crab dip is effortless to prepare and loaded with real crab meat. This easy dip is the perfect party appetizer.
As a food blogger, I am supposed to have some long elaborate story that connects me to this recipe. Bonus points if it mentions the cool sea breeze blowing through my hair. Well, guess what? I don't have any fancy story for you, and I don't even enough hair for any ocean breeze to gently rustle through as I wax nostalgically about childhood summers spent in Nantucket or whatever people wax nostalgically about on a beach.
And you know what else? I also know you didn't come here for a pointless story, you came here to learn about this cold crab dip, so let's get to it!
How to Make Crab Dip
You don't have to live by the sea to enjoy crab dip made from real crabs. You can find canned lump crab meat in your grocery store that is perfect for makings party dips, near the canned tuna. The flavor of cold crab dip with real crab meat is noticeably better than using imitation crab. However, in a pinch, you can substitute imitation crab if you desire.
Crab dip typically uses a cream cheese base, while some mayo is added in to thin it out. This makes it easier for dipping. Additional ingredients such as lemon, green onion, and seasonings are added for flavor.
Crab Dip with Fresh Crab
You can make this crab dip with fresh crab meat as well if you prefer. To equal 12 ounces of canned crab meat called for in this recipe, you will need 9 ounces of cooked fresh crab. The liquid drained from the canned crab meat accounts for the 3-ounce difference.
Cold Crab Dip
Crab dip can be enjoyed hot or cold. If I am making a hot crab dip I typically add cheese to it for all of the melty goodness it provides. However, this crab dip recipe is ideal for serving cold, or at room temperature. Since this is a dairy-based dip, I do not recommend letting it sit out at a party for longer than 4 hours, unless you can keep it chilled. Using an iced serving dish is a perfect way to extend the safety of the dip during longer parties (affiliate link).
If you wish to serve this dip hot, it can be microwaved until heated through.
Cold Crab Dip Variations
My cold crab dip is a fantastic basic recipe that is perfect for adding your own personality to. Dress it up your way by adding cajun seasonings, Old Bay seasoning, cheese, smoked paprika, or whatever flavor fits your fancy.
What to Serve with Crab Dip
The choices for what to serve with your cold crab dip are only limited by your imagination. Chips and crackers are always safe choices, pita chips, in particular, are fantastic. Otherwise, a toasted baguette can be used to create a more refined appetizer. One of my favorite things for any dip is crispy baked potato skins!
Can I Make Crab Dip in Advance?
Cold crab dip is the perfect appetizer to make in advance because it actually tastes better when the flavors are allowed to meld together in the refrigerator overnight. Can you eat the crab dip right away? Yes, you certainly can, but the flavor will be more one dimensional.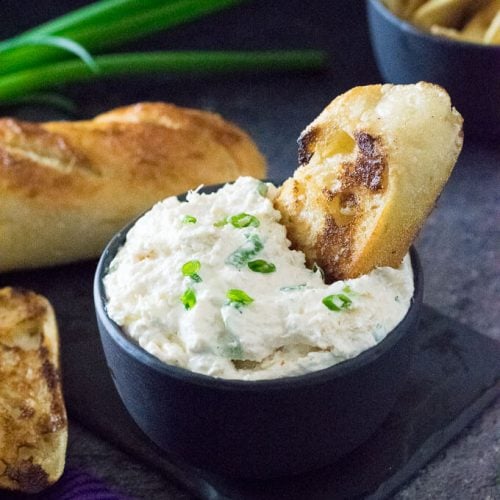 Cold Crab Dip
This cold crab dip is effortless to prepare and loaded with real crab meat. This easy dip is the perfect party appetizer.
Print
Pin
Rate
Save
Saved
Ingredients
8

ounces

Cream Cheese

(softened)

3

tablespoons

Mayo

2,

6 ounce cans

Fancy Lump Crab Meat

(drained)

2

Green Onions

(chopped)

1

teaspoon

Lemon Juice

1

teaspoon

Worcestershire sauce

¼

teaspoon

Garlic Powder

¼

teaspoon

ground Black Pepper

1

dash Franks Red Hot Sauce

(to taste)

1

dash of Salt
Instructions
Add all ingredients into a bowl and mix to combine.

Taste for salt and adjust as needed.

Crab dip can be enjoyed right away, but the flavor is best if allowed to meld in the refrigerator overnight.
Nutritional Information
Calories:
136
kcal
|
Carbohydrates:
1
g
|
Protein:
7
g
|
Fat:
11
g
|
Saturated Fat:
4
g
|
Cholesterol:
41
mg
|
Sodium:
390
mg
|
Potassium:
112
mg
|
Vitamin A:
335
IU
|
Vitamin C:
3.1
mg
|
Calcium:
40
mg
|
Iron:
0.4
mg
If you enjoyed reading my Cold Crab Dip recipe then you should probably like me on Facebook and follow me on Pinterest too. That's what I would do at least, because if you don't get to know me but you still use my recipe it is kind of like taking candy from a stranger, and your mom taught you not to do that. Don't disobey your mom, subscribe to Fox Valley Foodie today.