Refrigerator dill pickles are crisp and tangy and much easier to make than traditional canning. You can even reuse the brine!
My young kids are obsessed with pickles. So much so that we can get them to eat plain cucumbers by calling them "pre-pickles". I like to make these homemade refrigerator pickles for them as a special treat. Since they are never heated for preservation they have way more flavor than store-bought pickles.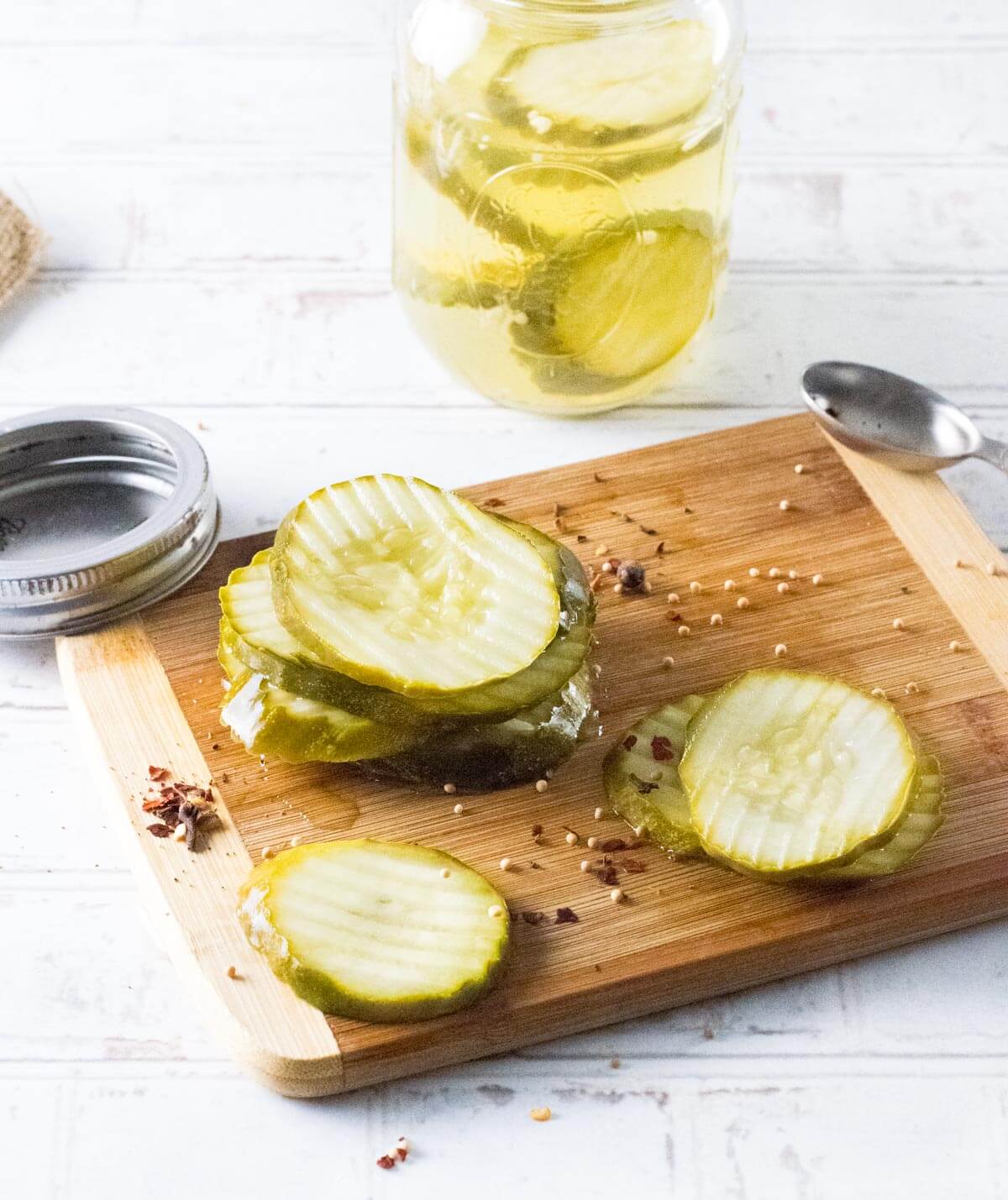 Refrigerator Dill Pickles
Refrigerator dill pickles are the fresh alternative to storebought pickles. They aren't cooked for preservation, which gives them a crisp texture and better crunch than pickles that have gone through the canning process. The only thing needed to make great homemade pickles is a few simple ingredients and patience.
Best Cucumbers for Pickles
As their name implies, pickling cucumbers are the kind of cucumber for making pickles. During the summertime, you will find loads of pickling cucumbers at farmer markets and better grocery stores. These fresh cucumbers are shorter and typically have thinner exterior skin, making them better suited to soak up flavorful brines.
However, if your local stores only have traditional slicing cucumbers, don't fret. Regular cucumbers still make great pickles. However, I always recommend slicing these cucumbers when pickling so the brine doesn't have issues penetrating the skin. However, if you can find English cucumbers those can be a good compromise between slicers and pickling cucumbers.
Equipment and Ingredients Needed for Pickling Cucumbers
The ingredients needed for this making refrigerator dill pickles are cucumbers, fresh dill, garlic cloves, salt, and pickling spice. Personally, I recommend using my homemade pickling spice recipe, but you can use storebought pickling spice from the grocery store as well.
I like using my personal pickling spice recipe because it gives me complete control over the ingredients, so I can always add more or less of what I enjoy to create a more flavorful brine. My pickling spice contains a blend of coriander seed, whole black peppercorns, mustard seeds, allspice berries, bay leaves, cinnamon, cloves, red pepper flakes, and ginger. It creates an incredibly lively flavor that I use in many dishes!
You will need a medium saucepan to make the brine, and then pint jars to store your pickles. You can use any airtight storage container instead, but I like glass canning jars because they don't soak in flavor/odor of the brine.
How to make refrigerator dill pickles
These quick pickles are simple to make. The brine needs to be cooked so the salt can dissolve in the vinegar mixture, then it is cooled to at least room temperature to avoid cooking the cucumbers.
You can slice your pickles into chips, as shown in my photos, create pickle spears, or leave them whole. However, you enjoy them best will work. When the brine has cooled add pickles, garlic, dill, and pickling spice to pint jars and pour in the cooled brine to fill each mason jar.
The jars of pickles need to sit in your refrigerator at least a week prior to eating to allow the flavors to fully develop. However, they can sit for a long time if desired. Since this is not a canning recipe, the jars need to be stored in the refrigerator.
Tip: When your delicious pickles are gone, you can slice up more vegetables and add them to the pickling brine to create more pickles. Or you can use the brine in homemade Bloody Marys!
How to customize this recipe
I like my homemade dill pickles to have the earthy background flavor pickling spice and garlic lends, but you can omit both of these if you would like, or conversely, increase their quantities. Feel free to add a spicy pepper as well to liven up these crunchy pickles even more, specifically I would recommend something with a dry heat like a Thai pepper or serrano to create spicy dill pickles.
How to use refrigerator dill pickles
Use these like you would use any store-bought dill pickle. They are a phenomenal topping for gourmet burgers, can be used in my Cheddar Dill Pickle Dip, topping homemade sloppy joes, added to my Dill Pickle Pasta Salad, or deep-fried to create gourmet fried pickles.
More Pickling Recipes
Refrigerator Dill Pickles
Refrigerator dill pickles are crisp and tangy and much easier to make than traditional canning. You can even reuse the brine!
Print
Pin
Rate
Save
Saved
Ingredients
16

ounces

pickling cucumbers

(sliced ¼" thick)

2

cloves

fresh garlic

(minced)

2

sprigs

fresh dill

1

teaspoon

pickling spice
Brine
2

cups

water

1

cup

white vinegar

4

teaspoons

kosher salt

2

pint jars
Instructions
Prepare the brine by simmering water, vinegar, and salt in a medium saucepan until the salt has dissolved. Remove from heat and store in the refrigerator until the brine has cooled.

Using two pint jars, add 1 minced clove of garlic, 1 sprig of dill, ½ teaspoon pickling spice, and 8 ounces of sliced cucumbers to each jar. Pour brine into each jar until it reaches ½" below the rim.

Seal jars tightly and store in the refrigerator for at least a week prior to enjoying.
Notes
Traditional cucumbers can be used if pickling cucumbers cannot be found.
Customize this refrigerator pickle recipe by added more or less of the ingredients you prefer. This can be made spicy with the addition of hot sauce or spicy peppers.
IF YOU LIKED THIS RECIPE check out my German Cucumber Salad recipe as well!
Nutritional Information
Calories:
14
kcal
|
Carbohydrates:
2
g
|
Protein:
1
g
|
Fat:
1
g
|
Saturated Fat:
1
g
|
Sodium:
1168
mg
|
Potassium:
77
mg
|
Fiber:
1
g
|
Sugar:
1
g
|
Vitamin A:
41
IU
|
Vitamin C:
2
mg
|
Calcium:
15
mg
|
Iron:
1
mg