To truly be a master of all things breakfast, you need to know how to make an omelet. Not only simple to make, they are the perfect blank canvass to unleash your culinary creativity!
Ladies and gentlemen, I am having a moral dilemma. You see, I absolutely hate blog posts with a million process photos that you have to scroll through before you get to the recipe. I REALLY do. I would rather burn down this website before incorporating them into every post. I have always strived to limit my posts to no more than 2 or 3 photos, and that is primarily done just for visual interest to break up the paragraphs of text. However, I do not believe I can adequately describe how to make an omelet without visual cues. So for this one post, I will humbly accept defeat and submit to you a photographic step by step guide.
Please let me know in the comments below, how do you feel about blog posts showing step by step process shots?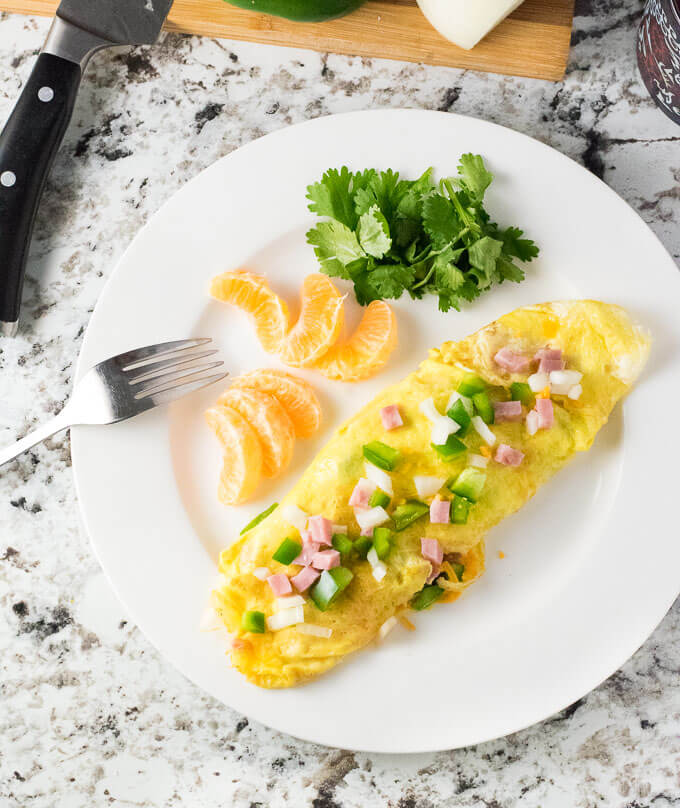 Omelet Fillings
A classic omelet by itself is a tenderly thin blanket of cooked eggs that is great to eat on its own, but it is even better suited for customizing with your favorite flavors. A standard sized 2 egg omelet will fit ¼ - ⅓ cup of your choice of fillings. These can be sprinkled right into the omelet as it cooks, however due to the quick cooking time of omelets, you will want to pre-saute any fillings that need to be cooked prior to serving.
Fillings can include any of your favorite cheeses, produce, and meats. The classic combination I used in these photos is known as a "Denver Omelet" featuring diced ham, onions, peppers, and cheddar cheese.
Should I add liquid to an omelet?
Some omelet recipes call for the addition of milk or water. This is unnecessary. An omelet made with just eggs will cook up to be exceptionally tender on its own. Making an omelet with milk or water can make an omelet fluffier, which isn't always desired. Save adding liquid to making light and fluffy scrambled eggs.
Best Omelet Pan
You will want a quality non-stick skillet to make omelets. Nonstick is important because you do not want the eggs sticking to the pan. Personally, I think higher end skillets like Calphalon Unison and All-Clad are worth the money because not only are they exceptionally slick, they can be cleaned with just the quick wipe of a paper towel.
How to Make an Omelet
Making an omelet is a fairly quick and easy process, but the help of some visual aids makes it easier to understand. I make my omelettes very similarly to Julia Child. Not surprisingly, since I learned how to make them many years ago from [easyazon_link identifier="0307593525" locale="US" tag="foxvalfoo-20"]Mastering the Art of French Cooking[/easyazon_link].
There are a few important steps to insuring success. First of all, you want a hot pan, but not so hot the butter is browned and burning. This will also cause your omelet to take on an unappetizing brown appearance. Instead, let the butter melt in a pan set over high heat. When it begins to foam lively, as shown above, you are ready to add the beaten eggs.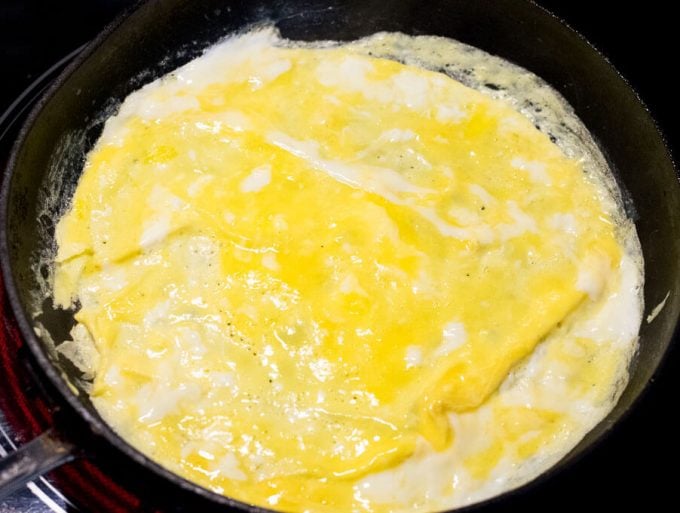 The next trick is to let the bottom of the eggs set in the pan, then move one edge of the omelet away from the side of the pan with a spatula. The reason for doing this is to help the omelet cook without it needing to be flipped. Simply tilting the pan will allow any excess uncooked egg pooling on the surface to fill the void on the skillet's surface and finish cooking with the rest of the omelet.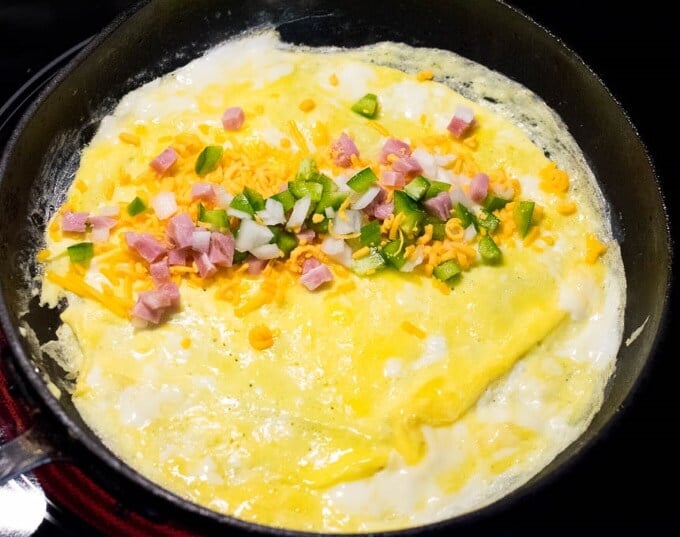 At this point you are ready to add any fillings. It is best to add them in a straight line along the top third of the omelet. This will ensure the omelet folds over them nicely when you begin to roll the omelet.
There are two ways you can roll the omelet. The easy way is simply to use a spatula to fold it over. However, once you get more confident in your cooking skills it is easiest to tilt the pan forward and give it a quick jerk back. This jerking motion will make the omelet jump off the side of the skillet and roll partially over on itself. Doing it one more time gives you a completely rolled omelet that is ready to be enjoyed!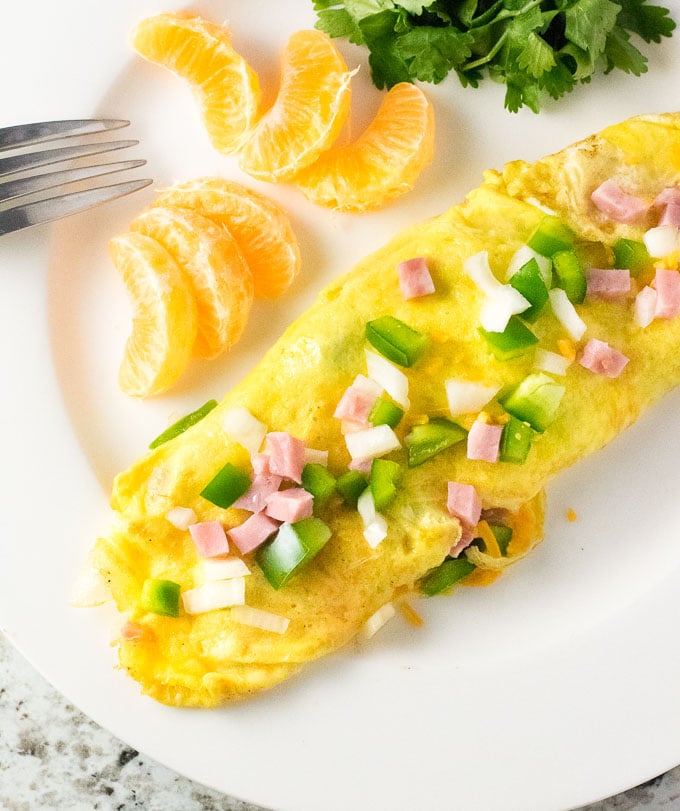 How to Make an Omelet
To truly be a master of all things breakfast, you need to know how to make an omelet. Not only simple to make, they are the perfect blank canvass to unleash your culinary creativity!
Print
Pin
Rate
Save
Saved
Ingredients
2

eggs

1

tablespoon

butter

1

pinch

salt

1

dash

pepper

¼

cup

fillings of your choice
Instructions
Add eggs to a bowl with salt and pepper and beat with a fork until blended.


Heat non-stick skillet over high heat and add butter. Move the butter around to evenly coat the pan.


When butter is foaming (but not yet browning) pour the beaten eggs into the pan and tilt the pan to ensure eggs are evenly spread out.


After a few seconds, when the bottom of the omelet begins to set, use a spatula to move one edge of the omelet away from the side of the pan and then tilt the pan to allow any uncooked egg to fill the void.


Add any desired toppings in a line across the top third of the omelet.


Ensure the omelet is able to freely slide in the pan, use a spatula to loosen if needed. Then tilt the pan away from you and give it a quick jerk to fold the omelet partially over on itself. This can also be done with a spatula if desired.


Repeat the previous step to fully roll the omelet over itself. All filling should now be inside the omelet.


Gently pour omelet out onto a plate and serve.

If you enjoyed reading about How to Make an Omelet then you should probably like me on Facebook and follow me on Pinterest too. That's what I would do at least, because if you don't get to know me but you still use my recipe it is kind of like taking candy from a stranger, and your mom taught you not to do that. Don't disobey your mom, subscribe to Fox Valley Foodie today.