Roasted ham and potatoes is a mouthwatering melding of flavors as the basting ham juices pools together in a hot sticky potato bath of yumminess!
Does anything smell better than a house with a ham in the oven? I am pretty sure when I die and go up to heaven I will be greeted at the Pearly Gates by the smell of a roasted ham and potatoes. As we all know, God is a Foodie after all.
The great thing about ham is the lack of effort required to roast it well. Seriously, you have to be a pretty bad cook to screw up ham. Ham is already pre-cooked; you are just slowly bringing it back up to temperature. If you can't do that I suspect your gene pool may have needed a lifeguard.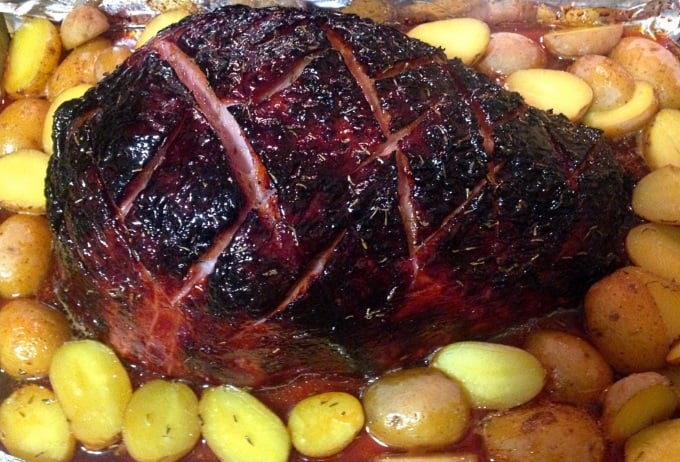 If you are apprehensive about roasting a ham, don't fret.  I have a few tips for you:
Take the netting off.  It may seem like common sense, but it isn't.  The netting should be removed from the ham prior to roasting. It is not the end of the world if you forgot it, but it will have a tendency to rip off the bark of the skin when you remove it after cooking.

Score the meat if desired.  Scoring meat is nothing more than just cutting slashes in the surface of the fat. Try not to cut into the meat.  This allows room for the exterior to expand during cooking.  It also looks nice when the roasting is done (see my picture above). I've read a million different explanations why scoring is important, but quite honestly I think most of them are bogus. You won't ruin the meat if you decide not to score it, and I doubt you will notice a difference in flavor.

Don't purchase a spiral cut ham.  Spiral cut hams dry out much easier than regular hams because the pre-cut slices of meat provides infinitely more surface area for juice to escape. Keep the ham whole until you are done cooking and then cut it.

Roast low and slow.   As long as you are baking at a lower temperature like 325 degrees, the ham is not going to be ruined.  The lower temperature allows the ham to slowly get up to temperature while the heat has time to gently penetrate the interior of the meat. If you roast at a high temperature to speed things up you will dry out the exterior of the meat before the heat has time to reach the full interior.
I typically don't get overly concerned with roasted ham recipes. 99% of ham recipes only flavor the exterior of the ham with glazes or seasonings, resulting in every interior slice of ham tasting the same regardless. However, adding a glaze to your ham is great for roasting ham and potatoes in the same pan!
Laying potatoes around the base of your ham and then occasionally basting your ham will result in the glaze and ham juices pooling together in a hot sticky potato bath of yumminess! As your ham slowly bakes the potatoes will soak in the pooling juices; gently boiling, roasting, and frying. By the time your ham is done your potatoes will be heavenly!
Don't use russet potatoes for this recipe. You need red or golden potatoes. They hold up better to longer cooking times without falling apart. The thyme, honey and cider vinegar in this recipe will give these potatoes exceptional flavor!
Roasted Potatoes and Ham
This ham glaze will serve not only to make a delicious ham but it will also results in some of the most flavorful potatoes you've ever had the pleasure of eating!
Print
Pin
Rate
Save
Saved
Ingredients
1

ham

1 ½

lbs

red or golden potatoes

Salt

For glaze:

3

tablespoon

melted butter

2

tablespoon

chopped fresh thyme

¼

cup

cider vinegar

¼

cup

honey

1

tablespoon

brown sugar

1

teaspoon

Worcestershire sauce
Instructions
Score the ham by cutting X's in the fat. This allows it to expand while cooking without cracking.

Apply ⅓ of the glaze to the ham.

Preheat oven to 325 and roast fatty side up, occasionally basting with remaining glaze

You can place tinfoil over ham if you don't like the skin blackening. Personally, I like it the deliciously crispy black skin.

Place 1 ½ lbs chopped red or golden potatoes around the base of the ham.

Roast until the internal temperature reaches 140 degrees.

Place roasted potatoes in separate serving dish and sprinkle with salt.
Nutritional Information
If you enjoyed reading my Roasted Ham and Potatoes recipe then you should probably like me on Facebook and follow me on Pinterest too. That's what I would do at least, because if you don't get to know me but you still use my recipe it is kind of like taking candy from a stranger, and your mom taught you not to do that. Don't disobey your mom, subscribe to Fox Valley Foodie today.