Avocado Tuna Salad is not only healthier than traditional tuna salad, it tastes better too! Avocado provides all of the creaminess with no mayo!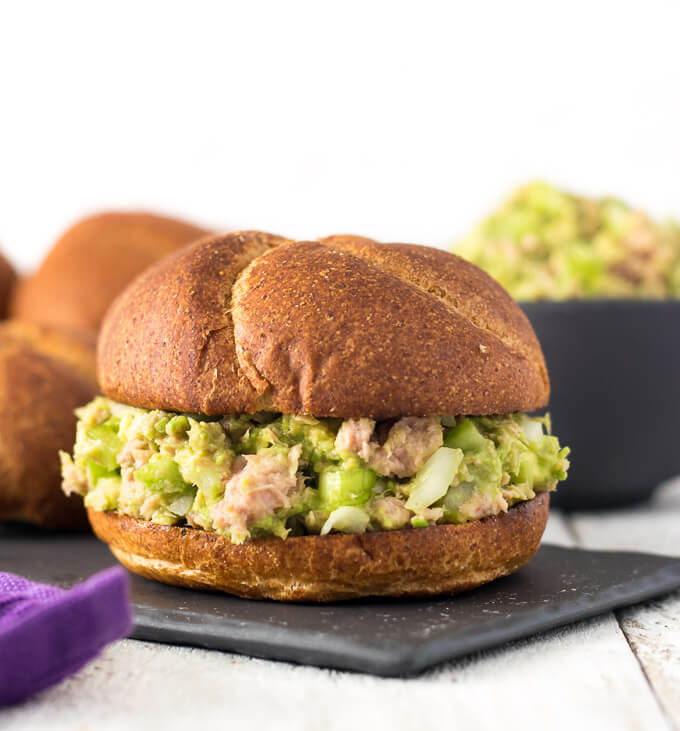 Blogging is really a great career and one I highly recommend for anyone looking to interact with new and interesting people tech support specialists. You will wake up one morning and find for no apparent reason your juju with the internet gods has run out and something that has worked fine on your website forever now randomly is broken.
Instead of working on your recipe for Avocado Tuna Salad, you spend an hour and a half on the phone praying with your ordained tech support specialist, repeatedly waiting on hold while he runs outside to do rain dances on your behalf.
In the end he will offer you an explanation of what broke and how they fixed it, but since they only speak in tongues you won't comprehend any of it. You just mumble, "May the spirit be with you" and get back to your recipe.
So yeah, that was yesterday. Bleh...
However, I'd much rather talk about this mayo-free Avocado Tuna Salad!
I'll let you in on a little secret. I don't really like tuna.
It's sad but true. However, I love this healthy Avocado Tuna Salad! The creamy avocado really adds great texture and flavor, and I love the crunch of the celery and onions in each bite. Can I taste the tuna? Yes. But you know what? I actually enjoy it when it swims among all those other great flavors!
Get it? "Swims"! I made a tuna joke.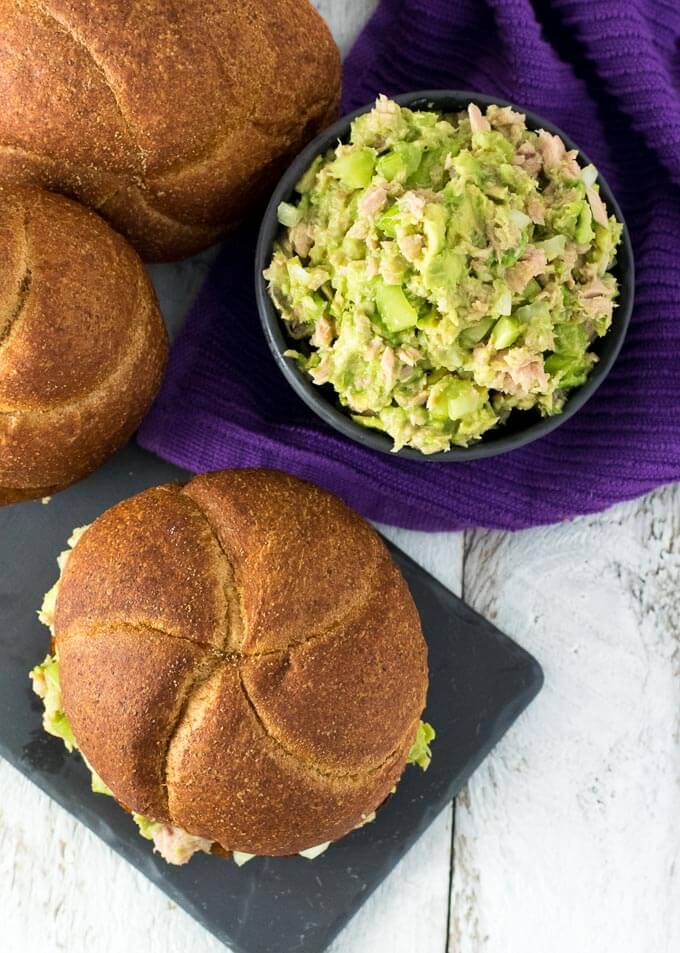 Avocado is an excellent substitution for mayo in this recipe. Not only is avocado infinitely healthier, it adds quite a bit more flavor. This is one of the rare instances were healthier food actually tastes better! The only drawback to using avocado is that it doesn't store well. I recommend eating your Avocado Tuna Salad sandwiches shortly after they are made. The lemon juice will hold off oxidation for a while, but don't expect to store these overnight.
I used these pouch tuna packets because I think they have better flavor. However canned tuna works just as well.
The above links are affiliate links. Any Amazon purchases made through these links help support FoxValleyFoodie.com at no additional cost to you.
Print Recipe
Avocado Tuna Salad
Avocado Tuna Salad is not only healthier than traditional tuna salad, it tastes better too! Avocado provides all of the creaminess with no mayo!
Ingredients
12

oz

Tuna in can or pouch,

water/oil drained

2

large

Avocados,

pit and skin removed

1

tbsp

Lemon juice

2

tbsp

Celery,

small chop

2

tbsp

Onion,

minced

1

tbsp

chopped Parsley

1

tsp

Dijon mustard
Instructions
Add all ingredients to a bowl and mix to combine.

Serve on toast, with cracker, or use for a sandwich.
Loved this recipe?

Be sure to rate it and share you thoughts below!
*Calories listed are a vague estimate and accuracy should not be assumed.
This mayo free Avocado Tuna Salad recipe was originally published on this website November 6, 2016.
If you enjoyed my Avocado Tuna Salad recipe then you should probably like me on Facebook and follow me on Pinterest too. That's what I would do at least, because if you don't get to know me but you still use my recipe it is kind of like taking candy from a stranger, and your mom taught you not to do that. Don't disobey your mom, subscribe to Fox Valley Foodie today.