These flavorful sweet potato hash browns boast a crispy exterior with enticingly tender shreds of sweet potatoes hiding underneath.
Some recipes are fairly straightforward. Other recipes require a trick, of sorts, in order to craft successfully. Don't be intimidated though, sweet potato hash browns are simple to make. However, there is a simple trick many other recipes miss that completely makes the differences between perfect patties on your plate or a random pile of half-charred potato shreds. Let's take a look at how to rock this recipe…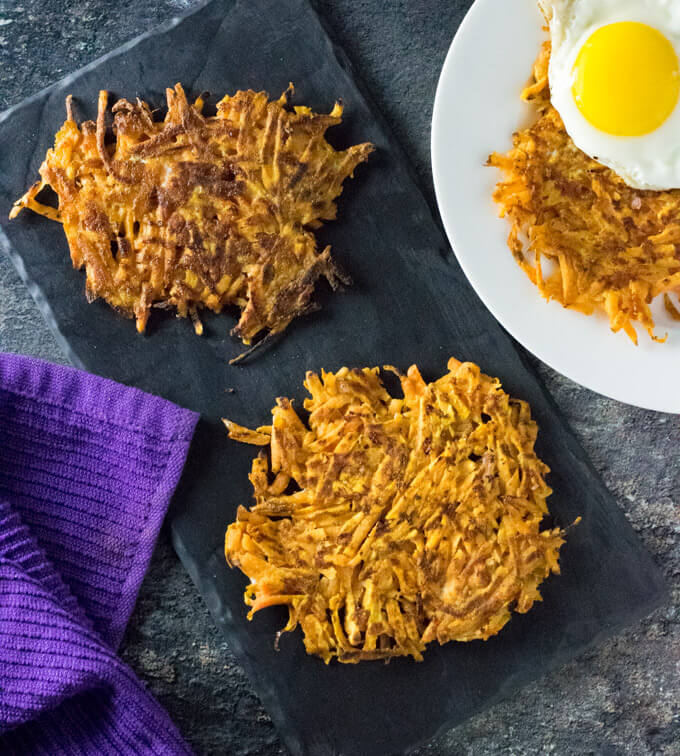 Sweet Potato Hash Browns
Sweet potato hash browns are just as easy to make as traditional hash browns, with just a couple minor adjustments. They cook up incredibly flavorful, and are perfect for serving with breakfast, brunch, or everyone's favorite, 'brinner'. Personally, my favorite way to enjoy them is simply with an egg served over the top. Egg yolk always makes the best condiment.
How to Make Hash Browns
Typically when making homemade hash browns, you shred everything, rinse off the starch, squeeze out the liquid, and fry them in a skillet until crispy. However, sweet potato hash browns aren't as starchy as russet potatoes, nor do they hold as much liquid.
The other problem you will run into when trying to make sweet potato hash browns like traditional hash browns is because they aren't as starchy or water-logged, they will refuse to hold together. You can press them into a patty, but each shred remains completely independent and shakes loose at the slightest interruption.
How to Make Sweet Potato Hash Browns
So what is the solution to making great sweet potato hash browns? Simple, you need to add a binder. Mixing an egg with the sweet potato shreds helps hold everything together while cooking, and ensures it keeps its patty form all of the ways to your plate. This is the trick that will make or break your sweet potato hash browns!
One note on my recipe: I call for using 1/4 cup – 1/3 cup of shredded sweet potatoes per hash brown. This is because it makes the patties similar in size to an average spatula (affiliate link). You are welcome to make them bigger or smaller as desired, the cooking time should remain the same as long as they are pressed flat.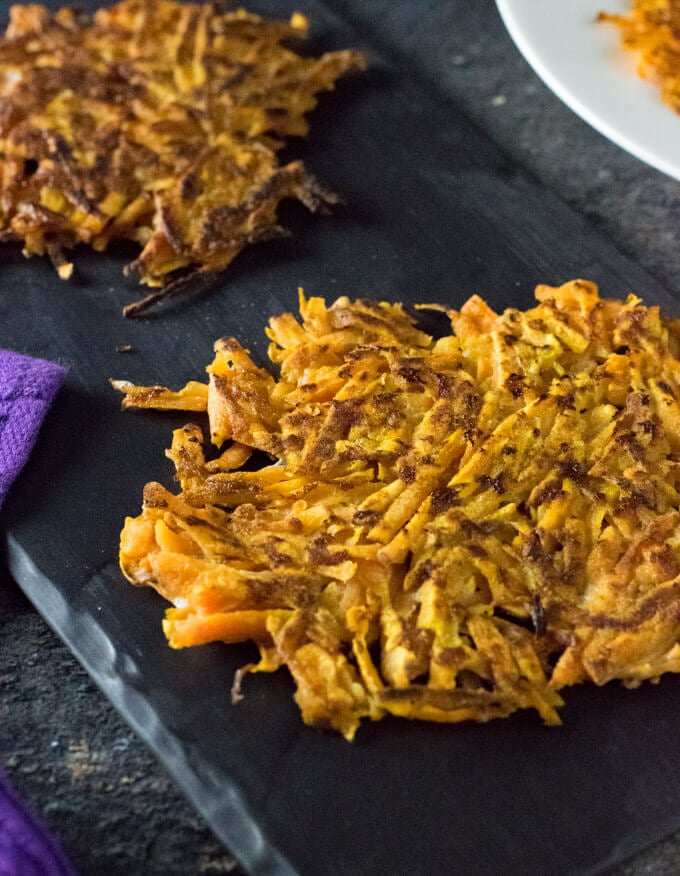 How to Customize this Sweet Potato Hash Browns Recipe
My sweet potato hash brown recipe is a fairly basic one, which allows you a lot of room for customization. Some possible adjustments you can consider making include grating a bit of shallot or onions to mix with the sweet potatoes (I'd recommend 1/4 cup or less), or add additional seasonings. Paprika, garlic, and onion powder would be my seasonings of choice. A dusting of sweet paprika (affiliate link), in particular, would be a great addition.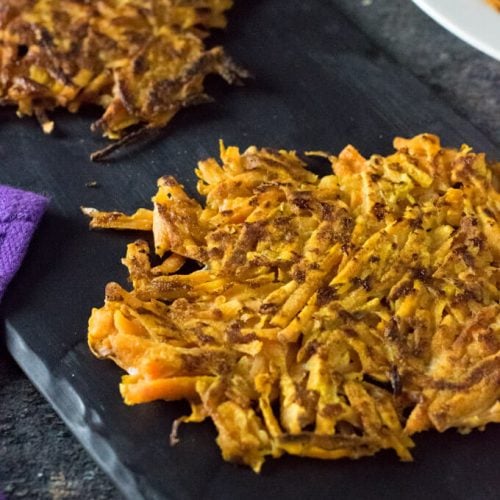 Print Recipe
Sweet Potato Hash Browns
These flavorful sweet potato hash browns have a crispy exterior with enticingly tender shreds of sweet potatoes hiding underneath.

Ingredients
1

large

sweet potato

1

egg

Salt

Pepper

1

tablespoon

cooking oil

(divided, and as needed)
Instructions
Shred sweet potato and place in a medium-sized bowl. Add egg, salt, and pepper to taste, and mix to combine.

Allow skillet to come to temperature over medium-low heat. Add approximately 1 teaspoon of cooking oil, and then 1/4 – 1/3 cup of shredded sweet potatoes into the skillet. Press flat into a patty, and cook approximately 3 minutes per side, or until exterior begins to brown. Add additional oil as needed, and repeat until all hash browns have been cooked.

Remove from the skillet and serve. Sweet potato hash browns can be kept warm in a 200-degree oven, if needed.
Notes
Tip: Sweet potatoes vary in size, You can drain off any excess egg that pools in the bottom of your bowl, or add additional sweet potato shreds.
IF YOU LIKED THIS RECIPE check out How to Roast Sweet Potatoes as well!
Loved this recipe?

Be sure to rate it and share you thoughts below!
*Calories listed are a vague estimate and accuracy should not be assumed.
Can you do me a favor? If you enjoyed my post would you mind sharing it with your friends? You can see more of my recipes by liking me on Facebook and follow me on Pinterest too. Otherwise, stay up to date by getting each new post sent directly to your inbox by subscribing today.