If you are looking for a new way to enjoy BBQ, try these pulled pork stuffed sweet potatoes with BBQ sauce and pecans! The sweet creamy taste of sweet potato is a nice compliment to the tender pork, crunchy pecans, and BBQ sauce!
When I make pulled pork I typically whip up a big batch of it all at once since it is just as much effort to make one pound of pulled pork as it is to make four pounds. I also do this because pulled pork is so versatile and easily reheated, I can re-purpose it into many meals throughout the week!
This week alone I've enjoyed delectably sloppy pulled pork sandwiches, BBQ spaghetti with pulled pork, and these tantalizing pulled pork stuffed sweet potatoes! It is such a easy and flavorful way to enjoy pulled pork because the only extra thing you need to cook are the sweet potatoes! Plus, sweet potatoes are another one of those foods I can never have too many recipes for!
Needed Ingredients
Pulled pork - You can buy it premade from the grocery store, smoke your own, or make pulled pork in the slow cooker.
Sweet potatoes - I like the smaller sweet potatoes for this, but any size will work.
Pecans - You could substitute walnuts instead if you wish.
BBQ Sauce - Your favorite bottle will work fine.
How to Make them
First, you need to bake the sweet potatoes. I recommend piercing them with a fork to allow steam to escape then baking them in a 400 degree oven for 1 hour. Be sure to use a baking pan so their sugars don't drip onto the floor of your oven.
As the potatoes finish baking you will want to warm your pulled pork. Then remove the sweet potatoes and spilt them open by cutting down their center lengthwise, without slicing all of the way through.
Sprinkle the potatoes with salt and pepper, then load with pulled pork and pecans. This can be served right away!
Tips and Tricks
For even more flavor, sprinkle a little BBQ dry rub into the potatoes with the salt and pepper.
Add your favorite hot sauce to kick this meal up a notch.
Make this meal with BBQ chicken, or brisket instead.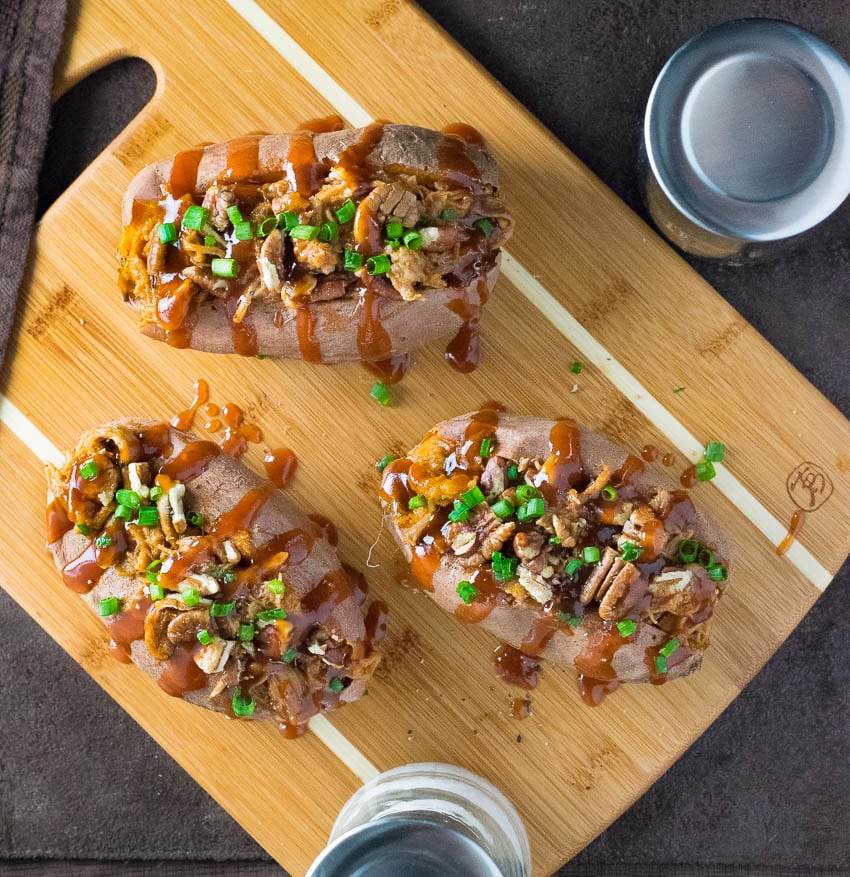 FAQs
Do you have to peel sweet potatoes before baking?
No, you do not have to peel sweet potatoes prior to baking. The skin makes them easier to handle and helps the interior bake evenly, so I personally prefer to keep the skin on.
Can you bake a sweet potato too long?
Each sweet potato will vary in how long it takes to bake them, depending on their size. The longer it bakes, the more tender the interior will get. It will be hard to over-bake them unless you completely forget about them in the oven.
More BBQ Inspired Recipes

Pulled Pork Stuffed Sweet Potatoes
If you are looking for a new way to enjoy BBQ, try this BBQ Pulled Pork Stuffed Sweet Potato with Pecans! The sweet creamy taste of sweet potato is a nice compliment to the tender pork, crunchy pecans, and BBQ sauce!
Print
Pin
Rate
Save
Saved
Ingredients
1

pound

pulled pork

(warmed)

3

small

sweet potatoes

⅓

cup

coarsely crushed pecans

Salt & Fresh Ground Pepper
Instructions
Preheat oven to 400 degrees.

Pierce sweet potatoes with a fork a couple times on the top and bottom.

Place sweet potato on baking sheet and bake for ~1 hour, or until tender when pierced with a fork. The baking time will vary depending on the thickness of the potato.

Cutting lengthwise, cut down the center of the potato to split it open, but do not cut all the way through to the bottom.

Sprinkle each open face of the potato generously with salt and pepper.

Sprinkle 1 tablespoon of crushed pecans inside potato then add ~⅓ cup pulled pork, and finally top with another tablespoon of pecans.

Drizzle BBQ sauce, to taste, over the stuffed sweet potato.

Serve immediately
Notes
This can be made with whatever sized sweet potatoes you have on hand, but I find the smaller than average ones to be ideal serving sizes.
Nutritional Information
Calories:
558
kcal
|
Carbohydrates:
74
g
|
Protein:
24
g
|
Fat:
20
g
|
Saturated Fat:
4
g
|
Cholesterol:
65
mg
|
Sodium:
1025
mg
|
Potassium:
811
mg
|
Fiber:
8
g
|
Sugar:
32
g
|
Vitamin A:
32296
IU
|
Vitamin C:
8
mg
|
Calcium:
152
mg
|
Iron:
3
mg
This recipe was originally published November 5, 2015 on FoxValleyFoodie.com.