Beer Battered Deep Fried Cheese Curds are a classic Wisconsin appetizer featuring gooey melted cheese waiting to ooze out of a crisp beer flavored crust!
If you live outside of Wisconsin, you likely never have seen beer battered deep fried cheese curds on your local restaurant menu. And for that, I'll lather you with a level of pity typically reserved for crippled puppies. However, deep fried cheese curds are a staple in Wisconsin restaurants and a must-have at the state fair.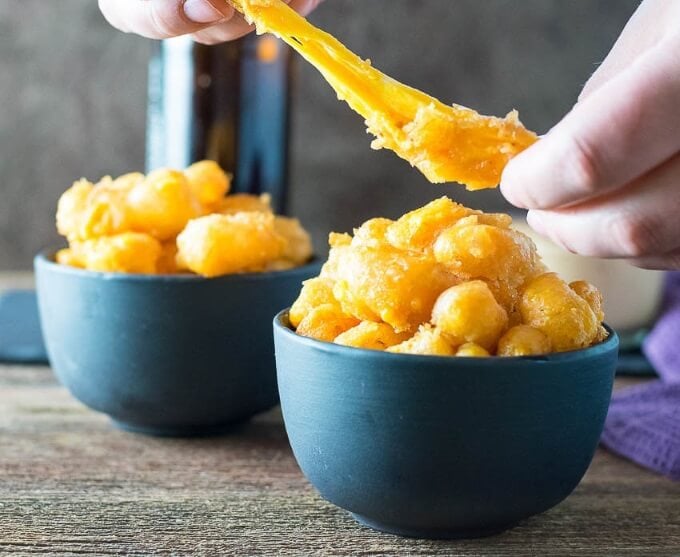 Move over fried mozzarella sticks, in the world of fried cheese, the beer battered cheese curds reign supreme as the crème de la crème ultimate comfort food appetizer!
In Wisconsin, we are the land of beer and cheese. Oh, and –insert obligatory Green Bay Packers reference here-. God gave Wisconsinite's two hands, one to hold cheese, and the other to hold a cold beer. However one day, someone brought a Wisconsinite a second beer and he had no free hand to hold it, so he proceeded to dump it in with his cheese and deep fried it. Thus, beer battered deep fried cheese curds were born.
What are deep fried cheese curds?
This appetizer actually began with the ancient Romans, who enjoyed a dish called "Globuli". Globuli uses curd cheese which is then combined with semolina and formed into dumplings and deep fried. The modern-day deep fried cheese curd has remained similar, except I use a beer battered crust for even more flavor.
Beer Battered Cheese Curds Ingredients
Cheese - Authentic fresh cheese curds are best. If you haven't tried fresh curds renowned for their squeaky cheese and rubbery texture, you don't know what you are missing! However, if you can't find them my next recommendation is to purchase a block of mild cheddar and cut it into cubes. Other cheeses, like pepper jack, can also be substituted.
Beer - Beer forms the backbone of your batter. You don't need a fancy craft beer, actually cheap beer is better in this case. Just an inexpensive lager will suffice. Miller, Pabst, etc...
Flour - Flour combines with the beer to create the batter. You are looking to create a thin consistency, just enough to cling to the cheese. Any all-purpose flour is fine.
Egg - Beat the egg and combine with batter.
Baking powder - Acts as a levening agent, giving the crust better texture.
Oil - Personally, I like canola oil for deep frying. It has a high smoke point and a neutral flavor, allowing the flavor of the beer and cheese can remain the star.
Note: Some people combine flour with bread crumbs for the breading, but I find breadcrumbs in the flour mixture make the breading too thick on the coated curds.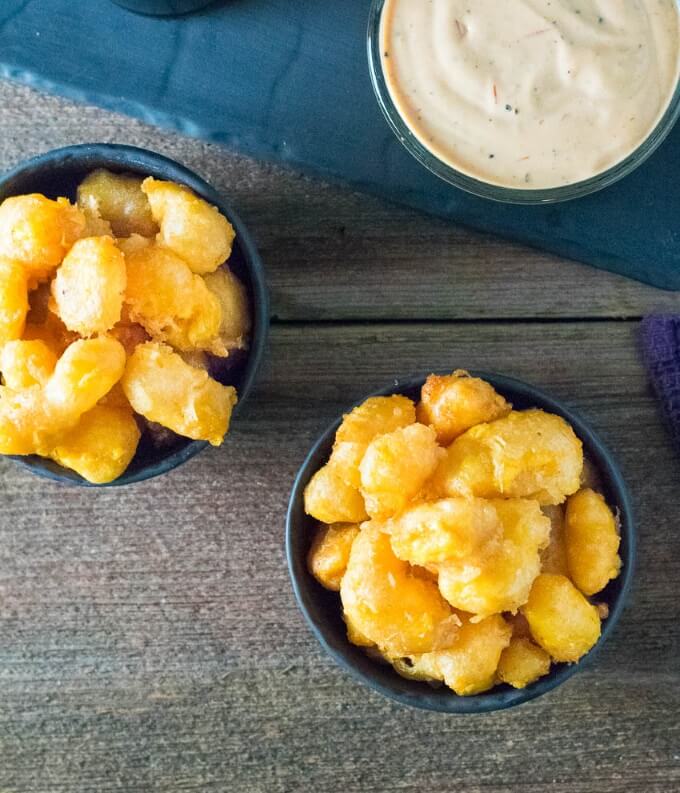 How to Make Beer Battered Deep Fried Cheese Curds
Deep fried cheese curds are typically made with cheese curds, obviously enough. However, don't despair if you live outside of Wisconsin and can't find this squeaky treat. You can use a block of mild cheddar and cut it into ~1 ½" x ¾" rectangles to mimic the curd shape, however simply cutting 1" cubes would also be fine too.
My recipe calls for a pound of cheese curds, however, if you buy a different sized bag, the recipe will still work well. You just may have some batter leftover.
Your beer batter for deep frying should be like a thin pancake batter, a consistency similar to paint. My recipe calls for a cup of beer, however, if the batter is still too thick, add another 1 – 2 tablespoons of beer to thin it out to the correct consistency. You are aiming for a thin batter but if you thin it out too much, add a small amount of flour to thicken it slightly.
Heat your oil in a skillet, deep fryer, or large pot to 400 degrees. Before you dive into deep frying your entire batch, test out one curd frying in the oil.  You will be able to see if your batter is the right consistency and make adjustments before you accidentally ruin the whole batch. Plus, you get to snack on one early!
You will also want to have a good instant read thermometer to monitor your oil temperature. Proper oil temperature is essential anytime you are frying food, too hot and your food will burn, too cool and it will become oil logged. I never deep fry without one. Rather than buying a specific deep frying thermometer, I like using the same instant read thermometer I use for cooking meat because I like tools that can multitask.
Deep fry your cheese curds for one minute in the hot oil until golden brown, then remove and place cheese curds on paper towels or a wire rack to let cool slightly before serving. If your cheese melts too much you'll see the curds begin oozing out excessively during frying. This means you are frying too long or too hot.
Best Dipping Sauce for deep fried cheese curds
My wife likes using my Comeback Sauce recipe for dipping cheese curds. I like using chipotle ranch, although ketchup and marinara sauce works as well! Alternatively, you can be like our Canadian friends and serve it as poutine with gravy and french fries!
More Wisconsin Recipes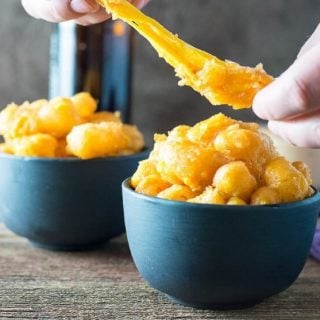 Beer Battered Deep Fried Cheese Curds
Beer Battered Deep Fried Cheese Curds are a classic Wisconsin appetizer featuring gooey melted cheese waiting to ooze out of a crisp beer flavored crust!
Print
Pin
Rate
Save
Saved
Ingredients
1

pound

cheese curds

(or cubed mild cheddar)

1

cup

flour

1

cup

beer

(+ 1-2 tablespoons as needed)

1

egg

(beaten)

1

teaspoon

baking powder

1

teaspoon

table salt

Oil for deep frying
Instructions
Heat oil in deep fryer or skillet to 400 degrees. If using a skillet ensure enough oil is added to cover the curds (approximately 2").

Combine flour, baking powder and salt together in a medium bowl.

Add beaten egg and beer and mix till combined. The batter should have the consistency of thin pancake batter. If it is too thick add additional beer as needed. If it is too thin, sprinkle in a little flour.

Deep fry one cheese curd to test the batter if needed.

Working in batches, drop cheese curds into the batter and evenly coat then lift cheese out of the batter with a spider or slotted spoon and let the excess batter drip off before placing in the oil.

Deep fry curds for 1 minute, or until golden brown, then remove the fried curds to drain on paper towels.

Let cool slightly and serve.
Notes
I found anywhere between 375 - 400 degrees to be a good frying temperature. Oil temperature drops when food is added, so by heating your oil to 400 degrees it should stay within the proper range when frying.
Frying in batches ensures the oil temperature doesn't drop excessively and also ensures the cheese curds aren't too crowded in the pan and clump together.
I found 1 minute to be the ideal cooking time, however if you see cheese leaking out while frying they have been frying longer than needed and should be removed.
Ideally use an inexpensive lager, save your better beer for drinking.
IF YOU LIKED THIS RECIPE you will also love my Beer Cheese Dip as well!
Nutritional Information
Calories:
593
kcal
|
Carbohydrates:
25
g
|
Protein:
33
g
|
Fat:
38
g
|
Saturated Fat:
21
g
|
Trans Fat:
1
g
|
Cholesterol:
162
mg
|
Sodium:
1330
mg
|
Potassium:
162
mg
|
Fiber:
1
g
|
Sugar:
1
g
|
Vitamin A:
59
IU
|
Calcium:
867
mg
|
Iron:
2
mg
This recipe was originally published on FoxValleyFoodie.com May 23, 2016.