These slow cooker sloppy joes can be made completely in a crock pot with no additional cooking required! Best of all, these sloppy joes are made from scratch so you can feel good about feeding them to your family.
I need to share a pet peeve with you guys. Don't tell anyone else, it is just between me and you... I can't stand it when a recipe is called a "slow cooker" recipe and you open up the page to discover the instructions tell you to make the whole recipe in a skillet and then add it to your slow cooker at the end, to keep warm. Come on.... that isn't a slow cooker recipe, that is a recipe for how to make something like normal and keep it warm in your slow cooker.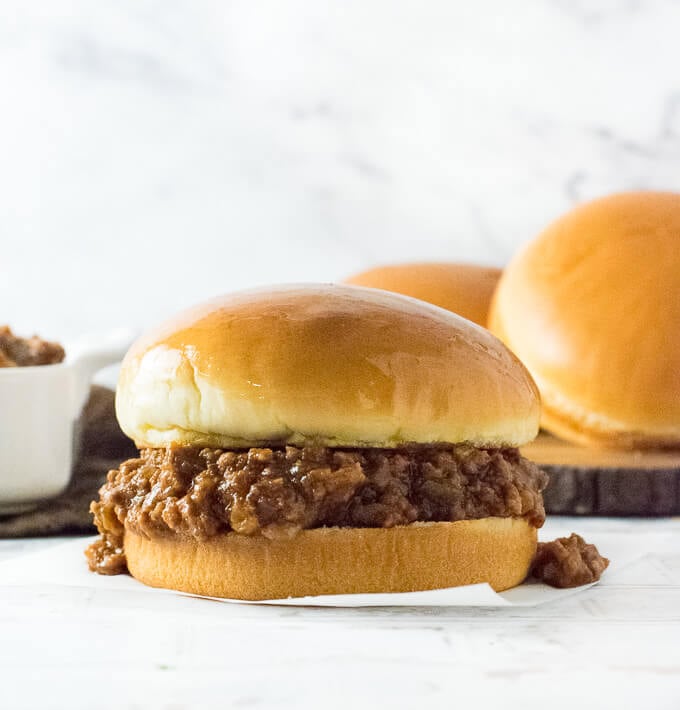 That seems to be the case with many of the slow cooker sloppy joes recipes I find online. I figured if people are actually searching for 'slow cooker sloppy joes' online, they actually want to know how to MAKE it in a slow cooker, not a bait and switch to make it some other way and then keep it warm in their slow cooker. Well, I am gonna change that, so buckle up buttercup because we are going to COOK sloppy joes IN our slow cooker.
Homemade Sloppy Joes
Homemade sloppy joes are not hard to create. Skip the can of Manwich because you can easily make it yourself at home with some ketchup and seasonings. My slow cooker sloppy joes recipe is based on my homemade sloppy joes recipe which is prepared in a skillet, with a few modifications. Browning the beef in a skillet adds a great layer of flavor, but sometimes you just want to avoid the extra fuss and make it easily in the slow cooker.
Slow Cooker Sloppy Joes
For maximum flavor you can brown the beef and vegetables in a skillet before adding them to your slow cooker, however, if you are looking for 'completely effortless', well, take heart because you can still make great sloppy joes in your crock pot. In lieu of browned beef, I adjusted the recipe to include more seasonings with deep bold flavors, such as smoked paprika and fresh ground pepper. Though I did not include it in this recipe, you could even add a dribble of browning sauce.
Tip: If you insist on browning the meat and sauteing the vegetables, I recommend using my homemade sloppy joes recipe instead. That recipe will work well in the crock pot too.
The addition of flour is included to overcome the crock pot's biggest obstacle: a runny sauce due to lack of evaporation while cooking. I found two tablespoons of flour to be the perfect amount to thicken up the sauce into a classic sloppy joes consistency.
How to Make Slow Cooker Sloppy Joes
It is particularly important to use extra lean ground beef when making sloppy joes in a slow cooker because you don't get the chance to pour off the grease once the beef is cooked. A little fat adds flavor, too much fat just makes it greasy.
Place the meat evenly across the bottom of the slow cooker to give it direct contact with the slow cooker itself. Doing this will allow for some browning when cooking on high, however, it is not essential. The remaining ingredients can be mixed together and poured on top of the meat. Once the meat is done cooking a potato masher works exceptionally well to break it apart and combine it with the sauce.
I recommend cooking it on high for at least 4 hours, however, if you are in a rush you can stop as soon as the beef is cooked through. The sloppy joes can cook on low all afternoon as well, if needed.
Troubleshooting: If for any reason your sloppy joes sauce is too thin, add another tablespoon of flour and let it cook for another 30 minutes to thicken. If your sauce is too thick, add a few dribbles of water to thin it out.
Sloppy Joes Toppings
Traditionally, sloppy joes are served on simple hamburger buns with little to no adornments. However, if you insist on toppings, slices of dill pickles and mild cheddar cheese are great options. Better yet, simply serve it alongside a good deli pickle like my half sour pickles or spicy cider pickles.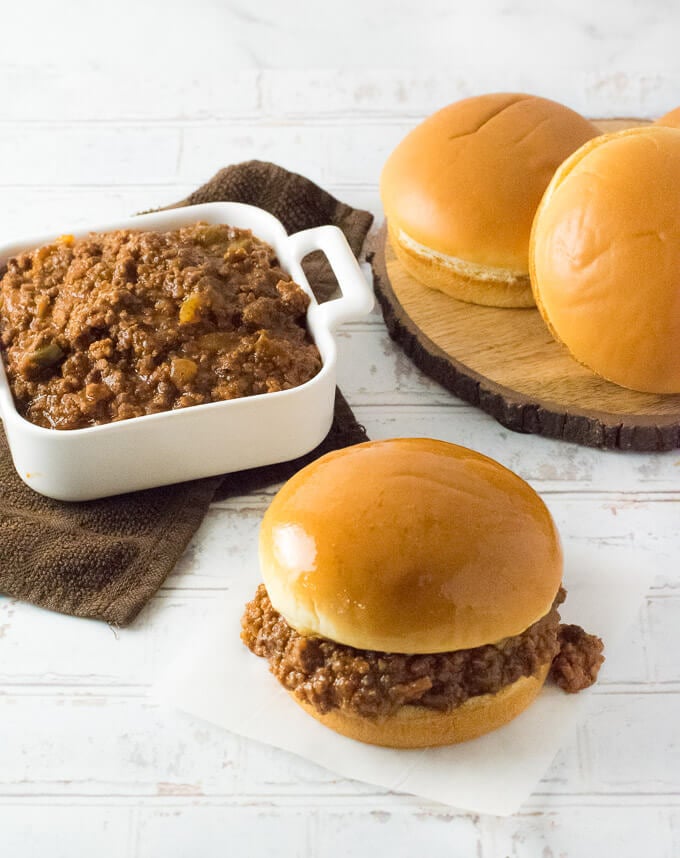 More Homemade Sloppy Joes Ideas
If you are craving a fun twist on classic sloppy joes, try one of these great ideas: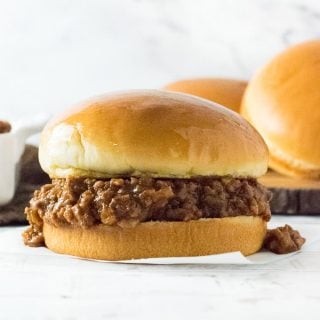 Slow Cooker Sloppy Joes
These slow cooker sloppy joes can be made completely in a crock pot with no additional cooking required, and best of all, they are homemade!
Print
Pin
Rate
Save
Saved
Ingredients
2

lbs

90/10 Ground Beef

½

medium

Yellow Onion

(chopped)

1

medium

Green Bell Pepper

(chopped)

1 ¼

cup

Ketchup

1

tablespoon

Cider Vinegar

2

teaspoons

Worcestershire sauce

3

tablespoons

Brown Sugar

1

teaspoon

Dijon mustard

2

tablespoons

Flour

½

teaspoon

Smoked Paprika

½

teaspoon

Garlic Powder

½

teaspoon

fresh Ground Pepper

¼

teaspoon

Cayenne Pepper

2

teaspoon

Salt
Instructions
Crumble ground beef and spread it out across the bottom of the slow cooker.

Combine all remaining sloppy joe ingredients in a dish and pour over the meat. (Optionally: You can add all of the ingredients to the crock pot and stir them together later)

Cook on high for 4 hours, or at least until meat is cooked through.

Use a potato masher to crumble the beef and stir the sauce.

This can be left on the 'Warm' setting until you are ready to eat. Serve on hamburger buns.
Notes
Tip: The meat and vegetables will release liquid while cooking, the flour combats that and acts as a thickener. If your sauce is too thin you can add more flour and let it cook for 30 more minutes.
IF YOU LIKED THIS RECIPE check out my Crock Pot Mississippi Roast Sandwiches too.
Nutritional Information
Calories:
194
kcal
|
Carbohydrates:
39
g
|
Protein:
5
g
|
Fat:
1
g
|
Sodium:
1160
mg
|
Potassium:
226
mg
|
Fiber:
1
g
|
Sugar:
16
g
|
Vitamin A:
335
IU
|
Vitamin C:
14.8
mg
|
Calcium:
89
mg
|
Iron:
1.9
mg
If you enjoyed reading my Slow Cooker Sloppy Joes recipe then you should probably like me on Facebook and follow me on Pinterest too. That's what I would do at least, because if you don't get to know me but you still use my recipe it is kind of like taking candy from a stranger, and your mom taught you not to do that. Don't disobey your mom, subscribe to Fox Valley Foodie today!