Craft the classic crunch of your favorite deli pickles right in your own home. Making your own half sour pickles is easy and requires minimal ingredients.
We are going old school, ladies and gentlemen! No vinegar, no canning, no cooking. We are fermenting half sour pickles like its 1899. Don't let the word "fermenting" scare you. We are literally just putting pickles in salt water and letting them sit for a week. If your grandma can do it, you can do it. Don't let granny show you up, I hear she's already talking smack.
What are Half Sour Pickles
Half sour pickles are a popular delicatessen pickle that is fermented instead of canned for its classic sour taste. As they sit in a saltwater solution they begin to ferment, becoming increasingly sour with each day. Half sour pickles are typically done fermenting 1-2 weeks, however, you can let them ferment longer if you wish. It is all about what tastes best to you. Personally, seven days is my sweet spot.
Why Use Pickling Salt
I always use pickling salt when canning or fermenting. There is no iodine in it or anti-caking agents, so it does not discolor the brine or darken the pickles. In a pinch, you can use table salt, but your pickle quality may suffer a bit.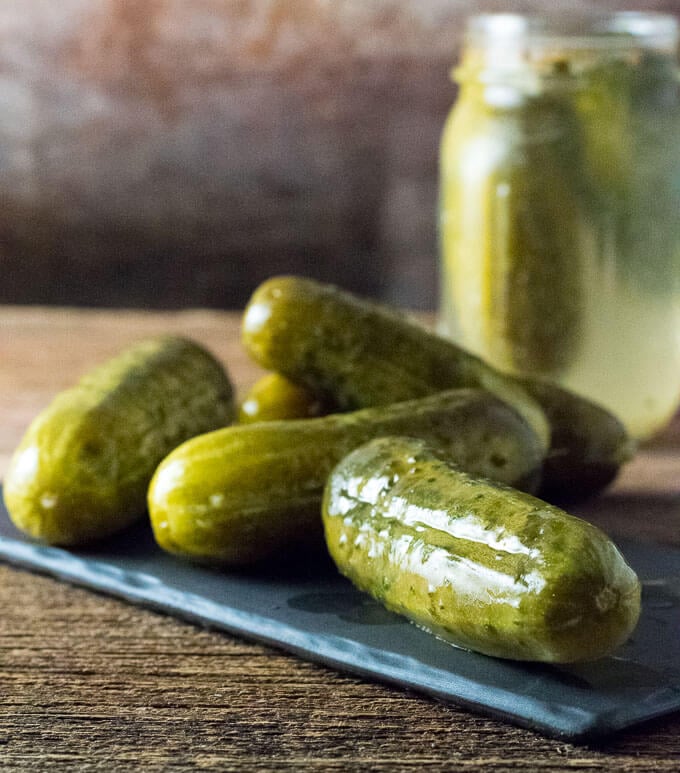 Why Use Non-Chlorinated Water for Fermenting
It is important to only use non-chlorinated water, such as bottled or filtered water, for fermenting. Additives such as chlorine can alter the fermentation process, or prevent fermentation from starting all together.
How to Make Crispy Pickles
There are a couple easy tricks to ensuring your half sour pickles are crisp as possible. First, I recommend trimming off the blossom end of the pickling cucumbers. The blossom end contains an enzyme that will soften the pickles, trimming 1/16" is all that is needed to get rid of it. Additionally, I also add pickle crisp to my fermentation, though grape leaves work just as well if you can find them. The tannins keep the pickles crunchy as they ferment.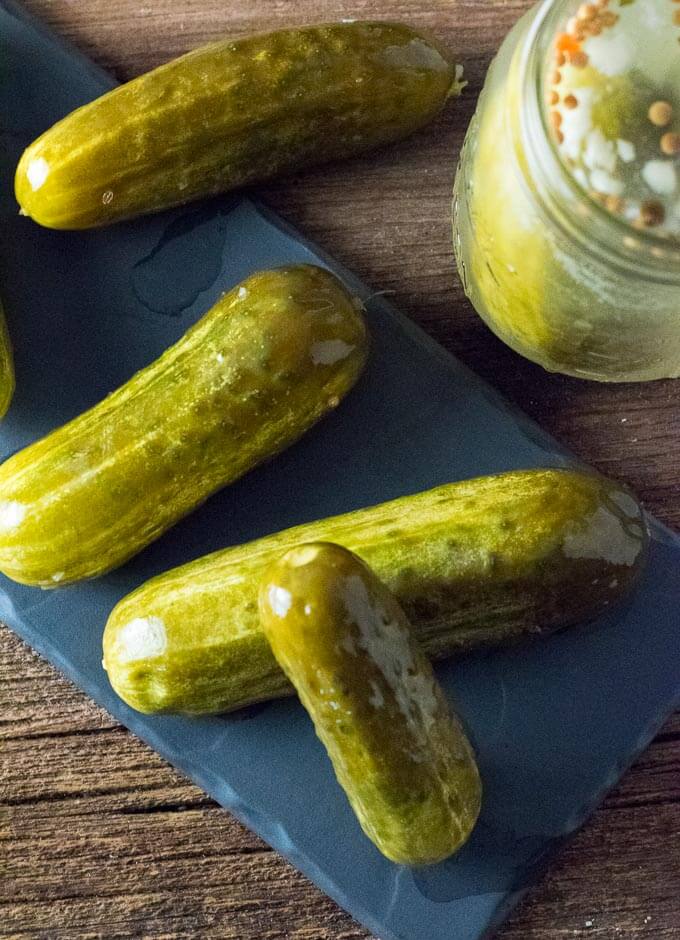 How to Ferment Pickles
Fermenting pickles is quite easy to do. To begin, you need a fermentation vessel. Quart jars work for a small test batch, but half gallon jars are considerably better due to their larger size. If you really want to go all out, get a fermentation crock. These things are a little pricier, but they also come with food safe weights to keep the pickles submerged in the brine, plus they just look really cool.
When fermenting pickles it is important to keep your salt to water ratio the same as you scale the recipe up and down. Therefore I typically add the salt and water directly to my fermentation vessel and then mix it, instead of mixing it up separately and dividing the mixture into my vessels.
Finally, make sure to keep your cucumbers and garlic submerged in the brine. Exposed produce can mold and ruin your whole batch. You can easily keep everything submerged by placing a food safe weight, such as a cabbage leaf, or wax paper, inside the jar. The brine can still flow above the leaf, but the pickles are pushed down.
Half Sour Pickles
Half sour pickles are made with fresh garlic and pickling spice. However, I have often used this same recipe to make sour dill pickles as well. To do so, simply replace the pickling spice with one or two heads of fresh dill, or you can add dill with the pickling spice.
Half Sour Pickles
Craft the classic crunch of your favorite deli pickles right in your own home. Making your own half sour pickles is easy and requires minimal ingredients.
Print
Pin
Rate
Ingredients
2

tablespoons

Pickling Salt

1

Quart

Non-Chlorinated Water

5

Pickling Cucumbers

(or as many as will fit)

2

Garlic cloves

(smashed)

1 ½

ounces

Pickling Spice

(Or substitute 1-2 heads of fresh dill)

¼

teaspoon

Pickling Crisp

(or substitute 1 grape leaf)
Instructions
Wash cucumbers and trim off the blossom end of the cucumber.

Stir salt and water together in a jar, then add cucumbers and seasonings leaving at least 2" of headspace.

Keep produce submerged in brine with a food safe weight such as wax paper or submerged cabbage leaf.

Cover loosely with lid (airlock not needed) and let sit in a cool dark place for 7-10 days, or until it reaches your desired sourness, then refrigerate to stop fermentation and store.

Pickles will become more sour each day they ferment and the brine will turn cloudy.
Notes
This recipe is meant to be scaled up as needed. Keep the ratio of 2T pickling salt per 1 quart of water.
This recipe works for sour dill pickles as well by adding fresh dill instead of, or in addition to pickling spice.
IF YOU LIKED THIS RECIPE check out how to make homemade fermented sauerkraut too!
Nutrition
Calories:
60
kcal
|
Carbohydrates:
13
g
|
Protein:
2
g
|
Fat:
1
g
|
Sodium:
2803
mg
|
Potassium:
496
mg
|
Fiber:
3
g
|
Sugar:
4
g
|
Vitamin A:
260
IU
|
Vitamin C:
13.3
mg
|
Calcium:
100
mg
|
Iron:
1.3
mg
If you enjoyed Half Sour Pickles then you should probably like me on Facebook and follow me on Pinterest too. That's what I would do at least, because if you don't get to know me but you still use my recipe it is kind of like taking candy from a stranger, and your mom taught you not to do that. Don't disobey your mom, subscribe to Fox Valley Foodie today.