This luxurious red wine gravy is the perfect sauce for dressing mashed potatoes or a tender beef roast.
Gravy makes everything better, and red wine makes everything special. Combine the two with this flavorful gravy that is sure to bring any meal to the next level.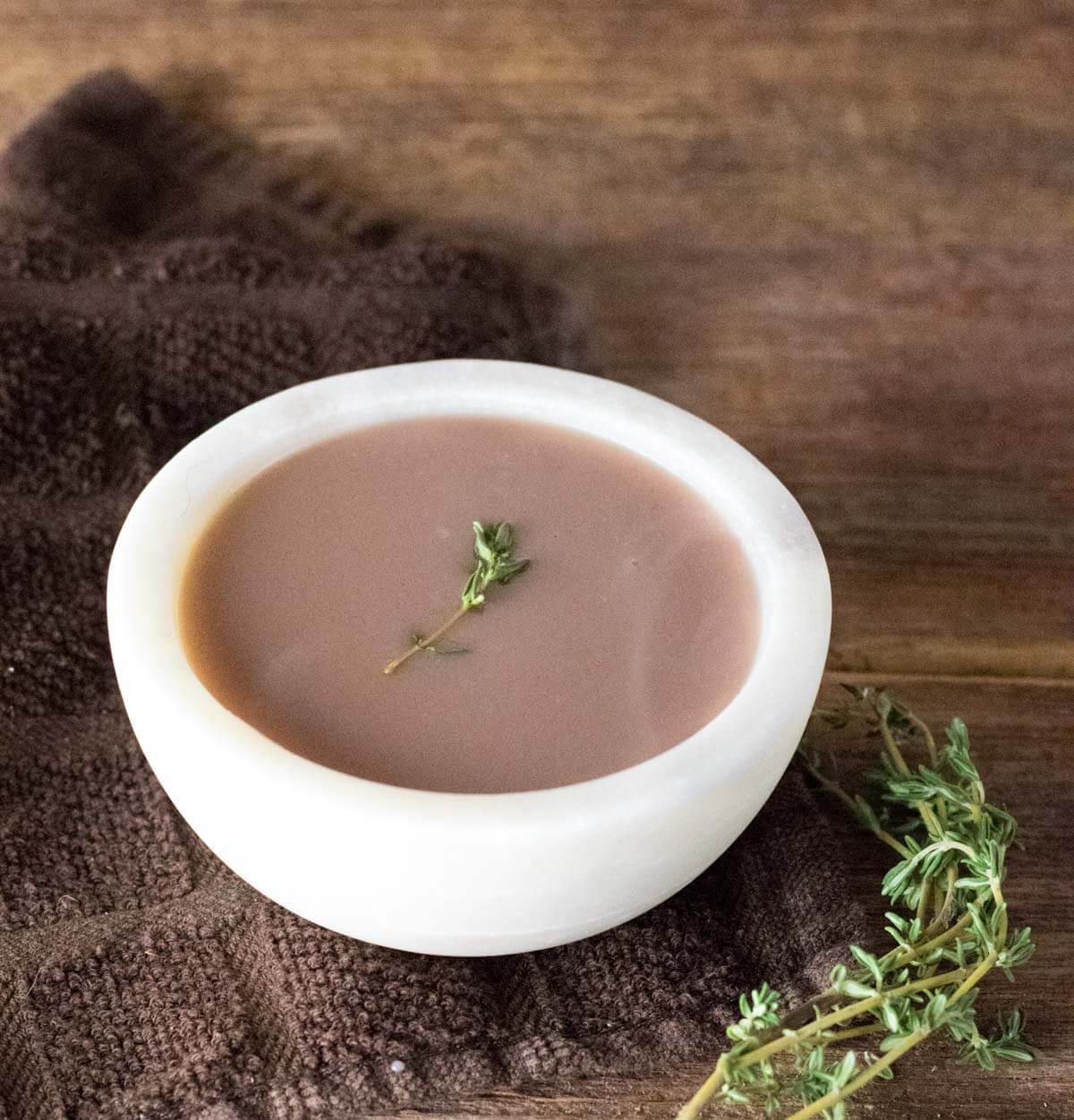 Red Wine Gravy
My red wine gravy is a traditional roux-based brown gravy made from beef broth infused with fresh thyme, and, of course, a generous pour of red wine. This gravy is made from scratch and can be ready in 10 quick minutes.
How to make gravy
Like all good gravies, this recipe begins with a roux consisting of ¼ cup of butter and ¼ cup of flour. Melt the butter over medium-low heat and stir in the flour. When making a roux it is always important to keep string so the flour doesn't get scorched. That will quickly ruin the sauce.
The more the roux is cooked, the darker it will become, imparting an increasingly nutty flavor. Personally, I cook the roux only until it begins to turn a light brown. This ensures the raw flour taste is cooked out and only takes a few quick minutes.
Slowly dribble the beef broth into the gravy while continuing to stir. You want to ensure the liquid is fully incorporating into the roux so lumps don't form. The thyme can also be added at this time. Once the beef broth is added, the same can be done with the wine.
At this point, you have a runny gravy. Just let it gently simmer for a few minutes and it will thicken up nicely. If it isn't thickening quick enough for you turn up the heat slightly so the gravy gently bubbles and burps.
Troubleshooting this recipe
Will my gravy taste too much of red wine? - Maybe. It depends on your preferred taste. If this is a concern, I would recommend starting with less wine and tasting as you add more. The amount of wine needed for this recipe is completely flexible.
My gravy is lumpy! - If the gravy gets lumpy just strain it through a fine-mesh strainer. All the lumps will be separated out.
My gravy is too thin! - It will thicken as it simmers. Just be patient and it will thicken up.
My gravy is too thick! - If your gravy simmered too long it will get too thick. This isn't a problem. You can quickly and easily thin it back out by adding a couple of dibbles of water.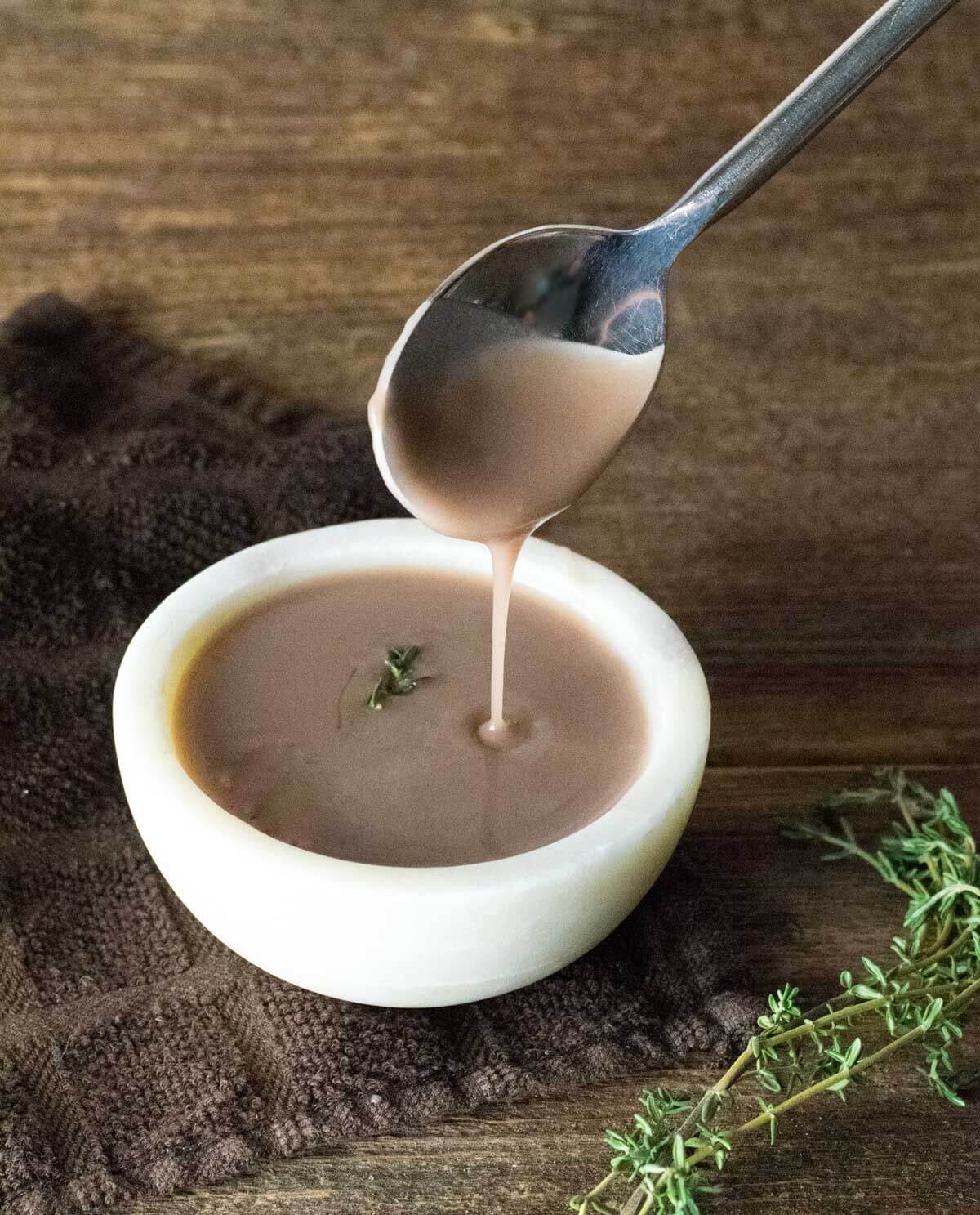 Ways to use Red Wine Gravy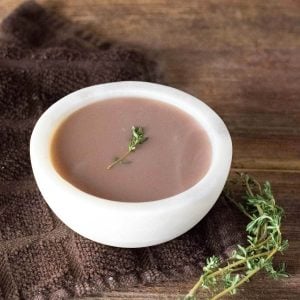 Red Wine Gravy
This luxurious red wine gravy is infused with fresh thyme and is the perfect sauce for dressing mashed potatoes or a tender beef roast.
Print
Pin
Rate
Ingredients
¼

cup

butter

¼

cup

flour

1 ½

cups

beef broth

½

cup

dry red wine

(see note)

1

sprig

thyme
Instructions
Melt butter in a saucepan set over medium-low heat. Once melted sprinkle in flour and stir to combine. Continue stirring for approximately three minutes, or until until the mixture turns a light brown.

Slowly dribble in beef broth while continuing to stir. Ensure it is fully incorporated before more is added so lumps don't form. Add in the sprig of thyme and slowly add the wine as well.

Bring the gravy to a simmer and let cook until thickened, appoximately three minutes.
Notes
*Using ½ cup of red wine will create a fairly strongly flavored wine gravy. If you want a more mild wine-flavored gravy, cut the red wine in half and add an equal amount of additional beef broth.
Nutrition
Calories:
81
kcal
|
Carbohydrates:
3
g
|
Protein:
1
g
|
Fat:
6
g
|
Saturated Fat:
4
g
|
Cholesterol:
15
mg
|
Sodium:
219
mg
|
Potassium:
43
mg
|
Fiber:
1
g
|
Sugar:
1
g
|
Vitamin A:
177
IU
|
Vitamin C:
1
mg
|
Calcium:
4
mg
|
Iron:
1
mg